Movie Review – Enola Holmes

Principal Cast : Millie Bobby Brown, Henry Cavill, Sam Claflin, Helena Bonham Carter, Louis Partridge, Adeel Akhtar, Burn Gorman, Susie Wokoma, Fiona Shaw, Frances de la Tour, Hattie Morahan, David Bamber, Claire Rushbrooke.
Synopsis: When Enola Holmes – Sherlock's teen sister – discovers her mother missing, she sets off to find her, becoming a super-sleuth in her own right as she outwits her famous brother and unravels a dangerous conspiracy around a mysterious young Lord.
********
Spry, entertaining and entirely charming, Nancy Springer's literary heroine Enola Holmes makes for a fascinating alternative take on the famous detective we all know and love with this brightly hued film from director Harry Bradbeer (Killing Eve, Fleabag). Boasting a solid central performance from Stranger Things' Millie Bobby Brown (escaping that franchise sublimely, it must be said) and steady support from a smattering of terrific British talent, Enola Holmes is an effortless franchise starter that enables, empowers and engages in all facets of its scope.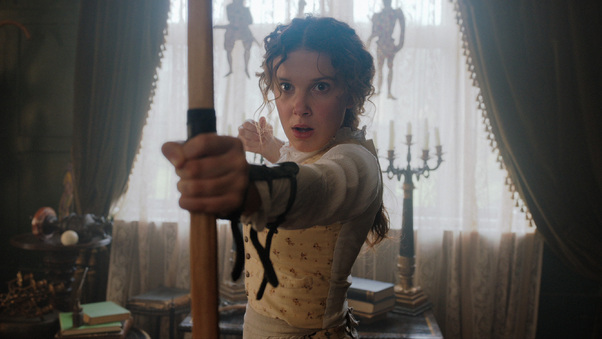 Enola Holmes (Brown) is the much younger sister of famous detective Sherlock (Henry Cavill – Man of Steel) and brother Myroft (Sam Claflin – Me Before You), who is seemingly abandoned by her mother, Eudoria (Helena Bonham Carter – Harry Potter) on the day of her sixteenth birthday. Sensing a plot has been hatched, Enola unlocks clues left behind by her mother to begin a pursuit, leading her to London and into a secondary puzzle, the case of a missing British Lord, the handsome Viscount Tewkesbury (Louis Partridge – Pan, Paddington 2) and his murderous pursuer, Linthorn (Burn Gorman – Pacific Rim), whose agenda for the young aristocrat brings Enola's detective skills to bear with sinister undertones.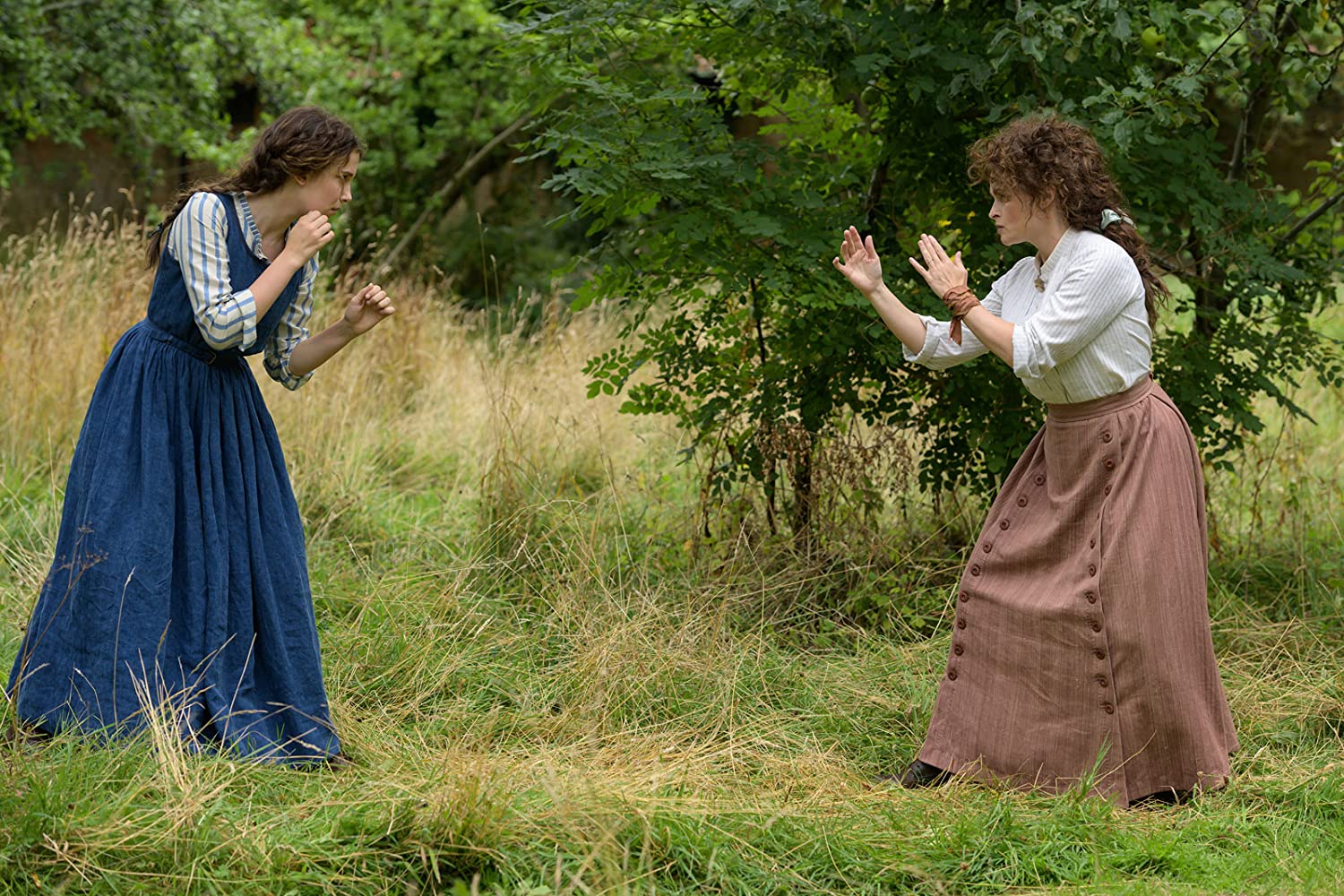 As somebody who laments the slow degradation of the BBC's faithful modernisation of the Arthur Conan Doyle stories in Sherlock, I was pleased Enola Holmes brought back a sense of adventure and period fun to a property so withered by unceasing dramatic weight it was no longer "fun". Although the character is not canon to the Sir Arthur Conan Doyle books, and entirely the creation of author Nancy Springer, the premise of the almighty Sherlock having a smart-ass younger sister is one I think fits into the general sausage-fest those Doyle books tended towards as a contrast to the more serious stories. The Springer books lean into a kind of Enid Blyton-esque "for younger readers" teen mould, derivative of the Holmsian intellectualism but whipped into shape by a canny screenplay that elicits plenty of childlike glee whilst simultaneously ensuring the protagonist has enough angst, problematic relational issues and general antagonism to combat to drive the story along. Jack Thorne's billowing screenplay rarely pauses for breath once the central plot kicks in, allowing us just enough time to get to know the endearing Enola and her emotionally stunted older siblings before the fights, explosions and chase sequences get underway.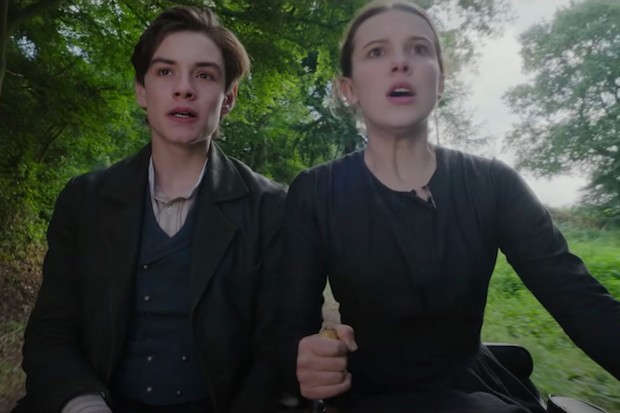 Coupled with the delightfully charming script is Millie Bobby Brown's equally charming performance; as Enola she more than holds her own and once more proves what a capable young actor she has become, cementing herself (despite the film's overeager tone and generally family-friendly aesthetic) as a chameleonic dramatic thespian we ought take more note of. The film's more elegiac moments do trip up occasionally, as Enola mourns the absence of her mother and the astonishing absence of worldly understanding she possesses when she leaves their family manor home, but Brown possesses the acting chops to carry off both the wit and sadness the Holmes family inherently prescribe. Her on-screen brothers, Cavill and Claflin – the latter in what is a thanklessly written part – are amiable and to the letter splendid, with Cavill in particular acquitting himself well as "Hot Sherlock". He doesn't fit the silhouette of Doyle's classic literary icon – Cavill is all bulging muscle and debonair glowering, whilst the literary Sherlock was a far more wiry, thin creation, which is where Cumberbatch fits the part more easily – but the actor's natural cadences and his withering attractiveness on the screen override any such negativity almost immediately. Claflin suffers the indignity of being a useless third wheel in this trio of Holmsian rapaciousness, with his Mycroft being a thankless anti-hero teeth-gnasher offering limited emotional counterweight to the Enola-Sherlock befuddlement.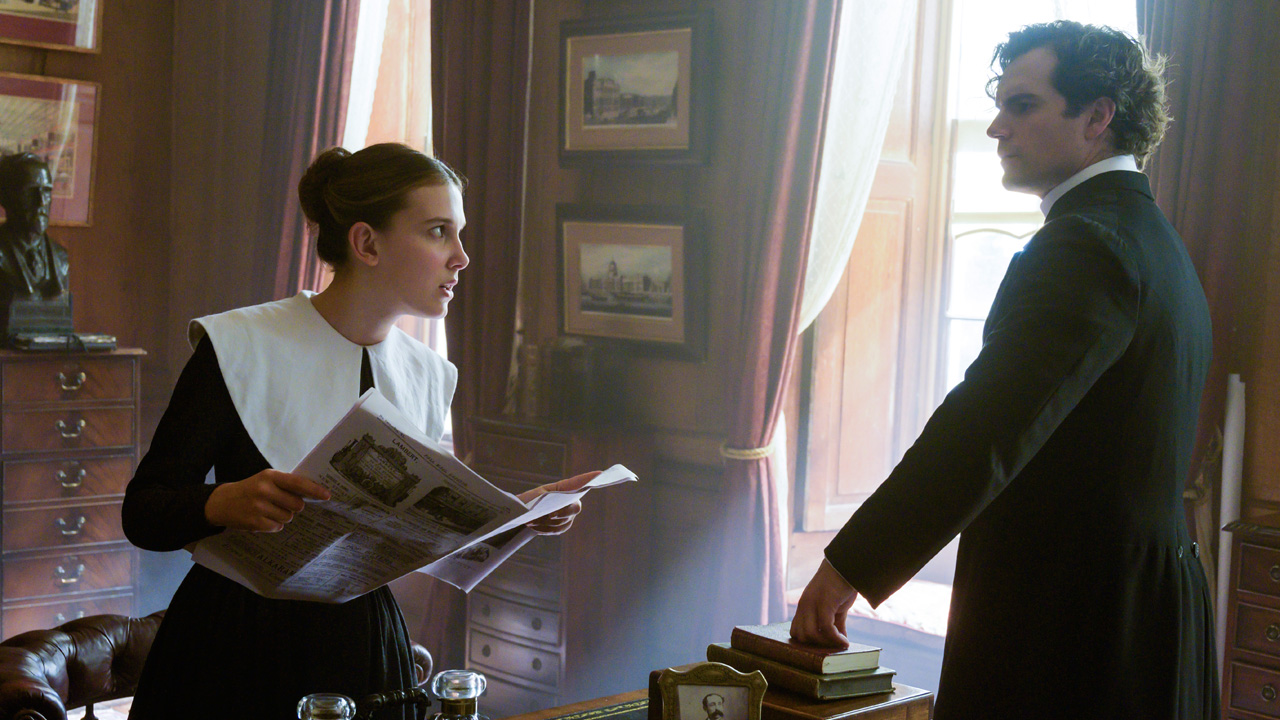 Secondary players Louis Partridge, as Enola's love interest and the film's most bland character, Lord Tewkesbury, Burn Gorman as a truly evil henchman sent to kill the Viscount, and Adeel Akhtar as Doyle's eponymous Inspector Lestrade, are all played with the straight faces the film demands – Gorman is particularly nasty here, and the film's Australian M-rating for violence is definitely warranted, as he places the young actress is considerable peril at stages through the story – and even the bit-parts, such as Frances de la Tour, as Tewkesbury's dowager grandmother, and Fiona Shaw as the cruel headmistress of a prep-school for girls Mycroft wants to send Enola to, offer nice little bits of fluff for the film to engage in when it's not specifically a mystery.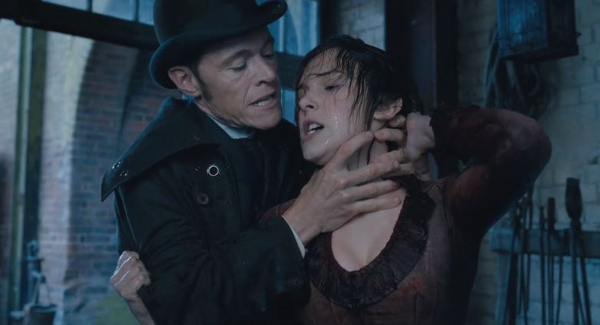 The film has a significant burst of youthful enthusiasm from notable television director Harry Bradbeer, brimming with visual flair and that charming quaint style replicated in those fantastic Paddington movies. There's a lot of your typical mystery-movie tropes – flashbacks to barely glimpsed clues and plenty of great red herrings – at play here, alongside the fabulous cast, and Bradbeer's use of the camera to give Enola's adventure a sense of playfulness tinged with dark, dark danger is enticing indeed. The film looks like it was a hell of a lot of fun to make; everything from the costume design, to props and production work is exacting in detail and depth, and the film's set-expanding visual effects are a step up from your average television movie budget. Whilst the violence in the film does play with an urgency more serious than the film's lighter moments might engender, the film never becomes locked into that Young Adult mindset or tedious, dumbing-down for the audience so many films manufacture these days. Enola Holmes is definitely a film many younger kids can comfortably watch with parental supervision, but be aware that at several stages Enola herself is placed in considerable jeopardy enough to perhaps be entirely unsuitable for yours. Give it a watch first before letting your preteen son or daughter watch.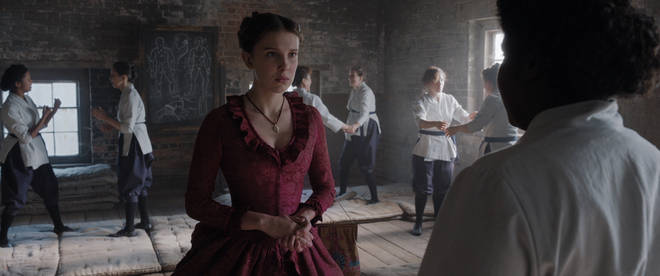 Enola Holmes is a brisk, fun affair that never stretches itself but remains true to the Doyle framework it was inspired by. The mystery isn't as clever as it intends to be (several of the "clues" feel a touch too inside-baseball for my liking) but with winning performances, exquisite production value and energetic direction Enola Holmes is quite the screen debut for the young detective protégé. I would definitely like to see another with this same cast, if at all possible. Entertaining with a capital E.
Who wrote this?