Movie Review – Between Two Ferns: The Movie

Principal Cast : Zack Galifianakis, Lauren Lupkus, Ryan Gaul, Jiavani Linayao, Edi Patterson, Rekha Shankar, Mary Scheer, Mary Holland, Matt Besser, Phil Hendrie, Paul Rust, AD Miles, Blake Clarke, Will Ferrell, Mandell Maughan.
Synopsis: Zach Galifianakis "dreamed of becoming a star. But when Will Ferrell discovered his public access TV show Between Two Ferns and uploaded it to Funny Or Die, Zach became a viral laughing stock. Now Zach and his crew are taking a road trip to complete a series of high-profile celebrity interviews and restore his reputation.
********
From his breakout role in The Hangover, which turned Zack Galifianakis into a global comedy star, to his online webseries Between Two Ferns, the rise of this American comic continues with this latest Netflix venture, a feature-length version of his infamous interview show that more or less delivers what it says with a load of filler in between. I'm in a love-hate relationship with Galifianakis' style of humour, which in my opinion generally plays very broadly with little or no subtlety or charm, although his Between Two Ferns enterprise has wrought some legitimately hilarious material (his episode with former President Obama a keynote example) at the expense of the egocentric superstars he's lined up to appear. Taking that short-thrift premise and low-budgeting it into a Netflix platform feature film is a risky endeavour, but one that mainly comes up with the goods despite some major hiccups along the way. The feature-length Between Two Ferns broadens the gag itself into something more cartoonish, a mix of Naked Gun and Saturday Night Live without a laugh track or safety net, save for the orgy of celebrity cameos that comes with it – none of whom I've spoiled in the credit list above, but some of whom are noted in the review below.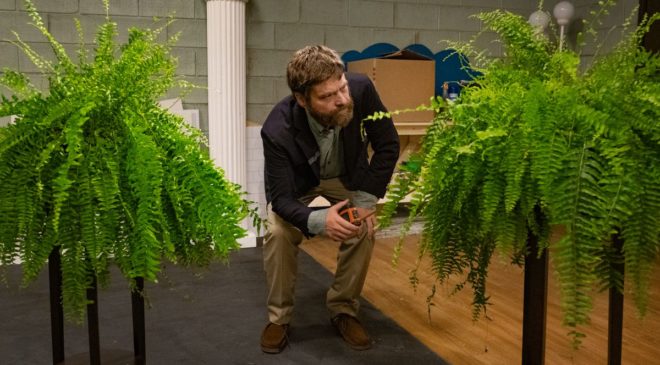 Galifianakis (playing himself, apparently) has a semi-successful public access show entitled Between Two Ferns, in which he inexplicably manages to gather a variety of stars and celebrities for a series of cringe-worthy, insulting "interviews" from deep within his run-down, poorly maintained studio in North Carolina. After he accidentally destroys the building with badly soiled panty-liners, Galifianakis is challenged by Funny Or Die creator Will Ferrell (played by Will Ferrell) to produce ten more episodes of Between Two Ferns and receive his own late night talk show, or fail and spend his life wondering what might have been. Together with his assistant Carol (Jurassic World's Lauren Lapkus), cameraman Cameron "Cam" Campbell (Ryan Gaul) and sound recordist Boom Boom De Laurentis (*Jiavani Linayao) take up a cross-country quest to satisfy Ferrell's demands.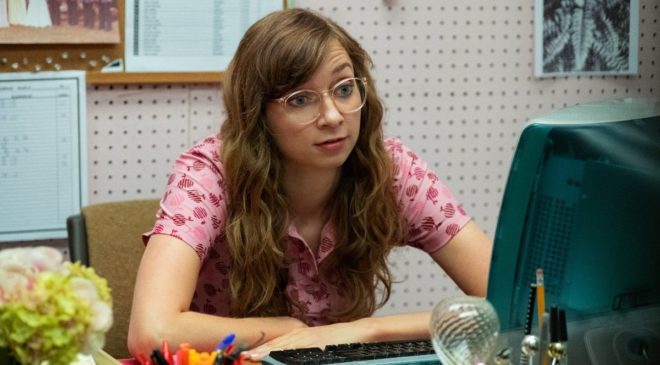 Between Two Ferns' internet savvy is predicated on watching Zack Galifianakis straight-faced ask some of the worst possible and most awkwardly on-target questions of major American stars. Turning this concept into a feature film wasn't easy, and the movie version isn't particularly satisfying on a number of levels, but when it does what it needs to to satisfy the title, Between Two Ferns works well enough. Galifianakis' meta-textual parlaying his Ferns' persona into a feature length asshole isn't a stretch, his Homer Simpson-esque naivete balancing between offensively charming and charmingly offensive crossing the boundary between good and bad taste with dexterous ferocity. His interviews with the likes of Jon Hamm, David Letterman and Paul Rudd, to name a few, are exceptionally funny, although a sidebar adventure with John Legend and his wife, model Chrissie Teigen, doesn't work quite as well. The film's opening sequence, with Matthew McConnaughey, was featured in the film's trailer and remains the funniest scene in the entire movie – yeah, it's downhill from there, mainly – and a lot of the laughs aren't so much from Galifianakis himself but the featured celebrities' reactions to him.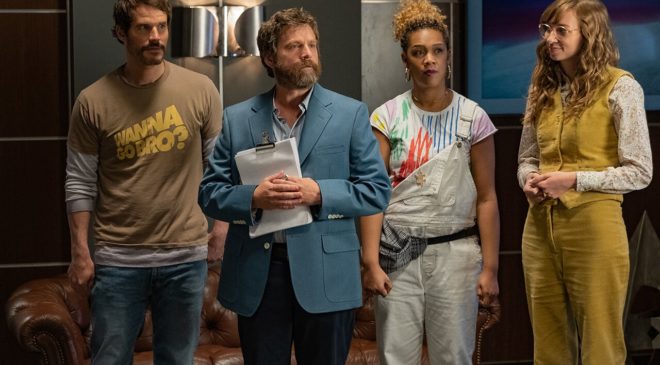 It's a broad-strokes skit film, this one, with Galifianakis bumbling his way across America's celebrity landscape and taking a no-prisoners approach to his franchise: his treatment of legendary talk show host David Letterman is scathing, whilst the work done by Peter Dinklage later in the film brought a smile to my face. But the glue holding it all together is the "off-camera" ensemble, led by actress Lauren Lapkus as Galifianakis' long-suffering PA, Carol. She's a great actress, and against her leading man has a number of nice, sweet and affecting scenes, but the chemistry between Galifianakis, Ryan Gaul and Jiavani Linayao isn't as strong and consequently the film falls apart. There's no real truth to the off-camera stuff, and a confusing subplot involving a documentary crew following Galifianakis around never sticks the landing. Yes, there's a lot of laughs in this film, but there's also a lot of dead air that I suspect won't play as well globally as it does at home in the United States. Between Two Ferns: The Movie is definitely All-American humour, for what it's worth.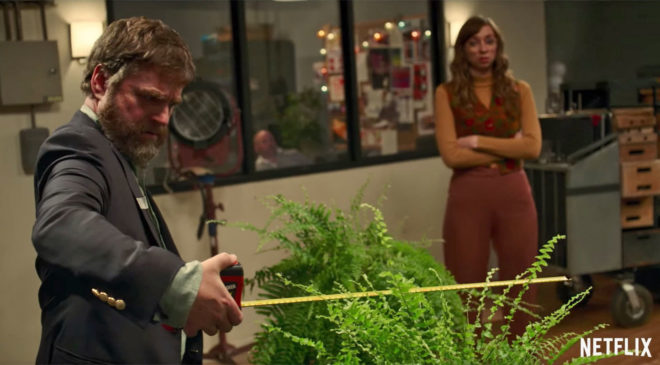 Between Two Ferns continues to be a cool little time-waster shared on Facebook or Twitter, but as a feature film there's a lack of impetus or momentum that robs the movie of all potential. You know you're in trouble when the funniest stuff is tucked away in the credits-bound outtakes, all of which had me cackling like a loon, but the bulk of the film's road-tripping laughs and semi-serious jibes feel clumsily arranged around half-assed story points. Fans of the web series will likely enjoy it, those coming in cold will not; personally, I found it more a laborious curiosity than anything else. The addition of Will Ferrell in full Will Ferrell mode, acting as if he's in a totally different film for some reason, killed it for me.
Who wrote this?