Movie Review – Stan & Ollie

Principal Cast : John C Reilly, Steve Coogan, Shirley Henderson, Nina Arianda, Danny Huston, Rufus Jones, Susy Kane.
Synopsis: Laurel and Hardy, the world's most famous comedy duo, attempt to reignite their film careers as they embark on what becomes their swan song – a gruelling theatre tour of post-war Britain.
********
It's obvious from the first frame that Stan & Ollie is a film made with unique love for its subjects: namely, legendary comedy duo Stan Laurel And Oliver Hardy, a pairing on-screen that lasted from the late 1920's until Hardy's passing in 1957. Set during the pair's 1950's tour of England, Stan & Ollie lavishes its attention on the winning performances of John C Reilly and Steve Coogan, who inhabit the roles brilliantly throughout, and although desperately devoid of solid grit within its period decals, offers a nostalgic glimpse into postwar Hollywood careers and the gradual decline of one of Hollywood's all-time comedy partnerships.
In 1953, former Hollywood superstars Stan Laurel (Steve Coogan) and Oliver Hardy (John C Reilly) arrive in England to commence a stage show tour of the country, booked by impresario Bernard Delfont (a perfectly cast Rufus Jones). The pair's fame has begun to wane in recent times, and they plan on using the earnings from the tour to finance a new film project based on Robin Hood. Delfont, however, has booked the pair into backalley performance venues, crippling their income and straining the pair's natural chemistry together. Embarking on a number of publicity appearances, the duo suddenly find their popularity back on the forefront of everyone's minds, and they start to play to larger venues. Eventually, the men's wives arrive – Laurel's wife Ida (Nina Arianda), is a priggish Russian-born wannabe actress, whilst Hardy's unflappably British wife Lucille (Shirley Henderson) is almost overprotective of her husband – and tensions become even further strained due to a previous perceived betrayal at the studios of producer Hal Roach (Danny Huston). It is only when Hardy suffers a medical episode that the pair's legendary partnership finds the resolve it needs to continue.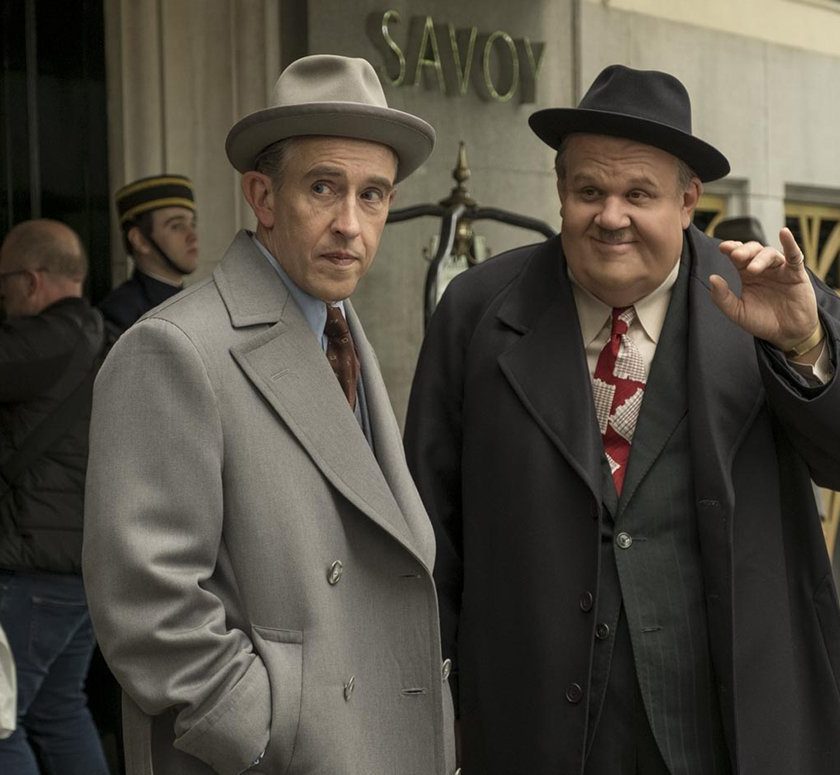 It's almost a complete cliche in the entertainment industry that the greatest creative partnerships have often suffered at the hands of fame and fortune. The drive to remain popular, or relevant, or enduring, or successful, has driven many a successful partnership apart over time. Perhaps most famously in Hollywood, the partnership between Jerry Lewis and Dean Martin was both incredibly profitable and eternally detrimental to both mens' careers over the journey, each successful in solo careers but incredibly moreso as a pairing. The legacy of Stan Laurel and Oliver Hardy is perhaps less known, at least on a personal level, due mainly to the passage of time today, and so Jon S Baird's wonderfully faithful film about the legendary screen duo in their later years touching on a similarly strained creative partnership is particularly noteworthy not just for suggesting that these things remain eternal but that Hollywood hasn't changed all that much.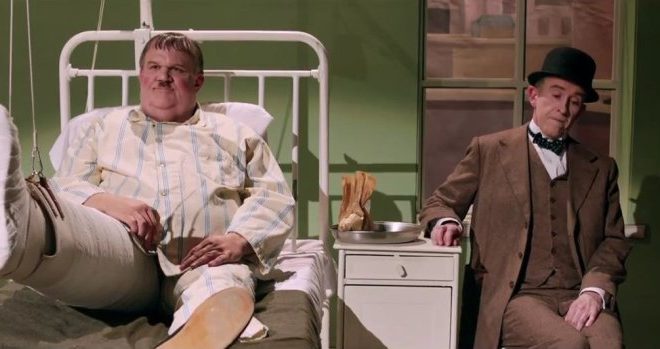 Written by Jeff Pope, long-time collaborator with star Steve Coogan (they were both nominated for an Oscar for their screenplay for Philomena), Stan & Ollie is the kind of film that almost worships its premise and subject a little too much, refusing almost point-blank to really dig into the nuts-and-bolts of the pair's failings and foibles, content instead to dwell on nostalgic reminiscence of their heyday, which was quite the heyday if you don't mind. Regaling us with glimpses of their material, a soft-focused reenactment by Reilly and Coogan of some terrific comic timing and "bits", Stan & Ollie wants not for quality production value and wallows in a reverence for the two performers to a degree it's hard to suggest isn't an intimate affair, even if the screenplay struggles to imbue the film with a real catalyst for conflict or angst; aside from the two bickering wives, the relationship between Laurel and Hardy rarely deviates from mild disdain or at worst briefly disgruntled, but at no point do the pair really ever conflict in a manner that might make an interesting story. And when they do, it's too easily brushed aside. Don't get me wrong, the film is wonderfully done, and I did thoroughly enjoy it, but at the end I did start to wonder what the point was. Who were these legendary people of cinematic history, really? I knew as much about both at the end as I did at the beginning, and this – at least for me – is a fatal flaw in the film's overall execution. It all looked nice, but the film didn't really teach me anything.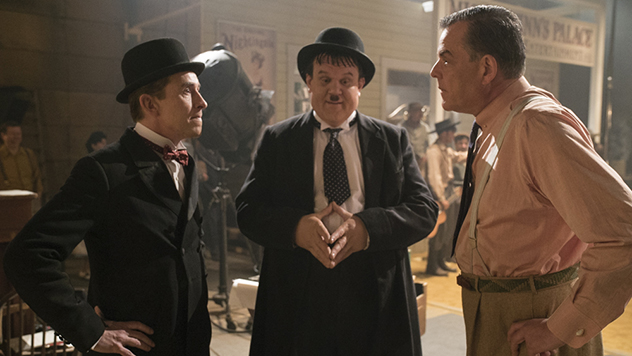 In spite of a lack of honest conflict, the performances and direction in all corners is excellent. Coogan is terrific as Stan Laurel, a man whose drive to establish he and Hardy as film producers in their own right (apparently you only "made it" in old Hollywood if you could afford to start your own production company, as both Chaplin, Keaton and Lloyd all did) forms the basis for the threadbare conflict late in the film, whilst John C Reilly is magnificent as the overweight co-star, Oliver Hardy. Reilly is buried beneath some sublime makeup, making him look… er… more portly than usual, but even so he manages to provide a performance that truly is the highlight of the movie: he inhabits the role so completely you actually forget it's him underneath the prosthetic, and achieving that takes talent. Shirley Henderson (Moaning Myrtle in the Harry Potter films) and Nina Arianda (Midnight In Paris, Florence Foster Jenkins) are wonderful sparring partners as both Laurel and Hardy's wives respectively, and Rufus Jones rounds out the small ensemble as the duo's British booking agent, Bernard Delfont, who may or may not have their best interests at heart. Character driven, the film hinges on performance and as such, succeeds wildly, for nobody puts a foot wrong despite the bucolic nature of the pacing and reproduction of period-era English settings.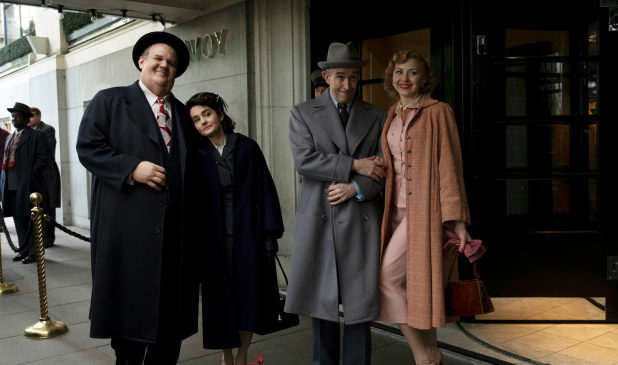 Similarly to Richard Attenborough's biopic about Charlie Chaplin, Baird's Stan & Ollie contains all the ticked boxes for a magnificent opus: if only it knew what do do with them all. Quality cast, superb production design, magnificent technical aspects (the score by Laurie Rose is restrained but effective) and a director who obviously regards the men with great affection, he so obviously wants to avoid casting aspersions, Stan & Ollie is a high quality production that, while eternally optimistic with regards to the power of creative drive and friendship, feels too lightweight with regards to the men's relationship. It's a softly-softly approach to historical fact, blurring the line between the harsh reality of post-war Hollywood and the breakup of the studio system, and the genteel sense of nostalgia the script wants to engage with. I can appreciate the film will draw plenty of praise in many quarters for what it does deliver, but I found it devoid of heft when it mattered, despite my affection for the subject.
Who wrote this?