Movie Review – Front Runner, The

Principal Cast : Hugh Jackman, Vera Farmiga, JK Simmons, Alfred Molina, Sara Paxton, Mamoudou Athie, John Bedford Lloyd, Spencer Garrett, Steve Coutler, Ari Graynor, Kaitlyn Dever, Toby huss, Steve Zissis, Bill Burr, Mike Judge, Kevin Pollak, Tommy Dewey, Molly Ephriam, Chris Coy, josh Brener, Mark O'Brien, Alex Karpovsky, Oliver Cooper.
Synopsis: In 1987, U.S. Senator Gary Hart's presidential campaign is derailed when he's caught in a scandalous love affair.
********
Sad as it seems, the media circus surrounding American Presidential campaigns is here to stay. Every four years we have to endure another personality autopsy on all the various people who seek the highest office in the United States, an office encumbered by noted racist, bigot and philanderer Donald Trump, a man for whom the central premise of Jason Reitman's The Front Runner might seem positively antiquated. The events of the 1988 Presidential Campaign, in which Democrat senator Gary Hart became the hit favourite to take the nomination (and probably win the Presidency) found his campaign completely derailed by a claim of infidelity, and ended up withdrawing in disgrace. The Front Runner is a Sorkin-esque take on the inner-workings of a modern campaign, run on television sound-bites and appearance rather than actual personality, although the salacious nature of Hart's private life – he was separated from his wife Lee, and children, at the time of his reputed involvement with a mystery woman aboard a luxury yacht – becomes the dividing factor for pundits, newspapermen and the gaggle of television newsrooms vying for viewers looking for juicy gossip. While The Front Runner might seem pertinent to post-millennial American political showmanship, it instead becomes a cautionary tale of how far the country has fallen with respect to holding it's politicians as paragons of public office.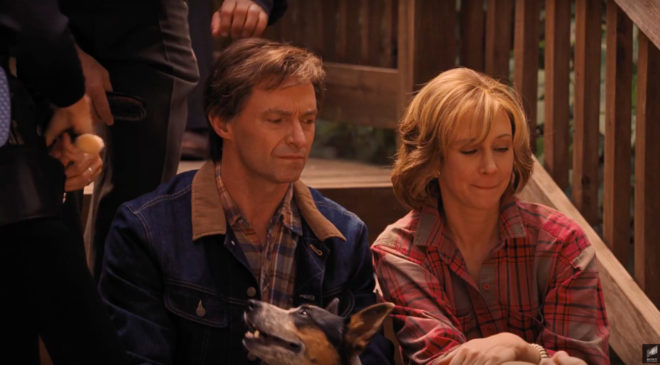 It's 1987, the US Presidential Elections are approaching, and US Congressional Senator Gary Hart (Hugh Jackman) is the most popular candidate seeking the Democratic Party nomination. His campaign takes him across the country, although his base of operations remains in his home state of Colorado, where he has a fractious relationship with wife Lee (Vera Farmiga), with whom he is currently separated. His actions are carefully monitored by campaign manager bill Dixon (JK Simmons) and Hart's press secretary Kevin Sweeny (Chris Coy), and they are followed by a posse of reporters from newspapers and television, including young Washington Post journalist AJ Parker (Mamoudou Athie), who seeks one-on-one time with the superstar senator. After flippantly suggesting the reporters "follow him around" in his day to day life to see how mundane it really is, Hart becomes the object of intense public scrutiny for apparently having a sexual liaison with a mystery woman, Donna Rice (Sara Paxton) during an at-sea party aboard a luxury yacht. With the media hounding his every move, and an insatiably crass clamouring for an explanation as to why he might cheat on his wife (regardless of whether he was separated at the time or not), Hart is forced to fall on his sword and withdraw from the race, one of many politicians caught up in sex scandals that would bring their careers undone.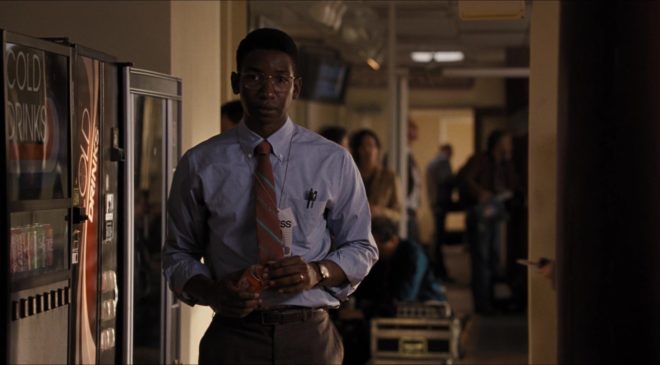 It should be noted before I plunge into this review proper that both Gary Hart and his apparent mistress Donna Rice continue to vehemently deny their relationship was anything other than platonic. The film's liberty with this truth is immaterial when it can suggest that they did have a relationship, despite Hart himself calling the chief editor of the Washington Post, played by Kevin Pollak, to account in the middle of a very public town hall debate. Whether they did or not isn't the point of the film, I guess, but rather it serves as a delicious appetiser for the film's core motivation: deploring the fall of a proud and worthwhile institution of American democracy becomes a slaughterhouse of personality, moral uprightness and ethical turpitude. Hart, in facilitating a clandestine, utterly private and entirely out-of-sight relationship with Rice, which would never have been discovered had a trio of reporters not staked out his Colorado home following a tip-off, unintentionally hurls the debate over right to privacy for public figures into the mainstream spotlight, forever changing politics and public knowledge of every intricate detail of America's leaders into a completely different world.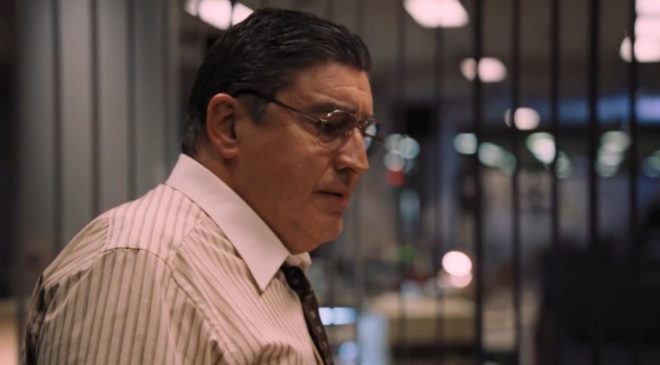 The Front Runner is a difficult film for me to offer insight on: I'm not American, I knew nothing about Gary Hart until I Googled him for this movie and review, and the machinations of American politics aren't exactly hot on my radar at the minute, given the circus currently underway in the United States. Does the film stand on its own as a biographical account of a particular time in US politics? Yes, it does. Is Reitman's insight into the events surrounding Hart's fall from grace particularly noteworthy, or able to shed light on a man for whom privacy and public life clashed in a manner hitherto previously unknown by modern American standards? No, not really. The film's screenplay, co-authored by Reitman with Jay Carson and Matt Bai, the latter of whom wrote the book on which this film is based, tries to dovetail political strategy and manoeuvring with a more personable, failing human being and his relationship with his wife; Hart's relationship with Lee, played by an earnest yet criminally underused Vera Farmiga, is the least interesting aspect of the film, yet when we dig deeper into the Washington Post's covert operation to uncover the truth, eliciting another "you have five minutes to prove it until we print" ticking clock motif, the film really hits its straps.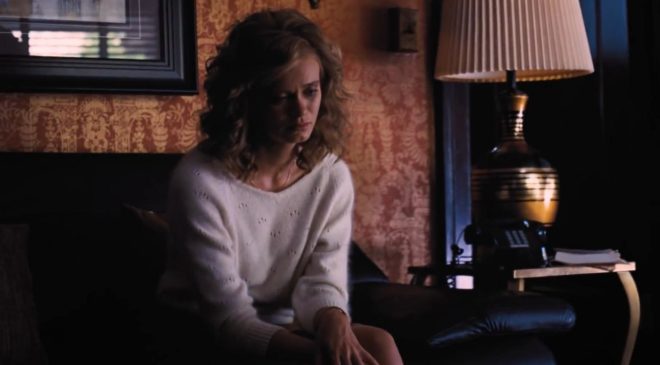 They aren't great straps, with Reitman's direction and decision to somehow mumblecore his way through the story and make it feel like an Aaron Sorkin West Wing-style drama, listing badly with ill-timed humour and an uneven sense of pathos. Jackman, as Hart, is solid in that big-teethed way the real Gary Hart was, expansive and passionate and driven to succeed and prove the naysayers wrong, but as a person you never really get the sense that he's there beyond the borders of the film. Why was Hart separated at the time from his wife (the reconciled and continue to be married, as stated by an end-title card), why drive him into public life, and why did he feel the need to flirt with Donna Rice to the point his career crumbled around him? None of these are adequately fleshed out in the film, with Reitman's fluid editing and direction unable to really hone in on what made Hart tick. He's a solid citizen of the USA, no doubt, but exactly why his flaws became his flaws is key to answering the film's central riddle.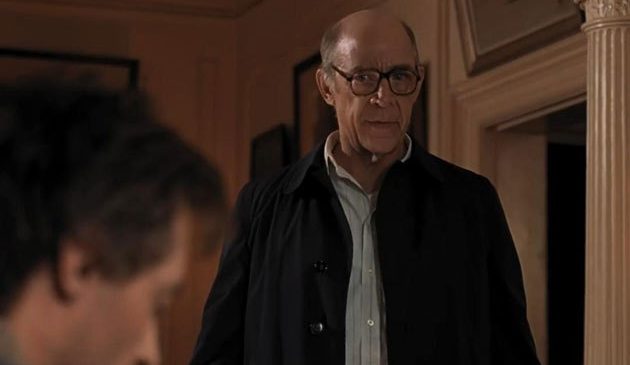 Abetting Jackman is a sublime cast including JK Simmons, as Hart's crusty, been-there-done-that campaign manager, and as usual Simmons acts the ass of everyone else around him. Alfred Molina pops in as the Washington Post's legendary editor in chief Ben Bradlee (who made a name for himself during the Watergate scandal in the Nixon years), Kevin Pollak cameos as a fictional newspaper editor harangued by Hart, and comedian Bill Burr makes a surprisingly excellent fist of a reporter hoping to capture Hart "in the act", as it were. Relative newcomer Mamoudou Athie plays another Washington Post reporter who comes as close as any to befriending the senator, while Chris Coy is solid as Hart's press secretary. The film's tone is one of a dark comedy of sorts, but The Front Runner plays more like Spielberg's The Post from 2017, only with a more eclectic cast and a sense of wider ensemble interplay; here, Reitman fudges the truth by introducing fictional characters to the real-world players (many of the reporters depicted aren't real people) and one can't help but wonder how much poetic license (or rather, political license) he took with the real events of the film's narrative. I found the film lacked a sense of internal rhythm, a sense of timing in revelations and exposition, and there's a scene late in the film that would undoubtedly become the Awards Season clip played ad-nauseum during the early part of the year were the film to become a contender.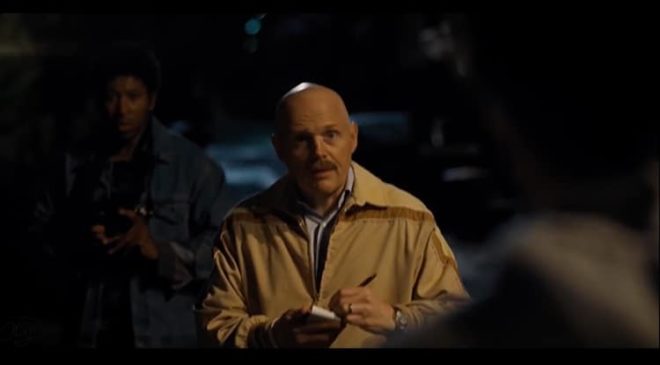 There's a reason it didn't: The Front Runner is perfectly middle-of-the-road fare, ably led by a charismatic but shallow Hugh Jackman, a poorly served Farmiga, and a showstopping turn by JK Simmons. How Bill Burr didn't get to play the rapacious Bill Dixon instead of Simmons I'll never understand (Burr's real-world angry comedian character is a far better shot at the crusty, garrulous Dixon in my humble opinion), suffice to say the film's performances can't be understated. They are good, but the film's waffling tone and unwillingness to make a statement about the Hart affair one way or the other, leaves audiences wanting more from a film unable to give it.
Who wrote this?