Movie Review – Ladies In Black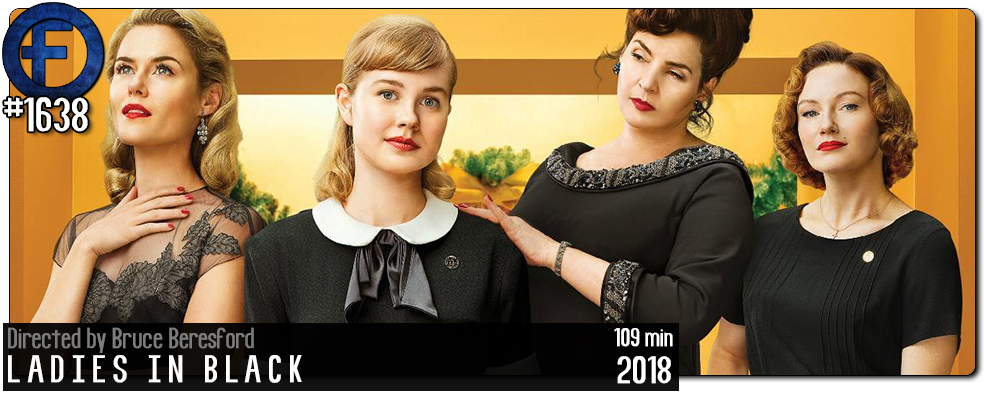 Principal Cast : Angourie Rice, Rachel Taylor, Julia Ormond, Vincent Perez, Susie Porter, Shane Jacobson, Ryan Corr, Nicholas Hammond, Noni Hazlehurst, Luke Pegler, Celia Massingham, Alison McGirr, Trent Baines.
Synopsis: A group of workers at a Sydney department store deal with their lives, their loves, and the growing immigration and integration throes of Australia in the 1950's.
*****
Director Bruce Beresford tackles racial integration in Sydney's bristling fashion circuit in the late 1950's, as the notion of immigration comes to the fore in this genteel retelling of Madeline St John's novel. While it lacks genuine bite and a sense of urgency on the part of many of the film's subset of stories, there's a lot to like about Ladies In Black's subtle Aussie humour and gorgeous production values as it winds its way to a not-quite-surprising conclusion and, like The Dressmaker before it, that "aww shucks" feeling of romanticised history sweeps us all away.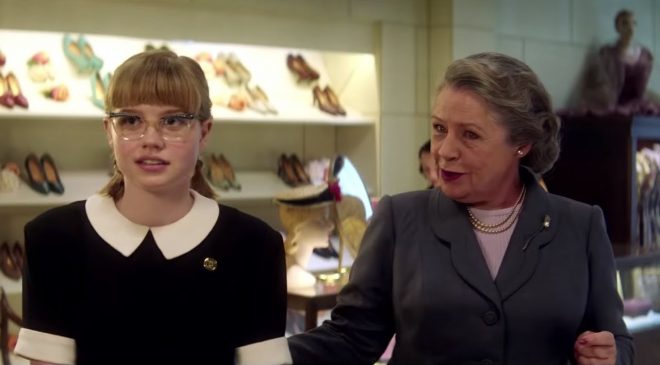 Prejudice, bigotry and immigration are three on-point themes global society is tackling these days; it's somewhat sad, then, to see how little has changed if the backdrop of Ladies In Black is anything to go by. Angourie Rice leads as Lisa, the daughter of a working class family who is desperate to get into university despite the scoffing of her garrulous father (Shane Jacobson). lisa works as a Sydney department store, in the boutique section, under the tutelage of fashionista Magda (Julia Ormond) and command of Miss Cartright (Aussie screen legend Noni Hazlehurst). Meanwhile, fellow store employee Fay (Rachel Taylor), a former dancer hoping to meet Mr Right, falls for the handsome immigrant Rudi (Ryan Corr), balancing her own prejudice about his background with her own dark past, while Myra (Celia Massingham) finds her husband (Luke Pegler) has vanished and is forced to confront the thought that she's been abandoned.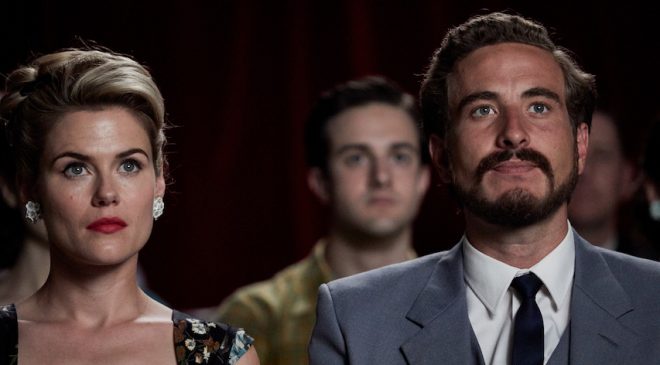 If nothing else, Ladies In Black is utterly charming and devoid of snark. A bucolic period film utilising some of the best natural locations Australia has to offer (the Blue Mountains appear a lot in this movie, which is about as far West as Sydneysiders tend to want to go in this country), Beresford's sublime direction is only magnified by his wonderful cast and the film's stunning production design – particularly the costuming, which won the Australian equivalent of the Oscars in that category only recently as of this review – and Ladies In Black, while accommodating its subtext of acceptance and thinking-outside-the-box manages to remain an idyllic snapshot of mid-20th Century Australian life.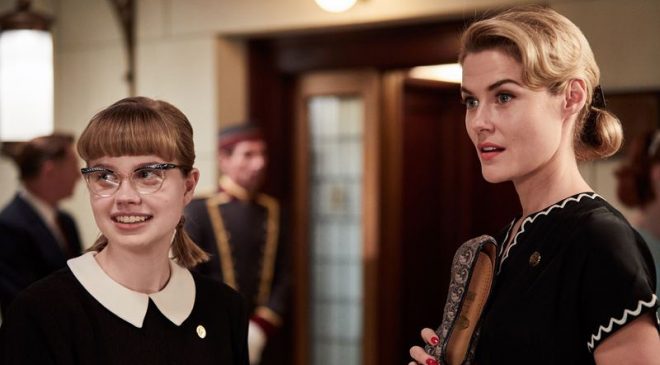 During the period in which the film is set, Australia saw a large influx of migrants, especially from Europe (colloquially known as Continentals) and this saw a sense of usurpation by the established colonial population (who, much like many invaders, saw themselves as the rightful inhabitants of the land) and this root of prejudice flowed strong throughout the country at the time. Heck, it still does. These themes of begrudging acceptance in the face of outright racism and classism are threaded deeply into Madeline St Johns' story, and Beresford take great pains to paint the thematic structure of the film as gently-gently as he can. This isn't a searing, scabrous dramatic heavyweight, but rather a nostalgic venture back in time when "things were simpler" – hah – and all in all, it works rather wonderfully.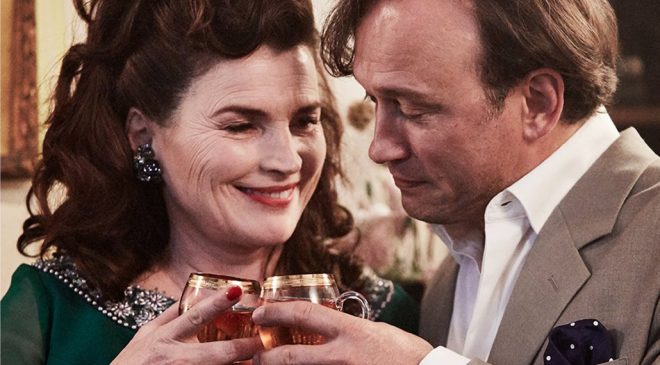 As the film unwinds, the characters within it flesh out to become wonderful examples of great Australian cinema. The top-line cast, led by Angourie Rice and the wonderful Julia Ormond (who is utterly unrecognisable as the same woman from Legends Of The Fall), are all exquisite in their roles, no matter how minor, and to Beresford's credit he intertwines each specific narrative wonderfully well. The film feels balanced, if I can use the term to describe the screen time devoted to each of the central characters. Rice's Lisa is a wide-eyed innocent about to jump headlong into The World, with her mother (Susie Porter) as supportive as she can be whilst still trying to mother her. Kenny star Shane Jacobsen is affably excellent as her resistant father, while Noni Hazlehurst, as the matriarchal Miss Cartright, is one of the best parts of the film. Certainly the most poignant.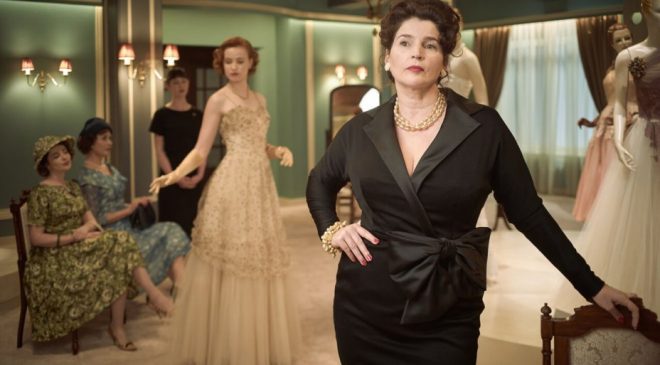 Ormond, as Magda, plays the foreigner in a foreign land to the hilt, complete with middle-European accent, and alongside Vincent Perez as her supportive husband does a bang-up job in the story. Rachel Taylor's prejudicial Fay, herself hiding a dark past, has a terrific screen chemistry with on-screen love interest Rudi, Ryan Corr's work as a handsome immigrant intellectual a thoroughly lush leading-man archetype. Indeed, the film's supporting cast all have their moments to shine (the point Jacobson's father figure learns his daughters fate with university acceptance is one of the most heart-bursting moments of the movie, although it's played so downbeat and insular) and as I alluded to, everyone gets their beat in the story.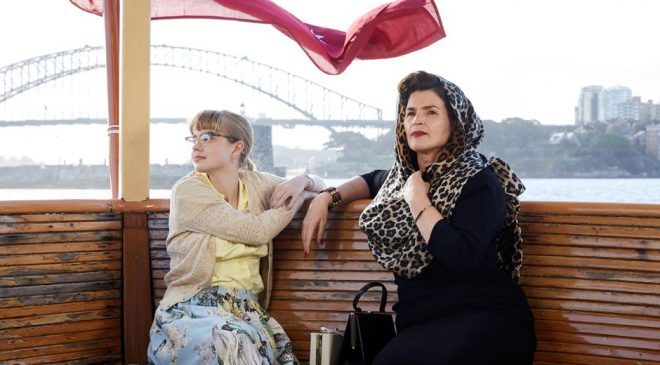 Chief among the film's greatest assets, however, is its production design, about which I cannot rave more highly. Cinematography by legendary Aussie filmmaker Peter James (one of his first films was Peter Weir's The Cars That Ate Paris, for goodness sake!) is exquisite, the locations used within the film shining with that bright, picturesque, idyllic postcard look emblematic of much of high-profile Australian cinema. The photography and framing, not to mention the focus pulling on this film, is exemplary. So to the costuming and attention to every period detail in the sets, from the lovely dresses at the film's central department store setting, the various apartments and houses inhabited by the characters, and the beautiful Sydney of a bygone era as seen through the lens of Beresford's rose-coloured beauty. At times, it is simply breathtaking.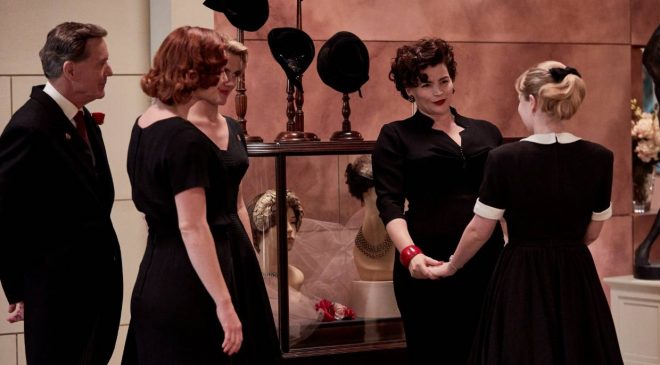 Ladies In Black is a simple film that delivers sweet-hearted romance, some pointed but un-overt commentary on acceptance and the idealism of immigration, a fair degree of feminism and girl power, but never feels like it's out to make the point known. It's gentle, remarkably funny, and filled with practised actors making each character their own. Ladies In Black might want for a central villain, something to jettison the floating, wavy feeling of nostalgia within the plot, but its heart is well and truly in the right place and the execution of the premise is absolutely spot on.
Who wrote this?