Movie Review – Dressmaker, The (2015)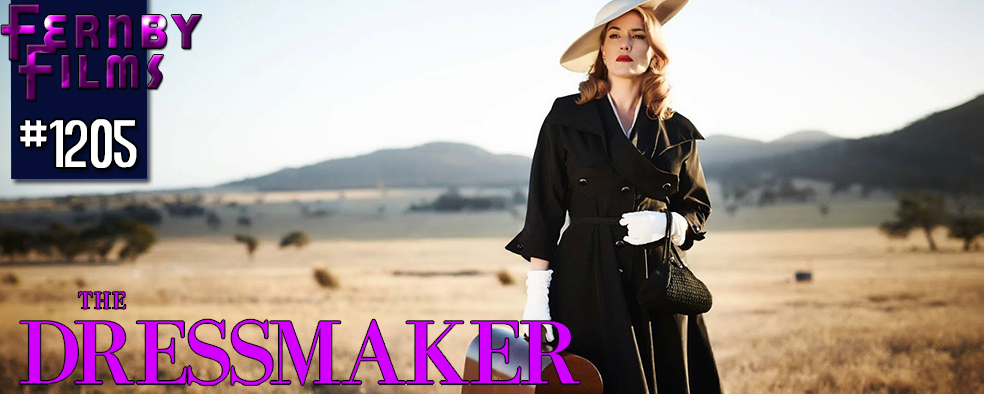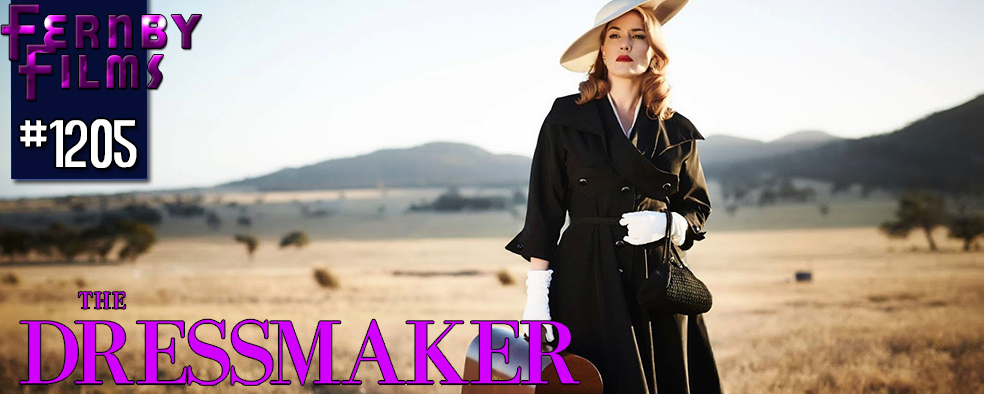 Director :  Jocelyn Moorhouse
Year Of Release :   2015
Principal Cast :  Kate Winslet, Judy Davis, Liam Hemsworth, Hugo Weaving, Sarah Snook, Sacha Horler, Caroline Goodall, James Mackay, Rebecca Gibney, Shane Bourne, Alison Whyte, Barry Otto, Julia Blake, Kerry Fox, Gyton Grantley, Genevieve Lemon, Shane Jacobson, Tracy Harvey, Terry Norris, Stan Leman, Rory Potter, Darcey Wilson, Lucy Moir.
Approx Running Time :   118 Minutes
Synopsis:   A glamorous woman returns to her small town in rural Australia. With her sewing machine and haute couture style, she transforms the women and exacts sweet revenge on those who did her wrong.
*******
Boasting a star-studded Australian cast, and featuring a terrific turn by Kate Winslet (sporting a flawless Australian accent!), The Dressmaker is at turns a heartbreaking tragic drama, a hilarious comedic enterprise, and an altogether luxuriously eclectic venture into the Australian outback. A tale of death, sadness, revenge and haute couture, The Dressmaker features not only some excellent writing and performances, but a solid, beautifully aching directorial turn from Jocelyn Moorhouse, who gives the film a vibrant sense of place and time amid the pernickity gossip and suppressed animosity between the townfolk. Based on Rosalie Ham's 2000 novel of the same name, The Dressmaker's remarkable intuitive sense of irony, humour and period attitudes provides a complex tapestry of not only cultural taboos and esoteric Aussie subtext but also a wry, at times melancholy depiction of 1950's rural country life that's as iconic as it is culturally cringeworthy.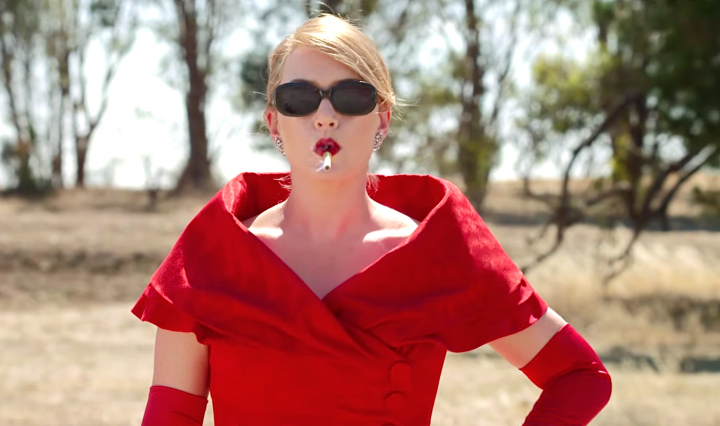 Myrtle Dunnage (Winslet) returns to her outback ancestral outback home of Dungatar, following a career in dressmaking in Paris following her removal from the town some 20 years prior. Osentisbly returning home to look after her elderly mother, Molly (Judy Davis), Myrtle begins to question why she was taken from the town following the death of local boy Stewart Pettyman (Rory Potter) many years earlier. The townsfolk blame Myrtle for the boy's death, accused by the local schoolteacher Beulah Harridine (Kerry Fox) of committing murder. While her mother pretends not to remember her or the accusations, Myrtle meets local farmhand Teddy McSwiney (Liam Hemsworth) who persuades her that she isn't – in her own words – cursed, and that there has to be an explanation for Stewart's death. It's through her skills as a dressmaker, making gowns and clothing for most of the town's female population, that sway them to her side, only to find local town councillor Evan Pettyman, the father of Stewart, has hired another woman (Sascha Horler) to make dresses by way of competition, in order to run Myrtle out of town.
Like many of its contemporaries, The Dressmaker features that distinct Aussie blend of humour and pathos international audiences have enjoyed since… well, Crocodile Dundee. Deftly written – screenplay by Muriel's Wedding and How To Make An American Quilt helmer Moorhouse, and her director husband PJ Hogan – the film's mixing of laughs and tragedy is affectingly bizarre but entirely local, a by-product of our cultural British heritage and the amalgam of American comedic archetypes. From Winslet's femme fatale Myrtle, who leaps between strong-willed and an underpinning fragility that belies her initially cool exterior, through to Judy Davis' riotous performance as her mother, and Not Thor's square-jawed romantic interest, the film contains enough saturated fat within its bubbling narrative to captivate many a female viewer; it should be noted that guys will get a kick out of this one too, if for nothing else but spotting all the Aussie talent on display in this ensemble piece.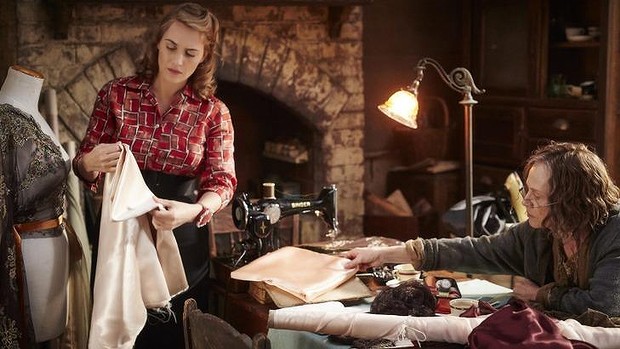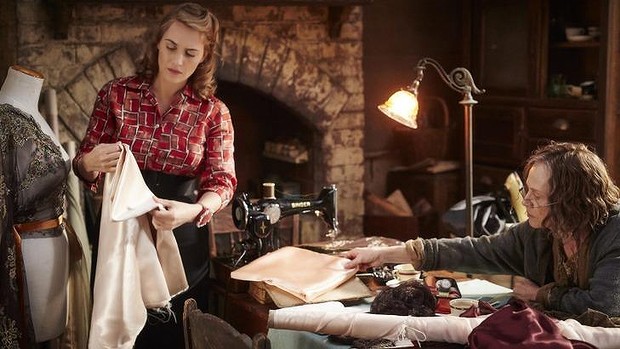 And it truly is an ensemble: although Winslet has the starring role, and nails it absolutely, the supporting cast are probably the most memorable part of the while production. Hugo Weaving plays the town's hilarious cross-dressing police officer (obviously revelling in a brief return to Pricilla's camp fun), Predestination and These Final Hours star Sarah Snook delivers the comely-come-gorgeous transformative part of Trudy Pratt, Strictly Ballroom's Barry Otto (he played Paul Mercurio's father) as a creepy, lecherous, hunchbacked town pharmacist, Kenny's Shane Jacobson as the town's shopkeeper, Gyton Grantley as a mentally handicapped brother to Hemsworth's Teddy, and eponymous television star Rebecca Gibney as one of the town's matriarchal mothers. Keep an eye out for Caroline Goodall, who plays Snook's mother with that crusty, nose-turned-up snobbish delicacy British actresses do so well. Not a single part of this film's cast trip over on the subtleties or nuance of the story's darker underbelly, and neither does the film shy away from depicting it with a gut-punch of raw emotive heft.
At the heart of the film is a young boy's death – a young boy who bullies and torments the young Myrtle (slowly revealed in flashback) before his untimely death. It's a dark subplot running parallel to the simmering anger and hatred beneath the town's veneer of pleasantry and lip-service to civility. By the end, however, true motives are revealed and Winslet's Myrtle gets to cut loose with the mother of all Clint Eastwood Delivers Revenge stories pulling the rug from under the audience's expectations, a well deserved story of revenge amid the continually rising body-count. As a satisfactory fist-pump moment for Myrtle, and by extension us, the viewer, The Dressmaker takes its time getting there but when it arrives, arrives with a bang. The film derives its laughs from multiple places: the behaviour and eccentricities of the folk of Dungatar, the LOL-worthy performance by Judy Davis (seriously, no Oscar attention for her?) and the scant, coquettish sense of propriety in outback Australian in the early 1950's, a place where civility and pomposity are wallpapered over deep chasms of many a personal abyss.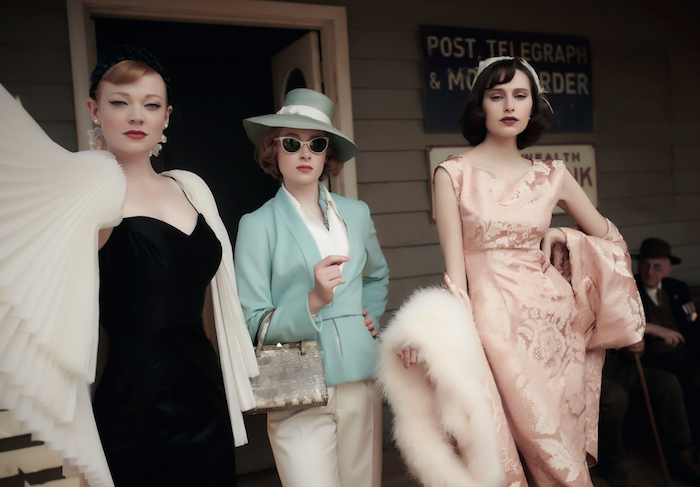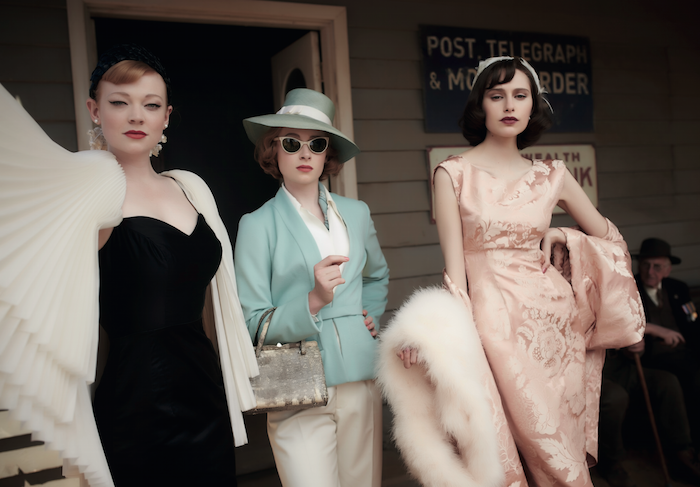 Of all the great stuff within the film, the most troublesome aspect I had was with Liam Hemsworth's character. Teddy, who becomes Myrtle's romantic interest, is – in hindsight – a largely inneffectve and indifferent character to the plot. I'm not sure how he works into the original novel's narrative, but within the film he's more a flirtatious, dubiously conceptualized love interest for the leading lady, and a catalyst for Myrtle actually remembering the truth behind Stewart Pettyman's death, but given his ultimate fate in the film, and how impactful a character he turns out to be, I'm not entirely sure his appearance in the film warrants such effort. Hemsworth is solid if workmanlike, trading on his obvious sex appeal for a sultry chemistry with Winslet, but were you to remove his character from the film, and give his actions to another established role, he'd never be missed.
Ultimately, The Dressmaker roars to its flaming conclusion with a satisfying sense of closure and comeuppance. The film's villains get their just deserts, the heroine effectively "rides off into the sunset", and we learn that it's not what's on the outside that counts, but what's beneath the expensive couture clothing that matters. Or something. Look, I had a ball with this film, and aside from a piffling romantic sidebar that derails some of the film's comedic momentum, there's very little reason I can give for not recommending this film completely. Stuffed with gorgeous cinematography and a commanding performance by Winslet, who keeps getting better and better, The Dressmaker is effective, solid film-making that absolutely does the book proud.
Related articles
Related articles
Who wrote this?