Movie Review – Thor: Ragnarok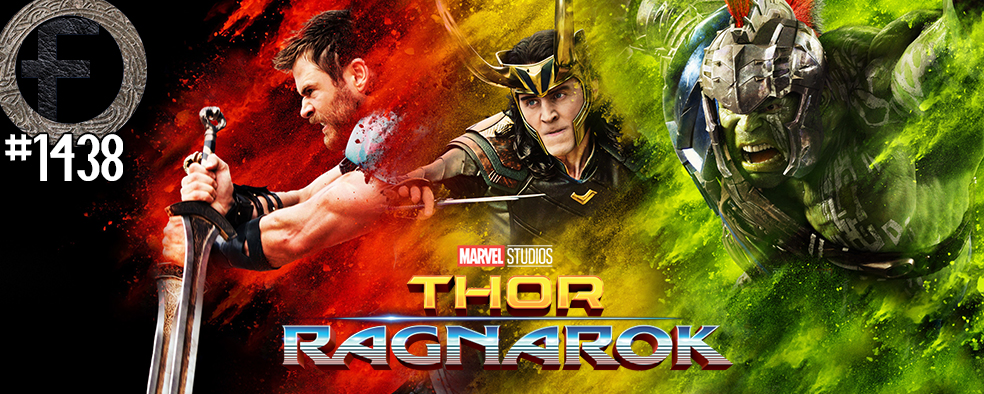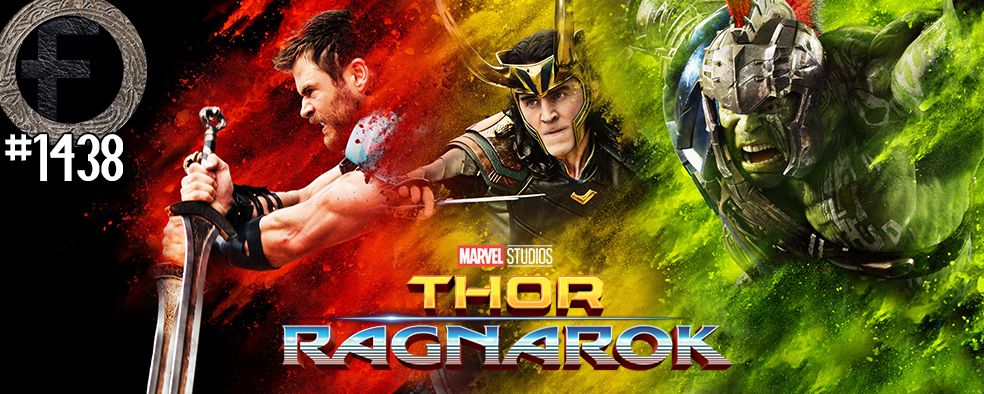 Director :   Taika Waititi
Year Of Release :   2017
Principal Cast :  Chris Hemsworth, Tom Hiddleston, Cate Blanchett, Idris Elba, Jeff Goldblum, Tessa Thompson, Karl Urban, Mark Ruffalo, Anthony Hopkins, Benedict Cumberbatch, Rachel House, Clancy Brown.
Approx Running Time :   130 Minutes
Synopsis:  Imprisoned, the mighty Thor finds himself in a lethal gladiatorial contest against the Hulk, his former ally. Thor must fight for survival and race against time to prevent the all-powerful Hela from destroying his home and the Asgardian civilisation.
******
Quicksilver planning and sublime direction from New Zealand native Taika Waititi brings the third of Marvel's Thor-centric films to the peak of a gleeful romp: Thor: Ragnarok is unabashedly fun, altogether hilarious, and a substantial deviation from Kenneth Branagh's stately opening gambit, and Alan Taylor's maudlin, overly sombre sophomore effort. Following what appears to be James Gunn's lead from the equally energetic Guardians films, Waititi and screenwriters Craig Kyle, Chris Yost and Eric Pearson deliver pathos, drama and a wholly great time at the movies, as Chris Hemsworth's playful screen charisma is brought to the fore alongside sparring partner Mark Ruffalo (as the Hulk), and Aussie Cate Blanchett as Hela, nemesis of Asgard and Goddess Of Death, who seeks to ruin Asgard and control the cosmos.
Admittedly, I've always struggled with Thor as a character, despite Hemsworth's gallant and enthusiastic portrayal. Thor's appearance in the Avengers solidified him as a major heavy hitter, although given his predilection for brute strength over subtlety and intelligence I found the character to almost be redundant to plot aside from whenever heads needed kicking. Understanding his attachment to Norse mythology and the nature of his adopted brother Loki's mischievous machinations throughout the Marvel Cinematic Universe, Thor had the potential to really counterbalance the Guardians' cosmic adventures with his own space-bearing antics – glimpses of it seen in both the original Thor and in The Dark World, but expanded in a manner that seems fresh and new here.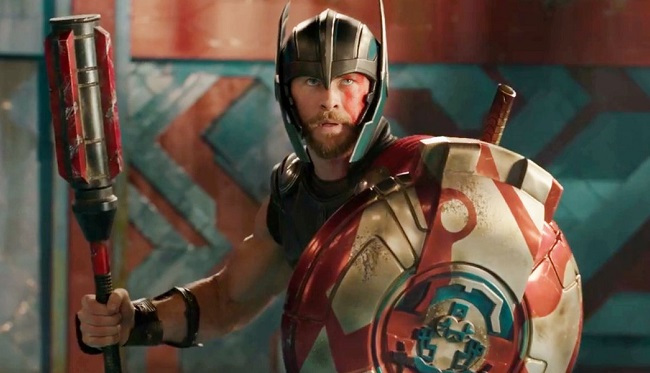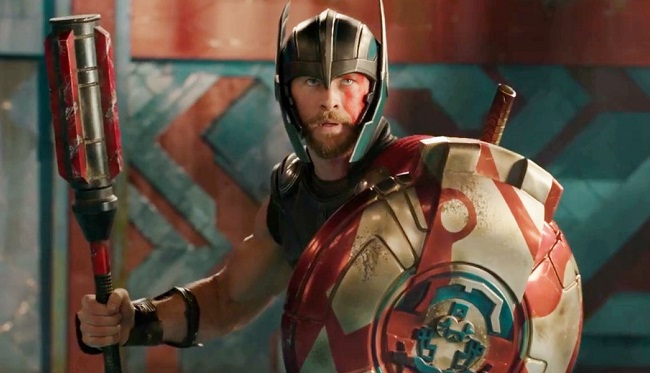 Thor finds himself back on Asgard, where his brother Loki (Tom Hiddleston) has assumed the guise of their father Odin (Anthony Hopkins) in order to spread a bit of chaos across the land. When the real Odin dies (back on Earth, where he had been banished by Loki) his passing releases their sister Hela (Cate Blanchett) from her prison, where she seeks retribution and redress for years of incarceration. The self-styled Godess of Death soon takes over Asgard, alongside her underling Skurge (Karl Urban), and casts Thor into a distant part of the Nine Realms, onto the planet Sakaar, where he is held prisoner in gladiatorial games by the Grandmaster (Jeff Goldblum). Here, too, is Hulk (Mark Ruffalo), as well as former Asgardian warrior Valkyrie (Tessa Thompson), both of whim Thor seeks to recruit into a team that will return to Asgard and defeat Hela.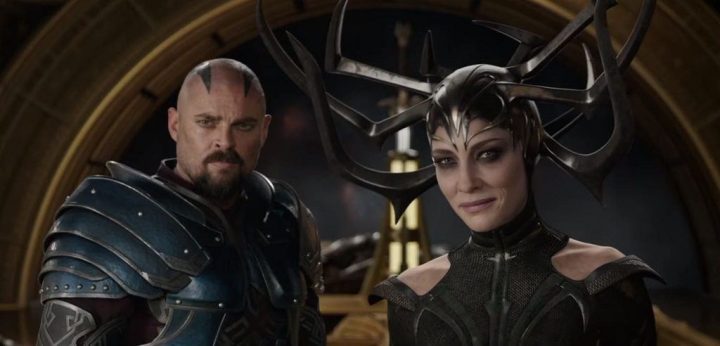 If you were one of the few who missed seeing Hunt For The Wilderpeople, then can I suggest you go check that out. It's a perfect introductory film displaying Taika Watiti's specific sense of humour, a sense of humour that's both engaging and subversive in its effectiveness. Ragnarok merely expands Waititi's toybox of charm, bringing Marvel's hammer-wielding God Of Thunder into a vastly more colourful canvas of adventure. The film effortlessly washes away the bitter taste of The Dark World (even poking gentle fun at it in an early parody sequence) and shines the sun on our erstwhile Asgardian. Raganrok's colour palette is brilliant, in the bright sense not the "that's so excellent" sense. Lensed by Spanish DOP Javier Aguirresarobe (Warm Bodies, Their Finest Hours), Ragnarok lacks darkness and menace overall, replacing this omnipresent sense of dread with a kaleidoscopic maelstrom of astonishing framesmanship and sublime action staging.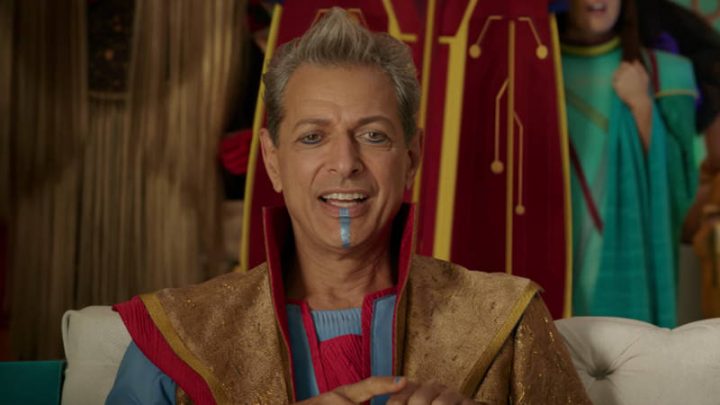 Almost from the get-go, Raganrok is a solid chucklefest. laughs aplenty are scattered throughout the script, often overt but with a substantial amount of subtlety as well, including several suckerpunch gags that fans of the MCU will delight in, and casual fans will guffaw at. Waititi's unique brand of humour and sarcastic downbeat underplaying of much of the franchise's inherent silliness (including the banter between Hemsworth and Ruffalo, which is an utter delight given their screen history through several films) is utterly charming, drawing the viewer in with intelligence rather than brusque American abrasiveness (you know, Deadpool style – which works for Deadpool, but wouldn't here) and it's a plus for the film that he's aboard. Absurd as it is, I think I laughed more at this film than I have for the entirety of the rest of Marvel's films combined to this point, it's that funny.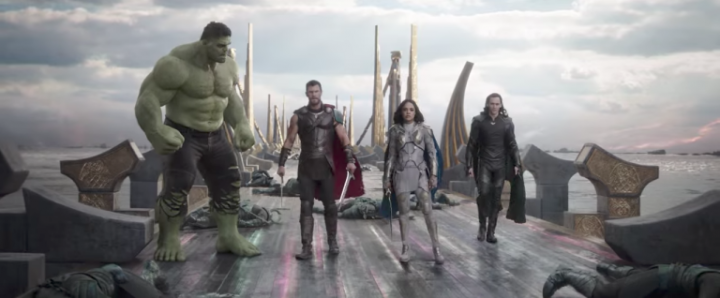 But funny isn't the only thing Ragnarok has going for it. A delightful cast going totally off-the-wall is always a treat, and producer Kevin Feige, Waititi and Hemsworth must be applauded for gathering a fair old A-list stable to do service to this story. Hemsworth and Hiddleston are old stagers, and they slip back into their roles like comfortable slippers, while Cate Blanchett is easily Marvel's best outright villain since, well, ever, outclassing not only James Spader's Ultron, but Robert Redford's slimy SHIELD dude from The Winter Soldier. Blanchett delivers the most potentially obnoxious dialogue with a wry glimmer of humour beneath her goth-infused makeup, and her hand-to-hand combat skills in the film's latter stages are worthy of any decent action film franchise. Jeff Goldblum's technicolor Grandmaster is as eccentric as only Goldblum can deliver (his sidekick is the ever-present Waititi good luck charm Rachel House), Karl Urban's surprisingly moving emotional arc as a wannabe Hela henchman to an Asgardian angel caught me off-guard, while Idris Elba's Heimdall and the Warriors Three are given exceptionally short thrift (the latter despatched without a pause, a startling narrative move) amongst the ever-shifting ensemble nature of the film.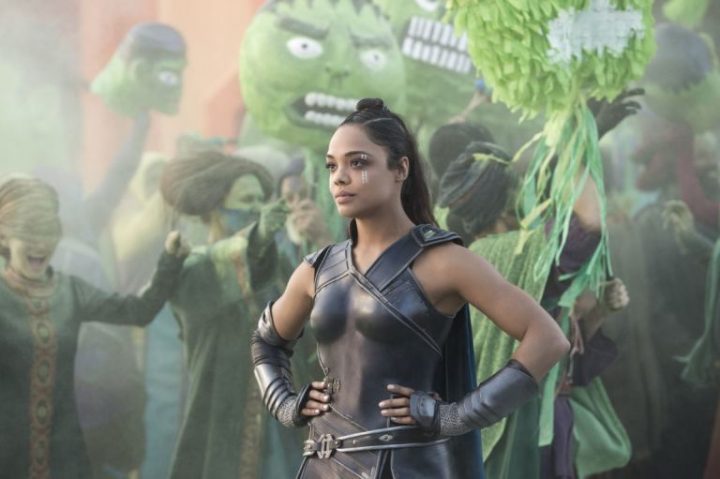 Key to Ragnarok's charisma roster is, naturally, the inclusion of Ruffalo's Hulk, and newcomer Tessa Thompson as a former Asgard Valkyrie, a legion of warrior women (a little like the Amazons of Wonder Woman) who are roundly defeated by Hela in a superb flashback battle sequence. At the time of Ragnarok, Banner has been "stuck" in his Hulk form for a number of years, engaged in combat in the Grandmaster's colosseum of gladiatorial combat, before being rescued by Thor. Ruffalo's bafflement and verbal sparring with Thor (a human touchstone in a film lacking any whatsoever, now that Natalie Portman's love-interest Jane Porter was dumped between this and The Dark World) is a highlight of a film filled with them, and it's a real treat to watch an actor of Ruffalo's credentialed screen history give Bruce Banner's vaguely vagabond-esque brilliance a real grounding, when everything turns to shit around him. Thompson's Valkyrie is stoic and often drunk, and the character's moody sense of aggrievement throughout is given solid emotional heft with a convincing and electrifying backstory, and of all the characters in the film it's her I found deserved more in the future.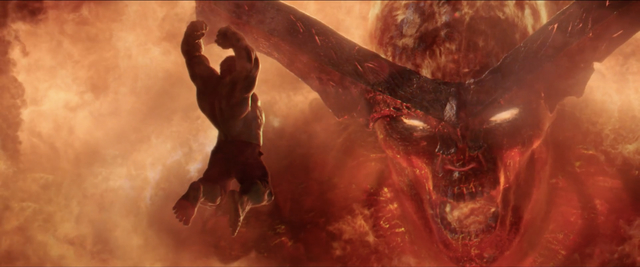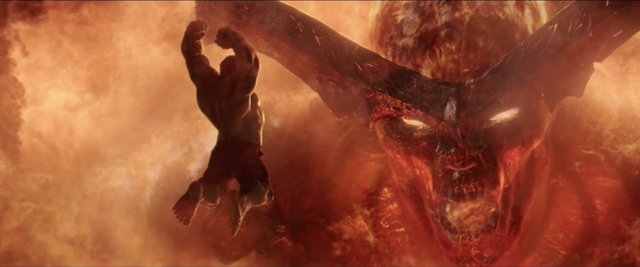 Raganrok is also unafraid to change the game up a bit too. Several things happen in the film that will have repercussions in future MCU films – the most obvious and least spoiler-worthy is the destruction of Thor's hammer Mjolnir we glimpsed in the trailers – and raising the stakes for Thor (and Asgard) considerably. The very title of the film gives away a key plot aspect of the story, that of Asgard's destruction, and Waititi delivers plenty of earth-shaking carnage before the obligatory credit stings arrive, including a knock-down knuckleduster between Thor and Hulk, a Hela-inspired slaughter of Asgardian troops, and a breathtaking escape from the Grandmaster's planet through a hilariously orifice-named portal, not to mention a thrilling Asgard showdown between all the major players. I couldn't really see much set-up for the impending Avengers Infinity War other than casual mentions and glimpses of the Infinity Stones (notably, the blue tesseract locked inside Odin's vaults), unless I wasn't paying attention, which could have been the case because I was laughing so much.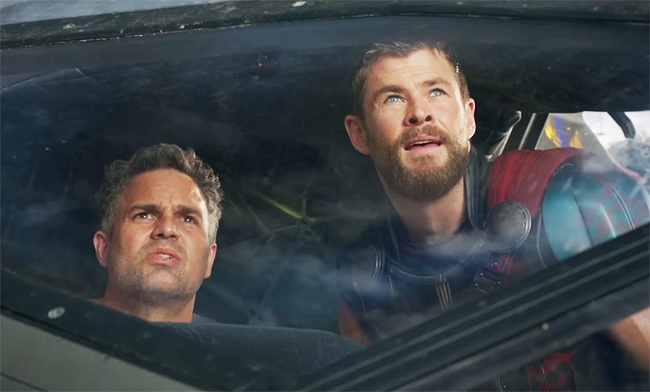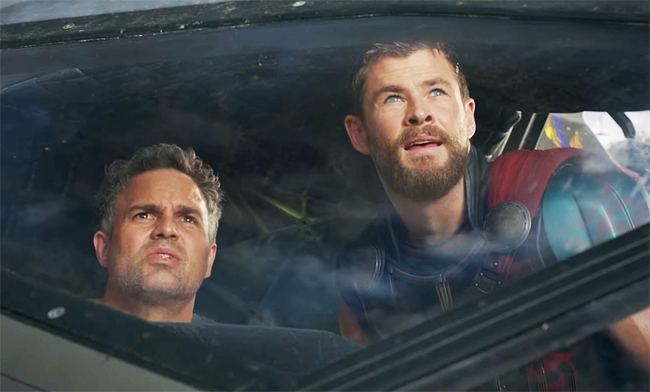 Thor: Ragnarok is a brilliant MCU film, a cracking great time and a wonderfully written shenanigan of the highest order. It's a great deal of fun, first and foremost, with a toe-tapping soundtrack (including the Led Zeppelin track used copiously through the film's marketing) and crash-bang-wallop action sequences mixed between the plot development. Ragnarok also contains plenty of surprises, which was surprising given how much of a film's content is spread between trailers, TV spots, interviews and other promotional tsunamis, and I've avoided revealing any of them here. Laugh out loud funny, often exciting, and fuelled by a sense of cavalier cosmic adventuring, Thor: Ragnarok is a high point in the MCU that will take some beating.
Who wrote this?