Movie Review – La La Land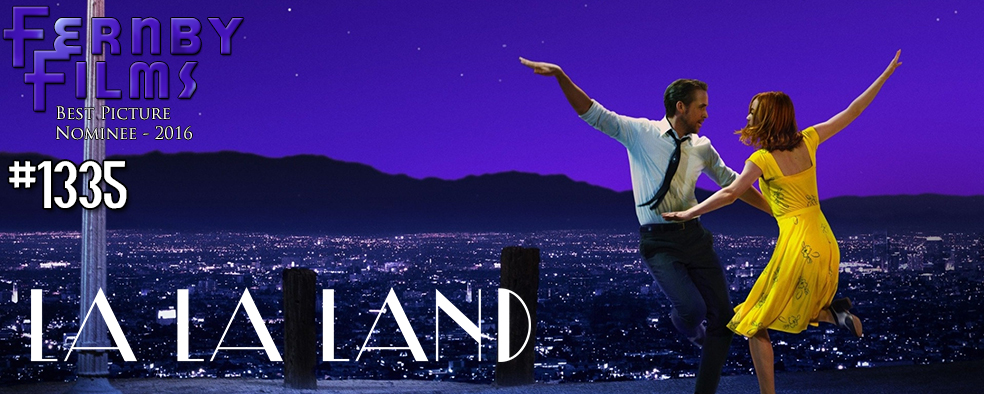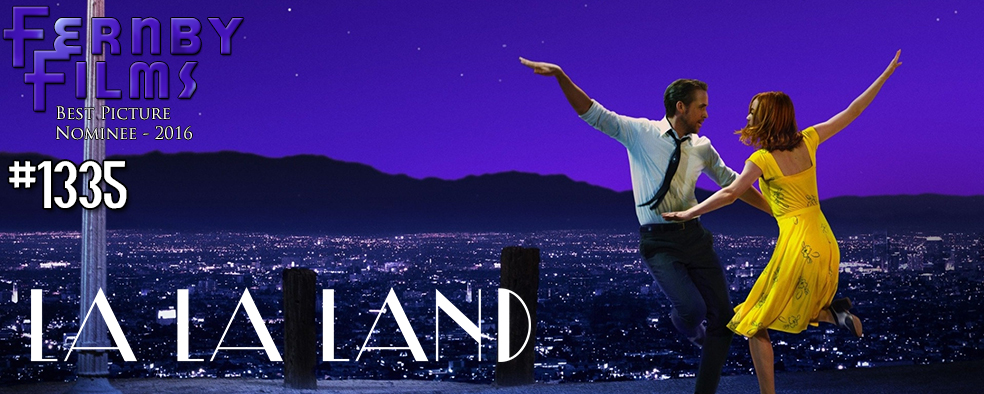 Director :  Damien Chazelle
Year Of Release :   2016
Principal Cast :  Ryan Gosling, Emma Stone, John Legend, Rosemarie DeWitt, Finn Wittrock, Jessica Rothe, Sonoya Mizuno, Callie Hernandez, JK Simmons, Tom Everett Scott, Meagan Fay, Damon Gupton, Jason Fuchs, Josh Pence.
Approx Running Time :  128 Minutes
Synopsis:   A jazz pianist falls for an aspiring actress in Los Angeles.
******
There are few things Hollywood loves more than films about itself. Perhaps the only exception is the grand old musical, products of a bygone era when the studios released plenty of the toe-tapping variety to willing audiences. These days, musicals, viewed through the prism of technicolor spectacles, are something of a rarity – if you discount Disney and the occasional Oscar-foray in Moulin Rouge, Dreamgirls or Chicago – so to find ourselves with a new big-budget piece from Whiplash director Damien Chazelle, starring the white-hot Ryan Gosling (Drive) and Emma Stone (The Amazing Spider-Man, Easy A) is a real pleasure. Where La La Land deviates from most modern musicals is that it is a legitimate throwback to the genre's heyday – this ain't some fantastical orgy of Bazz Lurhmann CG excess, nor some overly histrionic Social Message Movie, but a dead-set widescreen Hollywood blast of sugary confection torn right out of a R&H playbook.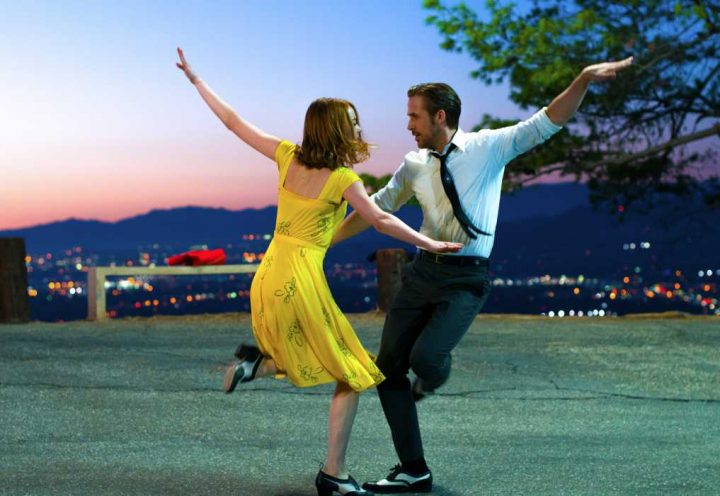 Stone plays Los Angeles wannabe-actress-but-actual-barista Mia, who, after an unsuccessful audition, runs across local down-and-out jazz musician Sebastian Wilder (Ryan Gosling). While initially antagonistic towards each other, both Mia and Sebastian finally find themselves drawn to each other. Sebastian meets up with former colleague Keith (John Legend), who offers him a fantastic gig playing in a contemporary jazz band, while Mia struggles to balance the demands of putting on her one-woman play with getting to spend time with a touring boyfriend. Through the ups and downs of their romantic affair, they soon realise that their careers might just take them in completely different directions.
One part homage, another part love-letter to old fashioned Hollywood romance, La La Land's bright primary colours and enthusiastic central performances anchor a typically cliched, yet altogether awesome, musical movie that delivers. Chazelle's screenplay oozes musicality and old-world cinematic pizzazz, a mish-mash of tropes and convention bubbling beneath the surface of its decidedly kitschy central narrative. The old boy-meets-girl spiced with a few meet-cutes thrown in for good measure, the film's mix of 80's aesthetic and modernity feels instantly charming and immediately accessible; La La Land is a wonderment of cinema, a sprite, glorious yarn both simplistic, yet complex enough for modern audiences.
My goodness, this is a wonderful film. Does it offer anything new? Nope, but hell if it isn't entertaining as anything you'll see this year. Emma Stone's performance is the one that touched a nerve with me particularly, although this isn't to suggest Ryan Gosling is a slouch; both actors have excellent chemistry (see their previous pairing in Crazy Stupid Love) but for me it was Stone's Mia that captivated throughout. Her dreamy little dream of being an actress is perhaps the generic archetype of cinema, but rather than being a parody of the type, feels alive in a way you just don't get in films these days. Stone captures the heartbreak and frustration of being a small fish in a big pond – before her big break, at least – with exquisite acuity, you just wanted to go up and give her a big hug. Gosling's Sebastian, less head-in-the-clouds than Mia by a long shot, brings a touch of old-school charm to his character, echoing the likes of James Dean, Dean Martin and even a hard-edged Frank Sinatra, flirting with a modern edginess to his melancholy. They make a classic pairing: here's to more films with them co-starring together.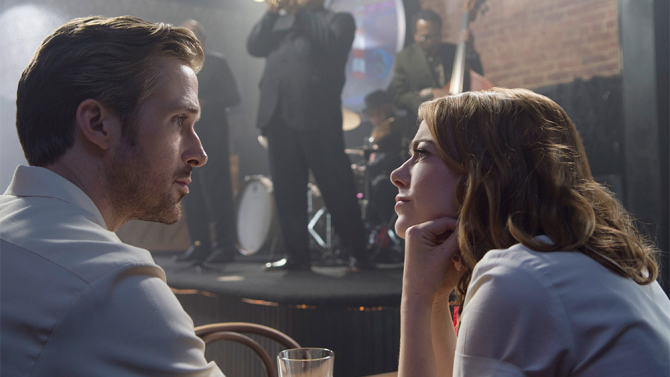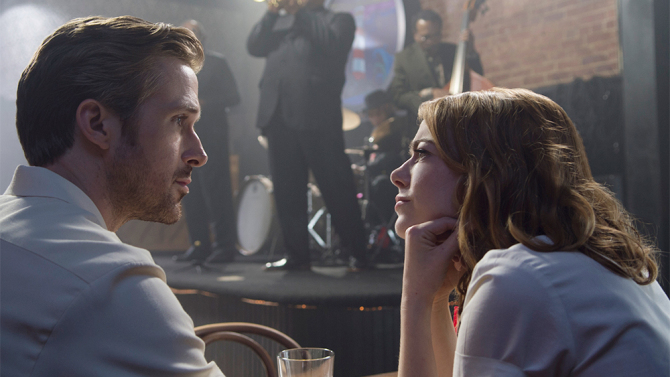 Performance aside, it's Damien Chazelle's direction that's the real winner here. He effortlessly guides this film through its radiant highs and soft-focused lows, capturing both the beauty and ache of creative passion with a sense of freestyle cinematic virtuosity that captivates from the first frame to the last. The musical numbers, of which the film contains many, are just delightful; pastiches of classic jazz clubs, enormous production song-and-dance numbers, golden magic-hour-set romantic entwining of star-crossed lovers, to flights of fancy through the starry sky (a beautiful sequence set in LA's Griffith's Observatory); there's glimpses of Singin' In The Rain, West Side Story, Gentlemen Prefer Blondes, and even the silent era spliced into the DNA of La La Land's brilliant fairy-tale charisma. It's a beautiful stroll through pastels and fluorescence, through laughter and tears – and the ending…. sigh, it's to die for.
La La Land is as pure a cinematic experience as you will find in 2016. Romantic, tragic, uplifting, mournful, and most especially musical: La La Land hits every beat perfectly, and with its jazzy orchestrations and big-band flavour you'll be toe-tapping in no time. Led by Stone and Gosling, and abetted by some of the most wonderful production design, lighting, music and direction, La La Land is a captivating, elegant, masterful remix on once-weary old tropes that makes you feel glad to be alive and in love.
Related articles
Who wrote this?