Carrie Fisher, the universe's Princess, star of Star Wars, has passed away.
Actress. Author. Comedian. Public speaker. Screenwriter.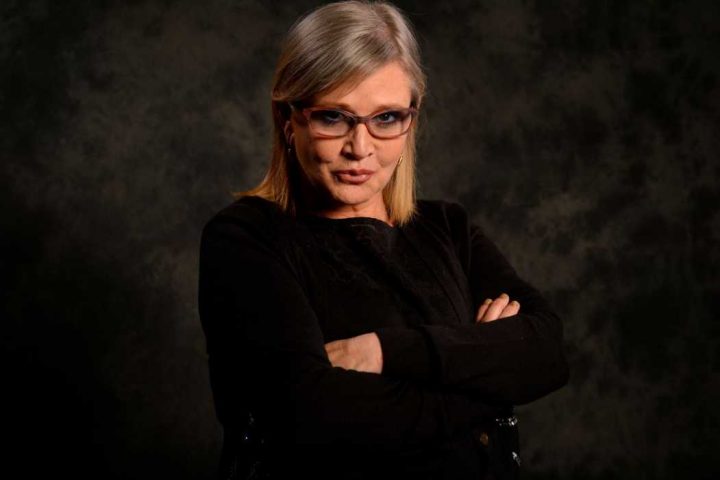 There are many things Carrie Fisher was during her brief life with us here on Earth, but being traditional or normal was not among them. Born into Hollywood royalty – the daughter of Debbie Reynolds and Eddie Fisher – she grew up within the Hollywood fishbowl, achieving her first big-screen appearance in the 1975 version of Shampoo, before entering the pop-culture pantheon in 1977's Star Wars, as Princess Leia, alongside Harrison Ford, Alex Guinness, and Mark Hamill. The role would cement her fame forever, and it would also become a burden, being a persona she would never truly escape. Fisher would reprise the role in both The Empire Strikes Back and Return Of The Jedi, (in which she famously appeared in a golden metal bikini, making her an instant sex-symbol) and help Disney kick off their modern saga with an appearance in The Force Awakens.
Ms Fisher continued to perform on-screen, appearing in The Blues Brothers (1980), the Woody Allen film Hannah & Her Sisters, and in 1989 in both When Harry Met Sally and the Tom Hanks comedy The 'Burbs. Ms Fisher continued to act in film and television up until her passing – she appeared as a therapist in Austin Powers: International Man Of Mystery, a Mother Superior in Charlie's Angels: Full Throttle, and as a doctor in Fanboys, among many other roles.
A noted author, Carrie Fisher released several works of fiction, most notably Postcards From The Edge in 1987, for which she also wrote the film adaption. Biographical books Wishful Drinking, and The Princess Diarist, described her hard living party lifestyle and subsequent addictions to drugs and alcohol, as well as her thoughts throughout the production of Star Wars, as the eponymous Princess Leia. Ms Fisher also worked on script doctoring screenplays, including Sister Act, The Last Action Hero, and The Wedding Singer.
Carrie Fisher suffered a major heart attack aboard a flight between New York and Los Angeles on December 23rd. She passed away from complications as a result of this on December 27. Ms Fisher was 60.
"The Force is with her, she is one with the Force."
Who wrote this?