Movie Review – Swiss Army Man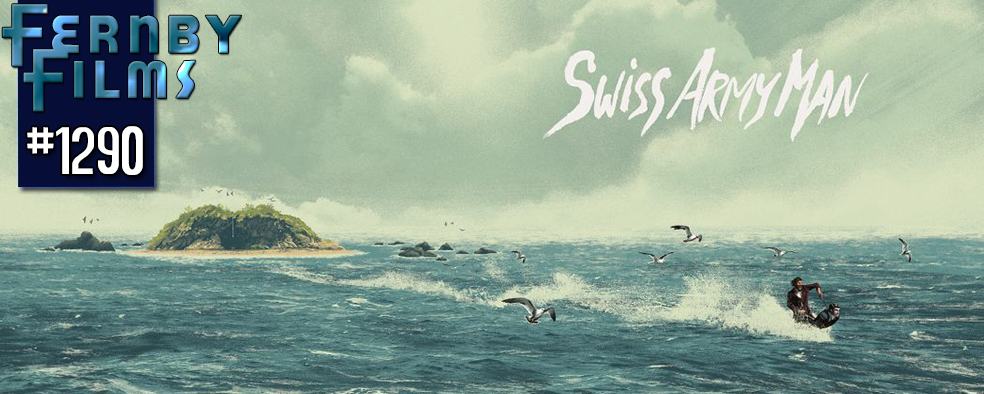 Director :  Daniel Scheinert + Daniel Kwan
Year Of Release :   2016
Principal Cast :   Paul Dano, Daniel Radcliffe, Mary Elizabeth Winstead, Timothy Eulich, Marika Casteel, Richard Gross.
Approx Running Time :   98 Minutes
Synopsis:   A man marooned on a deserted island encounters an exceptionally flatulent corpse.
********
Otherwise known as "the Daniel Radcliffe farting corpse film", Swiss Army Man is hilarious. Preposterously bizarre, lyrically whimsical and at times inhospitably gross, the film is no doubt a passion project for Sundance-award winning directors Daniel Scheinert and Daniel Kwan; it shows, because of the care and craft to have gone into this thing. Paul Dano, an actor best noted for creepy performances and off-beat romantic turns with his real-life partner, is straight up great as Hank, the near-suicidal man washed up on a deserted island and contemplating ending it all before he encounters Daniel Radcliffe's magical corpse. Radcliffe, himself no stranger to the weird and unusual, plays the corpse, Manny, with an astonishingly straight face, perhaps the best dead-person on-screen role since Weekend At Bernies (to which this film owes a tiny debit of gratitude).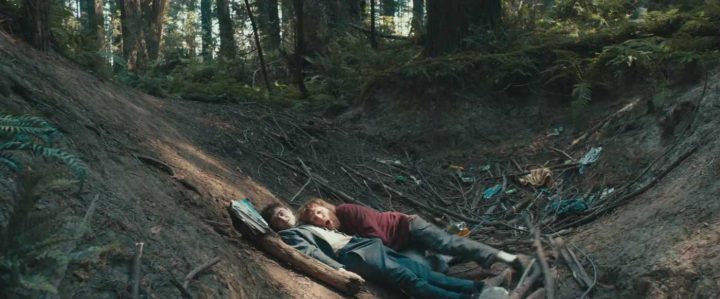 There are many films that defy description, and many more that defy categorisation, although mostly one never overrides the other. This film straddles both equally, a rare oddity of a movie that offers scant observations on the human condition when there's offbeat hilarity to be mined from a magical corpse that talks, gains an erection, discusses philosophical ideas such as masturbation and love, and exists for no reason other than to exist. Is it scifi, drama, some weird drama? Sadly, none of those adequately encapsulates the grin-inducing chuckles to be gained by giving this film a look. That's not to say Swiss Army Man will appeal to everyone: it's not exactly the kind of film the average film watcher might sit down to enjoy (although if you're following Radliffe's career for any period of his post-Harry Potter work, you'd be well aware of where the actor has gone in order to throw off preconceptions of a "former child actor" stereotype), and its impenetrable internal logic will put off a lot of people who can't quite figure it out.
If you're one of the few brave souls to venture into Swiss Army Man's sweet-timbred embrace, you'll find yourself enraptured by a film sporting crisp, on-point acting performances, deft cinematography and production value (although much of the film is just Radcliffe and Dano corpsing about the woods), and a straight-laced black humour that contrasts against the at-times gut-busting slapstick and farcical nature of the film's central plot. Revelling in its own silliness, the film delves into dramatic artistry with the kind of skewed arthouse mentality too often lacking in mainstream filmmaking today. The film also features an eclectic soundtrack of songs and melodies (and riffs on John Williams' Jurassic Park score) that highlight just how off-the-wall this movie really is.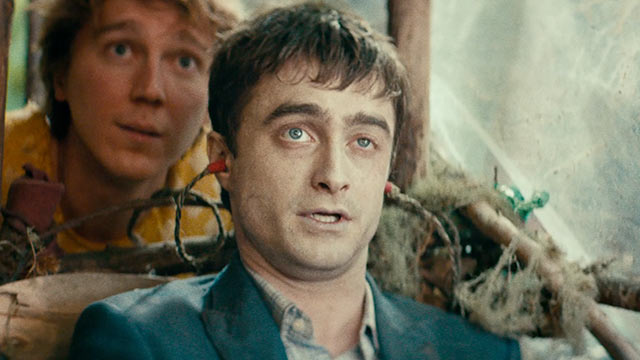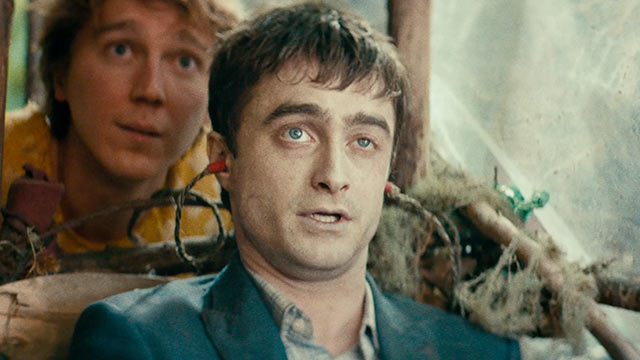 While it's unlikely to see much love come awards season (methinks it's a little too obscure and weird for Academy voters, outside of technical categories – cinematography, you hear me Academy?) it would restore my faith in this corrupt and altogether hideous world to know more people would watch this film and take it all in. I think it definitely encapsulates the term "cult film" more than any other I've ever seen: this is the kind of film to spawn a million memes and countless parodies, but it's likely to miss cultural appropriation simply due to its obscure aesthetic and truly bizarre premise. The film's dissection of life, love and relationships doesn't seem appropriate when you're including a reanimated dead person, but Scheinert and Kwan make it sing, a visual poem that is alternately gross, charming, and hilarious.
Swiss Army Man is sublime cinema that masters the art of actually being cinematic, but defying description. Sure, it's a farting corpse film, but it's so much more than the trailer-worthy montage stuff you're probably seen about it. There's a vague sense of Stand By Me, a weird Cast Away vibe (imagine Tom Hanks having to converse with an animated corpse for three hours!), a hint of Brokeback Mountain (please, don't hate) and the sublime essence of frathouse humour rolled into one – it's as impossible a combination as you're ever likely to consider but by God this film is splendidly good. Borderline great, Swiss Army Man is undoubtedly one of the best films of 2016 and quite possibly my favourite "have to tell everyone about it" film of all time. If you're unafraid of esoteric adventures into cinematic daring, give Swiss Army Man a try. Many people will shy away from its inherent what-the-f@ckedness, but there'll be a lucky few who come away utterly mesmerised!
Related articles
Who wrote this?