Landmark Films of The 20th Century – 1960-1969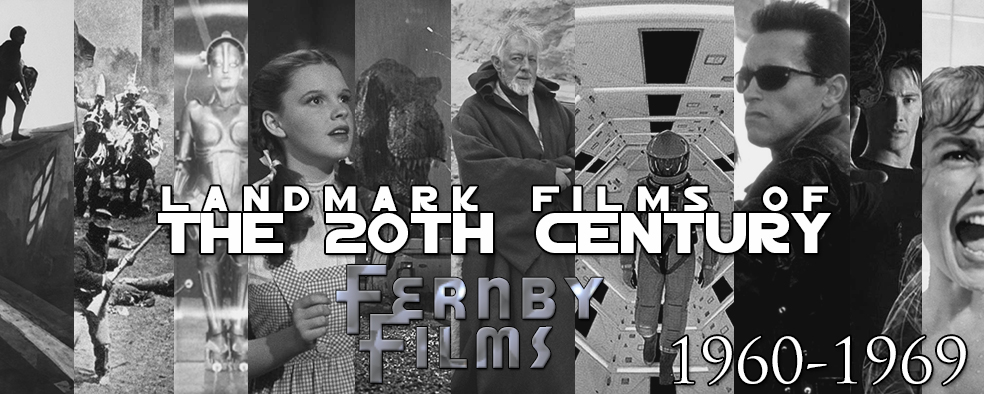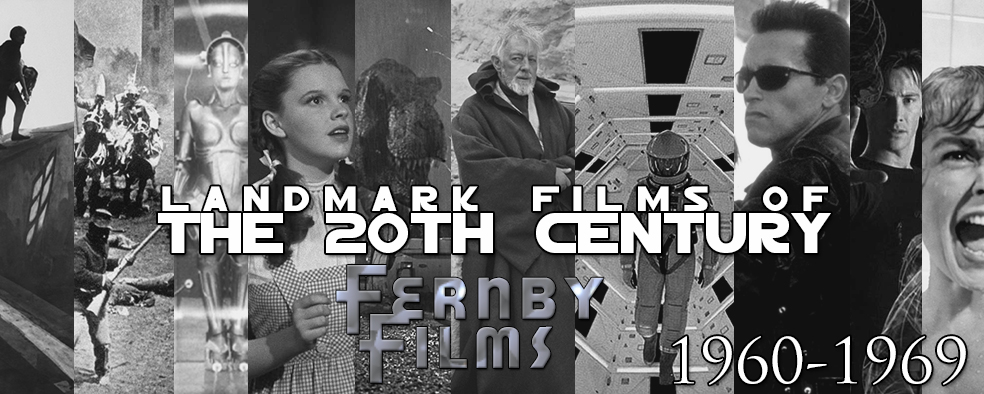 In this, the seventh of our ten-part series on landmark films of the 20th Century, we identify films that set new benchmarks and new ways for film-makers to tell their stories – from editing, to sound, to visual effects, the 100 films we've unearthed are considered either classics (or should be) that changed the landscape of film forever. The films listed herein represent annual landmark achievements in cinema – they may not be the "best" films of that year, but they represent a leap forward in cinematic technique that is worth considerable attention.
The 1960's started with a glow of hope and prosperity, and climaxed with America bogged down in another war and civil unrest. Political upheaval, the rise of the sexual revolution, and the growing civil rights movement provided the world with it's most complex and emotion-charged decades of the 20th Century. Against a backdrop of an American President assassinated, man walking on the moon, the march on Washington by Martin Luther King, and countless riots, protests and discourse about the Vietnam War, Hollywood reflected the period of exploding societal taboo with more lavish epics, complex comedies and a pronounced focus on subterfuge, spies and the scourge of Communism. Moreso than ever before, a generational gap between the young and old was widening rapidly, both in philosophies and political ideologies, creating a firestorm of rage against the authority state. This gap was reflected in the widening diversity in Hollywood's cultural depictions. The "free love" movement transitioned into cinema, with the advent of sex comedies, while violence and its realistic treatment became more attuned to a world living through war. The dehumanising nature of man's evil to other men also became a saturating force through the decade, culminating in a number of machismo-laden cinematic classics including Once Upon A Time In The West and The Wild Bunch, to name two.
Part VII – 1960-1969
1960. Eee Eee Eee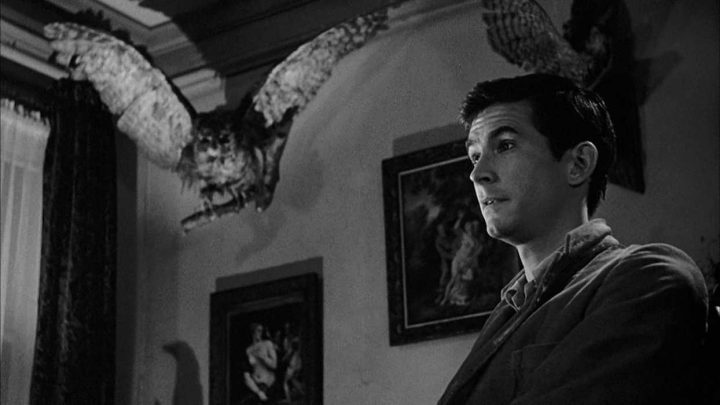 It continues to stagger me to think that throughout his career, Alfred Hitchcock never won an Academy Award for directing a film. It's doubtful a director has ever had such a continuous output of high quality films to his/her name, over such a lengthy period. 1960 ushered in the film which would become Hitchcock's defining moment: Psycho, starring Janet Leigh, Anthony Perkins and the screeching strings of Bernard Hermann's unbeatable score, became an instant classic thanks to its skin-prickling sense of terror and, perhaps less memorably, Hitch's canny marketing of the film. Touted as one of the scariest films of all time (still), Psycho has become the benchmark by which all other horror/thriller films are regarded. Notably, Hitch used suggestion to inflict terror upon his audience, never showing a thing when the implication of it was so much more powerful. Norman Bates, essayed by a wonderfully creepy Anthony Perkins, would become the most popular on-screen serial killer until Hannibal Lecter arrived, and Hitch's jaw-dropping decision to kill off the film's leading lady midway through, in the most iconic shower sequence ever filmed, is legitimately cool. Endlessly discussed, studied and imitated, Psycho remains the greatest entries into the horror genre, by a director at the very top of his game, and has become synonymous with chills, scares and psychological torment ever since.
Also in 1960: Stanley Kubrick's epic, Spartacus, starring Kirk Douglas and Jean Simmons and a young Tony Curtis, landed in cinemas and became the box-office champ of the year, followed closely by Psycho and another widescreen epic, Exodus. John Wayne's magnificent misfire, The Alamo, arrived to underwhelming critical and commercial acclaim, while infamous Brat Pack flick, Ocean's 11, starred Frank Sinatra, Dean Martin and Sammy Davis Jr swanning about Las Vegas, also debuted. Billy Wilder's The Apartment snagged Best Picture and Best Director at the Academy Awards, while Burt Lancaster and Elizabeth Taylor won Best Actor and Best Actress respectively. La Dolce Vita would win the Palm D'Or at Cannes, and Spartacus won Best Drama at the Golden Globes. Other notable films released in 1960 include Disney's Pollyanna, Hammer Horror film The Brides Of Dracula, George Pal's The Time Machine (Starring Rod Taylor), The Magnificent Seven, and Elvis Presley's first film following a two-year stint in the Army, GI Blues. November also marked the sudden passing of Hollywood screen legend Clark Gable, aged 59.
1961. Over on the West Side.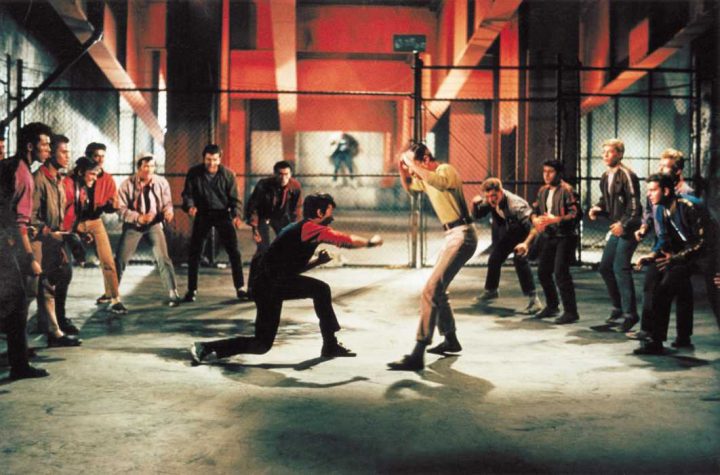 It's hard to look past a film with the pedigree of West Side Story. Winner of 10 Academy Awards, including Best Picture, Director, Supporting Actor and Actress, Cinematography and, of course, Music, the stage musical came to the big screen in a big, big way. The film would become the highest earner of the year, cement itself as one of the greatest musical films of all time, and make superstars out of already famous Natalie Wood, Richard Beymer, and the charismatic George Chakiris. Featuring Elmer Bernstein's superlative score and memorable songs, including "Tonight", "Maria", "America" and "I Feel Pretty", a wonderfully evocative New York City-set production and dreamlike cinematography from Daniel Fapp, to say nothing of the choreography of co-director Jerome Robbins (the film was also partly directed by Robert Wise, known for The Sound Of Music), West Side Story is the definitive American musical, and remains an astonishing cinematic triumph.
Also in 1961: Among the big films in '61 were Gregory Peck and David Niven's The Guns Of Navarone, the Disney one-two punch of The Parent Trap (featuring Haley Mills as a set of twins) and The Absent-Minded Professor, Biblical epic King of Kings, war drama Judgement At Nuremberg, and the final film of both Clark Gable and Marilyn Monroe, The Misfits. At the Academy Awards, Sophia Loren famously won an Oscar for Best Actress for her performance in Italian film Two Women (aka La Ciociera), and became the first actor to win an Oscar in the category for a film in which English wasn't the native language. The film Victim became noted as the first to use the word "homosexual" on screen, a polarising dissection of a formerly taboo topic (a ban on homosexuality would be lifted in the UK the following year), while Hollywood legend Gary Cooper, best known for films such as High Noon, The Virginian and Mr Deeds Goes To Town, passed away aged 60, from cancer.
1962. Lawrence Trumps Racism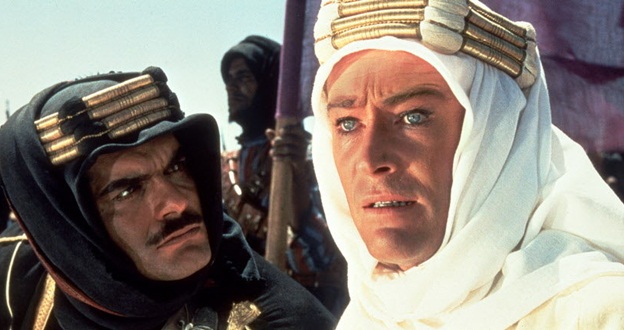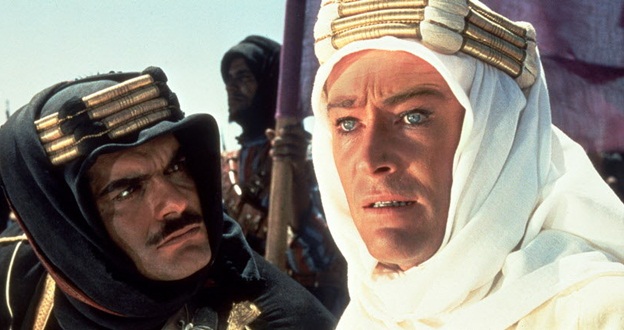 Arguably two films could appear in our 1962 spot: Lawrence Of Arabia, quite possibly one of the greatest films ever made, and To Kill A Mockingbird, also quite possibly one of the greatest films ever ma-… well, you know. Frankly, this was a coin toss for us, with both films being equally memorable for their own reasons. However, Lawrence wins out purely as a feat of cinematic spectacle and endurance. Alongside Ben Hur and Cleopatra as one of Hollywood's most famous epics, Lawrence Of Arabia starred a then-unknown Peter O'Toole as the titular Lawrence, uber-Brit Alec Guinness as the Arabian royal Prince Faisal, Anthony Quinn, Jack Hawkins, and actual Arabic actor Omar Sharif.  Noted for being one of the more popular films in which there are no female speaking parts, and famous for its staggering production details, Lawrence Of Arabia would sweep the Oscars (and every other award show) winning best Picture, Director, Score, Cinematography and Editing (among others), although nominees O'Toole and Sharif would come up short in the acting categories. Shot across simply spectacular landscapes in Jordan, Morocco and Spain, Lawrence of Arabia remains an enduring classic due to both its epic 70mm photography and its use of thousands upon thousands of extras to film the epic battle and attack sequences. As Spielberg once described it, Lawrence of Arabia is "..a miracle of a film". No small praise, and an attestation I agree with wholeheartedly.
Also in 1962: The other big film to release this year was To Kill A Mockingbird, the racially charged dramatic classic based on Harper Lee's enduring novel, and starring Gregory Peck in his most iconic role of Atticus Finch. Peck would win the Academy Award for Best Actor in the role, while Anne Bancroft would snag Best Actress that year for her performance in The Miracle Worker. All-star casting was the order of the day in blockbuster war film The Longest Day, which retold the events leading up to and including the D-Day landings in France, in 1944. The film featured (among others) John Wayne, Henry Fonda, Robert Mitchum, Sean Connery, Richard Burton and Rod Steiger. Also notable in '62, the debut of a strange little spy named James Bond – based on Ian Fleming's series of novels, Sean Connery would star as Bond in Dr No – setting the stage for one of the longest running and most successful film series to-date. Kubrick bowed his film version of Lolita (not the first time he'd court controversy), Marilyn Monroe was found dead on August 5th, while both the Incredible Hulk and Spider-Man made their comic-book debuts on the pages of Marvel. Passing away in 1962 were directors Michael Curtiz (Casablanca, The Adventures of Robin Hood), Tod Browning (Dracula) and Thomas Mitchell (Gone With The Wind, It's A Wonderful Life).
1963. Winning In The West

With the relatively new Cinerama process embedded as a niche cinematic experience, Hollywood tried to capitalise on that by shooting two dramatic features using the 3-camera process. The most successful (and best remembered) was How The West Was Won, a sprawling, lavish ensemble film offering a mythology of America's Old West shot on location across the country. Starring A-listers such as Henry Fonda, Karl Malden, Robert Preston, Debbie Reynolds, James Stewart, Eli Wallach and John Wayne (among others), the film was a cumbersome production but a stunning financial success for producing studio MGM. It would become the second highest earner of the year behind Fox's Cleopatra (a film which, after production costs, plunged the studio into near-bankruptcy when it "only" scooped some $60m back in box-office) and is heralded as one of the last successful epics of its kind produced during Hollywood's heyday. Although the film's dramatic and emotional investment is tested by the laid-back nature of the plot, and the technology to reproduce an accurate "Cinerama" image at home isn't possible, meaning the distortion of the image is unavoidably noticeable, the film remains a landmark for attempting to shoot such a lavish story using the now-vanished three-camera process.
Also in 1963: Hitchcock's The Birds, starring Tippi Hedren and Rod Taylor, landed, notable for its use of real and imitation birds for the various sequences of danger and also for being one of the very few theatrical films produced not to have a musical score, while huge-mega-comedy It's A Mad, Mad, Mad, Mad World brought a cavalcade of stars into the one laugh-fest movie and delivered financial success for United Artists. Tony Richardson would win Best Director at the Academy Awards for Tom Jones, with the film winning Best Picture, as well as Best Musical or Comedy at the Golden Globes. Sidney Poitier would make history as the first African-American to win an Academy Award in a leading role for Lillies Of The Field, while Jayne Mansfield became the first mainstream Hollywood actress to appear nude on-screen, in King Donovan's Promises Promises! The first "multiplex" (a multi-screen cinema house) opened in Kansas City, while The Pink Panther, with its distinctive blusey opening credits co-designed by Fritz Freleng, landed in cinemas. 1963 also saw the passing of Dick Powell (42nd Street), and Jack Carason (both on January 2nd), Australian director John Farrow, and Mexican actor Pedro Armendariz. In pop-culture, Doctor Who made its debut the day after President Kennedy's assassination in November, while Marvel Comics introduced some dude named Iron Man, and a team of freaks known as the X-Men.
1964. There's Something About Mary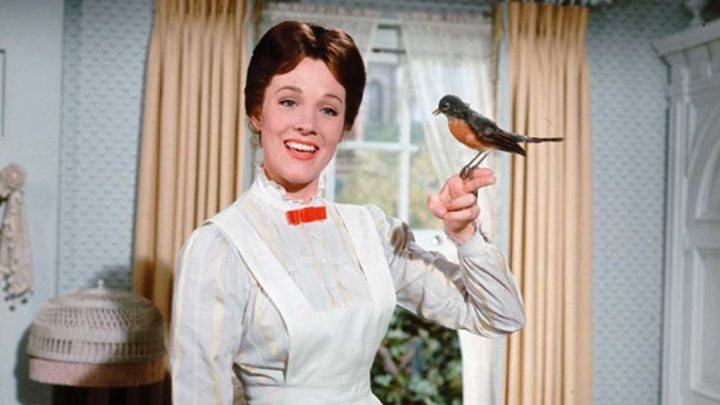 Often described by serious film critics as Walt Disney's masterpiece, Mary Poppins has become synonymous with the studio's saccharine, uplifting do-gooder portrayal as a family-friendly conglomerate. To describe the film as anything but a masterpiece is to do it a grave injustice. Delicately balancing pathos, drama, music, comedy and an awful Cockney accent from co-star Dick Van Dyke (opposite a simply luminous Julie Andrews), the entire technical and creative artistry of the Disney studio made the film version of PL Travers' creation a legitimate piece of American iconography. And she was British! One might argue the merits of a film in which people travel into an animated chalk drawing, float about on the ceiling and dance across London's smog-infused rooftops, but as a singular work of love and affection for the source material it's hard to name anything better. Andrews would snag a Best Actress Oscar for her performance, while the film grabbed a swag of technical gongs including Editing and Visual Effects, and of course for the music. Strangely, in modern times it's a film better known for its songs than its story, although for kids it's a classic coming-of-age tale as filtered through a narcissistic nanny and a grubby chimney sweep, set in Edwardian England and a period of great prosperity for the country. Plus, it's a damn good movie.
Also in 1964: Stanley Kurbick released his scathing anti-war film Dr Strangelove or How I Learned To Stop Worrying And Love The Bomb, Audrey Hepburn and Rex Harrison teamed up for My Fair Lady, and Sean Connery's third James Bond film, Goldfinger, rang up the coffers of MGM. Clint Eastwood and Sergio Leone would team up to make A Fistful Of Dollars, the first in their iconic Dollars trilogy, Elvis Presley appeared in Viva Las Vegas, and the Beatles arrived in their very own film, A Hard Day's Night. Big winners at the Oscars included My Fair Lady (Best Picture, Director, and Actor for Rex Harrison), Topkapi (Best Supporting Actor for Peter Ustinov) and Zorba The Greek (Best Supporting Actress for Lila Kedrova), while Becket would pick up Best Drama Film at the Golden Globes. 1964 also saw the final screen appearance of actor Ronald Reagan before his retirement – The Killers – while in technology news, Sony began promoting the first reel-to-reel "video tape" system for home use, although the tech wouldn't take off until the VHS/Beta wars a few years later. We mourned the passing of character actor Peter Lorre (The Maltese Falcon and Casablanca), Alan Ladd (Shane), Cole Porter and Bond author Ian Fleming, while Bug Bunny's final "Golden Age" short, False Hare, made its debut.
1965. The Hills Are Alive With…..
Capping off a successful one-two punch for rising star Julie Andrews, 20th Century Fox's film version of The Sound Of Music arrived. Instantly successful (the most successful film in the US that year by a wide margin), technically and narratively captivating, and stunningly photographed in 70mm by Ted McCord (who was nominated but, amazingly, didn't win the Oscar for it), the film would go onto become one of the most popular (if not the most popular) movie musicals of all time, which was amazing considering the genre had been in decline for some years. Famously, Julie Andrews and co-star Christopher Plummer were said to have had an "icy" relationship; their on-screen chemistry, together with the cutesy notion of singing children, the Nazi backdrop and the fact that it was based on a true story would make The Sound Of Music an indelible childhood memory across the globe for decades to come. Notably, the film was helmed by Robert Wise, who had also made West Side Story, and would also helm Star Trek: The Motion Picture later in his career.
Also in 1965: The other big film of the year was David Lean's Dr Zhivago, a film based on the Boris Pasternak novel; uniquely, although its DNA is Russian through-and-through, the film was shot in Spain, starred no Russian actors or even any Russian extras, and wasn't released in the USSR until 1994! Swedish actor Max Von Sydow, best known for his chess duel with Death in The Seventh Seal, robed up play Jesus in George Stevens' boldly named biblical epic, The Greatest Story Ever Told, while Richard Burton snagged a bunch of acting awards for his performance in The Spy Who Came In From The Cold. UK comedy film Those Magnificent Men In Their Flying Machines continued to ride the coattails of ensemble laugh-fest It's A Mad, Mad, Mad, Mad World, while Cleopatra co-stars (and real-life lovers) Elizabeth Taylor and Richard Burton would re-team for The Sandpiper, a film which also starred Eva Marie Saint and Charles Bronson. Woody Allen would write his first screenplay, for Richard Donner's farce What's New Pussycat?, and Julie Christie's Academy Award-winning performance in Darling marked the first time an award had been bestowed on a role which included a nude scene. In 1965, we also marked the passing of legendary Hollywood producer David O Selznick, responsible for films such as Hitchcock's Rebecca, Gone With The Wind, and King Kong. Other notable deaths in 1965 include musician Nat King Cole, actor Stan Laurel (of Laurel and Hardy fame), Citizen Kane actor Ray Collins, and actress Clara Bow (Wings).
1966.  Eastwood's Good, his bad, and his ugly.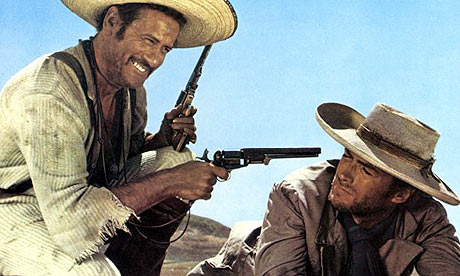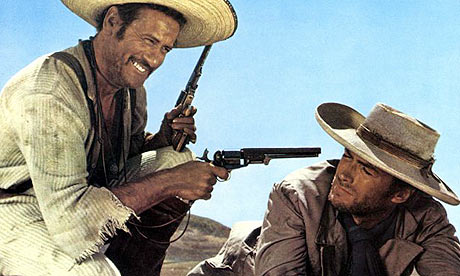 It's rare to find the third film in a trilogy improving upon the preceding entries, but Sergio Leonie's classic spaghetti Western, The Good The Bad & The Ugly, does just that. As the finale of Leone's trilogy starring Clint Eastwood, whose rise to prominence in this and other genre films would gain him a lifetime legacy of fans, Ugly represents the director at the peak of his powers, and the star reaching the very peak of his own. Although reaction to the film was mixed at the time, Ugly has gone on to become not only one of the greatest Westerns of all time, but one of the truly great films, regardless of genre. Stylish, brutal, captivating and told with an uncompromising power, the film is a definitive evocation of masculinity, the decline of America's Old West, and the exploration of greed, loyalty and betrayal on a scale not seen before. By the time Leone came to make this film, he'd honed his craft and his eye for framing to perfection; there's almost no discernible flaw with the visual aspects of the film in terms of pure storytelling through film, and as such remains one of the all time greats. An absolute masterclass in cinema, and deserving of a place in our Landmark series.
Also in 1966: The first in a never-completed trilogy of biblical epics, The Bible: In The Beginning became the highest earner that year, although the follow-up films would never be made. Directed by John Huston (who himself appeared as Noah in the sequences surrounding the Ark), the film made significant bank but never crossed into pop-culture like progenitors Ben Hur and The Ten Commandments. Elizabeth Taylor would snag an Academy Award for her performance in Who's Afraid Of Virginia Woolf, in which she starred alongside Richard Burton (what… again?) and George Segal. John Frankenheimer's Grand Prix would wow audiences with its realistic depiction of open-wheeled racing (this was the guy who would bring us Ronin, and unfortunately also Reindeer Games), while James Couburn steeled up the screen in Our Man Flint. Stephen Boyd and an infuriatingly covered-up Rachel Welch starred in into-the-body flick Fantastic Voyage, Paul Schofield would win a Best Actor Oscar for A Man For All Seasons (which also saw Best Picture and Best Director – Fred Zimmerman), while the Hays Code, the paragon of taste and decency for decades, began to be relaxed after sweeping changes were introduced. 1966 also marked the final film produced by Walt Disney, who passed away while The Jungle Book was in production. Also passing away in 1966 were Buster Keaton, Ed Wynn (Mary Poppins, Alice In Wonderland), Montgomery Clift and comedian Lenny Bruce.
1967. Poitier's Peak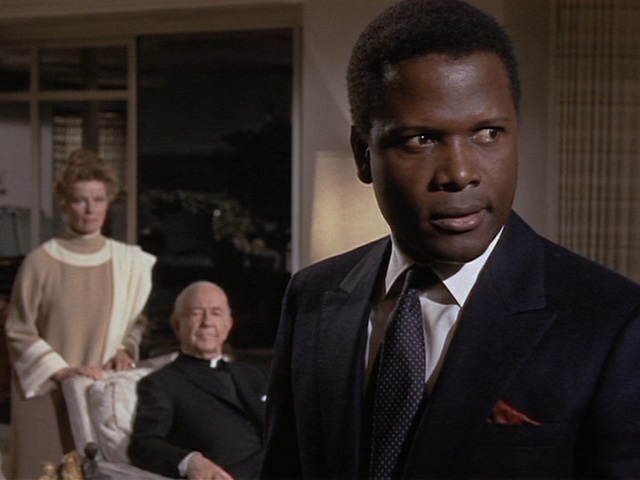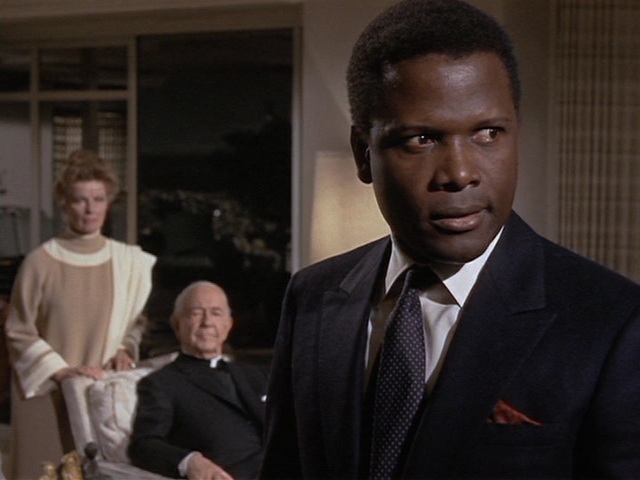 Actor Sidney Poitier's breakout year came in 1967. Over the course of the year, Poitier had three films in release, each with significant racial prejudice being the noteworthy narrative hook. The first, Jame's Clavell's film version of To Sir With Love, told of a black teacher at an inner-city London school where race and social taboos were discussed openly and challenged. The second, In The Heat of The Night, sees Poitier play Virgil Tibbs, a black Detective assigned to a murder case in a small Mississippi town, where racial tension and division are rife. Poitier's co-stars in the film included Rod Steiger and Warren Oates, and is famous for it's oft-quoted line "They call me MISTER Tibbs!". But it would be the third film Poitier would appear in that year, Guess Who's Coming To Dinner, that would mark the actor as one of the most influential African-American talent on the screen that decade. Alongside acting legends Spencer Tracey and Katharine Hepburn, and cos-starring Katharine Houghton as his on-screen romantic interest (gasp: a white girl!), the film was the first to actively promote a positive message about interracial marriage as its core theme. Superbly acted, for its time controversial (now somewhat non-controversial, I guess) and concluding with a typically "Hollywood" ending, Guess Who's Coming To Dinner is remarkable not just for its story, but the performances of the entire cast (particularly Tracy, who passed away only 17 days after completing filming his role) and for its impact and legacy in promoting not only civil rights, but human rights to boot.
Also in 1967: Actor Dustin Hoffman made his debut in The Graduate. Warren Beatty and Faye Dunaway shot up the screen in hyper-violent Bonnie & Clyde, a film which romanticised a life of crime for disaffected youth of America and caused some controversy for its darker promotion. Silent film superstar Charlie Chaplin would direct his final film, The Countess From Hong Kong – it would star Sophia Loren and (of all people) Marlon Brando and would bomb badly. The first use of the word "shit" in an American film came with Elizabeth Taylor uttering it in Richard Brooks' In Cold Blood, while the first use of the word "f@ck" on screen came with Michael Winners' I'll Never Forget What's 'is Name. Both the American Film Institute (AFI) and New Line Cinema were founded in 1967, while Jack Warner, co-founder of Warner Bros, sold his remaining interest in the company. Passing away this year were Gone With The Wind actress Vivian Leigh, Jayne Mansfield, The Wizard Of Oz's Burt Lahr (who played The Cowardly Lion), and eponymous Sherlock Holmes actor Basil Rathbone.
1968. Waltz Through Kubrick's Odyssey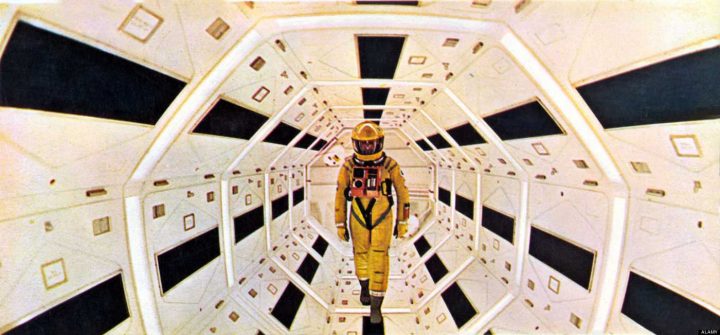 Famed reclusive director Stanley Kubrick's impact on cinema is possibly one of the most profound of the modern age, and nothing reflects his perfectionism and ice-cool visual style more than 2001: A Space Odyssey. Fascinatingly obscure, impossibly dense, indecipherable, impenetrable: 2001 was a seismic shift in science fiction cinema in that it (tried to) accurately predict what space exploration might actually look like. 14 months before man finally did land on the moon, 2001 wasn't just walking on it, it was damn near colonising it: an accurate futurist Kubrick wasn't, but his creative impetus and cultural guesswork formed the basis for countless clones and imitators down the years since. Featuring segments of Earth's pre-history, right through to a clumsy 60's-kitsch take on what space travel and science might look like at the dawn of the millennium, the film's most famous sequence involves the introduction of seminal screen "villain", the artificial intelligence known as HAL. HAL, named so because the letters of his name are direct antecedents of computer giant IBM, tried to kill the crew of the deep space ship Discovery One, when the mission to investigate a mysterious black monolith sends us swirling into the vortex of space-time to uncover the very origins of mankind (I think). Boasting Oscar-winning visual effects (Kubrick's infamous persistence and demanding nature paid off, it seemed) and juxtaposition of classical music to themes of a cosmic nature became a rapturous cinematic event that made the film the most successful of Kubrick's career, certainly whilst he was alive. Although by today's standards the science behind the film is a little outdated, the skill and technical wizardry involved in making 2001 remains simply jaw-dropping.
Also in 1968: Katharine Hepburn won her third Academy Award in an acting category – the first person to achieve the feat – for her performance in The Lion In Winter. Also at the Oscars, Carol Reed's Oliver! won Best Picture, as did Reed win Best Director, while Barbra Streisand would tie Hepburn in the Best Actress gong for Funny Girl. Herbie the Love Bug would debut for Disney, Steve McQueen entered cinematic folklore with Bullit, Roman Polanski would terrorise audiences with Rosemary's Baby, and Jack Lemmon and Walter Matheau would team up successfully for The Odd Couple. The Motion Picture Association Of America introduced a new voluntary ratings system whereby films would have to be submitted in order to receive a rating. No doubt one of the first films to test this new system would be George Romero's Night Of The Living Dead, the first in what has become the popular modernised zombie genre, while Mel Brooks' directorial debut, The Producers, ushered in the filmmakers' acclaimed satirical humour. Passing away in '68 were Treasure Island actor Bobby Driscol, Albert Dekker (The Wild Bunch), Doris Lloyd (The Sound Of Music), and Gilda's Gerald Mohr.
1969.  Ultra-violence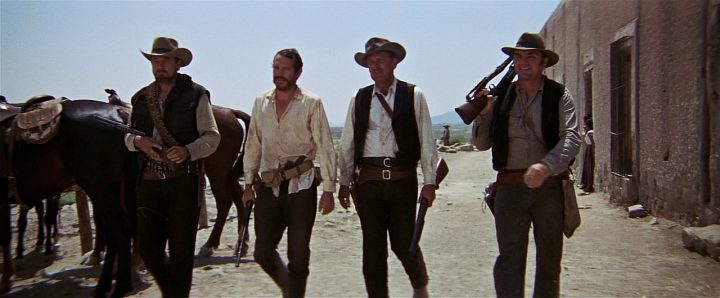 The Hollywood Western was, at its zenith, among the most popular (and cheaply produced) films produced by the industry. For decades, horseback cowboys and wild Indians sprawled the big screen, engaging in all manner of battles, friendships, tales of heroism and, in the case of Sam Peckinpah's bloody affair, The Wild Bunch, death. Ensemble westerns had been done before (The Magnificent Seven, for example) but none had brought with it the graphic violence on display in The Wild Bunch's decidedly downbeat production. Noted for its realism in the way it portrayed killing, and featuring a bravura grand finale shoot-out between the titular "bunch" and the mercenaries of the sadistic General Mapache, The Wild Bunch earned itself an X-rating from the MPAA (one of the first major films to do so), before editing reduced it to an R-rating, although the MPAA flirted with the idea of an NC17. Obviously, a higher rating would impact a potential audience, so Warner Bros decided to release it with an R rating instead. The film is also noted for its use of frantic editing, slo-motion and freeze-frame imagery, and ballistic action and stunt sequences. Although the Western was riding high off the back of John Wayne's Oscar-winning performance in True Grit, The Wild Bunch represented a significant change in the way Hollywood promoted violence as a horrifying experience; the age of heroic cowboys was drawing to a close, as gritty realism swept in (independent films, such as Easy Rider, gave rise to a new wave of Hollywood pessimism and realistic depictions of life) and as the decade closed out, audiences had to grapple with the idea that bloodthirsty violence such as that in The Wild Bunch was determined to shock rather than entertain.
Also in 1969: Midnight Cowboy, starring Dustin Hoffman and Jon Voight, became the first film rated X on release to win the Best Picture Oscar. Director John Schleshinger also won Best Director. Goldie Hawn would win Best Supporting Actress for her turn in Cactus Flower, and (future Dame) Maggie Smith snagged Best Actress for The Prime Of Miss Jean Brodie. Charlie Brown and the Peanuts gang made their debut in the first of a series of television films, while much of the hippie movement was caught up in the 3-day concert event at Woodstock. In technology, Sony would introduce the home version of the VCR, while George Lazenby starred in his only appearance as James Bond, On Her Majesty's Secret Service. 1969 is also noted for its celebrity deaths: Wizard Of Oz star Judy Garland passed away on June 22nd, Boris Karloff, best known for his performance in the original Frankenstein, died aged 81, while Sharon Tate, the young wife of director Roman Polanski, was brutally murdered by members of the Charles Manson "Family". Also passing away this year were Thelma Ritter (Rear Window), John Boles (Frankenstein), English director Leslie Goodwins, and American director Leo McCarey (An Affair To Remember). Among the names debuting in 1969, the first appearance of Bob Balaban, Ian McKellan, Al Pacino and Arnold Schwarzenegger might ring some bells.
Related articles
Who wrote this?