Landmark Films Of The 20th Century – 1940-1949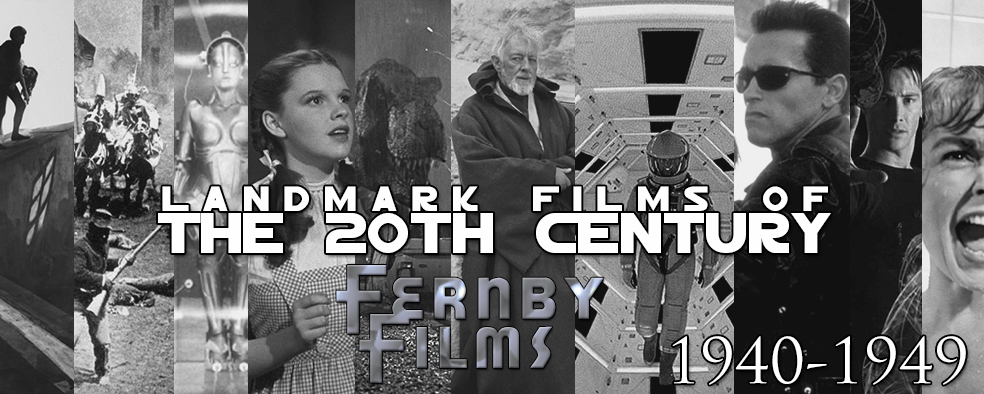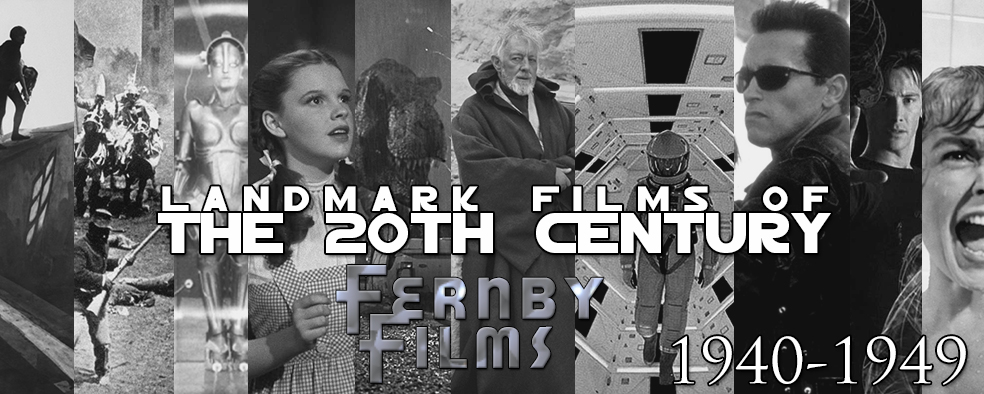 In this, the fifth of our ten-part series on landmark films of the 20th Century, we identify films that set new benchmarks and new ways for film-makers to tell their stories – from editing, to sound, to visual effects, the 100 films we've unearthed are considered either classics (or should be) that changed the landscape of film forever. The films listed herein represent annual landmark achievements in cinema – they may not be the "best" films of that year, but they represent a leap forward in cinematic technique that is worth considerable attention.
War! The first half of the 40's was taken up by the world's second global conflict, with Allied forces teaming up to defeat the Axis Of Evil in Japanese, German, and Italian aggression. In the years during, and immediately following World War II, cinema became both a propaganda and examination tool for a world coming to grips with not only the absolute horror of war (again!) but the fact that the world was slowly shrinking to the point people actually cared about events transpiring outside of their borders. Cinema patrons were given front-row seats (er…) to the horror of war with continual newsreels shown before film screenings, keeping them up to date about the events affecting them globally. With the onset of global conflict, Hollywood suffered the loss of numerous foreign markets, although by the war's end the industry would continue to be hugely profitable. Increasing revenue led to increased film budgets and a slicker, more modern look for the majority of their films; in saying that, there's an undeniable theme running through the films of this dark period in human history.
Part V: 1940-1949
1940. Fantasia's Fantasound.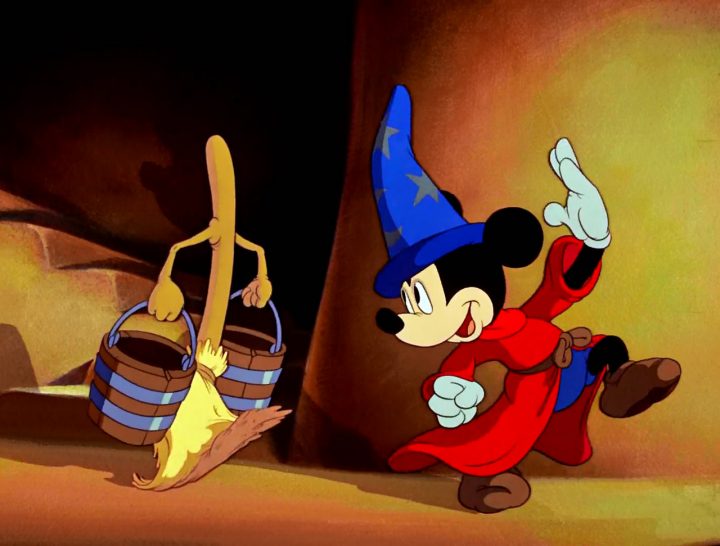 It's fair to say that 1940, like the year immediately preceding it, had a smorgasbord of worthy landmark films, not the least of which was Charlie Chaplin's first talkie (The Great Dictator), but as a purely technical leap forward Disney's Fantasia, the 2nd feature film the studio would release in this year (the other being Pinocchio, one of the most innovative and lavishly animated films of all time), stands tall in Hollywood history. Fantasia, as well as being a mix of live-action and traditionally animated material, featured the precursor of what would become surround sound. The film utilised a full orchestra to depict its animated musical vignettes, and Disney wanted the sound of the instruments to "spread" across the cinema, allowing detail and nuance to envelop the audience moreso than any film preceding it. Using a stereo-like sound design, Fantasia was able to provide a revelatory audio experience to audiences: Fantasound was produced on a separate track than the film itself, which added considerable expense, not to mention the added cost of recording the orchestra in separate tracks to allow sound engineers better capability to "mix" the audio for feature film playback. Fantasia might be noted for being the first film to use stereo sound, but an added bonus is that it gave us Disney's famous short film, The Sorcerer's Apprentice, which has since become an indelible and iconic motif of the studio in the decades since.
Also in 1040 (as if that wasn't enough): Abbott & Costello made their big-screen début, albeit not as the stars but as supporting players, in One Night In The Tropics, Hitchcock blazed into Hollywood making the Best Picture winning Rebecca and the Best Picture Nominated Foreign Correspondent in the same year, while elsewhere in animation, Tom & Jerry and Woody Woodpecker would make their screen débuts, and Bugs Bunny would first utter his immortal catchphrase, "What's up Doc?", in A Wild Hare. One of the earliest examples of the chroma-key process (to you and I, we call this "green screen") was produced in The Thief Of Baghdad, while John Ford would direct perhaps his most famous film, The Grapes Of Wrath, about the desolation of America's dustbowl Depression life, based on Steinbeck's acclaimed novel.
1941. The Citizen Arrives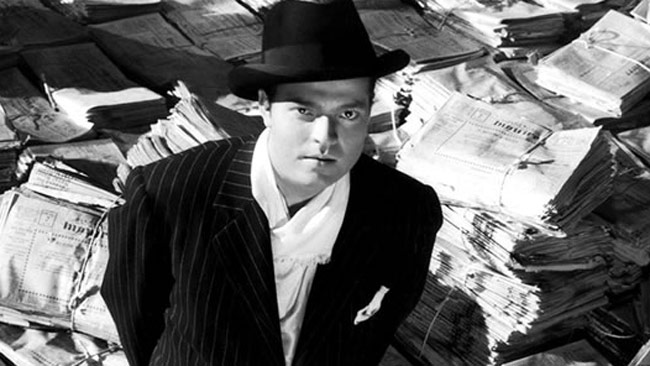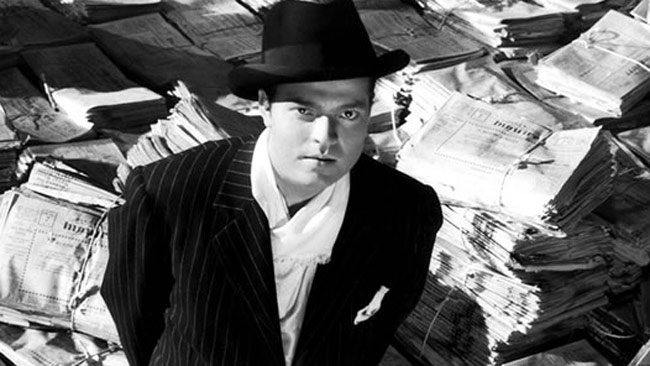 It may seem like a cliché, but arguably one of the greatest films ever made was Orson Welles' Citizen Kane. Welles famously came to prominence following his memorable War Of The Worlds radio broadcast, in which he tricked many into believing America had actually been invaded by aliens and sparking panic, and his incredibly controversial contract with studio RKO gave the industry pause. Welles had significant creative control over the films he produced for the studio, including "final cut" as well as being able to use the actors and production crew he wanted – unheard of at a time of the Studio System – and Citizen Kane was the first film produced in this period. The film itself is a marvel of the cinema technique, essaying camera-work and cinematography, editing and sound design that are both pronounced and strong and as modern as anything produced today. Although hard to believe today, Citizen Kane was a financial failure in spite of critical praise; nominated for nine Academy Awards, including Best Picture and Best Director, Kane would only snag one, for in the writing category. Although the film's initial reputation stagnated and withered, in the years since it has been discovered by new critics and fans and rose in prominence as one of the great American movies. Although aggregate sites such as IMDb et al might dispute it, Citizen Kane is a modern marvel of both story and technical acuity, a blitzkrieg of rage and apoplectic disenfranchisement that resounds as much today as it did in 1941.
Also in 1941: In Academy Award history, How Green Was My Valley would win Best Picture and Best Director (for John Ford), while Gary Cooper and Joan Fontaine would grab the Leading Actor and Actress gongs. Interestingly, Fontaine's nomination (and subsequent win, for Hitchcock's Suspicion) was the first time sisters had been competing for the same award: Fontaine's sibling, Olivia de Havilland, was also nominated in the Best Actress category for her work in Hold Back The Dawn, and legend has it that Fontaine's win forever soured their relationship, a sad outcome for two brilliant performers. Lon Chaney would appear in the titular role in The Wolf Man, iconic noir film The Maltese Falcon was released, and Disney landed Dumbo in cinemas amidst production issues stemming from an animator's strike. Bette Davis became the first female President of the Academy of Motion Picture Arts And Sciences, and screen icon Greta Garbo would retire from films aged only 36. Also of note, MGM and Victor Fleming, the director of Gone With The Wind and The Wizard Of Oz, released another remake of Dr Jekyll & Mr Hyde, starring Spencer Tracy, Ingrid Bergman and Lana Turner, after gaining the rights from Paramount. MGM subsequently destroyed every print they could locate of the 1931 version, so as to prevent it from being circulated – long considered a "lost" film, the 1931 version, which we've reviewed here, was rediscovered decades later and restored. 1941 would also see the big-screen début of Superman, thanks to the Fleischer Animation Studio, which produced 13 short films starring everyone's favourite Kryptonian hero. Superman had first appeared in the pages of Action Comics in 1939 to instant popularity, so it made sense that Hollywood would come calling – and has ever since.
1942. Play it, Sam, Play "As Time Goes By".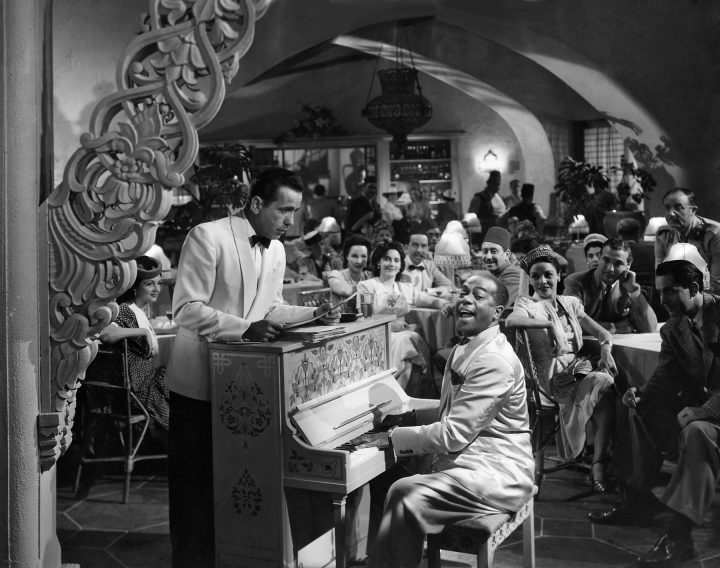 No other film in the history of cinema personifies the 1940's quite like Casablanca. Although released initially in November of 1942, it would win the 1943 Academy Award for Best Picture (as well as Best Actor and Best Writing), and has become one of the most celebrated films of all time. Endlessly mis-quoted and featuring the memorable tune "As Time Goes By", which is now used as a motif for Warner Bros in their opening ident, Casablanca's wartime plot and charismatic leading roles – to Humphrey Bogart, at his peak, and Ingrid Bergman, at her most sultry – have since become legendary when discussing films today. Directed by Michael Curtiz, and based on a stage play ("Everybody Comes To Rick's", by Murray Burnett and Joan Allison), Casablanca wasn't seen as a particularly prestige picture even including the A-list participants (which sounds vastly similar to fellow Best Picture winner It Happened One Night), yet has gone on to become one of the most famous American films ever committed to celluloid. Also featuring a stellar supporting cast, including (among others) Claude Rains and Paul Henreid, there's no denying Casablanca's place as a true landmark in 20th Century film.
Also in 1942: William Wyler's direction of Mrs Minniver would see him snag Best Director at the Academy Awards, while the film would also win Best Picture, and Greer Garson landed Best Actress for her role in the movie. James Cagney picked up Best Actor that year, for Yankee Doodle Dandy. The Hollywood machine cranked up production of films supporting the USA's entry into World War II, following the bombing of Pearl Harbor in December of 1941, with the newly-formed Office Of War Information (OWI) acting as a propagandistic defacto Hay's Code of sorts, deciding what kind of content films could contain around aspects of the war, as well as limiting expenses on things such as set design using valuable materials (such as metal and wood) and clothing. Katherine Hepburn and Spencer Tracy would appear in their first feature together, the first of nine films in which they would co-star, Woman of The Year. Carol Lombard, the wife of Clark Gable, was killed in a plane crash in Nevada, Errol Flynn was charged with three counts of under-age rape and in spite of an acquittal, saw his career nosedive, while the Disney studio released Bambi after five years of production.
1943. Kurosawa arrives.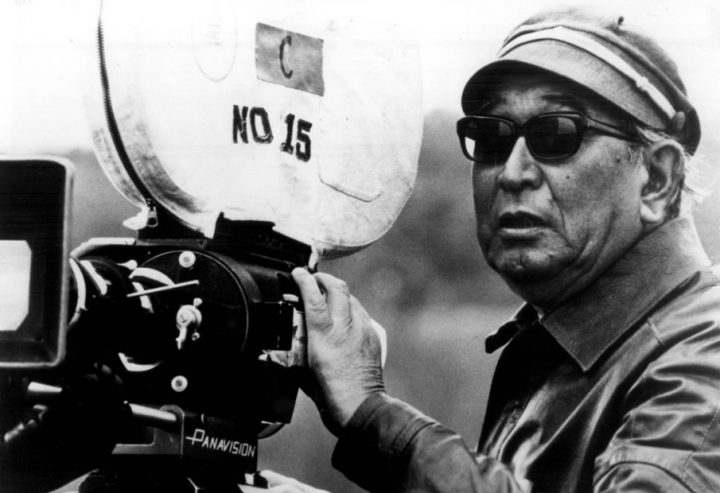 If there's a director more influential to the majority of film-makers working today, I'm yet to hear of it. Akira Kurosawa, the acclaimed Japense film-maker who produced such films as Rashomon, Seven Samurai, and Ran, debuted in 1943 with the action film Sanshiro Sugata, a widely imitated and often-remade story about a young man travelling to Tokyo to learn martial arts, to find himself learning about himself, in a coming-of-age fable that resonated with both Japanese audiences and Western cinemagoers alike. Kurosawa had worked on numerous films in creative roles in the past, but Sanshiro Sugata was his first credit as director, even though he would often describe being director "in practicality, if not credit" on films he'd worked on previously. Remarkably influential across his 57-year career, in which he made 30 films, Akira Kirosawa is a legend of cinema and, perhaps even more extraordinarily, an enormous influence on modern film-makers from Tarantino, to Spielberg and even James Cameron.
Also in 1943: While Casablanca would win both best Picture and Best Director at the Academy Awards, and Betty Grable and Bob Hope topped the box-office earners for the year, it was the behind-the-scenes antics of Hollywood that provided much of the water-cooler chatter of the year. Clark Gable joined the US Air Force, flying five combat missions before the studio requested their star performer be reassigned to non-combat duty (granted!), Olivia de Havilland successfully sued Warner Bros in opposition to their lengthening of her contract with them – in what became known as De Havilland's Law, studios could only reach a maximum 7-year contract with a performer, and that extending it would require both studio and performer agreement. In effect, this began the long, confusing breakup of the "Studio System" which had dominated Hollywood during the 30's, and which would finally end in the early 1950's. Errol Flynn was acquitted of rape charges, while no doubt there was plenty of tsk-tsking at Charlie Chaplin, then 54, marrying 17-year old Oona O'Neill. Columbia Pictures produced their first technicolor film, The Desperadoes, while Lon Chaney Jr and Bela Lugosi would appear together in Frankenstein Meets The Wolf Man, for Universal, with former Dracula star Lugosi playing Frankenstein's Monster.
1944.  Bogey 'n Bacall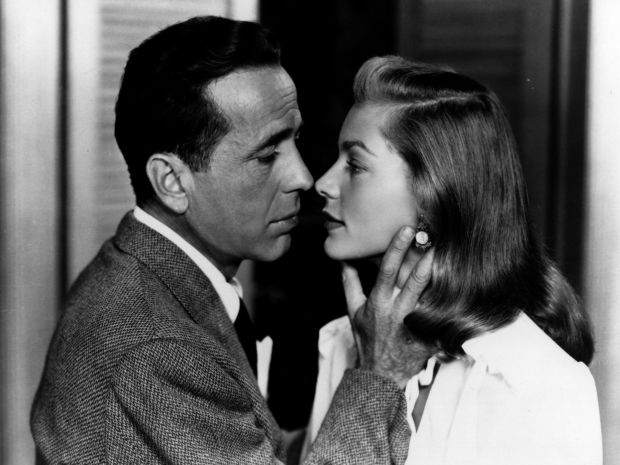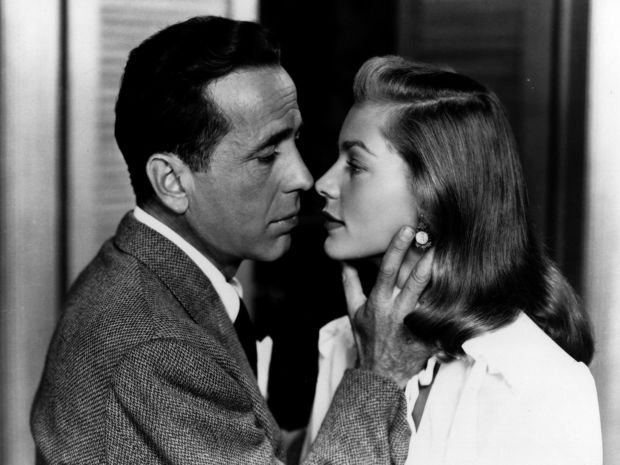 One of Hollywood's most enduring love stories, even by today's standards, has to be the affair between Humphrey Bogart and Lauren Bacall, who appeared together in 1944's To Have And Have Not. At the time, Bogart was married to his third wife, Mayo Methot, and was (apparently) unhappy in the union. Bacall, 19 at the time of production, was making her film début, following a successful career as a model, and it would be the pair's on-screen chemistry that set audiences alight. According to Hollywood legend, Bacall and Bogart, then 45, became infatuated with each other during production, with director Howard Hawks expanding Bacall's role to take advantage of their obvious chemistry. Eventually, Bogart would divorce Methot and make Bacall his fourth wife, and would remain with her until his death in 1957. With their off-screen love-life playing out in real life, and the gossip columns running items on the pair almost continually, theirs became the pin-up affair of the industry, and a love story that remains one of the most enduring to this day.
Also in 1944: Going My Way would snag a swathe of Academy Awards, including Best Picture, Director and Actor, while the Golden Globes would be held for the first time honouring the films of 1943. It would also be the biggest box-office earner of the year. Billy Wilder would release Double Indemnity, National Velvet would introduce us to young superstar Elizabeth Taylor, and Billy Fitzgerald became the first and only person to be nominated for an Best Actor and Best Supporting Actor gong for the same role, that of Father Fitzgibbon in Going My Way. The Academy's rules regarding nominations were changed henceforth to ensure this never occurred again. Of note as well, 1944 marked the first screen appearances of Angela Lansbury (in Gaslight), and Gregory Peck (Days Of Glory).
1945. Crawford's Resurgence
Following her contract release from MGM two years prior due to declining box-office returns, Hollywood star Joan Crawford appeared in her first film for Warner Bros, a Michael Curtiz (Casablanca) directed film entitled Mildred Pierce. The film would garner significant critical praise, and would give Crawford her only Oscar (out of three career nominations) in what was then a stunning resurgence for the flailing star. The role remains Crawford's best remembered, and certainly most potent performance of what was a stellar career.
Also in 1945: The MPAA, an organisation which would come to certify films' voluntary ratings, was born out of the former Motion Picture Producers And Distributors organisation, which had been created in 1922 to police the industry from bad practices. Newsreel footage of German concentration camps, now liberated by Allied troops, was released, but unscreened in a majority of American cinemas because it was "too gruesome" for the public to see. The first ever anime film, Momotaro: The Holy Soldier Of the Sea, was released in Japan, and directed by Mitsuyo Seo, while the three-hour French Resistance film, The Children Of Paradise, was released in the shadows of the end of World War II; having been filmed in secret in and around occupied Paris, it was divided into two parts (due to its length). State Fair, a Rogers & Hammerstein film, marked the first production to bare their name being written specifically for cinema, rather than a stage play. Making their first appearances on screen in 1945 were Caspar the Friendly Ghost (Paramount), Sylvester The Cat (although he wouldn't appear with Tweety Bird until 1947), and future Star Trek star DeForest Kelly.
1946. When She Does That Thing With Her Hair.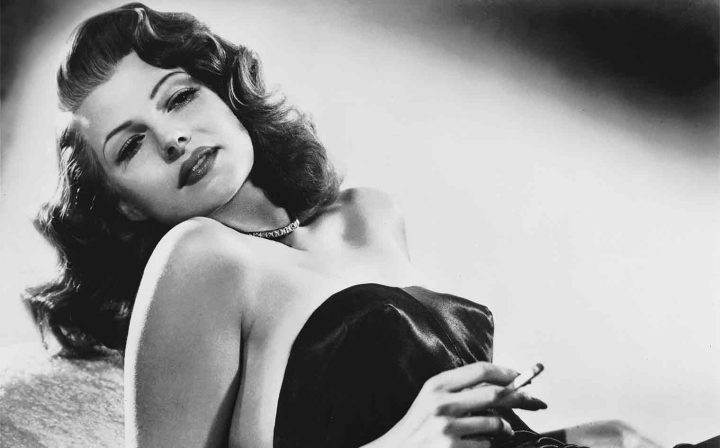 It's little wonder Rita Hayworth's sex-symbol status was displayed so prominently in Frank Darabont's classic prison drama The Shawshank Redemption; Hayworth's role in Gilda, opposite Glenn Ford, is her most memorable if only for the film's famous "striptease" scene, in which the actress simply removed a pair of arm-length gloves, singing "Put The Blame On Mame", the catchy tune from the movie. In an era of suggested sexuality, ribald innuendo and classic Hollywood lighting and cinematography, Gilda remains a stark reminder of the power of cinema when you give a beautiful woman a strong, compelling character and ask her to run with it.
Also in 1946: A number of compelling films opened in this year, most notably the perennial Christmas favourite It's A Wonderful Life (which, I was surprised to find, was a financial flop initially, until it found syndicated annual screenings at Christmas when the film's copyright lapsed into the public domain in the 1970's!) and Disney's Song Of The South, a film so racially controversial it was removed from almost all public availability and has never been released on home video anywhere in the world. 1946 also saw the first Cannes Film Festival on the French Riviera, with Billy Wilder's The Lost Weekend snagging the first Palm D'or (Golden Palm) for Best Picture. At the Oscars, it was William Wyler's The Best Years Of Our Lives which won Best Picture, Director, Actor and Supporting Actor, and Universal Pictures merged with International Pictures to become Universal International. 1946 saw the passing of Mary Alden (The Birth of A Nation) and WC Fields, the latter a noted raconteur and entertainer, while the year also saw the first screen appearances of Burt Lancaster, Kirk Douglas and Dean Martin.
1947. The Blacklist Comes Calling
In a period when America was beset on all sides by the scourge of Communism (rightly or wrongly), the House Un-American Activities Commission (HUAC) set its sights on Hollywood to weed out supposed Communist sympathisers. In a virtual civil war among Hollywood's elite, actors, director, producers and writers were called before the Commission to testify against their fellow industry luminaries. One of the most infamous of these cases was against the people involved in Gentleman's Agreement, a Gregory Peck-starring film about bigotry and entrenched prejudice in American society, written by Moss Hart and Eliz Kazan, and directed by Kazan. Although the Best Picture-winning film's themes seem antiquated by today's standards (or perhaps not #BlackLivesMatter), Gentleman's Agreement was the focus of testimony by Kazan, actress Anne Revere, actor John Garfield, and producer Daryl Zanuck for its perceived anti-American stances. Kazan and Revere would be blacklisted as a result of the case, echoing the career-destroying activities of the establishment in trying to root out perceived evil in the country.
Also in 1946: David Lean's Great Expectations was released in the UK, the Actor's Studio was established in New York City (from where we get the term "method acting"), we saw the screen débuts of Marilyn Monroe (The Shocking Miss Pilgrim), future Hitchcock muse Janet Leigh, and Sidney Poitier, and eponymous Christmas classic The Miracle On 34th Street was released to financial success.
1948.  Single-take with a Hitch.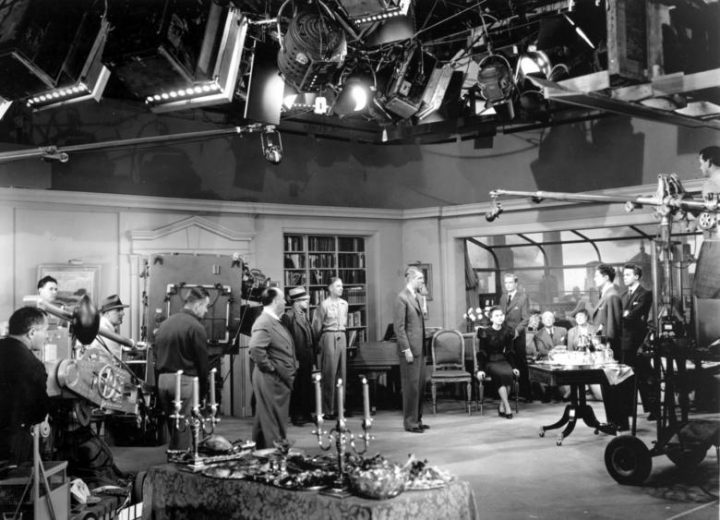 Alfred Hitchcock's first colour film, and a prime example of the "single-take" technique, Rope, arrived in 1948. Revolutionary for its masterful use of lengthy takes in order to establish a "real time" aesthetic, Rope was also the first of four films he would make with Jimmy Stewart (among others, Rear Window being the most well known). Production images of the time see Hitch and his crew dwarfed by enormous film magazines attached to the cameras, allowing the long takes to occur with minimal cutting – the film uses push-in edits and wipes to "blend" each take seamlessly, and the effect is that the whole film takes place in a single shot. Although there have been countless films to use the process since – notably Alfonso Cuaron's Gravity, 2002's Russian Ark, and Alejandro Innaritu's Birdman (2014) – it's Hitchcock's Rope that set the standard by which all others are judged.
Also in 1948: Lawrence Olivier's Hamlet swept the Hollywood award season in 1948, becoming the first (and to-date only) Shakespeare adaptation to win Best Picture at the Academy Awards, while Olivier would see his performance as the Prince Of Denmark given an Oscar for Best Actor, as well as the man snagging Best Director as well. In more seismic events, the US Supreme Court decreed that film studios could no longer own and operate the cinemas in which their films screened. Known as the Paramount Decree, it effectively broke up the studio's monopoly and a tactic known as "block booking", in which theatres had to buy not only a studio's A-grade films but a large portion of their B-movie content as well, signalled the beginning of the end of the Studio System. Other classic films released in 1948 include The Red Shoes, Humphrey Bogart's The Treasure Of The Sierra Madre, Bergman's Joan of Arc, and Bogey's other major hit, Key Largo. Making their screen début in 1948 were Debbie Reynolds, Klaus Kinski, and Doris Day.
1949. Hollywood looks beyond its borders.
At a time when Hollywood was largely obsessed with itself (and still is, in many ways), Italian film The Bicycle Thief arrived in American cinemas to considerable critical acclaim. Although it would only be nominated for Best Original Screenplay come Oscar time, the film's success was a catalyst in the formation of the Academy's Best Foreign Language Film category, honouring films that were made overseas in another language.
Also in 1949: The comedic baton was passed in 1949, which saw the final film from The Marx Brothers, and the debut pairing of Dean Martin and Jerry Lewis, a partnership spanning 16 films until 1956 (when they broke up). Robert Rossen's All The King's Men scooped Best Picture, Director, Actor (Broderick Crawford) and Supporting Actress (Mercedes McCambridge, in her first film) at the Oscars, while Cecil B DeMille's biblical epic, Sampson & Delilah, co-starring Hedy Lamarr and Victor Mature, became the year's highest box-office earner. Audiences saw the first appearances of the Road Runner and Wile E Coyote, Mr Magoo, Julie Andrews, Yul Brynner, Max Von Sydow, and Liza Minelli, and the passing of legendary director Victor Fleming, who helmed The Wizard Of Oz, Gone With The Wind, and 1934's Treasure Island.
Related articles
Who wrote this?