Movie Review – Hotel Transylvania 2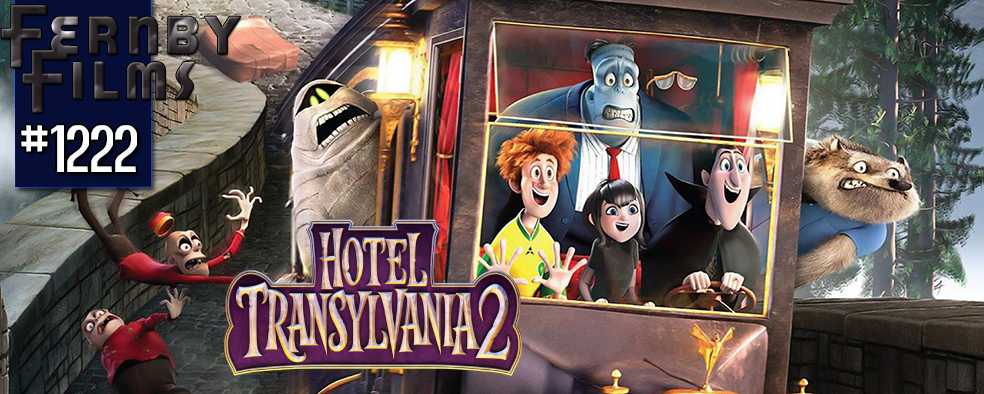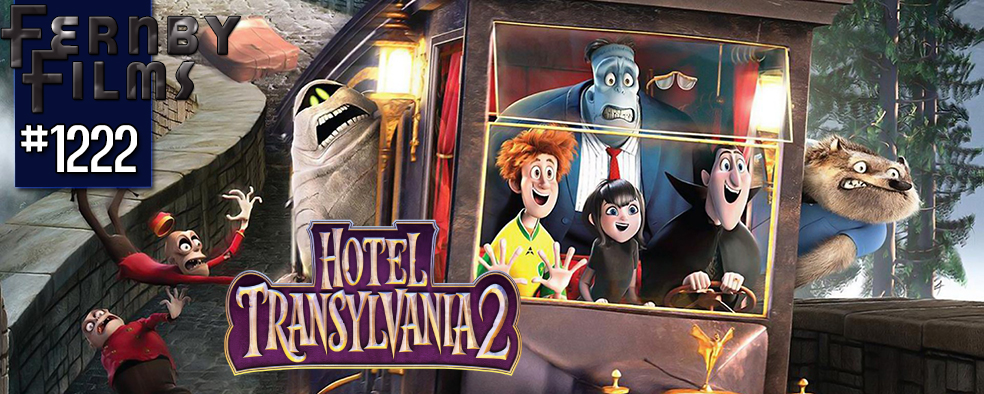 Director :   Genndy Tartarovsky
Year Of Release :   2015
Principal Cast :  Adam Sandler, Andy Samberg, Selena Gomez, Kevin James, Asher Binkoff, Steve Buscemi, David Spade, Keegan-Michael Key, Mel Brooks, Fran Drescher, Molly Shannon, Nick Offerman, Megan Mullally, Dana Carvey, Rob Riggle, Chris Kattan, Jon Lovitz, Robert Smigel, Sadie Sandler, Chris Parnell.
Approx Running Time :   89 Minutes
Synopsis:  Dracula and his friends try to bring out the monster in his half human, half vampire grandson in order to keep Mavis from leaving the hotel.
*******
The Law of Diminishing Returns continues apace with Hotel Transylvania 2, the sequel to the 2012 original, a middling, hippity-hop affair about a father suffering chronic attachment issues and all manner of undiagnosed personality disorders. Bright and colourful at the least, fast paced and generally pleasant, Hotel 2 delivers more of what we've come to expect from Adam Sandler's family-friendly franchise doing for iconic monsters what Shrek did for fairy tales. While adults will possibly find it a little tiresome, and the "message" element a tad wearying, particularly with multiple viewings, there's a mild, pleasant genteel-ness to both story and characters that make it a diverting Sunday afternoon watch.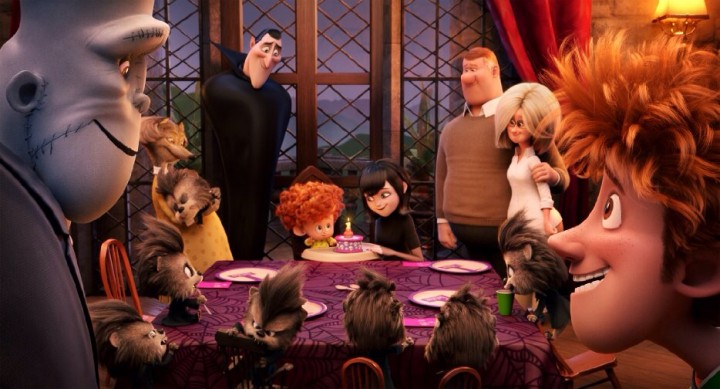 Dracula (voice of Adam Sandler) is pleased to see his vampire daughter Mavis (Selena Gomez) marry human man Jonathan (Andy Samberg), and eventually gives birth to a boy, Dennis (Asher Binkoff). However, Dracula's fear is that Dennis is human instead of vampire, with Jonathan wanting to raise their son in the human world where he'll fit in. Desperate to keep Mavis and Dennis within the walls of the Hotel, Dracula and his friends, including Frank (Kevin James), Wayne (Steve Buscemi), Griffen (David Spade) and Murray (Keegan-Michael Key), along with Dracula's father, Vlad (Mel Brooks), attempt to "frighten" the fangs out of young Dennis to get them to stay.
Hotel Transylvania 2 picks up pretty much where the original film concluded, and reunites almost the entire original cast (although Keegan-Michael Key replaces Ceelo Green as Murray The Mummy), and throws in a gamut of new voices, including the terrific Mel Brooks, alongside the latest and greatest comedic talent Sandler has cobbled together. Witty banter is the name of the game here, a self-indulgent gaggle of iconographic usurping and hyper-saturated animation set to a thunderous score and rapid-fire editing. The emotional through-line of the film is a tiresome archetype of a father unable to "let go" of the family ties, even though the previous film pretty much cured him of that and now tries to shoehorn iniquity where it comes across as silly and overwrought.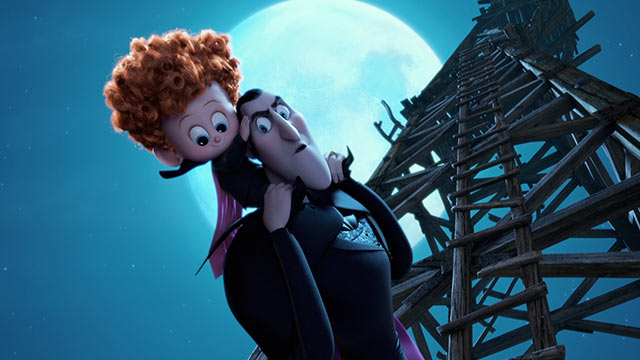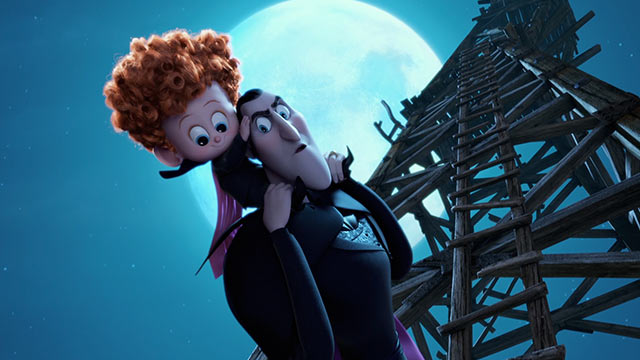 With a script trying for a joke-a-minute success rate and a fairly innocuous familial subtext, kids will admire the film's virtuous animated style (not to mention its epilepsy-inducing editorial aesthetic) while adults will chuckle at the lightweight humour and subversive way the film uses iconic monsters in childlike settings – one wonders if children who haven't been exposed to films such as Dracula, Frankenstein or The Wolfman (among others) will appreciate the subtle nods to those films as designs here reflect those archetypes – as this 90 minute grab-bag of laughs plays out. It's the kind of film where design trumps story and character; Dracula's growth as a character has reverted to the kind of squirrelly incontinence he encapsulated at the start of the first film, which makes his trajectory here a tad contrived in order to provoke some of the subtext engaged in with the script. To be honest, the "inadequate parent" routine was covered in the first film and I had hoped they'd offer something different here: alas, I left disappointed.
As with most modern top-tier animated productions, the voice cast are all excellent in their respective roles, with glib, connotative japes and more post-modern asides than you can shake a fang at – Sandler does an impressive Transylvanian accent and personifies Dracula with aplomb, while both Andy Samberg and Selena Gomez make affably indifferent parents to Asher Binkoff's young Dennis. The problem the film has is that it's trying to accommodate the bulky ensemble supporting cast as well, and you sense the glut of talent and subplots ongoing through the film kinda run out of steam about midway through. In giving each minor character their share of screen time, the film waylays the arc of Dennis and Dracula's relationship, which is the primary story of the film.
Story issues aside, the film is animated with the clarity and eye-bleeding brilliance that studio money can buy. Even if the characters or story do nought for you, you'll have a blast catching all the detail in the film's depth of animation, which I have to admit to be a new high-water mark for non-Pixar stuff coming out of Hollywood. From a design perspective the film is immaculate, clever and articulate, and the work done on fabrics, textures and light-and-shade is stellar here.
But the overall feeling of the film is one cobbled together from mediocrity, a bland, indifferent cash-grab designed to capitalise on whatever minimal impact the original film had without offering anything substantially different. In balancing the dynamic of the first film with trying to draw another story from what it is essentially a one-joke idea, the film-makers have missed the mark a little, but that doesn't make this a bad film. It's just a middle-of-the-road outcome that deserved a lot better.
Related articles
Who wrote this?