Director :  Tom McCarthy
Year Of Release :  2015
Principal Cast :  Michael Keaton, Mark Ruffalo, Rachel McAdams, Liev Schreiber, John Slattery, Brian d'Arcy James, Stanley Kubrick, Gene Amoroso, Jamey Sheridan, Billy Cruddup, Maureen Keiller, Richard Jenkins, Paul Guilfoyle, Len Cariou, Neal Huff, Laurie Heineman.
Approx Running Time :   129 Minutes
Synopsis:   The true story of how the Boston Globe uncovered the massive scandal of child molestation and cover-up within the local Catholic Archdiocese, shaking the entire Catholic Church to its core.
*******
Kiddie fiddling.
It's become a standing joke for Catholic priests to be tainted with the awful stigma of sexual molestation – being an altar boy comes with privileges, I guess – and while late-night talk show hosts and stand-up comedians have riffed on the idea for the longest time, the Church itself has been traditionally less than forthcoming with reparations for crimes committed by its priests. In 2001, the Boston Globe investigated and uncovered an enormous conspiracy of cover-ups within the Church, locally at first but in a trail of sexual predation working its way all the way to the Vatican; the Spotlight investigation became a pivotal moment in the Catholic Church's approach to sexual cases within its organisation, and the reverberations of the expose, and the subsequent cases, are still being felt today.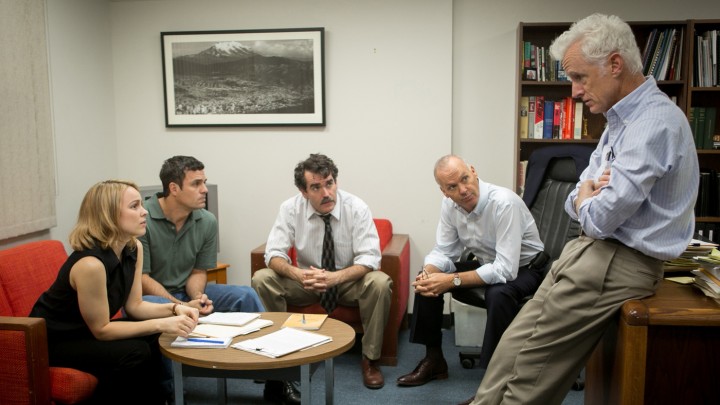 The Boston Globe hires new editor Marty Baron (Liev Schreiber), who, after meeting with the paper's investigative team – known as "Spotlight" – including Walter Robinson (Michael Keaton) and Ben Bradlee (John Slattery), decides the paper should focus on the case of a Boston Catholic priest accused of molesting over 80 children, and having the case covered up by Cardinal Law (Len Cariou). The cases are being represented by local attorney Mitchell Garabedian (Stanley Tucci), who lacks the resources to execute the cases in a timely fashion. As the team investigate the cases, and the subsequent cover-up, pressure mounts on the Globe to pull the story.
Nothing beats a good investigation, particularly against such an insidious evil as priests fiddling with kids under their care and getting away with it. Spotlight, a true life story, is a compelling film purely from a simple human interest standpoint, populated by a top-tier cast, and directed with a 70's pulp feel that gives Boston's gritty, urban saltiness a real prejudice to succeed. Director Tom McCarthy works from his own script – together with co-writer Josh Singer, no stranger to conspiracy as a writer on Wikileaks film The Fifth Estate – and handles the multi-pronged narrative, as well as time compression and key notable moments in the case, with a sense of realism and total lack of cinematic theatricality. Pleasingly, the audience is expected to follow the story and read between the lines, with the film refusing to "dumb things down" for the cheap seats; talky and fast-paced, Spotlight obviously moves faster than the actual case ever did, but within this expedited narrative comes a wind-tunnel of propulsive condemnation on the Church's handling of these cases.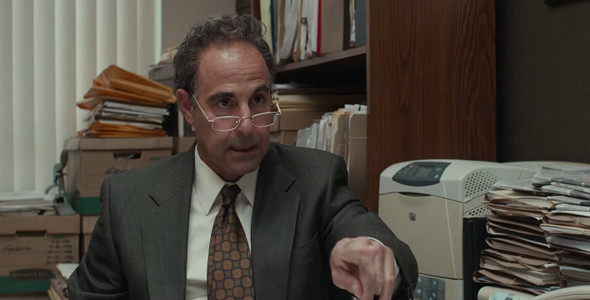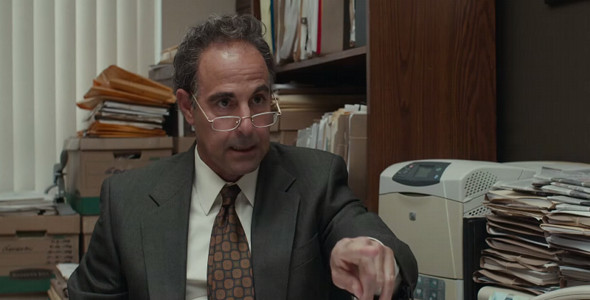 Spotlight has a substantial similarity in its structural DNA to fellow 2015 Best Picture nominee The Big Short – both films tell of known corruption within enormous institutions, the kind of corruption those in charge hope will just go away if they turn a blind eye, and the people involved in figuring it all out are as disbelieving as to the level of ineptness and house-of-cards fragility of the allegations. For those unfamiliar with this specific case, or at least only a cursory knowledge of the Church, systemic cover-ups of these despicable acts have led to the Vatican at least acknowledging some culpability for their employees, and Spotlight's gradual revelatory arc, as truth is uncovered and the Church's complicity is stripped bare, is a form of appreciative justice that audiences will feel glad about. Although problems still exist, at least they're in the open, I guess.
Key to the film are the dynamic duo of Mark Ruffalo and Michael Keaton, who lead the charge as the paragons of journalistic fortitude tasked with uncovering much of the case's most abhorrent acts. Ruffalo is terrific, as is Keaton, while they're abetted by Rachel McAdams as a fellow Globe journo Sacha Pfeiffer, John Slattery as a senior editor, Billy Cruddup as an attorney involved in previous cases, and Stanley Tucci as lawyer Mitchell Garabedian. Tucci is especially on song here, and I'm yet again questioning why he isn't a bigger draw in films – the man is an Oscar-calibre talent, and yet continuously seems overlooked (his role in The Devil Wears Prada was exceptionally strong, and yet he went unrewarded, which beggars belief). The cast are solid, delivering powerhouse performances and at-times heartbreaking character work.
Spotlight is a terrific film. Wonderfully directed, brilliantly acted and naturally depicted, the film's heinous subject matter is exactly the kind of thing cinema can portray so powerfully. As the world crumbles beneath the hugely religious Boston diocese, Spotlight only ratchets up the dramatic propellant to create one hell of a bombshell storyline; foundation-shattering upheavals don't come much bigger.
Related articles
Who wrote this?