Movie Review – Bridge of Spies

Director :  Steven Spielberg
Year Of Release :   2015
Principal Cast :  Tom Hanks, Mark Rylance, Amy Ryan, Scott Shepherd, Sebastian Koch, Alan Alda, Austin Stowell, Billy Magnussen, Eve Hewson, Jessie Plemons, Michael Gaston, Peter McRobbie, Domanick Lombardozzi, Will Rogers.
Approx Running Time :  142 Minutes
Synopsis:   During the Cold War, an American lawyer is recruited to defend an arrested Soviet spy in court, and then help the CIA facilitate an exchange of the spy for the Soviet captured American U2 spy plane pilot, Francis Gary Powers.
*********
More like Bridge Of Guys
Cold War espionage has never felt as…well, cold as it does in Bridge of Spies, Spielberg's latest period drama shot by Janusz Kaminski and starring the always solid Tom Hanks. Based on actual events, with a script punched up by the Joel and Ethan Coen, Spielberg's solid, occasionally tense film contains all the parts to make a successful thriller, but for some bizarre reason never really gets out of first gear.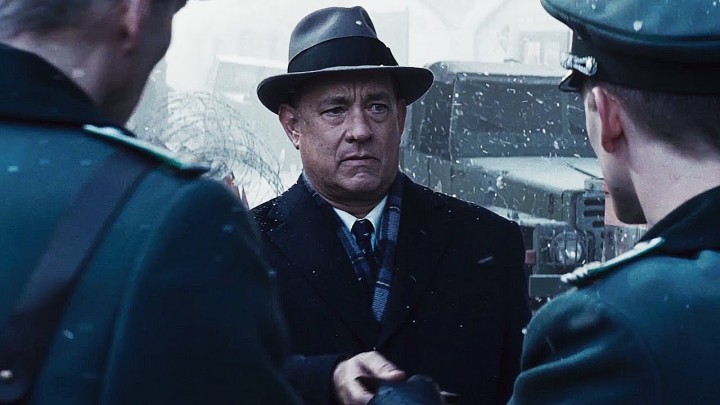 In 1960, US Air Force pilot Francis Gary Powers (Austin Stowell) is shot down while on a highly classified intelligence mission over the Soviet Union – taken hostage, he is paraded before the cameras as a trophy of war. The United States, meanwhile, has recently finished convicting accused Soviet spy Rudolf Abel (Marak Rylance), but decide, through the CIA, to initiate a prisoner exchange with the Russians. The US uses New York insurance lawyer James B Donovan (Hanks) to set up the exchange, given he has recently completed defending Abel in court; sent to Berlin, Donovan negotiates between the Soviets, for Powell, and the East German Government, who are holding a US student named Frederic Pryor (Will Rogers) following the construction of the Berlin Wall. As relations between the three parties continue to strain, Donovan must find a way to bring home both US boys without killing the deal.
Bridge Of Spies continues the run of Spielberg films I classify as "workmanlike". As a matter of disclosure it's my opinion that the man's last truly great film was Saving Private Ryan; he's teetered close to achieving that glory since, with War of The Worlds and Minority Report coming damn close, but generally I've found his films since 1997 to be solid without being truly classic. Bridge Of Spies continues Spielberg's fascination with period conflict (Munich, Amistad, Lincoln and War Horse find their DNA smattered through Bridge's frosty plotting), delivering a story of resolute patriotism and masculine fortitude contrasting against some of history's most despicable or deplorable socio-political climates.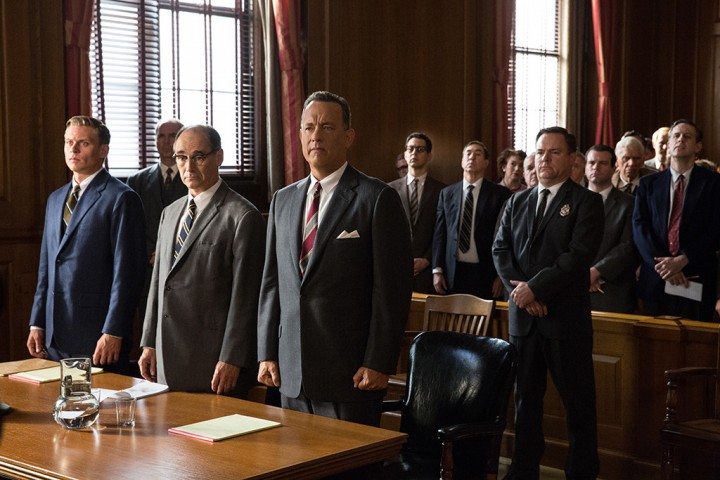 Now, do not mistake my apparent ambivalence for Spielberg's current output as something I've felt as a chore, because even the limpest films in his catalogue are still often magnificent; the Bar Of Former Glory is almost too high for Modern Spielberg to achieve so it would appear he's content handling projects he's actually interested in – if that makes him happy, then I'm happy to follow him on this journey, but even saying that it feels to me like Bridge Of Spies is Spielberg in cruise control. The film's high-stakes espionage core is gripping to a degree, and the director masterfully works various thematic elements into the subtext (most of which don't work for me, however), but as an assemblage of on-point character actors and some stunning production design – Cold War Berlin looks positively like a precursor to Mordor – there's the kind of sense that the idea of the film seems better than the actual execution of it.
The film's central character is Hanks' Donovan, who, and I'll be honest, feels like just Tom Hanks playing a broad caricature of himself once again: the man is a modern day Jimmy Stewart, he's so goddam affable. Without almost a character flaw anywhere, Hanks delivers his stand-uppiest role of the year, portraying Donovan as a reluctant hero sent into "ambassadorial combat" by his country to sort out their Cold War messes, and even though watching Hanks act is continually breathtaking for how much he gives an audience with every on-screen minute, the story surrounds him like an ill-fitting suit that wrinkles every time he bends over. The story itself should be compelling, and when you get to the crux of the political intrigue the film works overtime delving into just how knife-edge it all is, but for all the shenanigans, for all the clever dialogues that take place, and for all Hanks' solid work in front of the camera, Bridge Of Spies just hangs there, inert, afraid to really take the story by the scruff of the neck and shake the shit out of it.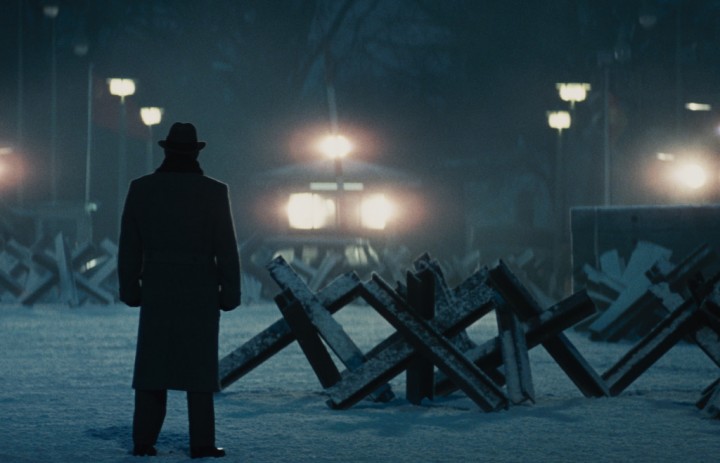 In keeping with most of Spielberg's post-Y2K films, Polish cinematographer Janusz Kaminski gives the film a somewhat washed-out look, polished and well lit, with subtle browns and monochromatic desolation in places, but part of my heart aches for a time when Spielberg made films with, you know, actual colour in them. It's fine to desaturate every single film since Private Ryan with that juddery, high-frame-rate look and weird AI-esque flare effect, but the look of Spielberg's films don't often match what the story might demand. At least this one looks better than Lincoln, which seemed like it was shot through a tub of muddy water, it was so drab. To be frank, I'm getting a tad tired of every single film Spielberg makes looking almost visually identical in aesthetic, I just wish the Kaminski would let go of the past and actually make a film that looks nice. Where's the technicolour, Mr Speilberg, or did you forget that people need to watch these films?
Look, the film is competent enough, and it's certainly no dud, largely thanks to Hanks and his co-star Mark Rylance, whose portrayal of Abel is actually pretty hilarious (in a good way). The assemblage of talent Spielberg continues to command don't put a foot wrong in the acting stakes, but the story, even though handled by three screenwriters (two of whom are considered to be among the best currently working today), cannot move itself into any kind of momentum worth following. Donovan's breathless traipsing across America and through Berlin aside, the film moves glacially in terms of character development and actual plot – a sidebar involving Alan Alda, playing Hanks' law-firm boss, is tossed aside just as it was getting interesting – and as a denouement struggles to land the emotional heft Spielberg was obviously aiming for; it kinda left me underwhelmed. Competent, solid, and as mentioned, workmanlike, Bridge Of Spies is worthwhile but not essential Spielberg.
Related articles
Who wrote this?