Movie Review – Magic Mike XXL

– Summary –
Director :   Gregory Jacobs
Year Of Release :   2015
Principal Cast :   Channing Tatum, Joe Manganiello, Matt Bomer, Kevin Nash, Adam Rodriguez, Gabriel Iglesias, Andie MacDowell, Amber Heard, Jada Pinkett-Smith, Elizabeth Banks, Donald Glover, Michael Strahan, Stephen Twitch Boss.
Approx Running Time :   115 Minutes
Synopsis:   Three years after Mike bowed out of the stripper life at the top of his game, he and the remaining Kings of Tampa hit the road to Myrtle Beach to put on one last blow-out performance.
***********
Down the rabbit hole once more.
Look, I was as surprised as anybody at the success of legitimately entertaining male-stripper film, Magic Mike, helmed back in 2012 by auteur director Steven Soderbergh. I never thought a film like that would be in any way interesting to me, but it was. The success of Magic Mike's run ensured a sequel would occur at some point: welcome to 2015, Mike. Although missing Matthew McConaughey and Alex Pettyfer (apparently, they ran off to China somewhere to start up a new show, according to a telling line of dialogue), Magic Mike XXL delivers more of the same mumbling narrative mixed with flashy, neon-infused male nudity, although not quite with the same impact.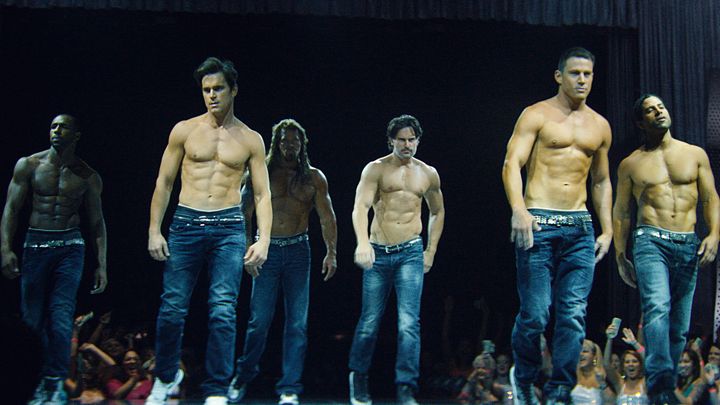 A few year after the events of Magic Mike, Mike Lane (Channing Tatum) runs his own furniture business in Tampa, Florida. When his former stripper buddies from Kings Of Tampa return for one last blow-out, Mike hooks up with them to catch up on old times. The group is now led by Big Dick Ritchie (Joe Manganiello), who returns with Tarzan (Kevin Nash), Tito (Adam Rodriguez), and Tobias (Gabriel Iglesias), while Ken (Matt Bomer) is the one dubious about Mike's return to the group.
 With original director Soderbergh in retirement, XXL's helming duties fall to regular Soderbergh associate Gregory Jacobs, who gives the film a similar look and raw sensibility the original contained; the film is written by Reid Carolin, who makes do with the remaining characters even though they're largely one-note and, compared to McConaughey's missing Dallas, entirely cliched. The film's expanded secondary cast roster works well with the minuscule, simplistic plot, and delivers plenty of nice "dance" sequences allowing the parade of chiseled dudes to fill the screen (together with the accompanying screams of liquored up, randy women), and while it's played largely with its tongue firmly in cheek, you get the sense the same level of fun and wry irony is missing.
Sure, the boys are all blokey and masculine and frat-house idiots, but they have "hearts of gold" and that, apparently, is all we need to know about them for the story to progress. Tatum's Mike is less interesting here, even though he has more foundation going on – now that's he's a legitimate entrepreneur, he should have his life together, but even when cracks appear (his relationship with the original film's Brooke – Cody Horn, who is absent in this film – is on a downward spiral, which prompts Mike to go back to his stripper ways on a whim) you get the sense that it's all a bit of a poorly constructed house of cards. There's no real legitimacy to the narrative permutations of Magic Mike XXL; unlike the original film's sense of bright, shiny lights covering the warts-n-all reality of stripping, XXL is entirely about making its hunky cast do all manner of crazy shit to drag a largely female demographic to see it.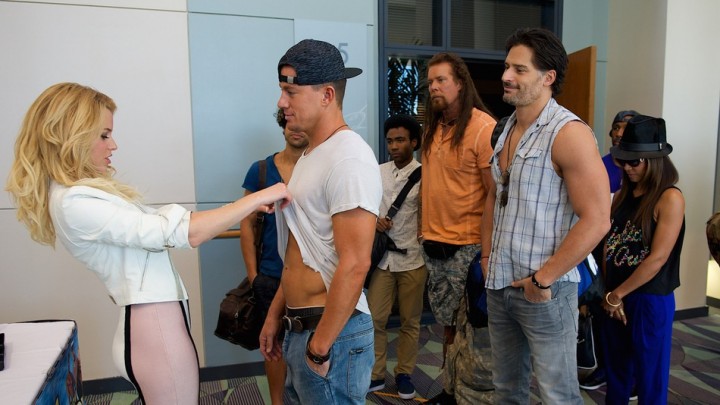 That's not to say it's a hell of a lot of fun, because (again) I really enjoyed this film, in spite of its inherent silliness. Tatum's role is largely beefcake mixed with unfulfilled dreams, although the script never really digs deep enough into him to make him a three-dimensional person, while the cast of the Kings Of Tampa are again fostered upon stereotypes and beguiling good-natured humor. It's an inwardly reflective sense of humor here, bred by hundreds of nude performances and a sense of amicability with their lot in life, but the Kings themselves don't aspire to be much more than just simplistic, generic archetypes. Joe Manganiello revels in his newfound leading role, although there's a weird vibe with him that I can't quite pin down – is he supposed to be the comedy relief, or is he the straight-up replacement for Dallas in this movie?
Backing up the hunky men are a gaggle of female actors, including Amber Heard, Jada Pinkett-Smith (essentially doing her Fish shtick from Gotham, only here transplanted to a Georgia-based nightclub), a really haggard looking Andie MacDowell, and Elizabeth Banks (you know, from Hunger Games and Pitch Perfect). The girl, similarly to the boys, all seem to be having a blast here, with the nudge-nudge comedic undertones giving them plenty of scope for adding to the franchise's roster of weird and wonderful caricatures.
Magic Mike XXL's acute sense of placid, genteel humor stops the film from really accelerating whatever character plotting the production team had going on. The film isn't focused enough to be compelling in an intellectual sense, but just bawdy and randy enough to provoke the required reactions from the watching audience. Yeah, it's a bit of nonsense, fueled by beefcake performances and a bass-heavy contemporary soundtrack, so in deference to my female readers XXL delivers all you could ask for. As a guy, I kinda wished for a little more in the brains department, but if there's ever to be a third installment (Magic Mike XXX?) then it's obvious the plot won't revolve around much beyond oiled up dudes gyrating to house music.
Related articles
Who wrote this?