Movie Review – Gift, The (2015)

– Summary –
Director :   Joel Edgerton
Year Of Release :   2015
Principal Cast :  Jason Bateman, Rebecca Hall, Joel Edgerton, Tim Griffin, Allison Tolman, Beau Knapp, PJ Byrne, David Denham, Busy Phillips, Wendell Pearce.
Approx Running Time :   108 Minutes
Synopsis:   A young married couple's lives are thrown into a harrowing tailspin when an acquaintance from the husband's past brings mysterious gifts and a horrifying secret to light after more than 20 years.
***********
Let bygones be bygones.
Following the career of Aussie actor Joel Edgerton since I spotted him in Erskineville Kings, he's come a long way. He's risen through the Aussie film industry and broadsided Hollywood with turns in George Lucas' Star Wars prequels, the big-budget Aussie flick Ned Kelly (co-starring Heath Ledger), and appeared in a string of American B-movies including Smokin' Aces and Open Window, among others. In 2010, Edgerton appeared in the critically acclaimed crime-thriller Animal Kingdon, which saw it win the Australian equivalent of the Oscars, an AACTA, for Best Film, and saw Jackie Weaver win a Best Supporting Actress Oscar. Following that, it was all up and up for Edgerton, appearing in increasingly bigger and bigger films, culminating in Ridley Scott's Exodus in 2014, and The Great Gatsby, in 2013. To find his directing and acting in The Gift seems like a solid transition for Edgerton, who has worked with some of film's biggest directorial names; the talent he's associated with over the journey has obviously rubbed off, because The Gift is, for a début as solo director, stellar work.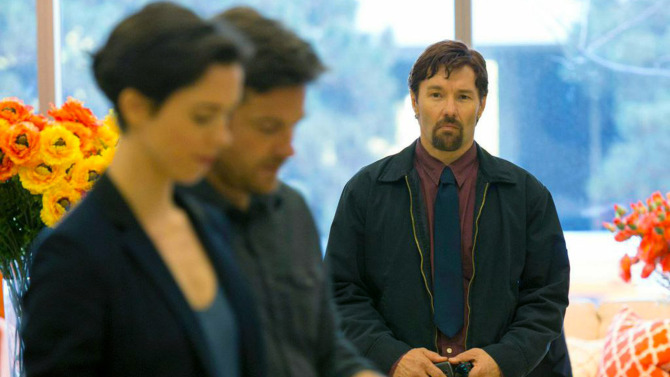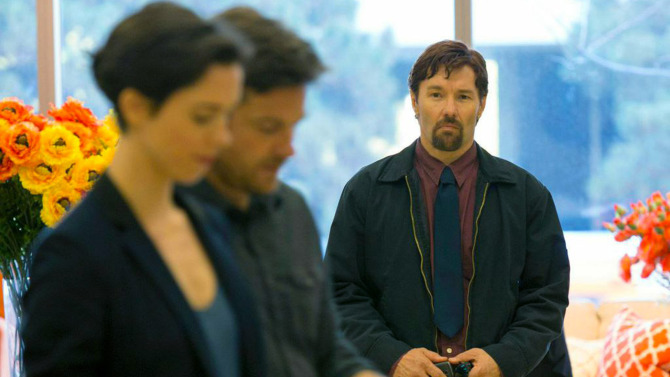 Edgerton plays Gordon Mosley, a man who befriends a young couple – Simon (Jason Bateman) and Robyn Callum (Rebecca Hall) – the former knowing him at school. As Simon initially doesn't remember Gordon (whose nickname at school was "Gordo the Weirdo"), he is somewhat suspicious when Gordon begins to ingratiate himself into their lives. Showing up unexpectedly, assisting with menial and redundant chores, and inviting them to a fancy dinner, Gordon exhibits weirder and weirder behaviour; when Simon confronts him about it, and asks that he leave them alone, strange events begin to occur that send Simon and Robyn's lives into a spiral of fear and suspicion.
When people mention the words "psychological thriller", there's an immediate sense of tone and style that comes into my mind. A specific sense of the kinds of expectations one has when watching a film with, and I'll be honest, the kind of story that's been done countless times before. The Gift subverts a lot of expectations, because of both Edgerton's writing, and solid direction. As a thriller, the film weaves through expectation and takes us on a journey that is entirely not generic, offering subtle character beats that reveal, like an onion, aspects of our characters that make this film deeper, more impactful, when things go bad.
Edgerton's story comes across as fairly generic, and you'd be hard pressed to say a "couple terrorized by a weird former friend" is the most original plot ever devised, but somehow Edgerton makes it work. Through normalcy, through a lack of conventional storytelling methods, The Gift inserts itself like an earworm as the underpinning childhood plotting takes shape. What we think we know about the characters when we first meet them is eventually upended as the backstory of Simon and Gordon's school-life is revealed, the kind of gasping, hand-to-the-face disbelief that we've essentially been cleverly hoodwinked for most of the film. And, in a blessedly refreshing turn of events, the people in this film aren't portrayed or written as idiots. They actually behave (well, Robyn does at least) exactly as you or I might in similar circumstances.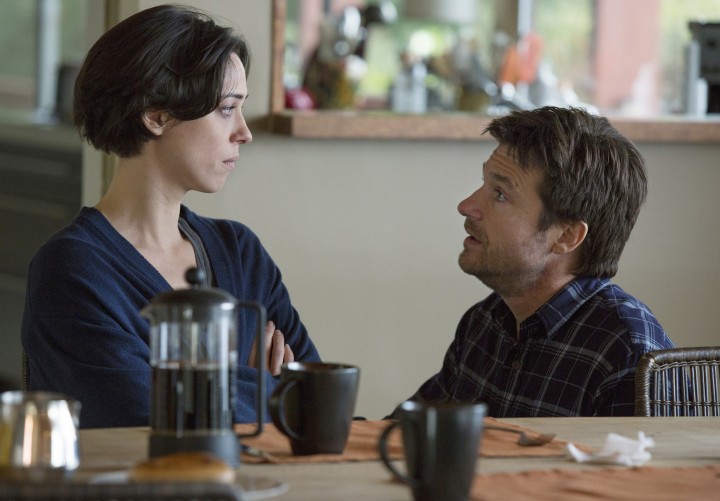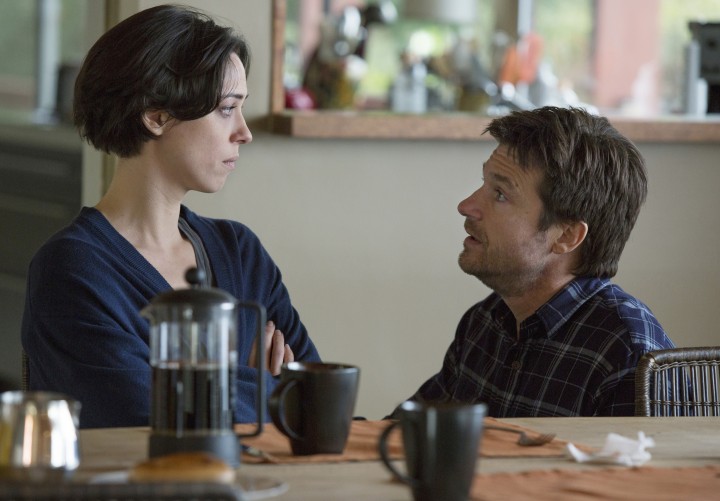 Edgerton builds up the suspense through an apparent indifference. Gordon's intractable weirdness isn't really focused on aside from lapses in dialogue and his continual appearances at inappropriate times, at least until a bizarre confrontation in Gordon's "house" – you'll know why I use the " when you watch it – where the plot really kicks into gear. You'd think the film would meander into clichéd territory as Robyn and Simon find themselves "terrorized" by someone unseen – they assume it's Gordon – but thankfully Edgerton maintains an unblinking difference between what you might expect, and what actually occurs.
Edgerton's direction is rock-solid. Everything, from the framing, lighting, editing and use of sound design and the casting, are spot on. It's a film that just clicks. Bateman proves once again he can be both a genteel gentleman and an absolute f@cking asshole all within the same film, the same role. His portrayal as Simon is eerily similar to the subtlety of Anthony Perkins in Psycho – he's that good here. Rebecca Hall, as Robyn, is noteworthy because she's vulnerably innocent, at least in terms of her husband, whose past appears to be creeping up on them somehow. Robyn's not without flaws, mind you, as the film unravels a dark, drug-laced history for her, and Hall encumbers herself with the hidden anguish of a past tragedy with panache. Edgerton, doubling in front of the camera as well, is mildly menacing as Gordon; there's an uneven skewering about him, an off-putting malicious tendency personified by his verbal pauses and nonchalant indifference to the couple's feelings.
To say much beyond this would be to spoil what is one of the year's best thrillers. Unassuming, The Gift creeps up on you, assails you with momentary jump-scares that work for a change, and delivers a chilling human-wreckage story that absolutely delivers the goods. This is a great little film, it really is; if you're in the mood for a film that's truly affecting without gore or blood or supernatural horror, The Gift will be right up your alley. Dynamite direction, some nice performances and an off-center story make for engrossing viewing.
Related articles
Who wrote this?