– Summary –
Director :  Kevin Gruetert
Year Of Release :  2015
Principal Cast :  Isla Fisher, Jim Parsons, Anson Mount, Gillian Jacobs, Eva Longoria, Joanna Cassidy, John de Lancie, Jeff Branson, Bryce Johnson, Roberto "Sanz" Sanchez.
Approx Running Time :   82 Minutes
Synopsis:   After moving to a vineyard to start a new life with her husband, a pregnant woman begins to experience terrifying visions.
************
In the standard horror-film archetype lesson plan, one of the more elemental character derivatives would be the pregnant woman haunted by mysterious goings-on. The nascent fear of an unborn child being harmed by a spectral presence taps into a primal fear of motherhood (and to a lesser degree, an initially typically disbelieving husband), and horror films have to a degree tapped this mindset, with mixed results, for years. Rosemary's Baby, for example, is considered one of the more prominent examples, and Visions does similar work in making its leading lady, played by Isla Fisher, work overtime trying to convince everyone else she's not crazy. But Visions isn't a Roman Polanski film – not even close – and while it has moments of well-executed spine-tingling chills, it's a film beset by a few unoriginal jump-scares and an uneasy sense of middling antipathy.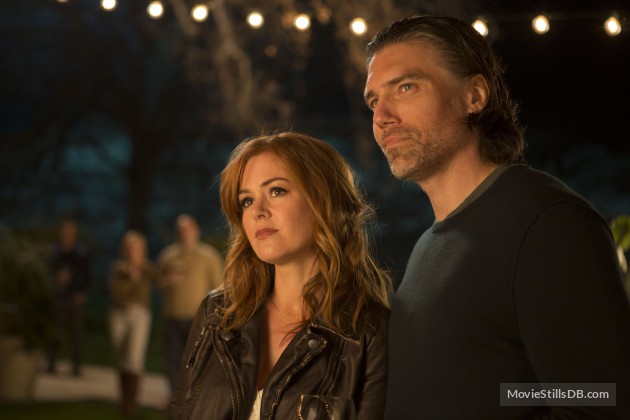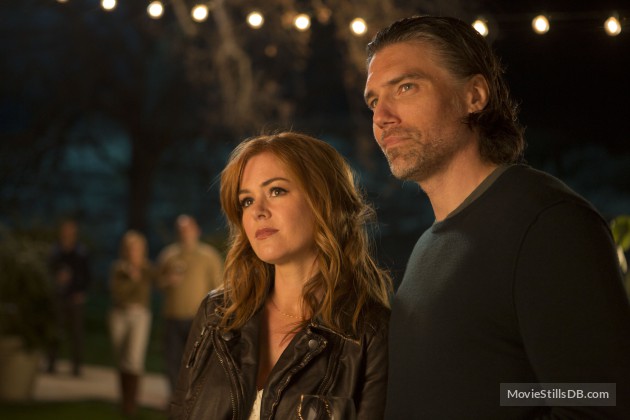 Fisher plays Eveleigh, who together with husband David (Anson Mount) have moved to secluded wine-growing valley where they intend to set up a small winery. Eveleigh is pregnant, a fact not known to anyone other than – weirdly – a visiting wine critic (Joanna Cassidy), whom Eveleigh catches chatning over her marital bed during a welcome party in their honor. Eveleigh also begins to have visions, eerie premonitions she shakes off as post traumatic stress from a car accident a year earlier in which she was involved, and in which a small baby was killed. Against her husband's protestations, and the request of her doctor (Big Bang Theory's Jim Parsons), Eveleigh refuses to go back on her medication for fear of harming her unborn child.
Whenever anybody ever mentions the name Isla Fisher, several images flash into my mind. First, that she's married to Borat actor Sacha Baron Cohen, and second, that her breakout role in Wedding Crashers wasn't a fluke. The girl can act – and did so in local Aussie soap Home & Away for a few years, before the lure of Hollywood pulled her away. Although her acting career has traversed low-brown fare since Wedding Crashers, with the exception of some animated film voice work and a minor role in The Great Gatsby, Fisher's remained relatively low key and that – considering where I thought she'd end up – remains something of a disappointment.
Fisher's lead role here can best be described as generic – neither dismal nor memorable, but simply workmanlike. Working with a screenplay that sees her merely reacting to incorporeal sounds and a bunch of eerie visitations, while piecing together the mystery of why she's being haunted, Fisher's role feels rather bland, as something things happen around, rather than too. It's a slight thing, this aspect, but worth noting in that because of Eveleigh's inherent uselessness, the film spends it time generating the cinematic equivalent of cheap parlor tricks rather than anything of substance. Accompanied by Anson Mount, whose David is one of those frustrating characters always telling his wife to "calm down" and "relax" just as she's getting hysterical, as well as Joanna Cassidy as a fellow "visionary", if you will, and Jim Parsons in a relatively serious role – not to mention one-time Star Trek alum John de Lancie (he played Q, everybody) as a wine connoisseur living nearby – and the film's smallish cast is established with relative ease.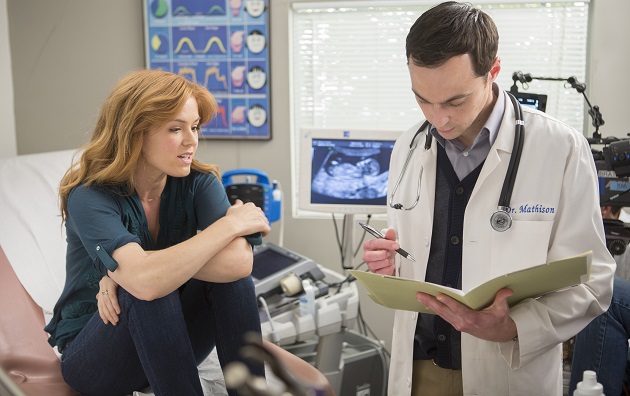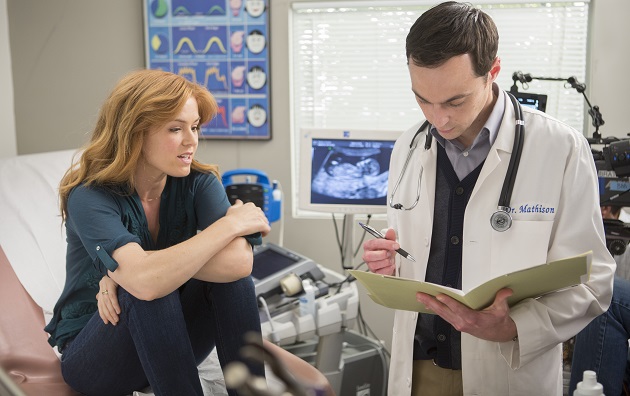 Visions starts well; it's atmospheric, layers its spooks and story cleverly, and sets up what promises to be a fascinating backstory of mystery. Unfortunately, the film quickly mires itself in repetitive, largely frustrating storytelling that makes you just want to throw something at the screen. At one point, Eveleigh is told she's "so stupid", even though that could probably applied to everyone else in the film. The end, which comes amid a punctuated reprise of previous premonitions brought to life by the film's eventual villains, will be where the film's rating hinges. The twist is that it's not so much a haunting but a warning; and the latter stages of the film involve all-too-human villains. The trick is guessing who they might be. The film's big "reveal" is clever and, I admit, unexpected, but on reflection I'm something of a dunce in spotting mid-level plot twists so assume that the film is probably a bit obvious in this regard.
I was prepared to go with Visions based purely on what I expected to be a fairly generic ghost story – and to a point it is that – but the film really surprised me by actually being good. Not awesome-amazing-bloody-genius good, but better than most schlock-horror affairs saturating the marketplace these days. Relatively bloodless until it's frisson-infused ending, Visions' plot should be obvious by its very title, but the sucker-punch resolution is one most mothers can attach to in a most primal of ways. Solidly mounted, even though its intermediary genre archetypes are dim and thinly written, Visions is worth more than a cursory glance.
Related articles
Who wrote this?