– Summary –
Director :  Bill Condon
Year Of Release :   2015
Principal Cast :  Ian McKellan, Laura Linney, Milo Parker, Colin Starkey, Hiroyuki Sanada, Hattie Morahan, Patrick Kennedy, Roger Allam, Phil Davis, Frances de la Tour, John Sessions, Frances Barber, Nicholas Rowe.
Approx Running Time :   134 Minutes
Synopsis:   An aged, retired Sherlock Holmes looks back on his life, and grapples with an unsolved case involving a beautiful woman.
************
It's entirely elementary.
Perhaps it's unsurprising that Arthur Conan Doyle's popular fictional character, Sherlock Homes, has had something of a resurgence in popularity over the last few years. Given the prevalence of the dueling television series – the BBC's Sherlock, and the Hollywood version in Elementary – have crystallized Homes as the preeminent detective of our time, to see an elder statesman of Ian McKellan's stature taking on the role of an elderly Homes (as if he was a real person) is an experience to savor. Come to think of it, watching anything with Ian McKellan doing any kind of acting is something to savor. Is it just me, or does it seem that the older a thespian becomes, the better they are at disguising the "art" of acting? McKellan doesn't even appear to even try to play the part – he just… does it. And it's fabulous.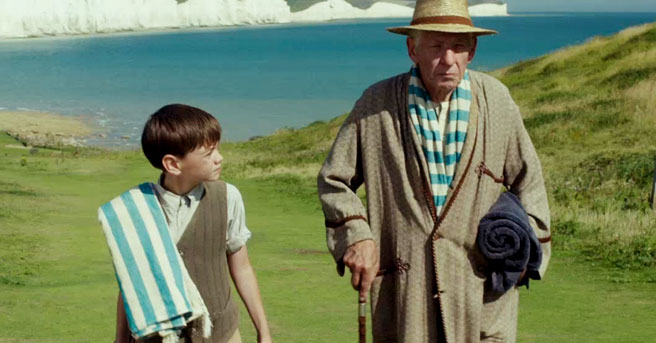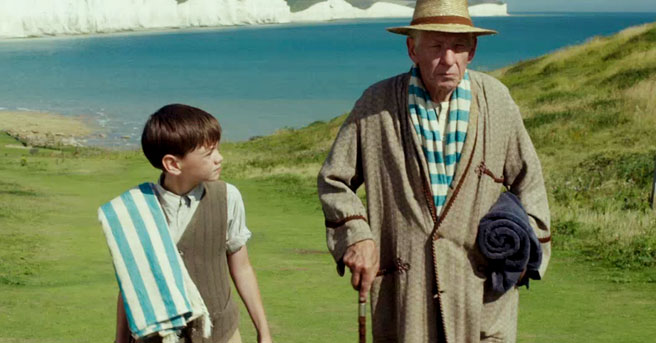 Sherlock Holmes (McKellan) has retired to the country, where he is aided by his housekeeper Mrs Munro (Laura Linney) and her young son Roger (Milo Parker). As his faculties have started to desert him, Holmes is caught up remembering an old, unsolved case, involving a young wife, Ann Kelmot (Hattie Morahan) and her concerned husband Thomas (Patrick Kennedy). He recounts the case through his writings, telling Roger before his memory fails him completely; Mrs Munro is less keen for Roger's association with Mr Holmes, who she regards as a doddery old man, and a bad influence.
Although I'm not a huge follower of the career of director Bill Condon, knowing he was responsible for the last few Twilight films was a crushing disappointment considering the man's talent. Whereas tripe like Breaking Dawn and its ilk deserved a director with less visual acuteness, Condon's Mr Holmes is a far more circumspect and melancholy – nay, apologetic – and as a testament to one of fictions legendary creations, superbly realized. Based on the 2005 novel "A Slight Trick Of The Mind," by Mitch Cullin, Mr Holmes' stately magnificence might seem to some (most?) as slow, ponderous, maybe even elegiac. The story suits Condon's style to the ground; this is a film driven by character and conversation, rather than sparkly vampires needing to f@ck. Condon's use of framing and his editorial choices, all of which feel designed to maximize the impact of McKellan and his co-stars performances with precision, are just wonderful, and the film's two-hour-and-change running time never feels like its enough.
In its examination of Holmes' approaching senility, the film seems focused on dissecting the character's polularity via "John Watson's penny dreadful novels" about his escapades. McKellan's appearance throughout much of the film is positively ancient (similarly to Gloria Stewart's Old Rose in Titanic) via superb make-up effects, while his still youthful looks accompany the film's many flashback sequences, as Holmes remembers particulars of the case. McKellan is towering here as Holmes, as stately a performance as you're likely to see, and his portrayal is simply a delight. It's the key to the film, really – McKellan's commanding essaying of the world's greatest detective is definitive, and were it not for the fact that McKellan is one of the hardest working actors already, it would be tremendous were he to reprise this role in future films.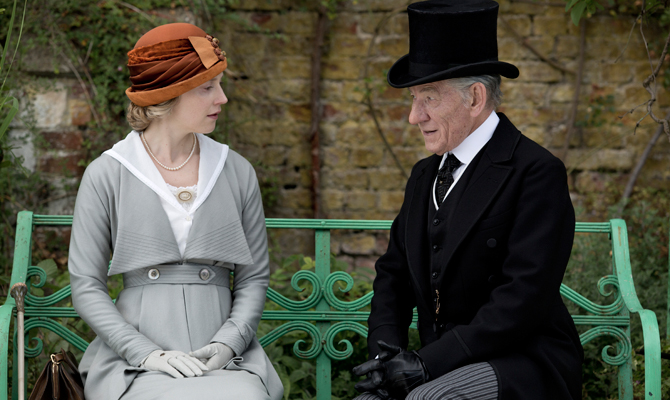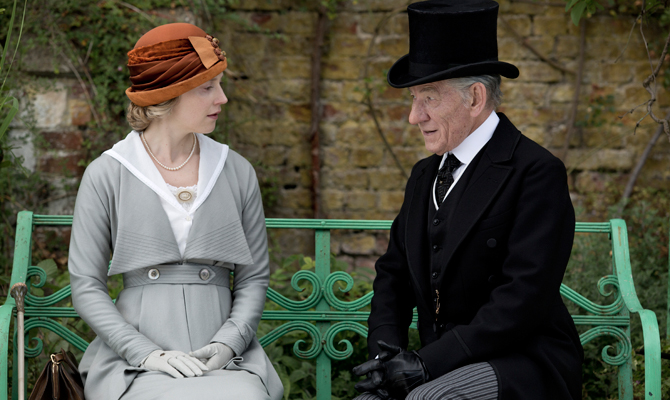 McKellan spars on-screen with Laura Linney, as Mrs Munro, who starts the film as Holmes' housekeeper, before becoming a defacto nursemaid after the man falls too infirm of body to move around much. Linney is always delightful to watch, and here she's no different, affecting an accent and a stiff-upper-lipped cadence to her mannerisms. Holmes' young muse, Roger, is ably performed by Milo Parker, and it struck me as I watched that Parker is eerily similar in ability and look to a young Thomas Sangster. Parker's repartee with McKellan is sweet, although he becomes sorta angry and defiant as the film progresses that has little or no genesis to speak of. Perhaps he's frustrated with his mother's decision to take another job and leave Mr Holmes; the film isn't specific with Roger's intent, but I can only assume that's what it is.
The central plot to Mr Holmes, regarding Mrs Kelmot and her apparent plan to murder her husband, drives much of the film's inherent angst. Holmes tries to recall exactly why John Watson's novel version of the case doesn't ring true, and this flashback technique serves as a delightful framing device for the "present" storyline. Jeffrey Hatcher, who wrote the screenplays for The Dutchess and Casanova, delights in language, and Mr Holmes is no different. McKellan's dulcet tones and superb enunciation, as well as his ability to morph into a role so completely you forget it's the same dude who did Magneto and Gandalf, make for sublime watching.
Yet, Mr Holmes isn't without it's faults. To me, the film's ponderous gait belabors the plot just a little, although the trade-off is getting to watch McKellan do his thing. Casual fans of Sherlock Homes will most likely find this film wanders a tad too much, but as a character study, as a performance piece, and as an example of giving one of the world's great living actors a platform to show us all what he's capable of when not surrounded by hobbits and X-Men, Mr Holmes is a truly magnificent piece.
Related articles
Who wrote this?