– Summary –
Director :   Jon Watts
Year Of Release :  2015
Principal Cast :  Kevin Bacon, James Freedman-Jackson, Hays Wellford, Camryn Manheim, Shea Wigham, Sean Hartley, Kyra Sedgwick, Loi Nguyen, Sit Lenh.
Approx Running Time :  87 Minutes
Synopsis:  A small town sheriff sets out to find the two kids who have taken his car on a joy ride.
*******
Lesson for today? Don't steal a cop car.
Cop Car reminds me a lot of the classic coming-of-age flick Stand By Me. Not so much for its criminal undercurrent, or its focus on Kevin Bacon's weasel-like bad guy, but for the overall tone of life's reality coming into the fantasy of childhood, and the loss of innocence. Cop Car's deliciously simple premise and  nuanced, detailed, precise execution by director Jon Watts (his previous film was Clowns, and at the time of publishing he's also set to direct Marvel's upcoming reboot of Spider-Man) makes for rewarding viewing, although a caveat might be that you need to be in the right frame of mind to be rewarded. The film has a weird vibe about it, an off-kilter sensibility that allows its meandering pace to marinate the characters, and give is time to enjoy their situations.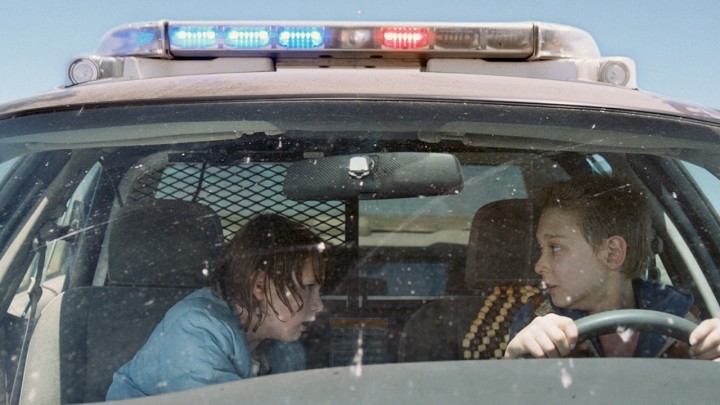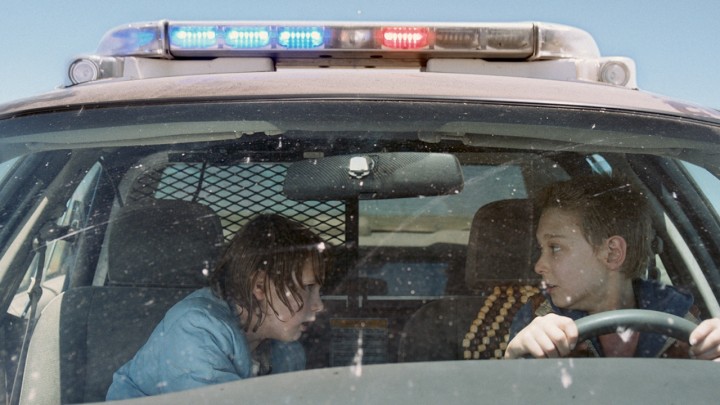 Bacon plays Sheriff Ketzer, who may or may not have committed a felony (he's disposing of a body in an early scene), but when his police car is taken by two young boys – Travis (James Freedman-Jackson) and Harrison (Hays Wellford) – who assume it to be abandoned, he must pursue them across the state before his misdeeds are uncovered. The boys' joyride is cut short when they discover a man (Shea Wigham), still alive, in the trunk of the car, and after releasing him suddenly find themselves in a cat-and-mouse game of survival between the two men.
There's a lot of cruelty festering in Cop Car. A lot of underpinning anger to which we're privy without context, save for the film's brutal finale. It's a film where the motives of the characters are unexplained to a degree, and this air of mystery gives the film a real zing when plot twists and character beats emerge. The film's fly-swatting kineticism is similar to the  obscure (but incredibly insane) Rubber, a kinda back-road, hillbilly survivalist film that takes no emotional prisoners. It's not the gory, body-tearing horror we'd see in crap like Wrong Turn, either, although there is blood and violence within, so be warned.
Kevin Bacon's performance indicates he had an absolute blast in this role; Ketzer is a slimy, no-good douchebag, and Bacon can practically play this type with his eyes shut. Shea Wigham, as the "man in the trunk" (I'm using the Americanism for rear compartment space of a vehicle) is equally as bad, although he's more bug-eyed than bacon ever is, and nasty as hell to the kids. A scene where Wigham explains in detail how he'll kill the kids' families and pets is particularly chilling, which perhaps is more to do with the boy's reactions than Wigham's performance.
Both James Freedman-Jackson and Hays Wellford are prodigiously ambiguous throughout – as the film opens, they're in the process of running away from home, and while the film's focus moves to Bacon and Wigham by the midway point, you get the sense Watts and his team wisely avoided making the young actors shoulder the burden of the film entirely. They're in it, and they do well, but neither would be considered brilliant as child actors.
Among the better aspects of Cop Car is Jon Watts' direction. Considering the expectation of his Spider-Man reboot it's only natural to want to really delve into his filmography a little, so it's a concern he's not done much other than this, Clown, and some episodes of Onion News Network (a web-based comedy show); is he the right man to lead Marvel's web-slinging hero? Based solely on Cop Car, I'd say yes. Watts gives Cop Car an inner strength, a definitive vision – whether you enjoy that vision or not isn't something Watts can control – and if anything, a real style with tone and aesthetic. Although Cop Car is utterly low-key, and small-budget, if Watts can bring this kind of internalized energy to Spidey then that franchise would be in good hands indeed.
Cop Car is a difficult film to recommend to casual audiences; it's not a "casual" film in the traditional sense. This makes it hard to categorize – although categorizing films into easy-to-read synopsis and genres is probably what's leading to a malaise in overall creativity within the industry – but I will say that audiences with a degree of patience and curiosity towards a more obscure, non-linear type of storytelling, will be rewarded with a slow-burn, tense, well-acted crime thriller.
Related articles
Who wrote this?