Movie Review – Chicken Run

– Summary –
Director :   Peter Lord + Nick Park
Year Of Release :   2000
Principal Cast : Voices of Mel Gibson, Julia Sawahla, Miranda Richardson, Tony Haygarth, Benjamin Whitrow, Timothy Spall, Phil Daniels, Jane Horrocks, Imelda Staunton, Lynn Ferguson.
Approx Running Time :   84 Minutes
Synopsis:   When a bird "flies" into a chicken farm, the fellow chickens see him as an opportunity to escape their evil owners.
**********
The Great Egg-scape.
Aardman Animation's output, at least in feature film terms, has been fairly sparse over the journey; Chicken Run marked their first full length feature, and in the fifteen years to-date since, have only released five other movies. This includes the computer animated Flushed Away and Arthur Christmas, as well as their traditional stop-motion work in Wallace & Gromit: The Curse of the Were-Rabbit, and 2015's hugely successful Shaun The Sheep movie. What they lack in quantity, Aardman – led by founder Nick Park, who co-directs here – make up for in quality, and Chicken Run's timeless qualities remain as funny, as quaint, as pinpoint-solid as they were a decade and half ago, in the heady days of the new millennium.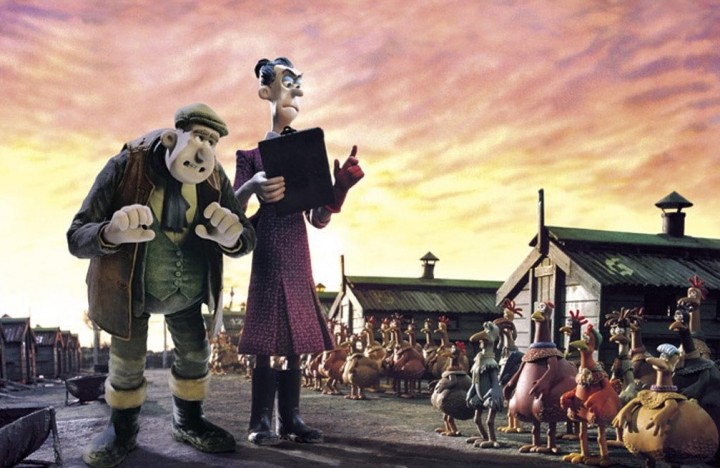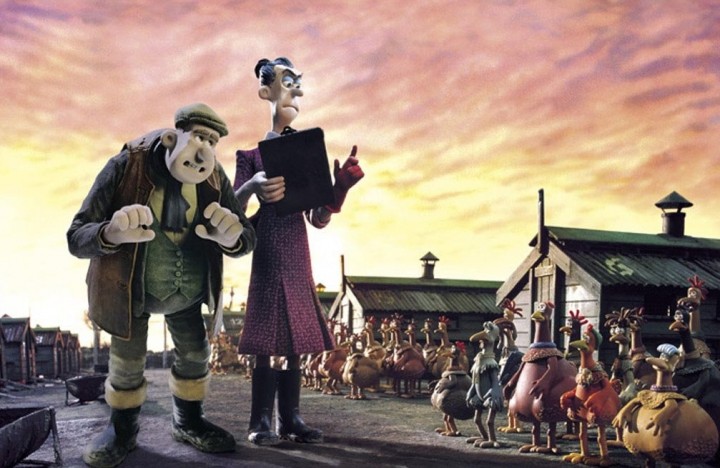 Chicken Run is basically an homage film based around iconic Hollywood classic, The Great Escape. From it's tin-whistle theme and use of Escape's broad-scale epic-ness, Chicken Run is a delightful, self-sustaining work of imaginative fiction, deriving much of its good-natured, charming humor from the screenplay by Karey Kirkpatrick. In a Yorkshire chicken farm, the fate of the birds within the fenced-off "prison" is left to the odious Mrs Tweedy (voice of Miranda Richardson) and her bumbling husband, Mr Tweedy (Tony Haygarth); Mrs Tweedy's desire to get the farm making money is borne through the acquisition of a pie making machine, which which she plans to mass-produce chicken pies. The head chicken, Ginger (Julia Sawahla), concocts a variety of plans to allow her and her fellow birds to escape, although each plan ends with Ginger in solitary and another chicken sent in for "the chop". So when Rocky (Mel Gibson), a Rhode Island rooster crash-lands into their pen, Ginger uses his injury to give them training in how to fly – for if the birds can fly, they can escape. But as time runs out, and as Rocky's wing slowly heals, it soon becomes apparent that chickens were never meant to fly – and their fate may very well be sealed within the chicken pie machine.
Revisiting this film recently, the feel-good vibrancy with which directors Peter Lord and Nick Park give the story remains an unfettered joy. There's no malice here, no cynicism or post-modern snark – it's a good old-fashioned adventure story filled with terrific characters, exquisite plotting and dead-on appropriation of The Great Escape's aesthetic. The majority of the film's fun can be landed at the feet of co-stars Mel Gibson, as Rocky, and Julia Sawahla (formerly of British television series Absolutely Fabulous), as Ginger; both characters are bull-headed, stubborn and, in the case of Rocky, connivingly cowardice. Gibson's cock-sure charm and "arrogant" American superiority shine through as Rocky, who hoodwinks the chickens of Tweedy's Farm for much of the film as he contorts to escape while leaving the rest to their fate. Sawahla is equally terrific, giving the headstrong Ginger a real sense of leadership, even in the face of overwhelming failure. Rocky's the Steve McQueen character in Great Escape, while Ginger… well, she's possibly the Richard Attenborough character.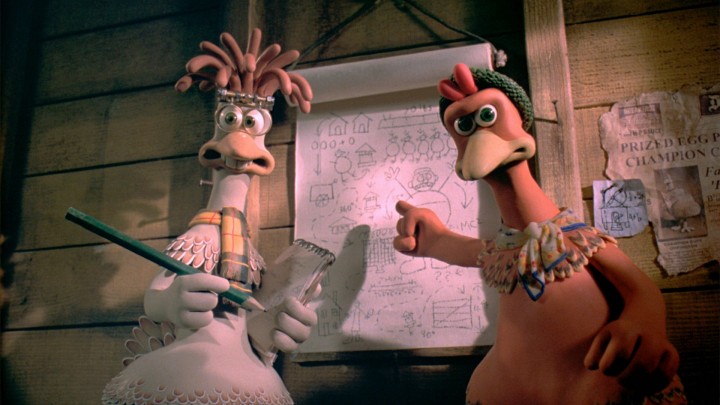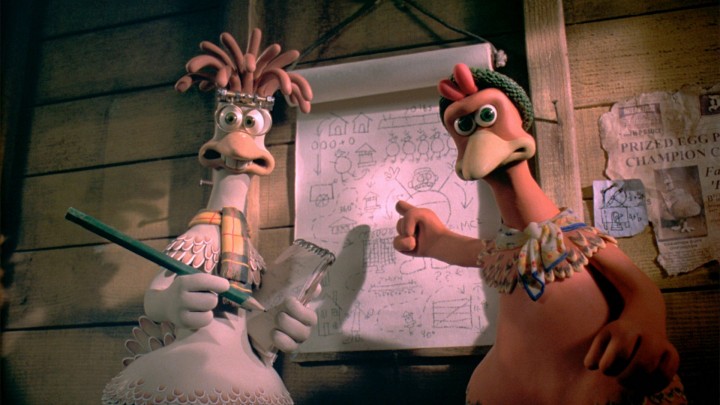 The humor is never mean, never nasty (although it can be slightly rude for a kids film, with a fairly knee-slapping moment involving a pair of rats (voiced by Timothy Spall, who would personify a rat again in the Harry Potter franchise, and Phil Daniels) remaking on the exact whereabouts of an egg's entry into the world), and it has a whole bag of heart and soul that many animated films these days lack. The stop-motion animation is terrific, a technical and creative triumph, both in terms of scale and scope, but also driven by some astonishing effects and genius production design. The cinematography, by a trio of British DP's – Dave Riddett, Tristan Oliver, and Frank Passingham – is brilliant, from the bright sunlit sequences in the chicken pen, and the dark, atmospheric moments as Rocky and Ginger must thwart Mrs Tweedy's pie machine. Coupled with John Powell and Harry Gregson-Williams' terrific score, echoing Elmer Bernstein's themes on The Great Escape, Chicken Run is a pure delight for the eyes and the ears.
In terms of narrative scope and jeopardy, I think Chicken Run remains one of Aardman's most ambitious efforts. From story and character, to sheer technical precision, Chicken Run is a seamless blend of love and movie-making genius – there's nary a frame to fault, not a moment that doesn't sing with animated joy, and hardly a sequence that doesn't depend on the previous to work, making every scene precious and required. I admit, I'd forgotten about this film's charm in the years since it came out, and renewing my appreciation of it through my children's discovery of the DVD on the bottom shelf brought back great memories. It's a fun, energetic, engaging and utterly eggs-quisite animated film (sorry), and a true highlight in the Aardman feature output.
Related articles
Who wrote this?