Movie Review – Little Mermaid, The

– Summary –
Director :  Ron Clements + John Musker
Year Of Release :   1989
Principal Cast :  Voices of Jodi Benson, Christopher Daniel Barnes, Pat Carroll, Samuel E Wright, Jason Marin, Kenneth Mars, Buddy Hackett, Ben Wright, Paddi Edwards, Edie McClurg.
Approx Running Time :   82 Minutes
Synopsis:   A mermaid princess makes a Faustian bargain with an unscrupulous sea-witch in order to meet a human prince on land.
What we think :  Hugely familiar Disney film remains enjoyable for all the right reasons, and slightly icky for all the wrong ones – never let it be said that I watched this film without considering how easy that shell-bra Ariel wears could slide off – The Little Mermaid is a slick, beautifully rendered, utterly enjoyable work of art. Haunting animation and dynamite cast performances, together with the easy-breezy storylines the studio enjoyed during the 80's make this a memorable, effective film for the entire family.

*********
Un-der de see.
Apparently, everyone can speak Jamaican. You just need to sing The Little Mermaid's catchiest tune, "Under The Sea", in order to inflect your vocals with the trilling bass notes to accurately portray a Caribbean dialect. Well, that's what I learned from The Little Mermaid, Disney's massive 1989 film that launched what would come to be known as the Disney Renaissance, a period of high profit films during the early 90's that brought the flailing studio back to preeminent status. As the father of a young girl, I always envisioned this film would be the go-to movie for unrealistic relationship expectations and a warped view on self worth; alas, that mantle has been assumed by Frozen. If you're a total cynic, you could look at The Little Mermaid through the lens of political correctness and take Disney to task for how it depicts Ariel, the titular fishwoman, with her overbearing father, the talking fish, Broadway-style musical numbers and at-all-costs desire to snag a man she's in love with at what amounts to a superficial, physical level. But The Little Mermaid is a charming little film, featuring wonderful animation and, cynicism aside, a terrific vocal cast and basic, entry-level plot for the kids to understand.
Listen to a track from The Little Mermaid – "Under The Sea".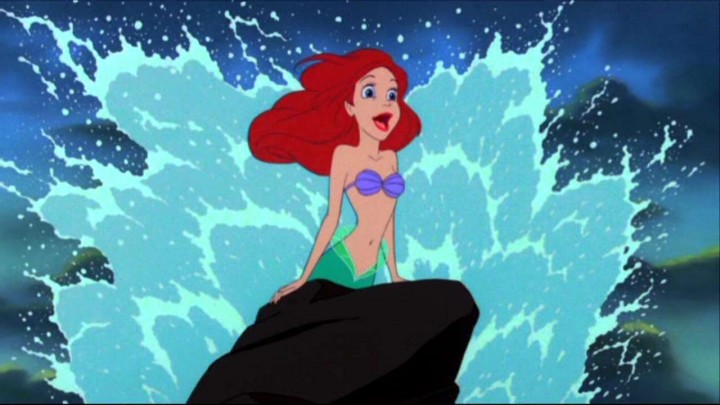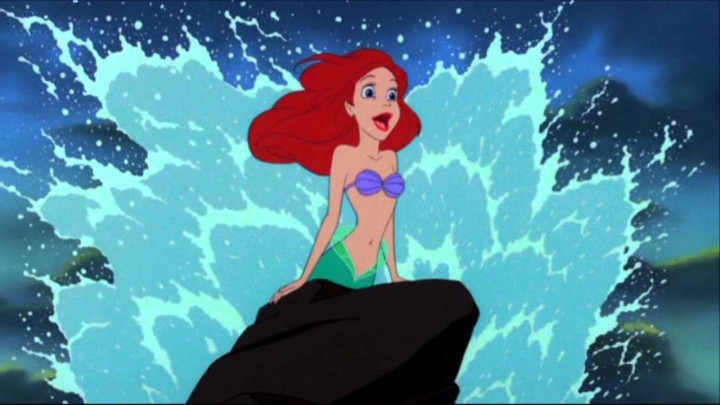 Young mermaid Ariel (Voice of Jodi Benson) is one of the many daughters of King Triton (Kenneth Mars), the ruler of the ocean's depths. Rebellious and precocious, she longs to go to the human world, for she sees our world as a wondrous and fascinating one to be explored. Naturally, Triton wants her to marry a merman (and settle down, duh), but when Ariel falls for a human Prince (Christopher Daniel Barnes) and puts herself in danger, Triton warns her not to meddle in the affairs of those above the waves. Meanwhile, Ursuala the sea witch (voice of Pat Carroll) sees an opportunity to show discord, and tricks Ariel into becoming a human to pursue the Prince's affections; she gains legs, but loses her voice, and must make the Prince kiss her within a certain timeframe lest she remain human forever. Triton sends his servant, a crab named Sebastian (Samuel E Wright) to watch over Ariel, while Ariel's fishy friend, Flounder (Jason Marin) accompanies her wherever she goes. As Ariel tries to woo the Prince's affections, Ursula senses the danger of her plan failing, and decides to woo the Prince herself using Ariel's stolen voice.
I have a particular soft spot for The Little Mermaid. Although the characters and story don't really do much for me, the songs are why I remember this film most fondly. From "Part Of Your World's" heartbreaking sense of longing, to Pat Carroll's fabulously campy "Poor Unfortunate Souls" as the evil Sea Witch, to the Jamaican-infused "Under The Sea" and "Kiss The Girl" (possibly the most out-and-out romantic song Disney ever put into a film), there's not an element of this film that is musically inept or lacking. It's a fairly eclectic mix of styles, this film's soundtrack, composed by studio legends Alan Menken (who won Oscars) and Howard Ashman; it works in all aspects, and is considerably better than the current idea of having "pop-songs" throughout most animated features.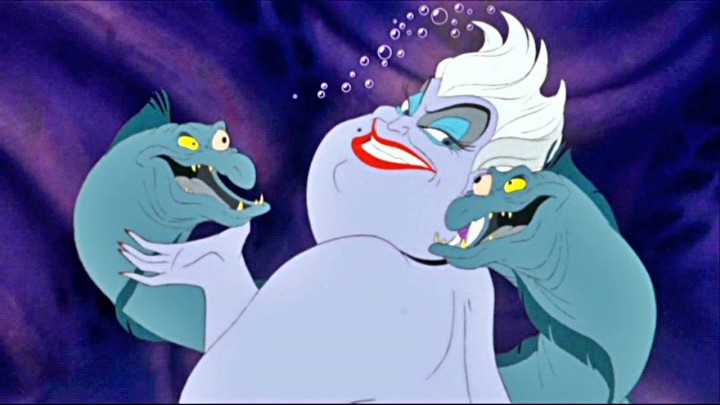 The story is a typical Disney-fied fairy-story, a pared back, not-quite-as-dark-as-the-original-story narrative that gives us the broad brushstrokes of a "princess + prince" narrative that, while a bit hokey by today's feminist standpoint, is cutesy-pie sweet and, in most aspects, harmless. Ariel, a shell-wearing mermaid, is perky and kind, an archetypal Disney princess (she might as well have been called Cinderariel or Aurorariel for all the difference she is from past icons of the studio) who wears her heart on her sleeve and is as aspirational as she is illogical. Her demure longing for square-jawed Prince Eric, the way she talks back to Triton (for a preteen girl, this is accurate), her inability to see the difference between lust and love, and a singing voice that would have her doing rounds of talk shows before she ever got married at such a young age (how old is Ariel, anyway?); there's some creepy, occasionally awkward plot points to consider when you're a parent watching this.
The voice cast are all flawless, particularly Jodi Benson as Ariel, and especially Pat Carroll as Ursula, who it must be said appears to be having th time of her life purring into the microphone here. Carroll's villainess is an iconic Disney antagonist, her silky voice and husky, wanton exterior looking for all the world like an overweight Vegas showgirl making her just a supreme juxtaposition of physicality and tone working in harmony. Benson ain't a slouch, either, with the vocal demands of Ariel's song set giving her ample opportunity to warble some of the studio's most recognizable tunes. She more than amply supplies Ariel with a youthful exuberance, a virginal ignorance of the ways of the world, and it makes us love her all the more – mind you, Ariel really is dumber than a box of spuds from time to time, but never in a mean-spirited way.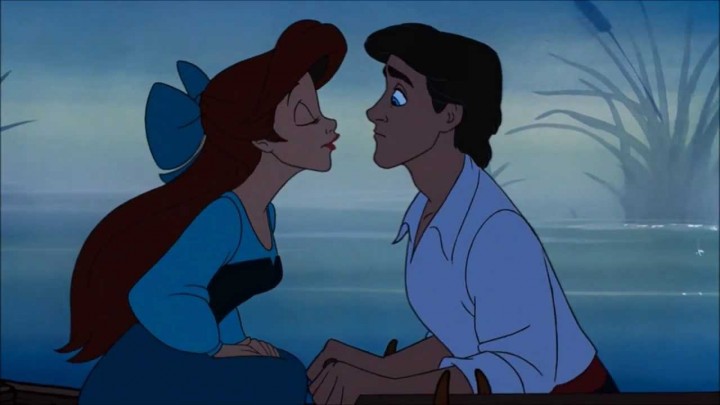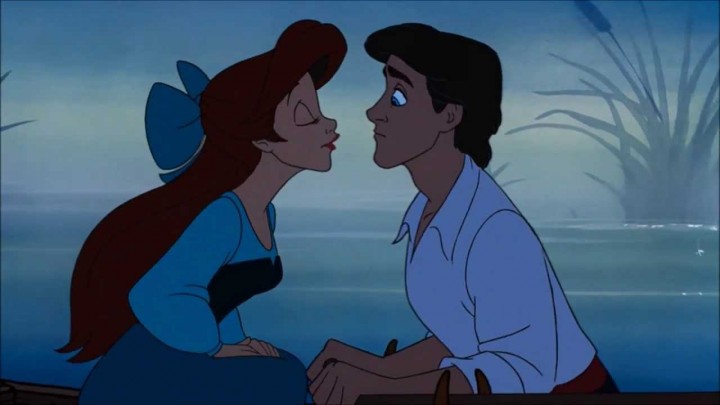 As far as animation goes, The Little Mermaid ticks all the boxes. Using a combination of soft pastels, vivid block colors and some utterly gorgeous painted backgrounds, the film's visuals are magnificent. High definition goes a long way to showing the intricacies and delicacies of the line art and painting; I think, next to The Lion King and Tarzan, this film is one of the studio's best modern works from a purely artistic standpoint. Naturally, the art works in conjunction with the flighty story, a wisp of a zephyr of a narrative that doesn't demands much of adults, and probably even less of children.
The Little Mermaid is one of Disney's finest films, and I say that even recognizing some of the entirely un-PC nature of the story, the premise, or the characters. Sexualizing Ariel, who comes off as a kid of about 12 or so, is icky, while considering her to be about 18 or so makes her relationship with her father one that just boggles the mind. Ahem. In any case, it's best just to sit back and enjoy The Little Mermaid for what it is: a lovely, kindly film with some foot-tapping tunes and an easily accessible story, layered with some of the finest hand-drawn art the studio pushed out in the 90's.
Related articles
Who wrote this?