Movie Review – Focus (2015)

– Summary –
Director :   Glen Ficarra + John Requa
Year Of Release :  2015
Principal Cast :  Will Smith, Margo Robbie, Rodrigo Santoro, Gerald McRaney, BD Wong, Robert Taylor, Dominic Fumusa, Adrian Martinez, Brennan Brown.
Approx Running Time :   104 Minutes
Synopsis:   A successful conman meets an attractive grifter and their lives intersect through the course of their crimes.
What we think :   When it's… er… focusing on the heist and bait-n-switch stuff, Focus rises to its height. When it spends time on Will Smith's on-screen romance with Aussie Margot Robbie, things lose steam badly. Middle-of-the-road crime/drama offers mild thrills and a few overheated gotcha moments (I mean, you just know there's a twist coming), Focus is nice enough but never nasty enough.
**********************
Off the back of her stunning film debut for Martin Scorsese in The Wolf Of Wall Street, it's little wonder Hollywood sat up and took notice of Aussie export Margo Robbie. Dazzlingly beautiful, with great talent and a magnetic screen chemistry, Robbie has…. or rather, will rise up the ranks of celebrity A-list faster than most wannabe actress beauties around her. Paired with Will Smith in Focus, the film's gilt-edged star turn potential is found wanting by an undercooked crime subplot that does little for her as an actress, and more for her as a piece of eye-candy. That's not Robbie's fault, but Focus is less about her than it should be, and more about Will Smith's sleight-of-hand mastermind who is always three steps ahead of the curve.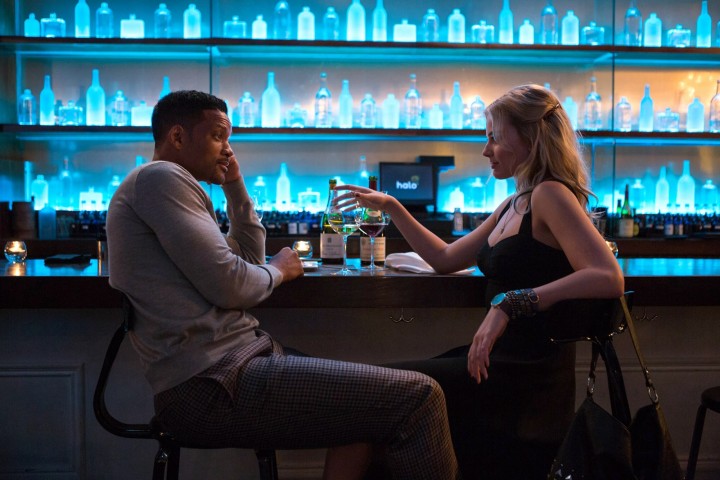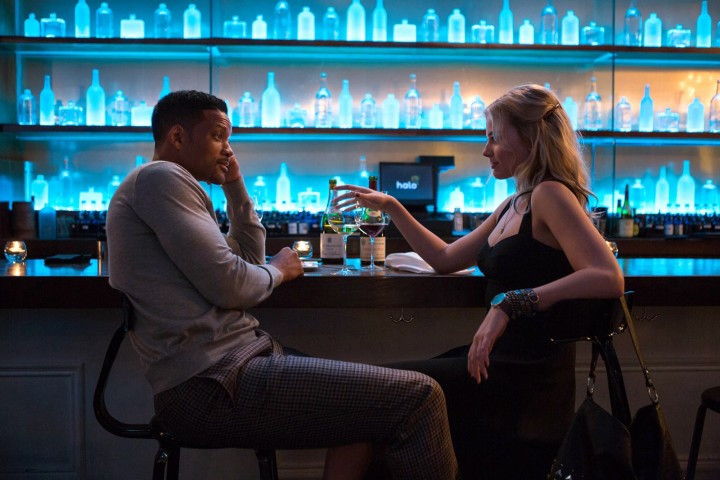 Smith plays Nicky Spurgeon, a seasoned con-man who meets a beautiful grifter, Jess (Robbie) in a bar, where they hit it off before she unsuccessfully tries to part him with his money. Taking her under his wing, Nicky teaches her refinement in her petty theft while romancing her along the way, until one day she accompanies him to a football game where he swindles a compulsive gambler, Tse (Jurassic Park's BD Wong) out of several million dollars by using her innocence to complete his scam. Betrayed, Jess is left behind by Nicky, until they meet up three years later while he's trying to swindle racing car team owner Garriga (300's Rodrigo Santoro) by pretending to sell stolen tech to rival teams (led by Aussie actor, Longmire's Robert Taylor). As their romance rekindles, Nicky tries to once more use Jess's unwitting help to get what he needs to score big.
Focus is directed by duo-helmers Glen Ficarra and John Requa, both known for their work behind the camera in Crazy Stupid Love (with Steve Carrel and Ryan Gosling) and the gay prison movie I Love You Phillip Morris, as well as writing screenplays for Cats & Dogs and Bad Santa. Like Phillip Morris, Focus is a movie about the Big Con, con-men and deception, mixed with a smattering of indelicate romance and faux-sentimentality. In what I think is their weakest film entry to-date, Focus is, much like its plot, too stretched out across three too many genres to make much impact. It's like Oceans 11 if George Clooney had spent the entire movie romancing Julia Roberts. One part crime thriller, one part romance, one part drama, Focus has a lot riding on the middling plotting and iffy MacGuffins it spouts up to keep our cast together on the screen.
Where its story collapses, the film tends to ride hard on the winning combination of Smith and Robbie, who legitimately make a sweet couple on screen, if only Smith's Nicky wasn't such an untrustworthy douche. I mean, he really is a douche, without exception. His treatment of Robbie is appalling, even though his justification of "ends to a means" lacks supporting emotional background or developmental toughness. Robbie, meanwhile, look amazing against the backdrop of New Orleans' riot of color and mystery, and lights up the screen whenever she's on it – thankfully, she's on it a lot, which is good for the film. Her character doesn't get much by way of backstory, and ends the film still with a fairly clean slate as far as depth goes (it's really Will Smith's movie, though) but Robbie makes a good fist of making her character as humane and as relatable as possible. It's a shame the script doesn't give her more to say.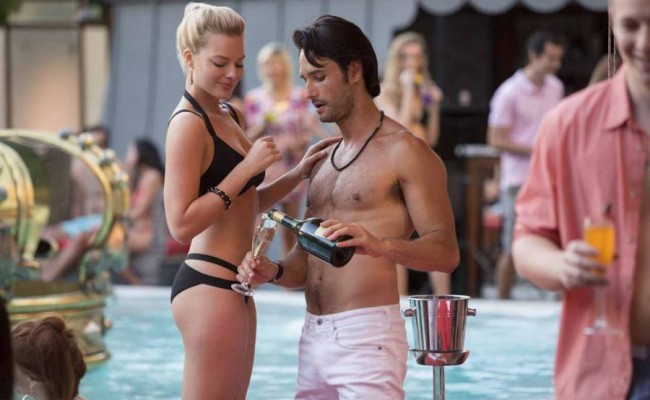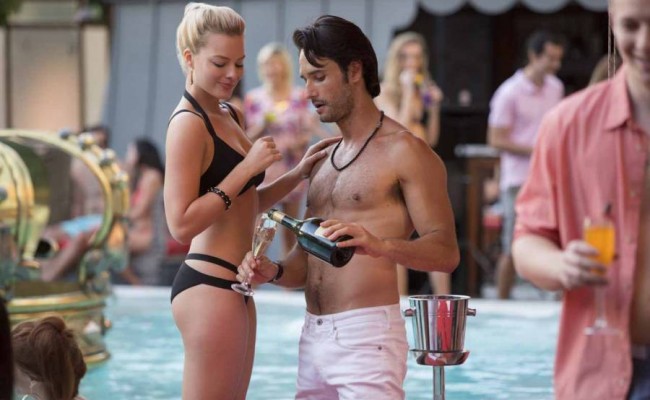 Supporting cast members, such as BD Wong as a businessman who bets huge on a football game against Will Smith's Nicky and loses, Gerald McRaney, as Garriga's right-hand-man-slash-thug, and Adrian Martinez, as one of Nicky's more trusted associates, make the gristly parts of the film flow well (a scene involving one of Garriga's thugs slamming his car into Nicky's is especially well filmed) although as with Robbie, they're grossly under-served by a script that hasn't the strength or smoothness to execute its twists with ease.
No, Focus' twists and turns are expected (I mean, is the whole film one giant con, isn't it?…) and never really shock when they come along, although newcomers to the con-genre will probably find moments in this movie quite surprising; Focus spends more time between subplots and romantic trysts than it should, leaving to evaporate any tension in the "con" elements of the film's lethargic narrative. Some of the twists come right out of left field, so utterly preposterous it sucks the air from the lungs of this thing right at the death – yep, the final scene is one neat bow-tie wrap-up of undeserved emotional rug-pulling, coupled with that preposterously dangerous "lucky escape" contrivance established early in the movie that you just know is on its way at some point.
Focus lacks it. It seems all over the place, a tightly woven con-job plot trying badly to interface with romance and melancholy regret. Had the film stuck to either aspect instead of all of them, it might have worked better, but in the end, Focus' insecurity in taking a brave step leaves it a little bit of a mess.
Related articles
Who wrote this?