Movie Review – Tinker Bell And The Legend Of The Neverbeast

– Summary –
Director :  Steve Loter
Year Of Release :  2014
Principal Cast :  Mae Whitman, Ginnifer Goodwin, Rosario Dawson, Lucy Liu, Raven-Symone, Megan Hilty, Pamela Adlon, Angelica Huston, Danai Gurira, Chloe Bennett, Thomas Lennon.
Approx Running Time :  90 Minutes
Synopsis:  A strange giant beast arrives in Pixie Hollow, along with a portent of doom from the fairies long history; Fawn, the animal lover, takes the giant beast under her wings, but will this unlikely friendship spell doom for Pixie Hollow?
What we think :  Lite-weight Disney fare is commendably solid thanks to on-point animation and an irony-free story and tone. Although the actual plot might lose most younger kids, the bright colors, wonderful effects and soaring songs will win over all but the hardest hearts. Legend Of The Neverbeast is another gem from the Tinker Bell franchise.

**********************
This beast moved me.
Watching this film, I experienced a first in my life. My young son, 3, cried during the end of The Legend of The Neverbeast, because the titular beast was… er… going away, and he was sad. Bottom lip trembling, he came to me seeking consoling, sobbing his little eyes out. This sent me into a blubbering mess; so thanks, Disney, you officially made me cry during a Tinker Bell movie. As a critic, however, is Neverbeast really a movie to move grown adults bored with endless child-oriented films thrown at them by multi-media conglomerates into a puddle of tears? No, not really. It's a good movie, sure, but it's really just a kiddie-friendly morality fable about approaching giant ugly monsters with caution.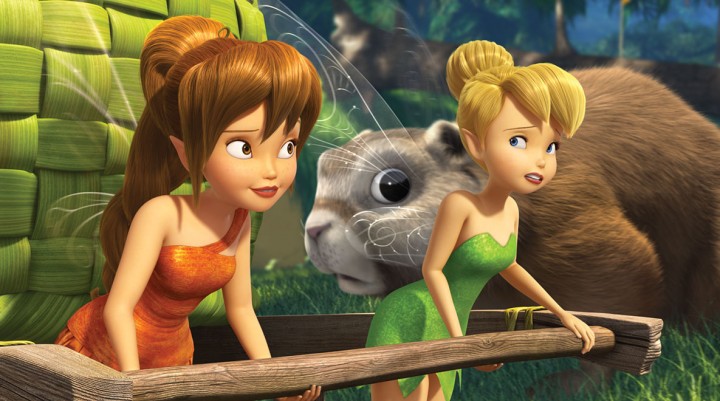 The sixth in the feature film adventures of everyone's favorite fairy, Tinker Bell (Mae Whitman), Legend of The Neverbeast actually casts the focus firmly onto one of her friends, this time, Fawn (voice of Ginnifer Goodwin, replacing Fawn's usual vocaliser Angela Bartys, who must be pissed at this opportunity gone begging to a "name cast"), the animal-loving member of Tink's troupe. Fawn is constantly in trouble for tending to animals who pose a threat to Pixie Hollow (the home of the faries), and is given one last chance by Queen Clarion (Angelica Huston) to do the right thing. However, when Fawn discovers a mysterious large beast residing in a hidden part of Pixe Hollow, she befriends it, only to learn that the beast could be the most dangerous thing to ever happen to the fairies hidaway. Pixie Hollow is protected by the Scouts, led by Nyx (Rosario Dawson), a hard-as-nails warrior who will defend Pixie Hollow from all its enemies.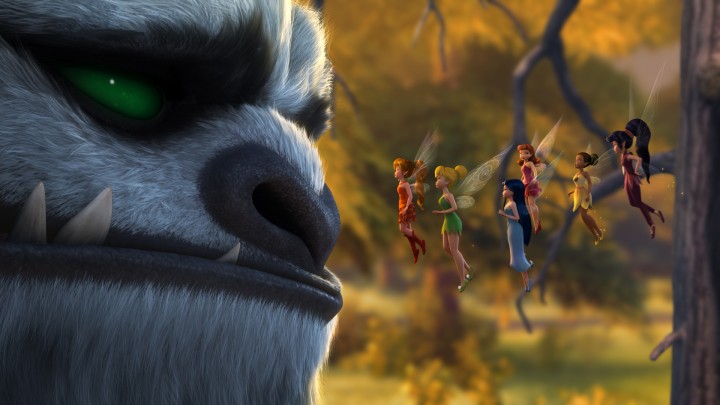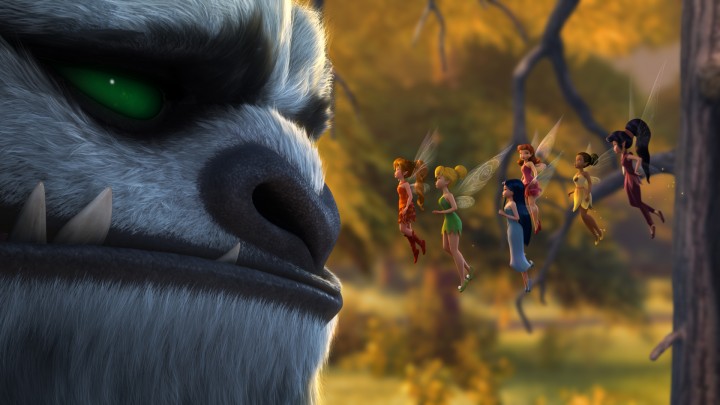 Having seen all the previous Tinker Bell feature films, as well as the mini-film Pixie Hollow Games, I'm inclined to think that Neverbeast might actually be the most accomplished one yet. Nobody expects a lot from the awkwardly monikered Disneytoons label, which features primarily kiddie fare at the expense of, well, expense. However, the Tinker Bell films, as I've gradually watched my daughter grow up with them, have remained not only narratively capable and well produced, but almost on par with some of the more "A list" feature films of both the Disney canon and other studios such as DreamWorks. Featuring a number of terrific songs, a broadly slapstick comedic streak and a passionate conclusion that had at least my son wobbling his bottom lip, Legend Of The Neverbeast is at times frightening, at times exciting, and always entertaining children's entertainment that doesn't speak down to them, nor miss its mark with the parents watching.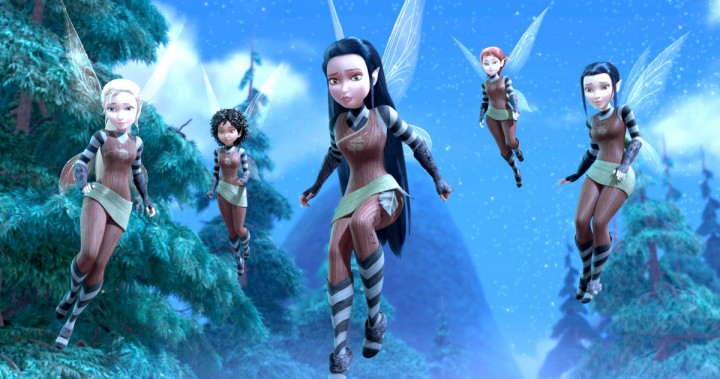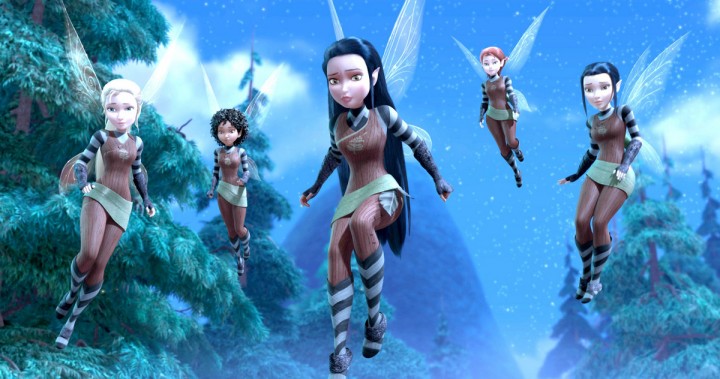 If you've never entered the world of Tinker Bell's feature films, they're traditionally fairly light and fluffy, airy entertainments that don't challenge intellect as much as they create memorable feelings through simplistic adventures. Aimed squarely at the five-to-seven year old girl market, the Tinker Bell movies have really been rather charming even for myself, a nearly 40-year-old father of two who must endure them on endless rotation whenever Frozen is off the playlist for a while. They're hardly Pixar, but they are top class fun from the Disney label, and that's a bonus. Thankfully, Tinker Bell's animated adventures appear to be given just as much love and polish as a major theatrical release (perhaps moreso, considering the level of detail in The Neverbeast's framework) and they're blessedly nowhere near the kind of shitty quality we find in a Barbie movie, or a Monsters High clusterf@ck.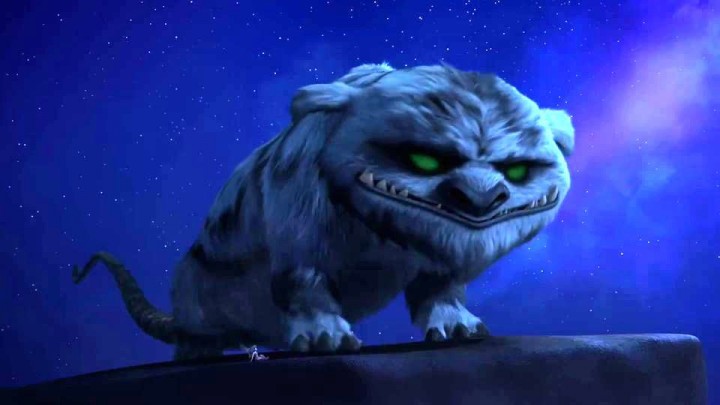 Neverbeast has perhaps the darkest thematic material of any of the Tinker Bell movies to date, with its giant titular beast a kind of cross between a dog, and something from Middle Earth; the plot for the beast itself is largely stupid, the kind of fantasy-stretching illogical stuff kids films can get away with, but an adult might find scratching their head at. Weird green clouds envelop Pixie Hollow once every 900+ years or so, causing weird lightning to come down and ruin the Hollow, leaving this creature to defend the land by building giant rock towers and focusing the energy on itself? Smoked too much weed, did we fellas? Yeah, it makes not a lick of sense, but if the kids are invested in it, that's okay with me. The animation is excellent, although as with previous outings the humanistic structures of the fairies themselves lack the smooth style of more financially adept productions. The "special effects", however, with lighting, pixie dust and all manner of effluvia thrown across the screen at any given moment, is still startlingly good.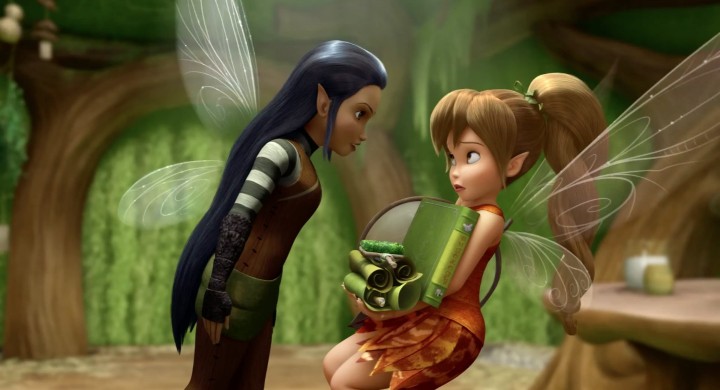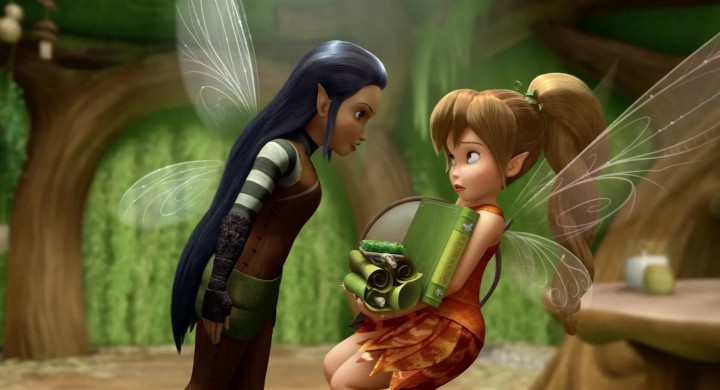 The Tinker Bell movies have always found that sweet spot of humor between childishly simple and eye-rolling kitsch, and Neverbeast acquits itself entirely well in this regard. None of the humor is aimed at adults specifically, rather the lowbrow laughs come from plenty of slapstick moments and sweet-natured cutesy-pie storytelling Disney does so well. While the songs preach higher than the story can grasp, a decidedly downbeat ending (for a Disney film, at least) and a darker plot resonate with the viewer in ways no previous Tink outing has achieved. Although not quite as confident as, say, the franchise's Great Fairy Rescue outing (which was a high point, in my opinion), Legend of The Neverbeast is another solid outing for the impish pixie and her posse, and as much as I'm giving myself over to humiliation in writing this, I'm actually starting to anticipate the release of each new adventure in this franchise. Neverbeast is great work.
Related articles
Who wrote this?