FernGeek Films Update #1 – Star Wars + FF + BvS

Welcome to the first installment in a new series here at Fernby Films, where we take a look at all the current comic book and geeky/nerdy stuff currently doing the rounds of the websiphere. Here you'll find trailers, news, and other stuff that takes our fancy as we count down to the releases of some of the biggest properties in Hollywood!
It's safe to say the last week has been enormous for pop-culture fans: the release of Warner's teaser for Batman V Superman, the release of the latest trailer for Star Wars: The Force Awakens, and all the other news involving Star Wars, including Gareth Edward's soon-to-start-filming Rogue One, which releases in 2016, have kept fansites and news services busy for the last several days.
Not to mention the hype building for this week's Australian release of Avengers: Age Of Ultron, a film which I think will remain atop the highest box-office earners of all time, even in spite of Star Wars' impending geek-gasm release in December. Yep, it's a great time to be a geek/nerd/purveyor of pop-culture.
In case you missed it, Edwards' Rogue One film in the Star Wars franchise will be a "stand alone" movie, ie, a film within its own narrative and not connected to any of the previous films' characters, or connected to JJ Abram's trilogy-launching The Force Awakens. The official plot synopsis reads as such:
A band of resistance fighters unite for a daring mission to steal the Death Star plans in Star Wars anthology film, Rogue One #RogueOne.

— Star Wars (@starwars) April 19, 2015
So, there you have it: we're about to go on what Edwards himself calls "a war film", because it's Star WARS after all. The trailer leaked online not long after it was shown at the recent Star Wars Celebration event in California, and if you're lucky you might be able to catch a version to view, but it might be best to wait until Disney releases the full HD version in whatever timeframe they see fit. The tantalizing prospect of having a Star Wars film without Jedi, without known characters, just with a bunch of soldiers (and Manny Bothans, whom I fully expect to appear and die) as they seek to relieve the Empire of their most precious secret, is one that has me salivating. The project is officially within the studio's "Anthology" branding, meaning all future films that are "stand alone" will also be known as such.
For those who may follow our Twitter feed, you'll remember the teaser announcement trailer for Robert Zemeckis' upcoming film starring Joseph Gordon-Levitt, The Walk, about a dude who tightrope-walked between the Twin Towers of the World Trade Center in New York a while back. Anyway, also today, Zemeckis released the poster for said film, and it looks amazing. Vertigo inducing, more than anything. [Click image to biggerize]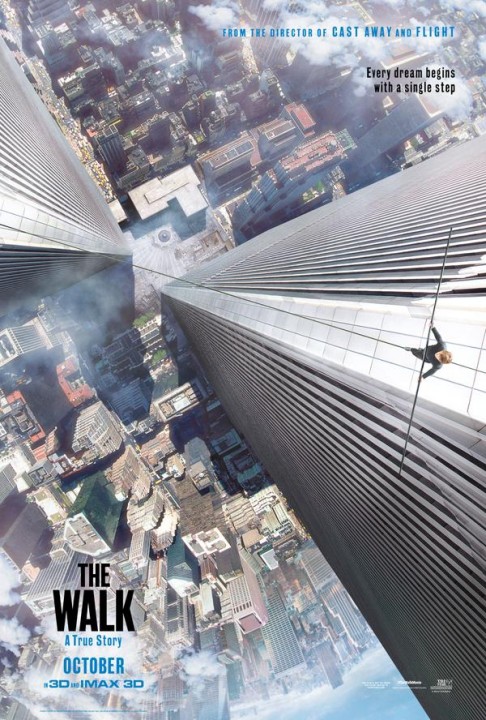 In case you missed it, there's also some new stuff online regarding Josh Trank's (Chronicle) reboot of Fantastic Four (or Fant4stic if we're doing it right), a new trailer giving us our best look yet at the Miles Teller (Whiplash) starring flick about Marvel's most famous family of heroes. Looks dark, looks thrilling, looks good. Unlike previous marketing for the film, it actually makes me excited to see it. Here's the trailer below (watch in HD for best result!)
Also released today, in preparation for the IMAX presentation of that Batman V Superman trailer, are two character posters Tweeted by Zack Snyder himself. Here they are: