– Summary –
Director :  Tim Burton
Year Of Release :  2014
Principal Cast :  Amy Adams, Christoph Waltz, Danny Huston, Jon Polito, Krysten Ritter, Jason Schwartzman, Terence Stamp, Madeline Arthur, Delaney Raye.
Approx Running Time :  106 Minutes
Synopsis:   A drama about the awakening of the painter Margaret Keane, her phenomenal success in the 1950s, and the subsequent legal difficulties she had with her husband Walter, who claimed credit for her works in the 1960s.
What we think :  Whimsy, darkness and light; Tim Burton's modern classic about Margaret Keane's fight to claim her artwork as her own, in spite of her husband's protestations to the contrary, is both delightfully wry, magnificently poetic and justifiably exquisite. I loved this film, I truly did. Finally, Tim Burton has returned to us.

**********************
It's all in the art.
Big Eyes marks a return to form for one-time Hollywood wunderkind Tim Burton. By my estimation, Burton's last really great film was 2003's Big Fish, a lyrical fantasy that strayed from his familiar kooky-dark themes and into a more straightforward narrative (by Burton's standards, anyway). Since then, it's been the weirdly silly (Alice In Wonderland, Charlie & The Chocolate Factory), musical (Sweeney Todd), television remake (Dark Shadows) and stop motion (Frankenweenie, Corpse Bride), all leaving the once master visualist's career careening badly into irrelevance. Big Eyes reverses that trend remarkably. Much like Ed Wood, Burton's Big Eyes is blessedly free of the director's trademark gothic grab-bag of tricks, instead maintaining a more traditional style I think works for his sense of story here. Amy Adams and Christoph Waltz are delightfully on-point as Margaret and Walter Keane respectively, and their story is one that strikes at the heart of artistic creativity.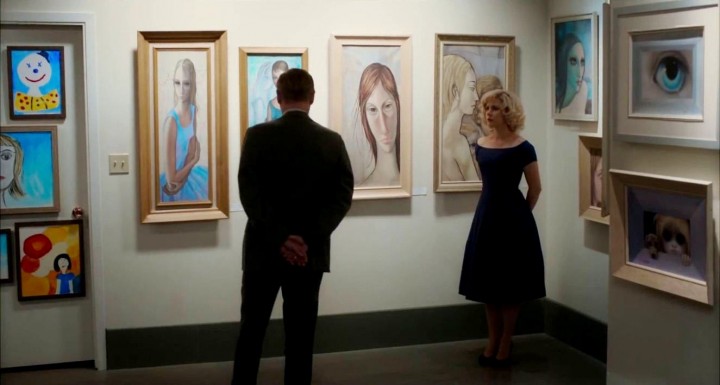 It's a well worn trope that truth is stranger – and infinitely more fascinating – than fiction. Big Eyes bio-pic framework is a delightful patchwork of 60's jazz, art, and burgeoning feminism. Oh, and copyright. The ownership of Margaret Keane's famous doe-eyed paintings, famously the subject of a lawsuit between Walter (Christoph Waltz) and Margaret (Amy Adams), is the narrative thrust here. While Walter is a shonky artist peddling his gimmicky French paintings, Margaret desires to be the real deal, a genuine artist, although stuck in a Man's World she's kinda bumping into the glass ceiling more often than not. Teaming with Walter, she finds a way to cut through the sexism of 1960's America, and her paintings quickly become a hit.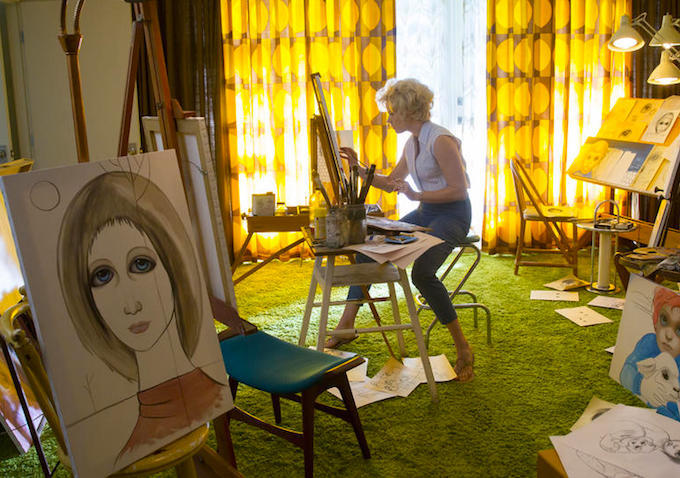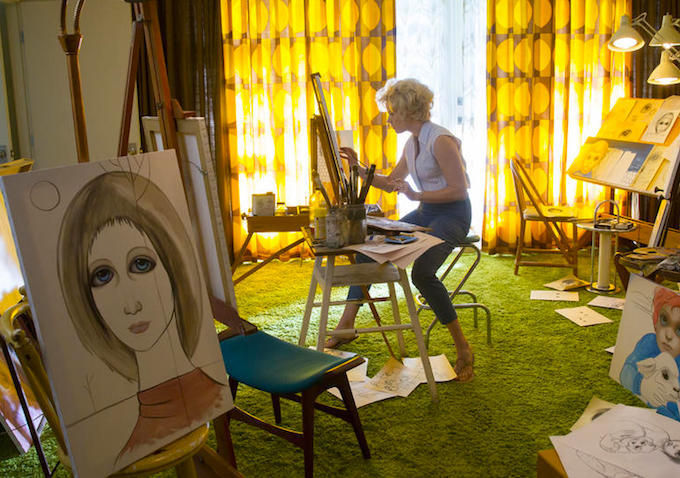 Naturally, Walter and Margaret, the latter of whom left her first husband to move to LA to sell her work, come to a difference of opinion when Walter starts to claim the art as his. And by difference of opinion, I mean the kind of divorce-worthy attribution of famous works of art that rightfully belong to Margaret, known by all and sundry as Walters due to his appropriation of the title of creator. The story is right up Burton's alley, a delightfully allegorical fable plucked from the heartland of America's swinging 60's scene. There's no weird Johnny Depp, no bizarre angles or crashing lightning, no corpses or hideously deformed creatures of the underworld; Big Eyes is flat-out straight-up genuine charm and love, poured out onto the screen in this modern-day social commentary about love, art and betrayal.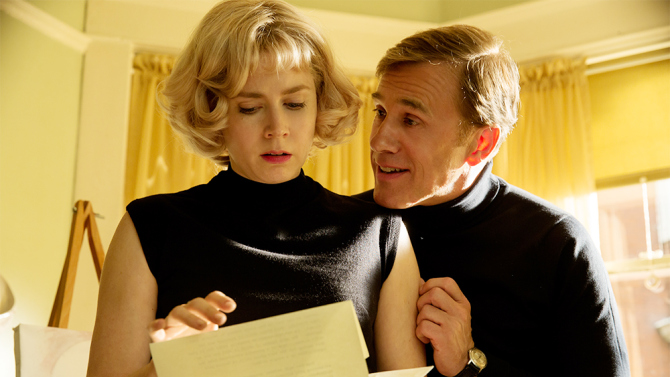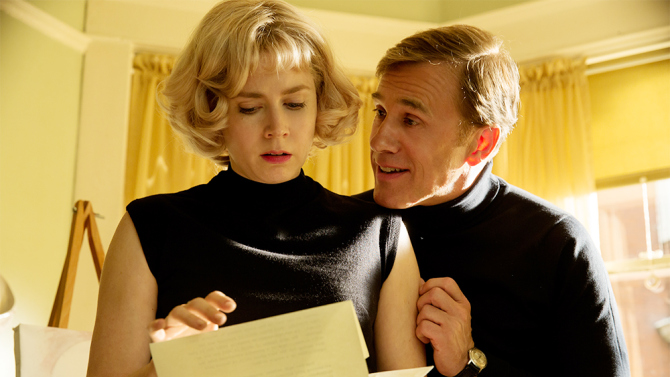 The film's script was written by Scott Alexander and Larry Karaszewski, and it fairly bubbles with wit, grace and subtext. The film is largely poetic in nature, which enables Burton to film it with that soft-pastel style the era seems made for. Bright colors, soft shadows, a hue and glow around the frame; Big Eyes looks and plays beautifully. The script's deft portrayal of Margaret's isolation from the world, only tapped into through her art, is beautifully rendered by the dialogue, and by Amy Adams' wonderful performance. In what I initially expected to be a fairly clumsy screen pairing, Adams actually has a sweet little chemistry with on-screen husband Christoph Waltz, as the inevitably greedy Walter. Walter just wants to make a buck, and if possible become famous, and he uses his wife's work to do so. This provides the film with a terrific framework for dissecting a person's artistic worth – does Margaret allow her new husband to claim the work as his in order to get the sales, or does she stand up and say they're indeed hers, and possibly find herself ostracized?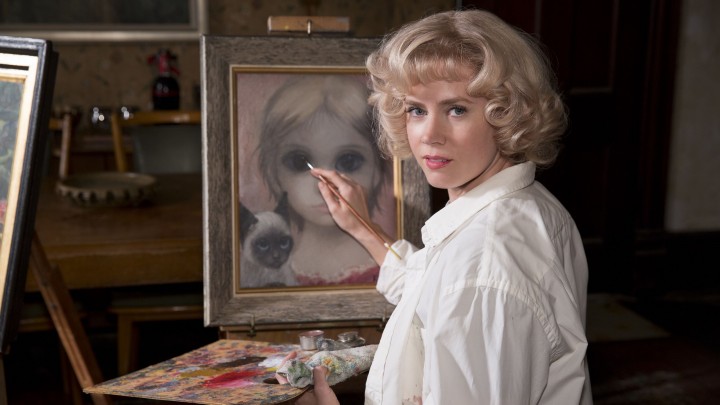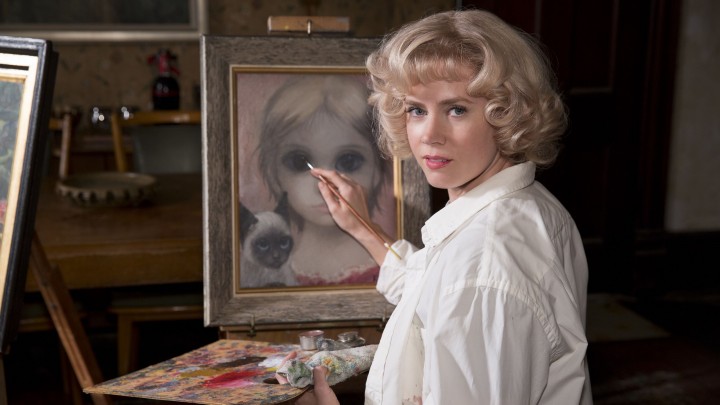 Burton's direction here is steady, less flamboyant than his last decade's output and decidedly upbeat compared to the majority of his oeuvre. Visually, he nails this film's stylistic tone (DP Bruno Delbonnel deserves high praise), from the bright avenues of Los Angeles to the seedy bar in which her paintings first gain prominence, Big Eyes is a love letter to art and to the time the story is set in. It's obvious Burton is a child of the 60's (he was born in 1958, so his formative years would have been smack bang in this time period) and if nothing else sways you, see this film simply for the attention to period detail and the loving capture of the essence of Los Angeles of the time. Also markedly different to his normal work, composer Danny Elfman's score here is perhaps the most "traditional" I've yet heard from him, Instead of his typical "bomp bomp" scores, Big Eyes is Big Orchestra magnifique, a triumph of melody and fantasy.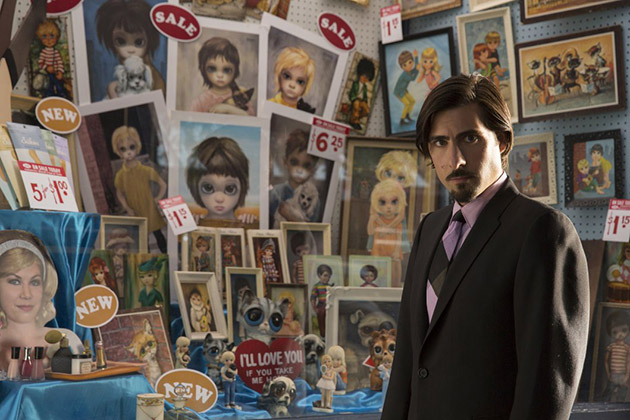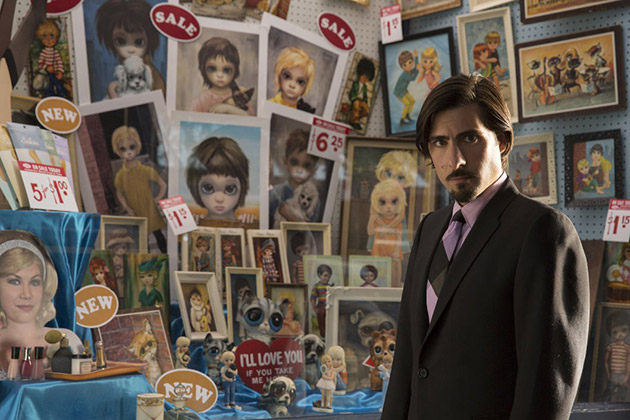 If Burton decided to give up the Gothic Fantasy genre he's spent his career refining and instead continued to make films such as this, that wouldn't be an entirely bad thing. Big Eyes is truly a wonderful film, a touching testament to human art and to the inherent strength of womanhood. Amy Adams is captivating, Christoph Waltz more than amply deserving of equal kudos, and Tim Burton's direction is just delightful. Loved Big Eyes, loved it a lot.
Who wrote this?