– Summary –
Director :   Frank Coraci
Year Of Release :   2014
Principal Cast :   Adam Sandler, Drew Barrymore, Bella Thorne, Emma Fuhrmann, Braxton Beckham, Alyvia Alyn Lind, Kyle Red Silverstein, Shaquille O'Neal, Terry Crews, Abdoulay N'Gom, Joel McHale, Kevin Nealon, Jessica Lowe, Wendi McLendon-Covey, Kevin Nealon.
Approx Running Time :  117 Minutes
Synopsis:  A widower and a woman about to divorce her husband find themselves bonding over a mutually obtained trip to an African safari.
What we think :   Meandering, stupefyingly cloying and irredeemably silly, Blended is yet another Adam Sandler blockbuster that will defy criticism and actually make money. It shouldn't – people should avoid this trashy crap like it's ebola. Barrymore and Sandler provide a nice screen chemistry, but a plethora of lame running jokes, and an abundance of terrible scripting and destitute plot development, make Blended a soupcon of misfiring humor and execrable acting in equal amounts.
**********************
We are not blending.
I know, I'm not a fan of Adam Sandler, and I did once promise that this website was Adam Sandler-free; it seems my relatives, who made me endure this film whilst on a recent holiday, are big fans, so I guess I'm lumped with reviewing an Adam Sandler film here for the first time. Blended, which sees Sandler re-team with Drew Barrymore for the third time – following The Wedding Singer and 50 First Dates, the latter a film I saw on a date with my wife and utterly detested – is a sublime misfire that strikes out hard. Sandler plays basically the same "lovable" douche he does in every film he makes, an obviously successful career choice to-date but one which comes with a sense of been-there, done-that inevitability which robs the film of any – and I do mean any – interest.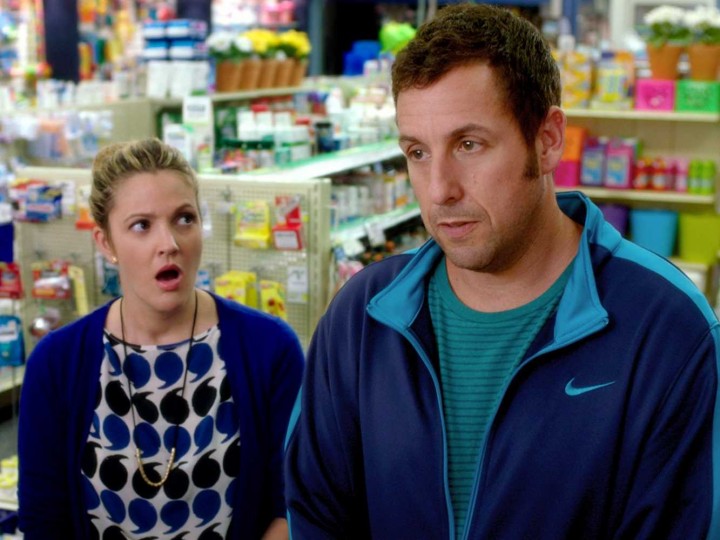 Sandler plays Jim Friedman, a sport-store owner who is still mourning the passing of his wife from cancer. With advice from his staff, Jim starts dating, including an awful date with uptight "closet organizer" Lauren Reynolds (Drew Barrymore), who herself is trying to support her two sons in the wake of her estrangement from her indifferent husband, Mark (Joel McHale). After both Jim and Lauren are given a free trip to Africa, to take part in a "Blending Safari" (for blended families), they take their families to spend time together; as the families interact, and Jim and Lauren recognize their own faults, the blending of their relationship begins to take shape.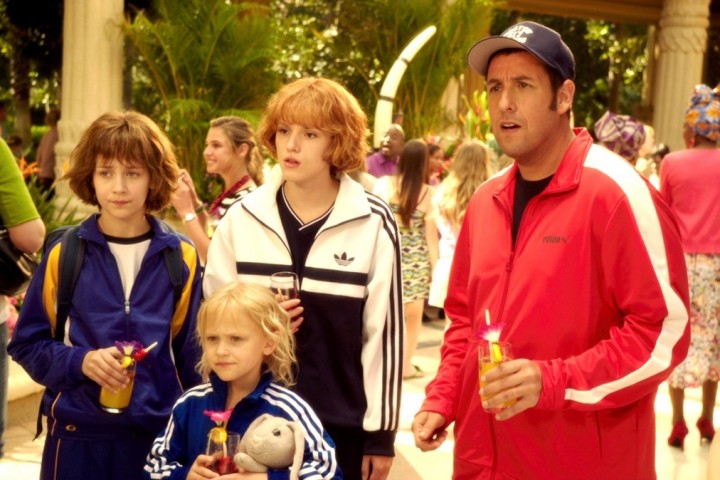 Adam Sandler isn't a bad actor – Punch Drunk Love and Spanglish proved that – but holy shit the dude can star in some absolute turkeys. Much like The Waterboy, Little Nicky or more recent rubbish like Grown Ups (and its odious sequel) and Jack & Jill (a film I refuse to see based solely on the trailer's horrendous gags), Blended doesn't have much to recommend itself other than the "star" team-up of the actor and his apparent muse, Drew Barrymore, with whom he hit paydirt in The Wedding Singer. To say Blended isn't the worst Sandler movie ever made isn't really saying much other than this is probably better than Jack & Jill, but it's still an obtuse waste of talent (what the f@ck was Terry Crews thinking?) and location (African safari? Sure, but not a hint of actual Africa, really) that lurches from one unfunny sequence to the next with an apparent disregard for trying to be… you know, funny.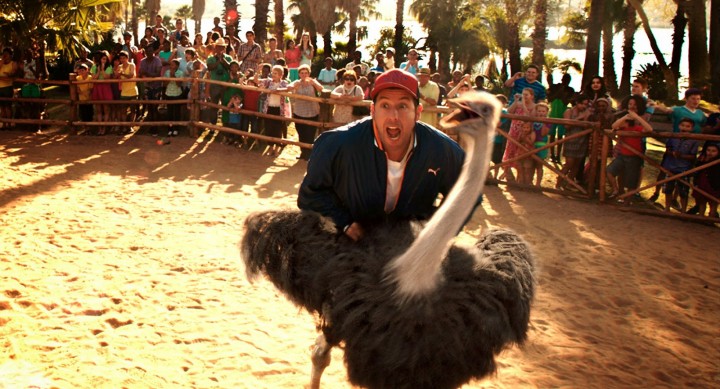 On its surface, the film is reasonably charming, at least initially. Quickly, though, things wear out their welcome when Jim and Lauren's respective families arrive in Africa for a "fish out of water" experience, the film's natural solvency evaporates faster than a wet patch in a Kardashian bed. Blended's hit and miss approach to comedic timing, with everything from fart jokes, two rhinoceroses engaging in intercourse, to Joel McHale's adulterous, inane husband figure, fail to register with this member of the audience. It's this scattered approach to laughs that prevents Blended's appropriating of The Brady Bunch from hitting any genuine mark; Sandler and Barrymore, who lead this film with a similarly admirable chemistry with which they gave The Wedding Singer, make appropriately gobsmacked faces as the story winds through entanglement and estrangement, with gross-out verbal gags and plenty of crotch-splitting sight gags, yet even their vaunted caliber isn't enough to prevent Blended's mundane story and rote, pretend-lite characters from becoming effective.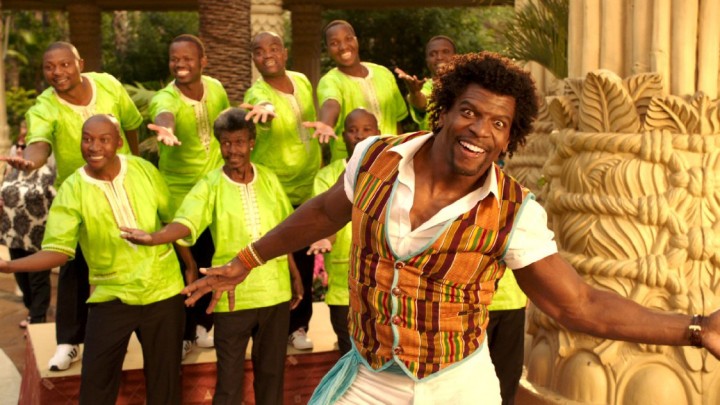 Noteworthy mentions to Terry Crews horrible lounge singing "African" sex-god, and Wendi McLendon-Covey, as Lauren's "Dick obsessed" best friend and employee, bring this shudderingly inadequate comedy to a head, and highlight the problematic nature of a comedy based on family drama, based on tragic history. Crews' scenes could be funny, if only they weren't so awfully hideous to watch. The man's got a genuine sense of humor, but it's wasted here in a role so execrable and ludicrous it almost belongs in another film entirely. You know the Monty Python-esque narrator character from Meaning of Life, who breaks the fourth wall with a twitching eye and a gargantuan smile? Crews is almost that here, winking not only to himself but to us, as he flexes and dances his way through the lows and peaks of Jim and Lauren's journey into a relationship. McLendon-Covey is teeth-grindingly awful as Lauren's friend, with many a play on "Dick" as can be shoehorned into a single film without upping the rating a level.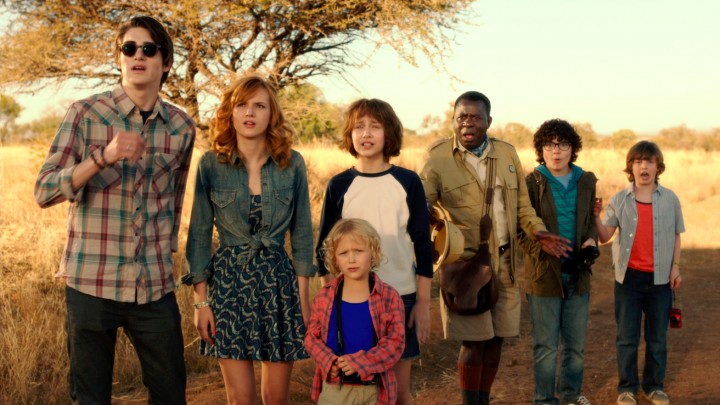 Honestly, Blended is a terrible film, Adam Sandler or not. I suspect it's no better for his inclusion, but director Frank Coraci's clumsy sense of timing and the inane, indelicate and often incredibly stupid humor makes one roll one's eyes instead of clutching at tickled ribs. While it might present some minor giggles for the tin-hat brigade and the folks who never escaped primary school as an education, but for those seeking a more enlightened comedic outlet should search for their laughs elsewhere. Avoid Blended.
Related articles