Movie Review – 22 Jump Street

– Summary –
Director :   Phil Lord + Christopher Miller
Year Of Release :   2014
Principal Cast :  Channing Tatum, Jonah Hill, Peter Stormare, Ice Cube, Amber Stevens, Wyatt Russell, Jillian Bell, Jimmy Tatro, Nick Offerman, Dave Franco, Rob Riggle, Marc Evan Jackson, Queen Latifah, Richard Grieco, Patton Oswalt, Bill Hader, Anna Faris, Seth Rogen.
Approx Running Time :  110 Minutes
Synopsis:   The boys are back.
What we think :  Fast-paced, razor sharp writing, and dead-on performances by Tatum and Hill, make 22 Jump Street not only a terrific film, but a terrific sequel that actually surpasses the original. I laughed my ass off watching this, so much so I think I'll have to watch it again (and soon) to catch stuff I missed the first time. A blast from start to finish.
**********************
"Do it exactly the same as before."
Good sequels don't come along often. When they do, you really need to enjoy them, because they're a rare breed indeed. 22 Jump Street is exactly that kind of sequel, a film that not only matches the original film's sense of fun and energy, but goes one step further and improves upon it. The fact it's yet another bona fide hit for directing duo Phil Lord and Chris Miller, who helmed not only the original film, but also Cloudy With A Chance of Meatballs and The Lego Movie, keeps their track record for hit movies on point. Reteaming with Channing Tatum and Jonah Hill, whose bromance in the first film sold it to audiences, Lord and Miller again craft a clever, self-parody of the television show this film is spawned from, filled with some truly wonderful humor – the "Benjamin Hill Center For Film Studies", for example – and a sense of the sublime. It also has plenty of heart, and that's what anchors this film's silly-putty humor to the screen; Hill and Tatum have a real chemistry together, the kind of chemistry missing from a lot of buddy-comedy films these days.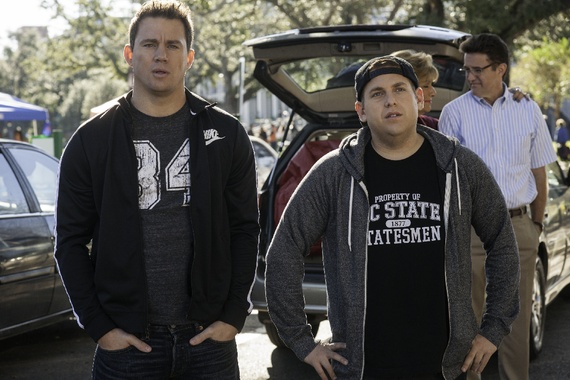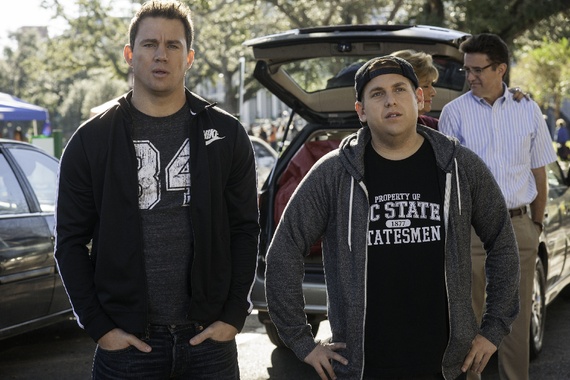 Plot synopsis courtesy Wikipedia: Following their success in the 21 Jump Street program, Schmidt (Jonah Hill) and Jenko (Channing Tatum) are back on the streets chasing narcotics. However, after failing in the pursuit of a group of drug dealers led by Ghost (Peter Stormare), Deputy Chief Hardy (Nick Offerman) puts the duo back on the program to work for Captain Dickson (Ice Cube) – now located across the street at 22 Jump Street. Their assignment is to go undercover as college students and locate the supplier of a drug known as "WHYPHY" that killed a student photographed buying it on campus. At college, Jenko quickly makes friends with a pair of jocks named Zook (Wyatt Russell) and Rooster (Jimmy Tatro), the latter being a prime suspect of the investigation. Jenko starts attending parties with the jocks who do not take as kindly to Schmidt. Meanwhile, Schmidt gets the attention of an art student, Maya (Amber Stevens), by feigning an interest in slam poetry. The two sleep together, to the disapproval of Maya's roommate Mercedes (Jillian Bell), and it is revealed that Maya is the daughter of the vehemently disapproving Captain Dickson.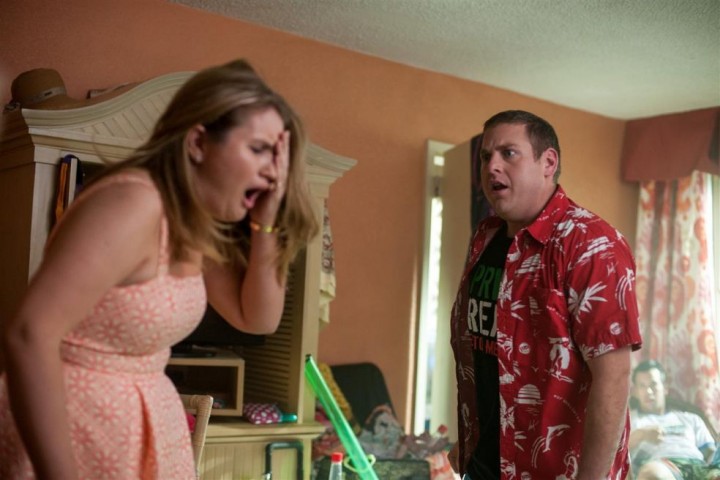 From opening shot to closing after-credit stinger, 22 Jump Street delivers the funny. It's a ribald, bawdy, subtly dramatic throwback to parody that works even when it shouldn't – the bumbling cop routine died out back in the 80's, or at least about the time they stopped making Lethal Weapon 3, but 22 reprises the laughs scored in the original 21 Jump Street and actually amps them up even further. Crucial to the film's sense of fun is the teaming of Channing and Jonah, and as with the previous film, it's so obvious they've having a ball with the material, that so do we. Tatum, who I'm sure has a problem whereby his shoulders are gradually absorbing his neck, gets the juvenile humor isn't to be played as juvenile – play it straight, and let the laughs work themselves out – while Hill, an actor I often find awkward to watch with his stammering, neurotic delivery, at least keeps up, even if he seems a little lost when things get serious. The film's soft heart of brotherhood is tested through Jenko's apparent decision to leave the force and hang out with new collegiate buddy Zook (Wyatt Russell, whose delivery of the role seems somewhat similar to Keanu Reeves in Bill & Ted), and it's here the film really excels. It can't all be just slapstick and pratfalls (although there are a fair few of them), and it's good to see Lord and Miller drawing out some nice character moments that round out the flat-chat comedy.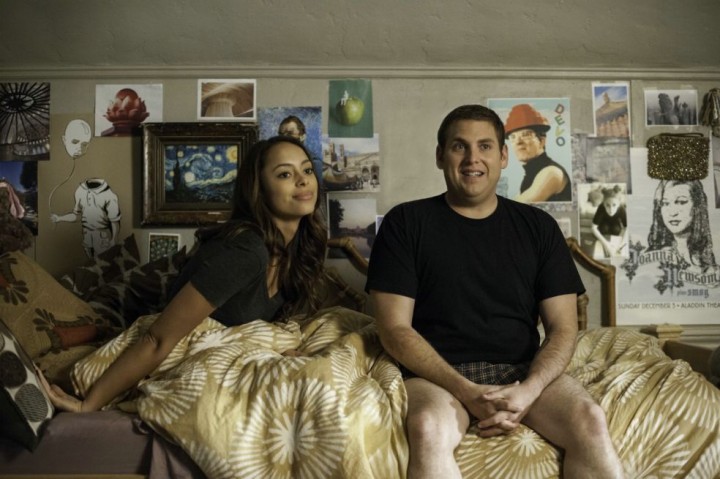 Tatum and Hill are abetted by a fierce Ice Cube, who can make cursing and vulgarity absolutely hilarious in that gangsta rapper kinda way (there's even a joke on his name, courtesy of a flash-Harry CSI-inspired office for the Jump Street crew, delivered with sardonic rapier-wit sincerity by Hill), as Captain Dickson, whose daughter, Maya (a lovely Amber Stevens) just happens to be Schmidt's first collegiate hookup! The dynamic between Schmidt, Jenko and Captain Dickson is terrific, while Amber Stevens' approach to her role is one of brainy sexuality (is that a thing?) – she's not easy, but she's willing. Jillian Bell's role of Maya's creepy roommate (who watches, sees, and hears everything) is hilariously over-the-top, while Nick Offerman's Deputy Chief Hardy, who has no time for the Jump Street program, is uproariously funny.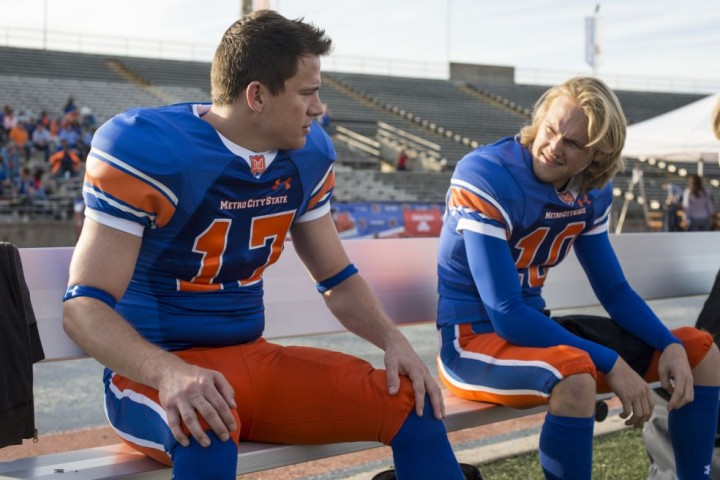 Bit parts to Peter Stormare, as a drug kingpin, Jimmy Tatro as a fellow college attendee, and Marc Evan Jackson as an obnoxiously diffident school counselor, add width to the cast roster, but it's mainly the cameo appearances that bring the most giggles. Keep an eye out for Rob Riggle and Dave Franco as cellmates (they appeared in the previous film), Patton Oswalt as an utterly inappropriate professor on campus, and Seth Rogen's contractual dispute credits sting. It should also be mentioned that you need to watch the credits right the way through – there's a nice little stinger at the end that will make you either bust a gut laughing, or cringing in ewwww.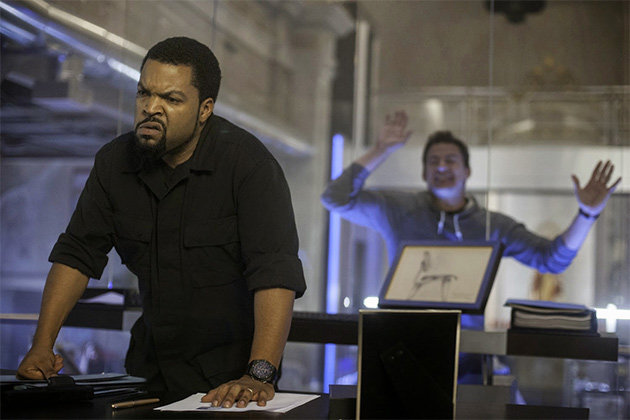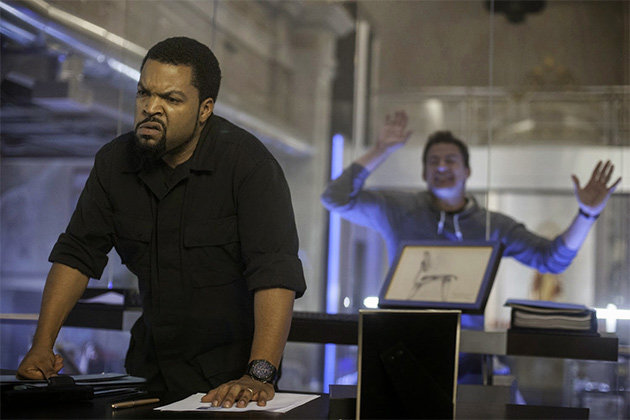 It would be easy to spoil many of the good jokes in 22 Jump Street, but that wouldn't be too bad because there's so many great jokes that it's impossible to reel them all off. Some of it is subtle, some of it is nuanced (the "walk of shame" for Jonah Hill, by example, is hilariously underplayed), plenty of it is bold and confrontational, but it's always so eager to get to the next laugh, you almost don't care if a joke works or not (they mostly do, which is surprising). The self-referential, the straight-up slapstick, the witty and wry dialogue, and the direction by Lord & Miller, make 22 Jump Street a sure-fire crowd-pleaser that's destined to be the go-to flick for folks feeling flat. From start to finish, this film is just aces in almost every way.


Related articles
Who wrote this?