– Summary –
Director :  Richard Linklater
Year Of Release :   1995
Principal Cast :  Ethan Hawke, Julie Delpy.
Approx Running Time :  101 Minutes
Synopsis:   A young American man, traveling around Europe on the train, meets a French girl and the two spend a night walking around Vienna, finding themselves falling in love.
What we think :   Delightful romantic drama rewrites the possibilities of the genre, by having two immensely likeable leads just…. talking to each other. No convoluted plot, no hurdles they must jump, no last-minute chase through New York to "get the girl"….. this is straight-up refreshment-stand romance, with two people who behave with realism and unaffected falseness. Before Sunrise is charming, romantic, and occasionally sexy; what it is most, however, is entertaining.
**********************
Just walking, chattin'.
Romantic movies tend to skew towards the silly end of the cinematic spectrum; usually, a pair of characters must overcome a variety of personality, social or economic issues to "find" each other, either with or without the aide of mystical or supernatural occurrences, and invariably come to the end of the story with everyone living "Happily ever after" – dammit, Disney has a lot to answer for. Occasionally, however, you get a romantic drama that doesn't pander to cliche or convention, and Before Sunrise, the first of Richard Linklater's trilogy of films which continues with Before Sunset, and concludes with Before Midnight, is the epitome of that exception disproving the rule. Before Sunrise sees two people wandering around a romantic European city – in this instance, Vienna – just talking and gradually falling in love. It's a film of frustration, of sorrow and joy, of finding that One True Love before having to let them go…. Before Sunrise captures the ecstasy and agony of love gained and lost, all wrapped up in two excellent performances from Ethan Hawke and Julie Delpy. Released in 1995, the fact it spawned two equally successful sequels should indicate how good this film really is, so I decided to put aside my genetic predisposition to abhorring "romantic comedies" and give Before Sunrise a shot; with wife in tow, I sat down to find out if all the critical acclaim and cult-favorite chit chat was accurate.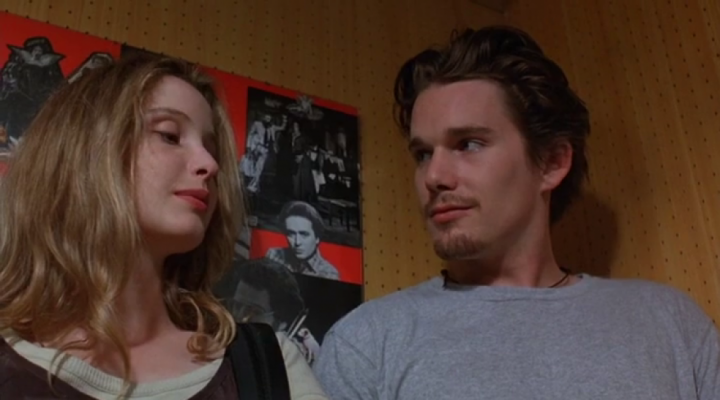 Jesse (Ethan Hawke), an American traveler, sits aboard a Eurostar train, bound for Vienna to catch a flight the next morning. Celine (Julie Delpy) is also aboard the train, returning to Paris after visiting her grandmother. After witnessing an argument between a couple, Jesse and Celine begin to chat, with Celine deciding to get off the train at Vienna and wander the streets with Jesse to continue their conversation. As the day turns to night, Jesse and Celine discover much about each other, eventually falling hard for each other – Jesse must catch his return flight to America that morning, while Celine must return to her life in Paris, never to see each other again.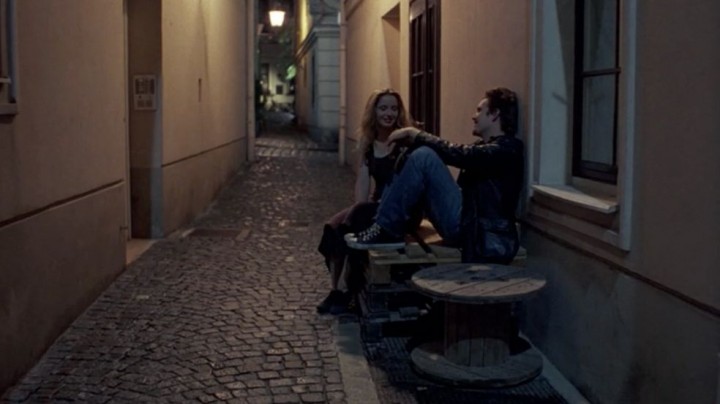 Before Sunrise is a beautiful film. It's heartfelt, raw and real, filmed in real locations around Vienna (and aboard the train ride that opens the movie), and features Ethan Hawke and Julie Delpy just spending the entire film talking to each other. There's no action sequences, no contrived occurrences, no generic "romantic" sprawl to the story – it's just two people forming a bond over good conversation. If that sounds like your kind of movie, then Before Sunrise will delight and affect you. There's something to be said about the film's script, written by director Richard Linklater and writer/actress Kim Krizan, which sparkles with a realism you don't often find in mainstream Hollywood fare. Aside from the required dialogue to bring the characters together, and eventually get them wandering the streets of Vienna, the tangential narrative never really eventuates into anything other than personal and emotional exploratory repartee. As Jesse and Celine open up to each other, so too their feelings come to the surface and they begin to share more intimate, private thoughts, while our investment in them, thanks to the sharp script and Linklater's solid direction, pays off as the pair are forced to separate (albeit with intentions of hooking up once more) towards the film's conclusion.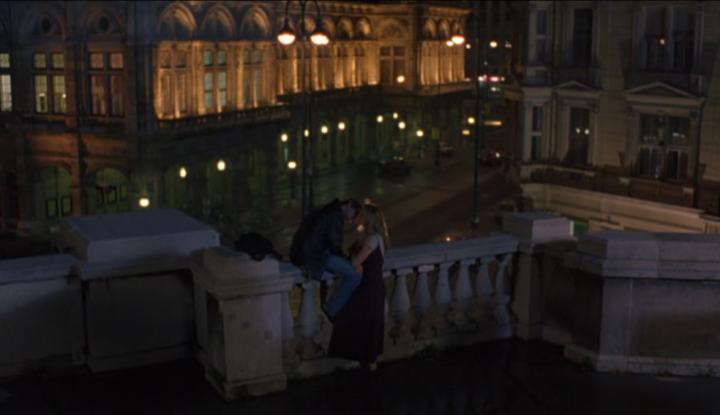 Both Ethan Hawke and Julie Delpy provide performances worthy of the material. They deliver naturalistic, nuanced portrayals of their characters, with Delpy's subversive sexuality and natural beauty providing great contrast and chemistry against Ethan Hawke's sultry, sexualized Jessie. Hawke, an actor I've only ever really seen in B-grade slop such as Getaway, or middle-class fare like Daybreakers, has a youthful charm here that appeals: he's not a douche, but you get the sense that he mightn't be far off, yet he's smooth enough and smitten with Celine to carry her off as a potential lover. I found Delpy's character to be more accessible early, while Jesse felt a little too unbalanced for my liking, but as the film went on they both equaled up and matched each other's maturity and complexity, rounding out this film's effortless joy.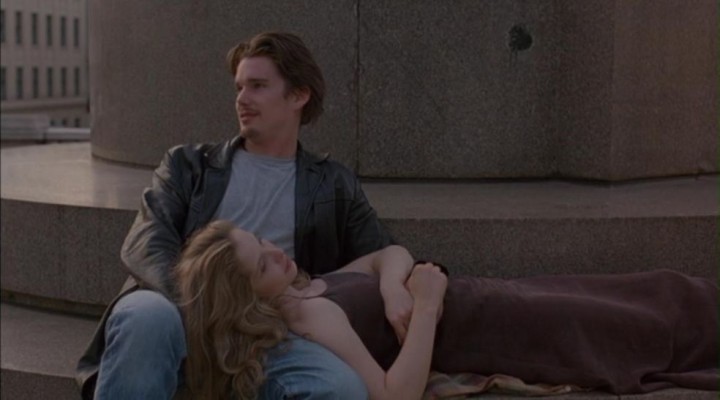 Richard Linklater's direction should also be applauded. For such as simple film, the audience needs to feel the characters are center stage, and although Linklater sets the film in Vienna, a beautiful city on its own, Before Sunrise never gorges itself on making this a dominant factor. The setting feels more like happenstance, a happy accident, than a situational distinction; the film could easily take place in any city anywhere, really, because the locales aren't the defining factor for the story. The settings all seem more like window dressing for Celine and Jessie's conversations, with the conversation being more important, and it's a balance most film-makers might normally skew towards the "look where we filmed this!" market. Linklater also allows the characters to breathe in terms of their complexity. The film never feels rushed or out of shape with regards to how the script develops as the story winds through the evening. Jessie and Celine are given room in the script, and within Linklater's framing, to grow and draw us into their relationship, a factor most "romantic comedies" tend to miss, or misjudge.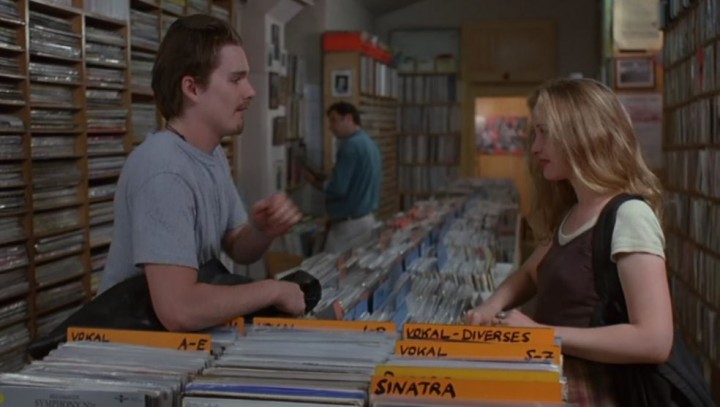 If you're a hopeless romantic, in the truly shallow end of the gene pool, you'll probably want to skip this one as a "talky, no-action film", but for those seeking a more intellectual, more realistic film experience than the Hollywood-ized cliche, Before Sunrise might just be the one for you. Featuring two hugely believable leads, a nice, steady sense of place and direction from Linklater, and dialogue that feels like it's been taken right off the street, this film sparkles as a hidden, unseen gem that you need to discover as soon as possible. Yeah, it's romantic, but it's also a wonderful film to boot. Who would'a thunk it?
Related articles