Movie Review – American Hustle (2013)

Principal Cast :  Christian Bale, Amy Adams, Bradley Cooper, Jennifer Lawrence, Jeremy Renner, Louis CK, Michael Pena, Alessandro Nivola, Elizabeth Rohm, Jack Huston, Shea Wigham.
Synopsis:   Two con artists find themselves mixed up in a potential Mob deal gone wrong when their FBI handler decides to big-note his war on corruption.
*********
Director David O. Russell has been on something of a hot streak of late. His last few films, including American Hustle, has been major successes, particularly with the critics and the various groups over Hollywood's Awards Season. His brilliant Gulf War flick 3 Kings, featuring George Clooney in an early role, remains highly regarded across the community, and although he took a stumble with I Heart Huckabees, his work since has been of the highest calibre. The Fighter, in 2010, saw Christian Bale nominated (and win) the Best Actor gong at the Oscars, and co-star Melissa Leo snag Best Supporting Actress. His next film, Silver Linings Playbook, was nominated for the Big Five Oscars (film, directing, actor, actress and screenplay), with Jennifer Lawrence taking home the Best Actress gong that year. Now, American Hustle sees Russell re-team with his ensemble again (although this time with a few new additions) for a 70's-era con flick, loosely based on the infamous FBI Abscam operation in post-Watergate New York City. Featuring returning alumni Bale, Lawrence, Bradley Cooper, and a surprise cameo mid-way through, American Hustle is a dramatic black comedy that has plenty to offer. Whether you take it up on that offer depends on your ability to be conned!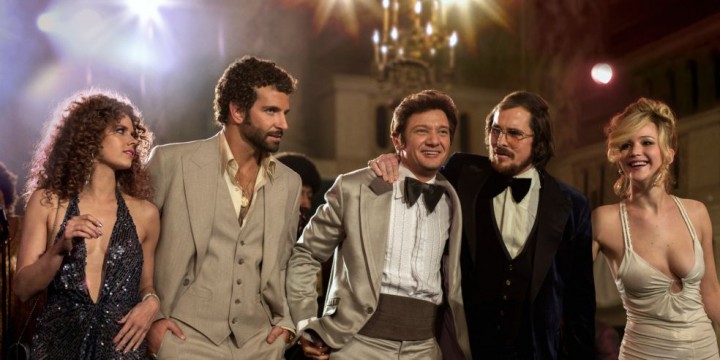 Plot synopsis courtesy Wikipedia:  In 1978 FBI agent Richie Di Maso (Bradley Cooper) and con artists Irving Rosenfeld (Christian Bale) and Sydney Prosser (Amy Adams) are posing as advisers to a fake Sheikh. They meet and attempt to bribe Camden, New Jersey mayor, Carmine Polito (Jeremy Renner). Sydney helps improve Irving's scams, posing as British aristocrat "Lady Edith Greensley". In flashbacks that follow, it's shown how Irving meets Sydney at a party, they bond over Duke Ellington records and eventually fall in love. However, it's also shown that Irving is reluctant to leave his adopted son with wife Rosalyn (Jennifer Lawrence), who will not divorce him. Richie catches Irving and Sydney in a loan scam but proposes to release them if Irving assists him with four additional arrests. Sydney is against the agreement. Richie believes Sydney is British, but has proof that her claim of aristocracy is a fraud. Sydney tells Irving she will seduce and manipulate Richie, distancing herself from Irving. Irving has a friend pretend to be a wealthy Arab Sheikh looking for potential investments in America. An associate of Irving's suggests that the Sheikh do business Polito. Carmine, popular and charismatic, loved by his constituents; is campaigning to revitalize gambling in Atlantic City but has struggled to raise the necessary money. Richie devises a plan to entrap Carmine, over the objections of his boss Stoddard Thorsen (Louis C.K.) and Irving. Sydney helps Richie by manipulating a lonely FBI secretary to make an unauthorized wire transfer of $2 million. When Di Maso's boss, Anthony Amado (Alessandro Nivola), hears of the operation, he praises Richie's initiative, pressuring Thorsen to continue the operation. As the pressure builds on Di Maso to deliver, Irving and Sydney realize that they have to find a way to escape this spiralling quicksand of a predicament.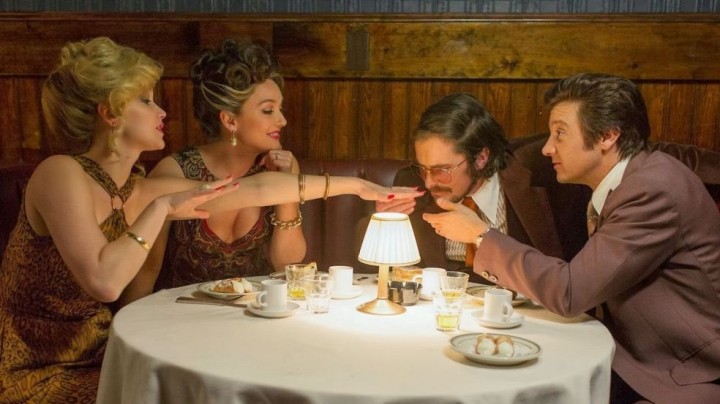 American Hustle's good looks and gaudy, 70's costuming and production design, evoke an era before Facebook, mobile telephones or even (if you can believe it) personal computers. Set in a variety of New York and New Jersey locations, and based on the FBI Abscam operation to nab crooked politicians and government officials, the film – thanks to its terrific ensemble cast – earn plenty of chuckles and a few wry grimaces along the way. Yes, this is highly black comedy, lacking the aisle-rolling guffaws of a standard Gross Out Comedy or Adam Sandler dreck; American Hustle is bristling with ideas, with a dry, often obscure wit that only comes with the best written screenplays around Hollywood. Hustle's core premise of con artists conning the FBI probably isn't new, given the long history this kind of premise has in cinematic circles, yet Hustle's more focused on character rather than plot density, leaving the plot to amble along nicely while Irving, Sydney and Di Maso go to hell and back for this story. The film's plot has echoes of truth to it, with the characters involved being fictionalized representations of real-life Abscam players, yet it's not one of those "this is the true story of…" kinda films. It's a half-truth, a con in itself, if you will, and Russell's script (together with Eric Warren Singer) delivers plenty of great moments.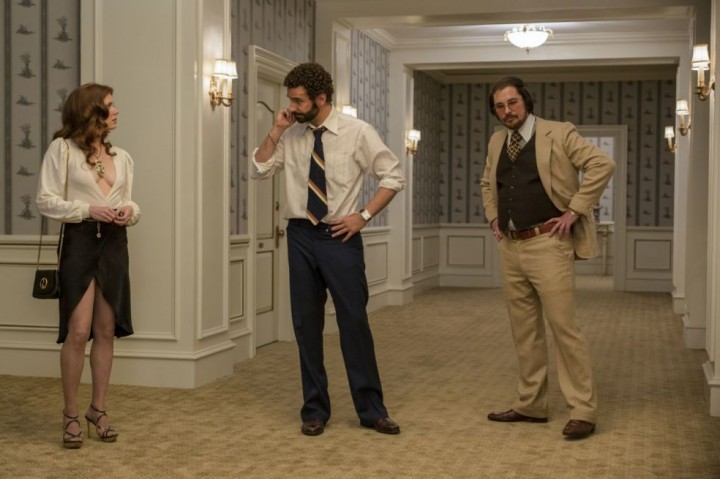 Moments such as Jennifer Lawrence's Rosalyn deriding Irving for a "science oven" Carmine gives him – it's an early microwave – after it explodes when she tries to cook a metal food container, and a scene where Bradley Cooper's overeager FBI agent abuses the crap out of his boss over the phone because he can't get the top floor of a ritzy hotel, are enormously amusing, even if they aren't obviously funny. The cast are solid across the board, led from the front by Christian Bale, who is nearly unrecognizable as Irving, a balding, paunchy New Yorker who fixates on his glasses and his clothing, and Bradley Cooper, as the go-get-'em FBI agent who gets in way deeper than he should. Bale's Irving is an acting masterclass, with the actor inhabiting the very soul of the role and delivering yet another Oscar-calibre performance. I thought he was magnificent. Cooper, as wide-eyed and schizophrenic an actor as he is, suits the role of Di Maso perfectly, all curly hair and everything. While I thought his performance was great, I didn't really empathize with his character enough to make me consider him excellent.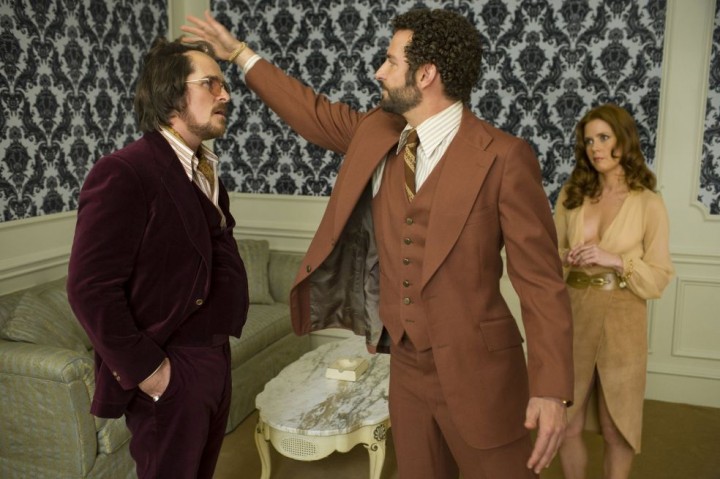 Jennifer Lawrence steals the film from her male cast-mates, as the argumentative (and spoiled) wife of Irving. Lawrence epitomizes Hollywood chic here, her overstated glamor as Rosalyn working in perfect contrast to Irving's more downbeat, chameleon-like nature. Lawrence looks amazing, and gives yet another career best performance in the part, small as it is. Amy Adams, as Sydney, is hot as a fox (and must have enjoyed not wearing a bra for the entire shoot) and provides some excellent sex-appeal to the otherwise all-male ensemble. Adams' part is obfuscated by the twisting plot-line, often leaving me confused as to her true motives (a lot like the rest of the characters in the film, I guess) but her performance here easily warrants commendation. She's excellent. Jeremy Renner is heartbreaking as honest-to-god Mayor Carmine, even with his Elvis hair distracting me in every scene. Bit roles to Louis CK, as D Maso's superior, Alessandro Nivola (remember him as Nic Cage's on-screen brother in Face/Off?), and Jack Huston as a Mob enforcer, add grist to this chewy, delicious ensemble.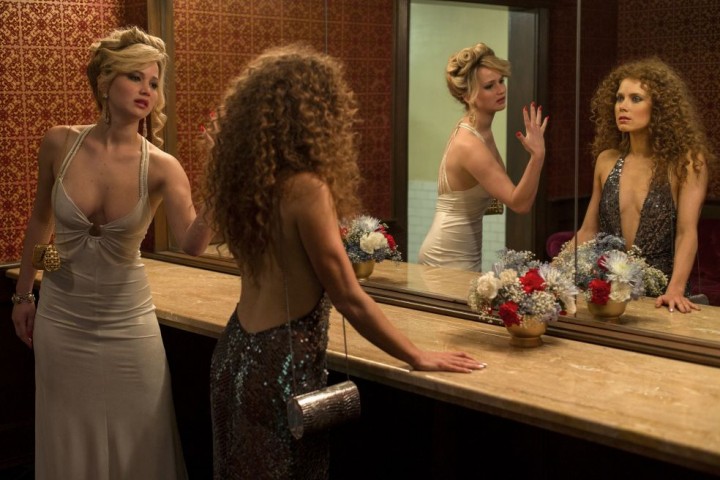 Russell's direction is first rate too. The film feels erogenous, almost sexual in tone, although the constant 70's style and fashion threatens to undo all that good work. The turd-browns and urine-tinted yellows give the film a feeling of gritty, urban nightmare, although one through which a good laugh can be had. The film pulls no punches when it has to – a scene with Adams and Cooper in her apartment sparkles with the frisson of unrealized sexual tension, holding firm on the pair's tryst finally starting to heat up – and is occasionally melancholy to the point of "get on with it!", yet for all it says and does, the two hours it runs never really feels like it. With a cast all doing this well, and a director at the top of his game, American Hustle delivers.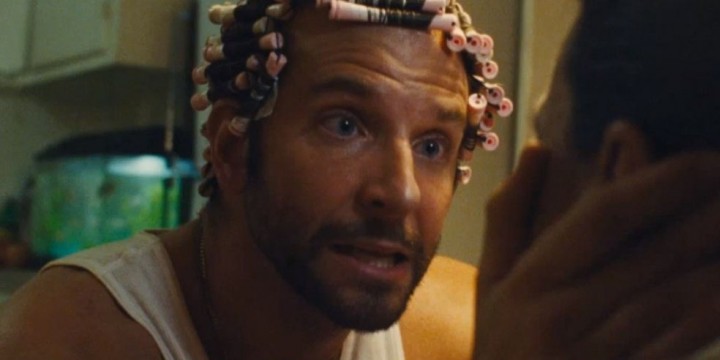 American Hustle is a flat-out great film. It features some fantastic performances by its proven cast, a terrific soundtrack (including tracks by Duke Ellington!) and a brilliant, near fault-less rendition of late-70's New York and New Jersey. The story is great, the characters are flawed and involving, and the resolution has just enough "gotcha" about it to bring a smile to one's face. Yup, American Hustle is as good as you might have heard.
Who wrote this?