The Top Ten Greatest Film Songs Of The Modern Age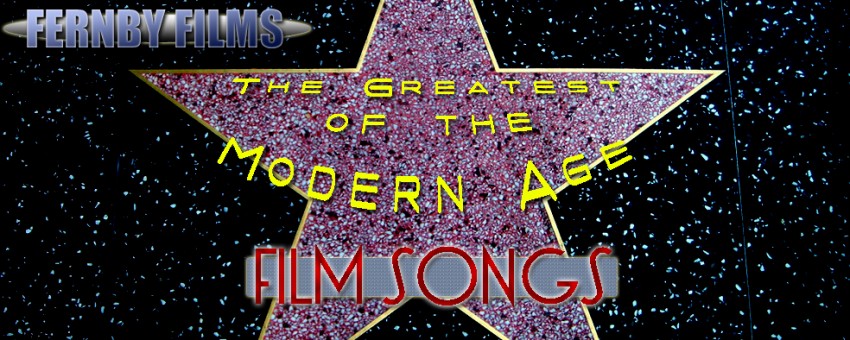 In the hundred or so years since film was invented and turned into a multi-billion dollar industry, plenty of ink has been spilled over lists and articles about just who has been the best – the best director, the best actor, the best musician – like humanity can't get enough out of figuring out the most superior of our own self-importance. The Hollywood awards season seems to last the entire year, with a multitude of industry-based awards shows dominating the blogosphere and newsprint each and every month, culminating in the very pinnacle of cinematic artistic achievement, The Academy Awards. Each year, golden gongs are handed out to those folks judged by others folks to be the best in their category at what they've done that year. Whether those awards are warranted or not isn't the point of this article; here, we're going to spotlight the very best of the best – the best Actors and Actresses, the best Directors, the best Films, even the best cinematic advances of the Modern Age. What do I mean by Modern Age, you ask. Simple. Hollywood's boom times of the 30's and 40's, at least prior to the War, are known today as the Golden Age, and the three decades after that could be termed the Bronze Age – with a shift into color film, multi-channel stereo and the re-invention of the Hollywood "blockbuster" away from biblical epics and sweeping melodramatic romance. The 80's, however, when you look at films produced at that time in a reflective mood, represents a shift both artistically and stylistically in the medium of film to such a degree that I think a new "age" of Hollywood could be coined: the Modern Age. An epoch of cinema between 1980 and 2010, 30 years of both massive successes, and epic fails. The Greatest of the Modern Age series attempts to distill the best of the Modern Age into a series of opinion-based lists, and we hope you enjoy (if not disagree with) our work.
You've heard them, you've loved them, you've hated them. The eponymous song accompaniment to your favorite film – most major films out of Hollywood have a song designed to capture the mood and essence of the film, and so commercial sales of the film's soundtrack will escalate alongside the popularity of the song. Bond films have been doing it since the beginning, and Hollywood's fascination with money has seen songs as diverse as Will Smith's Men In Black (for the 1997 film of the same name) and Three 6 Mafia's It's Hard Out Here For A Pimp (which won the Oscar for Best Original Song, if you can believe it) come along each year to accompany films both successful and failures. Pick the right song, and it could be a monster. Cue Celine Dion's My Heart Will Go On, which came out on the back of James Cameron's Titanic, which has since become perhaps the most successful soundtrack recording of all time. Pick the wrong song, and it could be a major head-scratcher. Cue It's Hard Out Here For A Pimp, perhaps the most incongruous song choice to ever win an Oscar. Today, we've picked the ten greatest film songs of the Modern Age, regardless of whether the film was a success or not.

Bette Midler's soaring vocal performance is, to my mind, the key reason Wind Beneath My Wings has remained such an iconic track from a movie. Beaches, the film in which it came to prominence, saw Midler and co-star Barbara Hershey as two best friends navigating the trials of life, love and death. Stocks in Kleenex skyrocketed upon the release of this film, and you'd be hard pressed to find a woman anywhere who hasn't shed a tear by the closing credits. Midler's song is, of course, one of the great feminist songs of all time. 😉

 Celine Dion : Listen to Celine warble her way through My Heart Will Go On
Whether you agree with the inclusion of this song into our top 10 or not, there's no denying the enormous commercial gain James Cameron's Titanic had on Celine Dion's warbling, cat-strangling power-ballad, penned by film composer James Horner and echoing that films evocative, melodic interpretations of trans-Atlantic shipping. A variety of remixes further served to prolong the agony for the multitude who felt Dion's song was hammered into the ground by commercial radio airplay, and it wasn't long before My Heart Will Go On became the poster child for soulless, hideous Hollywood over-marketing. All that being said, it's a damn catchy tune, and I'd challenge anyone to have not found themselves miming to it in the shower or the car on the way to work. Of course, it won the Oscar for Best Original Song, but that doesn't mean it's still any good….

Admittedly, there's any number of songs in any of Quentin Tarantino's filmography which could easily be included in a list like this, but I felt it apropos to include the first major pop-culture shift caused by this cinematic auteur – the use of Stealers Wheel's great song which played over the most brutal of physical assaults in Reservoir Dogs. The dodgy dancing, the blood and the graphic violence, coupled with the melodic and simplistic nature of the song itself, work to cause frisson between screen and audience, and perhaps never a more incongruous song has ever worked so well with the imagery it accompanies as this.

Doesn't matter how you cut it, The Blues Brothers is the epitome of cool. And Ray Charles is the epitome of the epitome of cool; his inclusion in the anarchic 80's musical comedy came with his "instrument shop" scene, playing the classic ditty with rather swell backup from both Dan Akroyd and John Belushi – and with it, the song transcended the film itself, instantly becoming a dance-floor hit and a bona fide chart success.

Listen to Yellows Oh Yeah:  Yellow's Oh Yeah here!!
Nothing says sex like a deep, deep voice rumbling passionate ooh's and ahh's in stereo. Yellow's Oh Yeah, a bomp-chika-bomp style arrangement of 80's synth beat and ultra-slick sexy, accompanied the seduction of Michael J Fox's character in The Secret Of My Success and forever entrenched itself in the psyche of Gen X-ers everywhere. While you'd be hard pressed to call it a song, as opposed to a series of repeated melodic and temp phrases including an impossibly deep male voice uttering near-orgasmic sentiment, Oh Yeah remains an easily identifiable – and now almost cliched – entry into the sexual in cinema. And easily the most parodied.

Listen to Berlin's Take My Breath Away: Berlin
Tom Cruise. Kelly McGillis (who?). Berlin's Take My Breath Away. Admittedly, I included this mainly because it was the first legitimate sex scene I'd seen in a film – and even then, you don't see all that much. Scuttlebut would tell you that the sex scene between Cruise and McGillis was filmed well after Top Gun had wrapped, as a studio -wrought moment to "sex up" an otherwise testosterone fueled adventure, although by the time it came to filming, McGillis was already on another project and had altered her hairstyle significantly. To get around this fact, director Tony Scott filmed the scene using a back-light, effectively hiding the continuity problems with an artistic silhouette. Berlin's track took home the Oscar for best song, and remains one of the best film-to-pop-culture crossover songs in recent memory.

 Go on, try arguing against it. Groundhog Day, which saw Bill Murray stuck in a perpetual loop reliving the same day over and over, included this popular song from Sonny & Cher (well before Cher's If I Could Turn Back Time ballad) and made it a massive success once again. Anybody who hears the opening refrain from this song will instantly think of Bill Murray pounding his clock radio into submission to make the horror of it all stop, which is an indication of just how powerful the mixture of song and image actually is.

Toe tapping, hip-swiveling fun came with a kitschy 80's classic, Footloose, which starred Kevin Bacon and revitalized the "dance movie" for a new generation. Kenny Loggins' title track, which played over the opening credits, is all 80's dance, with a wonderful electric vibe kicked off by the gritty, urban lyrics. Footloose remains one of those songs you'll always sing along to in the car, and perhaps alongside Walkin' On Sunshine, will put you in a good mood every single time. You can blame Footloose for things like the Step Up franchise, among others.

To my mind, there's two films in recent years that have succeeded in recapturing the look and feel of a bygone era with song – That Thing You Do, which saw the magic Rock'n'Roll era of the 50's and 60's brought to life with the rock/pop-influenced sound of the song of the same name, while the Hugh Grant/Drew Barrymore rom-com, Music & Lyrics, saw the 80's Boy Band brought to life with the song Pop Goes My Heart. While I'm loathe to try and squeeze both tracks into this list, I'm happy to give That Thing You Do the nod simply because it's the better song. You'll not find a more toe-tapping central song which does the job required so exceedingly well.

80's pop-synth gold, the titular track to the enormously successful film of the same name, Ghostbusters, was sung by Ray Parker Jr, and made it to the top of the US charts. Ask anyone about Ghostbusters, and the first thing most people will do is sing the catchy refrain, "Who you gonna call? Ghostbusters!" verbatim. Blessed with corny lyrics such as "Bustin' makes you feel good", Ghostbusters (the song) became a global phenomenon, although this success would not be repeated with the somewhat lethargic sequel film.
Who wrote this?