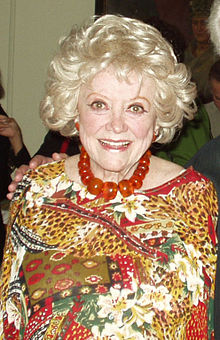 Legendary comedienne Phyllis Diller has passed away. Ms Diller was accomplished in all forms of entertainment, beginning her career in radio before making the transition to film and television. A highly popular comedienne, her iconic laugh and wild-haired persona brought her acclaim in the entertainment industry. Of her film credits, she co-starred with Bob Hope in a number of television specials and 3 feature films, including Boy, Did I Get A Wrong Number!, as well as a cameo in 1961's Splendour In The Grass. Her other film credits include The Sunshine Boys, The Boneyard, The Silence Of The Hams, and provided the voice of the ant Queen in Pixar's A Bug's Life.
Diller's incredible career was primarily as a stand-up comedienne, providing numerous appearances in television shows as either herself, or a spoof of herself. Among these shows are appearances in The Muppet Show, Cybill, Batman (in 1966), Family Guy, Robot Chicken, and most recently in 2 episodes of The Bold and The Beautiful.
Ms Diller passed away on August 20th, at her home in Los Angeles. She was 95.
Who wrote this?