Vale – Ernest Borgnine
Acclaimed Oscar winning actor Ernest Borgnine has passed away.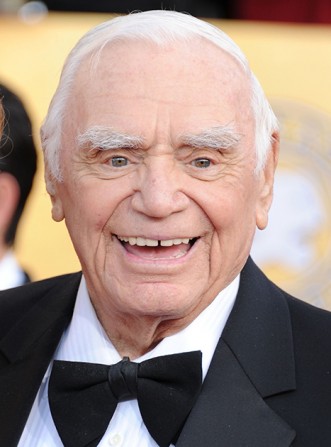 Acclaimed Oscar winning actor legend Ernest Borgnine has passed away. Mr Borgnine, who acted in both film and television, including recurring roles in 80's action series Airwolf, and McHale's Navy in the 60's. Borgnine snagged an Oscar for his portrayal of Marty Piletti in 1955's Marty, directed by Delbert Mann. Marty would go on to score another three Oscars, including Best Director and Best Picture, although it would be Borgnine who would parlay that success to the maximum later on. Borgnine was born in 1917 to Italian immigrants, and after a period of upheaval (his parents separated and reconciled before he was 6) settled in Connecticut. He joined the Navy, being honorably discharged in 1941, before re-enlisting after the US entered World War II following Pearl Harbor. As a naval seaman, he attained the rank of Gunners Mate 1st Class.
Following the end of WWII, Borgnine got into acting, becoming involved in numerous local stage productions, before he moved to Los Angeles to pursue a film career. His big break came in 1953's From Here To Eternity, playing a mean prison guard, and numerous film credits began to follow. Among his many many appearances on the silver screen, he starred in The Flight Of The Phoenix, The Dirty Dozen, The Poseidon Adventure (in 1972), Ice Station Zebra, The Black Hole, and Escape From New York. However, his best remembered role (aside from Marty) is in Sam Peckinpah's classic western, The Wild Bunch (1969), in which he was among an enormous ensemble cast including William Holden, Robert Ryan, and Warren Oates. In recent decades, his film status went into decline, appearing in numerous low budget films and providing voices for several animated characters, including one in Joe Dante's Small Soldiers, with his most contemporary appearance in a mainstream film being a small cameo in the Bruce Willis actioner, RED.
His television credits run as long as your arm: McHale's Navy, of course, and Airwolf, but he also guested in numerous series including Magnum PI, Home Improvement, The Simpsons (voice only), JAG, The District, and an Emmy nominated turn in an episode of ER, in 2009. Borgnine was also known to fans of SpongeBob Squarepants as the voice of comedic superhero Mermaid Man – on a personal note, this was a role I think Mr Borgnine was born to play!
Borgnine was married 5 times, and had a number of children; he passed away from renal failure on July 8th. His legacy is simply too large to accommodate on our pages, but today we tip our hat to the 60-year career of one of Hollywood's true gentlemen. Mr Borgnine, you shall indeed be missed.
Ernest Borgnine was 95.
Who wrote this?