The Top 10 Greatest Actresses of the Modern Age
Critics of Hollywood often decry the lack of quality roles for women as a major failing of a male-dominated industry. I beg to differ. Not only are there plenty of good quality roles for women (never mind that quality roles for the fairer sex are on the increase thanks to sexual equality!) but the quality of actresses to play them is also on the up and up.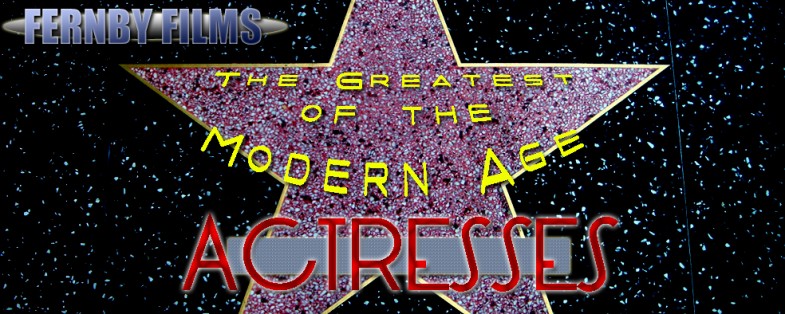 In the hundred or so years since film was invented and turned into a multi-billion dollar industry, plenty of ink has been spilled over lists and articles about just who has been the best – the best director, the best actor, the best musician – like humanity can't get enough out of figuring out the most superior of our own self-importance. The Hollywood awards season seems to last the entire year, with a multitude of industry-based awards shows dominating the blogosphere and newsprint each and every month, culminating in the very pinnacle of cinematic artistic achievement, The Academy Awards. Each year, golden gongs are handed out to those folks judged by others folks to be the best in their category at what they've done that year. Whether those awards are warranted or not isn't the point of this article; here, we're going to spotlight the very best of the best – the best Actors and Actresses, the best Directors, the best Films, even the best cinematic advances of the Modern Age. What do I mean by Modern Age, you ask. Simple. Hollywood's boom times of the 30's and 40's, at least prior to the War, are known today as the Golden Age, and the three decades after that could be termed the Bronze Age – with a shift into color film, multi-channel stereo and the re-invention of the Hollywood "blockbuster" away from biblical epics and sweeping melodramatic romance. The 80's, however, when you look at films produced at that time in a reflective mood, represents a shift both artistically and stylistically in the medium of film to such a degree that I think a new "age" of Hollywood could be coined: the Modern Age. An epoch of cinema between 1980 and 2010, 30 years of both massive successes, and epic fails. The Greatest of the Modern Age series attempts to distill the best of the Modern Age into a series of opinion-based lists, and we hope you enjoy (if not disagree with) our work.
Critics of Hollywood often decry the lack of quality roles for women as a major failing of a male-dominated industry. I beg to differ. Not only are there plenty of good quality roles for women (never mind that quality roles for the fairer sex are on the increase thanks to sexual equality!) but the quality of actresses to play them is also on the up and up. This list attempts to gauge the best of the best who've worked in film since 1980 – or at least had the bulk of their career since then. Based on the quality of their films, the quality of their performances in those films, and the critical acclaim they've garnered over the journey, the following ten actresses are the choices we've made for the ten best of the Modern Age.

The original Pretty Woman who went on to become one of the highest paid actresses in Hollywood, finally scored herself an Oscar for her blistering portrayal of real-life Erin Brockovich in Steven Soderberg's film of the same name back in 2000. After appearing in ensemble films Mystic Pizza and Steel Magnolias (the latter film in which she played a character dying of cancer, which saw her nominated for an Oscar for Best Supporting Actress, and winning a Golden Globe for the same), Roberts was cast in her icon role of Vivian Ward, the Hollywood hooker with a heart of gold in Garry Marshall's Pretty Woman, opposite Richard Gere. The film's enormous success was her breakthrough to pick and choose her roles, and her immediate follow-up, Flatliners (another ensemble work opposite Kiefer Sutherland, Kevin Bacon and Oliver Platt) was a darker film than those we'd seen her in previously. Her next major success was the law thriller The Pelican Brief, co-starring with Denzel Washington, with appearances in Spielberg's Hook, Dying Young, and Sleeping With The Enemy in between them. Dramatic roles continued to draw her, although the traditional "blockbuster" films came to be something of an anathema to the stunningly beautiful woman – Prêt-à-Porter, Everyone Says I Love You and Something To Talk About were the light fluffy Roberts audiences seemed to adore, while gritty projects like Mary Reilly and Michael Collins, along with the Mel Gibson thriller Conspiracy Theory, tended to remain less than impressive with critics. 1997's My Best Friend's Wedding saw her popularity return to the stratosphere, with her Golden Globe nominated role of Julianne Potter giving us the big grinning Roberts audiences loved. A couple of romantic comedies followed; Runaway Bride (re-teaming her with both Garry Marshall and Richard Gere) and Notting Hill (with Hugh Grant), before she scored her Oscar for Erin Brockovich in 2000. The following year she re-teamed with Steven Soderberg for the Ocean's 11 remake, appeared with Catherine Zeta-Jones in America's Sweethearts (never a more apt title has been chosen for a film in which Roberts stars), Brad Pitt in the underwhelming The Mexican, and George Clooney's directorial debut in Confessions Of A Dangerous Mind. Roberts would appear in the weepy melodrama Mona Lisa Smile, the Ocean's sequels, and provide the voices for characters in animated films like Charlotte's Web and The Ant Bully. Golden Globe nominations followed her work in Charlie Wilson's War and Duplicity, while her focus on strong female roles allowed her to star in the film version of the literary self-help tripe of Eat Pray Love. Julie Roberts remains one of Hollywood's modern Golden Girls – she's beautiful in the classical sense, successful, able to act and can draw a crowd just by having her name on the marquee.

The only Australian on this list, Cate Blanchett's been doing us proud for ages, although her star really rose when she landed the role of Galadriel in Peter Jackson's Lord Of The Rings Trilogy. She was still a relative newcomer when she scored her first Oscar nomination for Elizabeth, in 1998, although Aussie audiences were familiar with her thanks to roles in local productions Oscar And Lucinda, Thank God He Met Lizzie (as Lizzie) and Paradise Road. Following her breakout in Elizabeth, Blanchett began making a name for herself as a dependable talent in diverse projects like Pushing Tin, The Gift (a terrible film, I might add) and The Talented Mr Ripley, as well as dramatically heavy Charlotte Grey and The Shipping News, before Peter Jackson came calling. Her exposure in Lord Of The Rings kept the quality roles coming, including Bandits (another Golden Globe nom), Heaven, The Missing (opposite Tommy-Lee Jones), Veronica Guerin (another Golden Globe nom), and The Life Aquatic With Steve Zissou, before her Oscar winning turn as Katherine Hepburn in Scorsese's The Aviator brought her the big glory. Aussie film Little Fish saw her pick up another AFI Award for Best Actress, and 2006's Babel (one of the best films ever made, in my opinion) brought her less critical acclaim than she deserved – Notes On A Scandal saw her once more up for Oscar glory, as did 2007's Elizabeth sequel, The Golden Age, and her appearance as a guy – Bob Dylan, for Pete's sake – in I'm Not Here. Steven Spielberg tapped her for the central villain character in his return to the Indiana Jones franchise, The Kingdom Of The Crystal Skull, and Oscar bait came calling in the form of The Curious Case Of Benjamin Button for director David Fincher. Recent roles include another Bad Guy role in Hanna, and the Lady Marian (opposite fellow Aussie expat Russell Crowe) in Ridley Scott's Robin Hood. Cate Blanchett's career (to date) has been filled with powerful, terrific dramatic roles, and it's little wonder she's courted Oscar and Golden Globes and BAFTA's over the journey. For that reason, we include her in this list.

Julianne Moore has been around Hollywood since she appeared in daytime soap As The World Turns during the late 80's, before going on to appear in a number of obscure and successful projects such as The Hand That Rocks The Cradle, Body Of Evidence, Benny & Joon and the Harrison Ford vehicle The Fugitive. The late 90's and early 2000's were the high point of her career, with comedy roles in Nine Months, action in Assassins with Stallone and Banderas, and adventure in the Jurassic Park sequel, The Lost World. Moore really came to attention when she starred as an aging porn star in Boogie Nights, released in 1997, and scored an Oscar nomination from it. More comedy followed with The Big Lebowski, a role in Gus van Sant's remake/reshoot of Hitchcock's Psycho, and the modern telling of Oscar Wilde's comedy, An Ideal Husband. Oscar came calling again with a nomination for Best Actress in The End Of The Affair, followed the same year (1999) with an appearance in another PT Anderson film, Magnolia. Moore took on the role of Clarice Starling from Jodie Foster in Ridley Scott's obtuse Hannibal in 2001, and starred alongside David Duchovny in Ivan Reitman's largely unfunny Evolution in the same year. She took on the talent of Kevin Spacey in The Shipping News, before unleashing awesome in a role I consider to be her best ever, Far From Heaven. Although she did not score the Oscar win, she was nominated, as well as snagging just about every other award available in the field of acting. In a rare event, Moore was also nominated for best Supporting Actress for her turn in the Nicole Kidman starrer, The Hours, although she would not win that either. She headlined the rather ridiculous The Forgotten, and provided solid support in films as diverse as Freedomland, Children Of Men, the Nic Cage debacle Next, I'm Not There, Blindness, and once more hit critical acclaim supporting Colin Firth in A Single Man. Most recently, Moore has led the cast of The Kids Are Alright for much acclaim, and provided a solid leading lady against Steve Carell in the romantic/comedy/drama, Crazy Stupid Love. Always dependable as a performer, able to deliver incredibly powerful performances with ferocity and strength, Julianne Moore is one of the greatest of the last 30 years.

The first of our British imports in the list, Dame Judi Dench has been appearing in films since 1964's The Third Secret, and has appeared in a dozen or so minor roles and non-mainstream features up until she was cast as the first female M in the James Bond flick, Goldeneye. With decades of stage work behind her, Dench's powerful presence as an actress translated easily to the screen, a presence filmmakers have utilized ever since. Dench was cast as a queen twice in her career – once as Queen Victoria in Mrs Brown (1997), alongside a terrific performance by Billy Connolly, and another in her Oscar winning turn as Queen Elizabeth I, a year later, in Shakespeare In Love. Dench would go on to remain in the role of M in the Bond franchise, and when she wasn't whipping the superspy with her tongue, she was appearing in alternative projects like Tea With Mussolini, Chocolate, Iris (scoring another Oscar nomination alongside Kate Winslet) The Shipping News (alongside Julianne Moore), The Chronicles Of Riddick, voicing a cow in Home On The Range, and snagging another Oscar nomination for her turn in Mrs Henderson Presents. Notes On A Scandal once more saw Oscar's glare turn her way, although she would not win again, but would continue to command respect with solid performances in Nine, Jane Eyre, Pirates Of the Caribbean: On Stranger Tides, My Week With Marylin and J Edgar. This year saw her team up with an enormously talented English cast for The Best Exotic Marigold Hotel, and the latest Bond flick, Skyfall, is currently in post-production. Instantly recognizable, eminently scary to act against, and one of Britain's leading lights of stage and screen, Dame Judi Dench is a sure pick for our top 10 list of the genuine greats of the last 30 years.

Much like Judi Dench (above), British actress Dame Helen Mirren has been acting on stage and screen since the late 60's. Outside of her homeland, Mirren's possibly best known to television audiences as the original female lead in the Prime Suspect series (currently being remade for US audiences), although film audiences will have seen her (clothed and unclothed) on the big screen for ages. Initially treading the boards and screen in a bunch of Shakespeare adaptions, including Midsummer Night's Dream and Hamlet, Mirren bared all for the raunchy turkey Caligula, before appearing as Morgana in the big screen version of Excalibur. Roles in 2010: The Year We Make Contact, The Mosquito Coast, The Cook The Thief His Wife And Her Lover (where she appeared in all her…. glory once more) and The Comfort Of Strangers led to her being cast as Jane Tennyson in Prime Suspect. Mirren would appear in period drama The Madness Of King George, pop-culture lemon Teaching Mrs Tingle, Sean Penn's directorial debut The Pledge, Gosford Park, Calender Girls, Elizabeth I, The Queen (her third portrayal of a royal monarch, and the film for which she scored her Oscar), State Of Play, Inkheart, RED, and most recently The Debt. Much like her contemporary, Judi Dench, Helen Mirren's classical approach to acting, and her ability to morph into a role and make it her own, makes her a real contender in our list today.

Kate Winslet really arrived in Hollywood when James Cameron picked her to co-star alongside Leonardo DiCaprio in his watery epic, Titanic. Until then, people only knew of her as one half of the Heavenly Creatures duo – with Melanie Lysnkey, for director Peter Jackson in 1994. While she snagged an Oscar nomination the following year for Sense & Sensibility, it was her turn as the posh-speaking Rose in Titanic which earned her worldwide recognition, recognition which she would soon turn into a tremendously critically acclaimed career. Winslet saw another Oscar nomination for Best Actress for the role, and although she would not win that year, the double nominations in both 97 and 98 allowed her the freedom to choose roles she might otherwise have not done. Obscure roles followed, Hideous Kinky in 1998, and Holy Smoke! in 1999, before she teamed with Geoffrey Rush for the biopic Quills, which told of the life of the sexually confronting Marquis de Sade. 2001 saw her star in Enigma, a WWII film about the titular decoding machines which also starred Dougray Scott, and the same year she portrayed a young version of Judi Dench's Alzheimer's ridden character in Iris. Her work in Iris brought about yet another Oscar nomination. Oscar nominations followed again in 2004, with her work in Eternal Sunshine Of The Spotless Mind (opposite Jim Carrey) and 2006's Little Children garnering her more rave reviews. She starred opposite Johnny Depp in the JM Barrie biopic Finding Neverland, in 2004. Minor roles (including voice work for Aardman's Flushed Away) would eventually lead to her Oscar winning performance in The Reader, in which she played Hanna Schmitz, a woman accused of the murder of several hundred Jewish women during the Nazi occupation of Poland. The same year, Winslet also garnered more feverish acclaim for her role in Revolutionary Road, a heavy dramatic role which led to a Golden Globe win and a BAFTA nomination. Winslet would also win a Golden Globe for her work in Mildred Pierce, and lead an all-star cast in Steven Soderberg's Contagion, before teaming up with Christoph Waltz, Jodie Foster and John C Reilly for Roman Polanski's dark comedy, Carnage. Kate Winslet remains one of the truly great actresses of her generation, and with canny career choices seems destined to continue to be around for a long time to come.

There's very little acclaim British actress Emma Thompson hasn't achieved. The high point of her career came relatively early on, during the mid 90's, when she received her first Oscar for Howard's End, in 1993. Shakespeare followed with the role of Beatrice in Much Ado About Nothing, and her second Oscar nomination came with The Remains Of The Day in 1993; her third Oscar nomination followed for In The Name Of The Father, the same year (with co-star Daniel Day-Lewis picking up the Best Actor gong). A comedy role in Junior followed, before her Oscar nominated performance in Sense And Sensibility also had her in the running for a writing Oscar the same year. While she wouldn't score the acting nod, she did win for Best Adapted Screenplay. A diverging series of roles followed, including the political drama Primary Colors, Maybe Baby (which featured pre-House Brit actor Hugh Laurie) and a voice in Disney's Treasure Planet. She garnered a fair amount of critical praise for her role in the ensemble comedy Love Actually, before arriving in the world of Harry Potter as the somewhat nutty Professor Trelawney, in Prisoner Of Azkaban (and the sequels). Cameo roles tended to follow this, as she began to pop up in films such as I Am Legend, The Boat That Rocked, An Education, and Last Chance Harvey; Thompson's franchise effort, the Nanny McPhee series (of which there are currently two films) were minor commercial successes, and was greatly admired for her work in 2008's Brideshead Revisited. Yes, Emma Thompson is indeed one of the great actresses of our generation – her seeming proclivity to star in literary films somewhat typecast her early on, but she has since enjoyed a greater creative freedom thanks to casting in comedies and light family films.

Kathy Bates will forever be remembered for two things – smashing James Caan's legs with a sledgehammer and the understatement of all time as she watched the Titanic sink – "great God almighty.." Her breakout role in 1990, after two decades of bit-parts, television cameos and minor films, came with Misery, the film based on Stephen King's classic novel about a novelist held hostage by his "number one fan", the fan being Kathy Bates and the novelist being James Caan. Bates won an Oscar for her role in Misery, which led to a successful career as a character actress in some of Hollywood's biggest films. While Bates rarely headlines a film project through her career, her ability to connect with audiences in even the most minor roles has led to her being one of those faces you recognize even if you can't remember her name. A bit like William H Macy, if you ask me. Bates' next major success after Misery would be in the dramatic Fried Green Tomatoes (At the Whistlestop Cafe), which would see her nominated for a BAFTA and a Golden Globe. Bates returned to Stephen Kings world in an episode of the TV miniseries version of The Stand (watch it, it's awesome), as well as the leading role in Dolores Claiborne, in 1995. Bates would garner plenty of attention for her role in The Late Shift, in 1996, before gaining widespread commercial appeal as Molly Brown in James Cameron's monster, Titanic. She scored another Oscar nomination for her work in Primary Colors, slummed it with Adam Sandler in the horrifyingly awful The Waterboy, and appeared as Miss Hannigan in the television remake of Annie in 1999. Plenty of television work kept her busy, with roles in 3rd Rock From The Sun, MADtv, and King Of The Hill, before she nuded up for Jack Nicholson in About Schmidt, which was described most accurately by a friend of mine as being… about Schmidt. Many a minor film role, particularly as a worldy-wise female grandmotherly type, followed, in projects like Little Black Book, Rumor Has It, Failure To Launch, Fred Claus, PS I Love You, The Day The Earth Stood Still (alongside Keanu Reeves), Revolutionary Road, The Blind Side and most recently in Midnight In Paris. Animated work also came calling, with Bates providing voices in Charlotte's Webb (as did Julia Roberts), Bee Movie and The Golden Compass. Kathy Bates is a dependable name on a film roster – her ability to convey comedy, pathos and dramatic weight (no pun intended) is second to none, and we happily include her in this list for that very reason. That, and she's such a hard working lady.

Laura Linney's been around for years, although only came to prominence after appearing opposite Jim Carrey in The Truman Show. Linney's pre-Truman career is littered with supporting roles and television work – a bit part in Lorenzo's Oil, and Dave the following year, saw her break into the industry, and a string of successful films in the mid 90's – Congo, Primal Fear and Clint Eastwood's Absolute Power – brought her to the attention of Peter Weir for Truman in 1998. Oscar came calling for Ms Linney in the 2000 film You Can Count On Me, where she was nominated for an Oscar (and a whole host of other awards) for Best Actress. Linney appeared in the "scary" Motham Prophesies, The Life Of David Gale, before re-teaming with Clint Eastwood in his 2003 Oscar sweeping Mystic River, which saw her nominated for both a BAFTA and a Golden Globe. Love Actually followed Mystic River, as did Kinsey, where she appeared playing the wife of the famed sexologist Alfred Kinsey. She brought gravitas to the otherwise unwieldy The Exorcism of Emily Rose, class to The Squid & The Whale, and yet another Oscar nomination to The Savages (co-starring alongside Philip Seymour Hoffman), before dragging the otherwise execrable The Nanny Diaries up from being total shit to being only mildly annoying. 2008 saw her appear alongside Paul Giamatti in the excellent mini-series John Adams, and in 2010, she starred in (and won an Emmy for) the still-running television series The Big C. Laura Linney's career could never be described as "easy"; her choice of roles is demanding for her, both dramatic and semi-dramatic films always seem to require her to bare a part of her soul each time out, and although perhaps not the paparazzi favorite like camera hog Angelina Jolie, is easily a superior actress than the majority of her peers – as seen by her placing in this list. The name of Laura Linney in a film project brings with it a guarantee of commitment to the the role, and an honesty of performance unlike most others.

Had she been English she'd probably be a Dame by now (much like her English contemporary Helen Mirren), Mery Streep is undeniably one of our generations greatest actresses – if not one of our greatest of all time. While she's been around for ages – since 1978's The Deer Hunter – and most recently won her third Oscar, for The Iron Lady, at this years Oscars, Steeps filmography reads like a Best Of at any Oscar ceremony of the last 30 years. Following her appearance in Deer Hunter, Streep would go on to appear in Woody Allen's Manhattan, Kramer vs Kramer (for which she won her first Oscar), The French Leiutenant's Woman, Sophie's Choice (second Oscar win here), Silkwood (Oscar nominated), Out Of Africa (Oscar nominated again), Ironweed (Oscar nominated again again), A Cry In The Dark (Oscar nominated… oh, the hell with it – just assume she's been nominated for Oscar a whole bunch more times), Postcards From The Edge, The Bridges Of Madison Country, One True Thing, Music Of The Heart, Adaptation, The Hours, and the recent remake of The Manchurian Candidate. Streep hit the cultural mainstream for her turn as the icy Miranda Priestly alongside Anne Hathaway in The Devil Wears Prada, and took her first step to Moulin Rouge-ify her career with the ABBA influenced Mamma Mia!. Her last four films alone have won her, or seen her nominated for, more awards than possibly even exist in the world, with Doubt (alongside Philip Seymour Hoffman), Julie & Julia (alongside Devil co-star Stanley Tucci), It's Complicated and The Iron Lady (the latter of which saw her receive her third Oscar for Best Actress) ensuring that her career will be regarded as one of Hollywood's finest of all time once all is said and done. Of all the talent on this list, I doubt anyone could argue with the position of our number one entry – to try would invite scorn and ridicule. Meryl Streep is rightly regarded as the greatest actresses of her – of any – generation, particularly in the Modern Age.
Think we got it wrong? Wondering where Angelina Jolie is in this list? Got a different opinion? Of course you have, and we care about that. So drop us a line in the comments below and let us know where we went wrong – and where we went right!
Who wrote this?