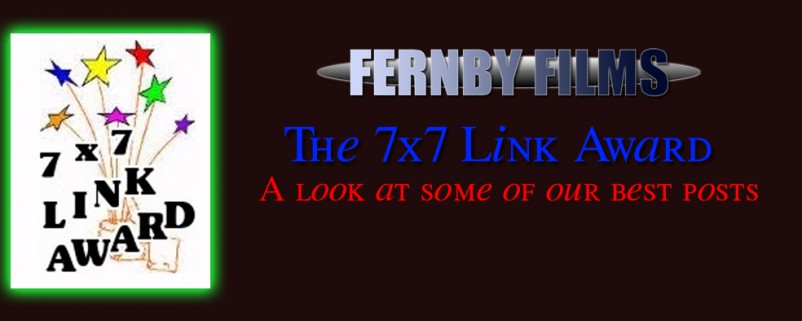 So I get this comment from Dan over at Top 10 Films, a regular visitor to this site (for all those who regularly visit, Dan's currently leading the commenters leaderboard for 2012!) about another meme getting about – the 7×7 Link Award. I'm not sure why it's classed as an "award", but the aim is to provide readers with some internal monologuing from the webmaster – yours truly. So, here's my effort at the latest meme getting about.
The Rules:
1: Tell everyone something about yourself that nobody else knows.
2: Link to a post I think fits the following categories: The Most Beautiful Piece, Most Helpful Piece, Most Popular Piece, Most Controversial Piece, Most Surprisingly Successful Piece, Most Underrated Piece, Most Pride-worthy Piece.
3: Pass this on to 7 fellow bloggers.
Sounds simple, doesn't it? Here goes!
1: Something about me that nobody else knows
As Dan mentioned in his own 7×7 Link Award post, this is a hard one. I'll come back to it in a moment, after I've had a think.
2. My Posts
Most Beautiful Piece
Every time I read my review of Mary & Max, my heart breaks a little. This wonderfully sad, symbolic, melancholy film is filled with joy, and I always look at this review when I need a little kick in the pants to overcome writers block.
Most Helpful Piece
Undoubtedly one of our most important posts, one we designed as a go-to guide for budding film and home cinema enthusiasts, is our Widescreen: Can I Get A Cream To Make It Go Away? series, a four part guide to cinema, home cinema, and getting the most out of all things film. While the entire four parts were definitely worthwhile, it's still Part 1 which remains the most looked at, and so it comes in as our most "helpful" article thus far.
Most Popular Piece
Brutality vs Beauty. Doubling as our most controversial post ever, my 2008 article on the Art Of War On Film, which looked at Saving Private Ryan and The Thin Red Line, remains the most commented, and easily one of the most looked at posts on the entire site. Controversial, engaging, although upon reflection not my best literary work, Brutality vs Beauty remains the defining Fernby Films post.
Most Controversial Piece
Aside from Brutality vs Beauty, another of our top rating posts that drew a fair amount of controversy – our list of the ten Greatest Film Lines Of The Modern Age. Published this year, this post yeilded a number of readers who vehemently disagreed with some/many/most of our choices.
Most Surprisingly Successful Piece
Another hugely popular post, a review by former writer Doug Shearer from 2008, which appeared in one of our Worst Film Weeks (which in itself is always a popular event) on the Danny Boyle sci-fi flick Sunshine, has brought with it controversy and cat-calling from the bleachers. The film itself ranks as one of the worst I've seen, and Doug gave it an even more vitriolic serve in his own, massively popular critique of it. The number of folks dropping by to agree or disagree definitely caught me by surprise.
Most Underrated Piece
All Kinds Of Awesome. One of my favorite posts, a massive analysis of the films of Michael Bay back in 2009, wasn't as successful as it should have been, even though it still rakes in plenty of views on Google. Not as many comments, however. Maybe people see it as a confirmation of their own thoughts!
Most Pride-Worthy Piece
It's Okay To Release Song of The South. My article lamenting Disney's failure to release it's overtly racist Song Of The South. I think it's one of my best written arguments on the matter.
***
Going back to what I'd reveal about myself that hitherto has remained unknown – at least to the Blogging community at large: my old flat in western Adelaide was used as a set and location for the AFI Best Picture-winning Aussie film, Look Both Ways. It's not something I promote heavily, but for anybody looking to watch a sweet little film about love, loss and depression, Look Both Ways is the one. My flat played the "home" of Anthony Hayes' character, Andy.
3. Now, to pass this little meme on to others.
Al K Hall over at The Bar None – This dude's a gem of a writer, funny and sharp-witted. Completely politically un-correct, The Bar None is one of my favorite haunts around the blogosphere.
Will over at Silver Emulsion – Writes about complete trash and Z-grade cinema slop most of the time, but is as funny as a whip. Definitely a site worth checking out!
Matt over at A Life Going To The Movies – Matt's new at blogging about film, but incredibly enthusiastic. Give him a shout out to let him know you're reading his work!
Rory at Above The Line – If Al K Hall is the blogosphere's resident drunken comedian of film reviews, then Rory is the Martin Scorsese of us all. A stunning wordsmith, Rory's been one of the main influences of my own writing at times, and has set the bar incredibly high with thoughtful, incisive reviews of films you may not have thought to see.
Colin over at NeverMindPopFilm – covering everything film, including posters, news and review, Colin's got a way with funny that always makes me chuckle.
Scott at Front Room Cinema – Covers even more news and reviews, including tech stuff, than Colin, Scott's prolific presence across the blogging world is immense. He pops up everywhere!
Jessica at The Velvet Cafe hails from Sweden, and rather than writing specific reviews, writes about cinema and film in general. Her insight and refreshingly honest opinions are well worth reading!