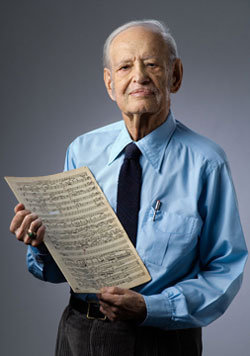 Accomplished film and television score composer Fred Steiner has passed away.
Steiner wrote a large amount of music for the original Star Trek television series, composed the theme to Perry Mason and The Bullwinkle Show, and arranged scores for episodes of Lost In Space, The Twilight Zone, Amazing Stories, Gunsmoke, Hawaii Five-O, Rawhide, The Untouchables, Tiny Toon Adventures, Dynasty and Hotel.
His feature film scores include Run For The Sun and The St Valentine's Day Massacre, and he was nominated for an Oscar for his work with Quincy Jones (among others) on Steven Spielberg's The Color Purple. He also performed orchestration work on other film scores (often uncredited), including Star Trek: The Motion Picture and The Greatest Story Ever Told.
Mr Steiner passed away on June 23rd. He was 88.