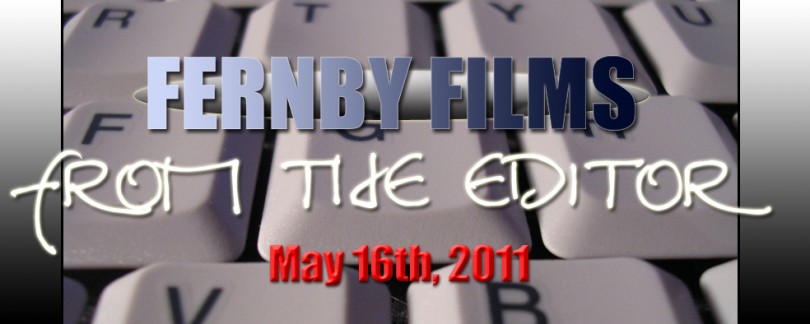 We hope you all enjoyed last week's Matrix-themed event, at least as much as we enjoyed bringing it to you. I tell you, we're so glad to get the Matrix reviews out of the way finally, after promising to deliver them back in 2008. Yeah, we're a bit slow. I want to take this moment to officially thank our contributors over the last week, Dan, Al and Camielle, who assisted with some words of their own about the franchise. It was much appreciated, and I thank you all very much.
Now that the hurley burley of Neo, Trinity and Agent Smith has passed us by, I thought it'd be a good opportunity to give you a heads up on what's happening in the coming months around the site. Since January, we've tried to keep the site's main focus on film reviews and cinematic opinion, and we hope you're enjoying our stuff. Our reader numbers are up, although we're a little disappointed that new commenters aren't flocking to the site (the regulars are still regular, and we thanks them for sticking around) in the numbers we'd hoped. Still, as long as the viewing numbers keep climbing, it'll only be a matter of time.
To let you know about some of the films we'll be reviewing over the next few months (we plan our material about 2 months in advance – this post was written back in April!), we've got some great stuff on the way. Tomorrow, we give you our opinion on the recent Marvel release, Thor (starring local Aussie-lad-made-good Chris Hemsworth), and in the coming weeks we check out some horror films, some dramatic films, and some action films. In June, we're pleased to announce reviews of Mel Gibson's Edge Of Darkness, Zac Efron's tear-jerker Charlie St Cloud, as well as (finally) Percy Jackson & The Lightning Thief and Where The Wild Things Are, among others. July's roster is also looking good, with the Clint Eastwood companion film to Flags Of Our Fathers, Sands Of Iwo Jima, as a major highlight. In July, we have a little bit of Shrek action for you, as well as some words that George Lucas really needs to hear.
Our next major event here at fernbyfilms.com is going to be our traditional September exercise, the Worst Film Week – and boy do we have some doozies lined up for you then. We're already scouting for more worst film posters, and we've got a few selections for dreadful films already lined up to review. Look for more news on that in the months to come. Also coming up this year, we've got something special lined up for the video-geeks amongst you: we're currently working on some video reviews to upload. Yes, that's right. Me, in front of a camera again, giving my verbal reviews on some of the films we see, as well as my opinion on all things cinema. It's not entirely set in concrete yet, but we're working on it. Look for that in Q4 as well.
As always, we welcome your comments and thoughts on all our stuff, so don't be afraid to drop by and give us your impressions of both what we do, and what we review. Enjoy!
Rodney T – EIC, fernbyfilms.com