The Top 10 Traditionally Animated Films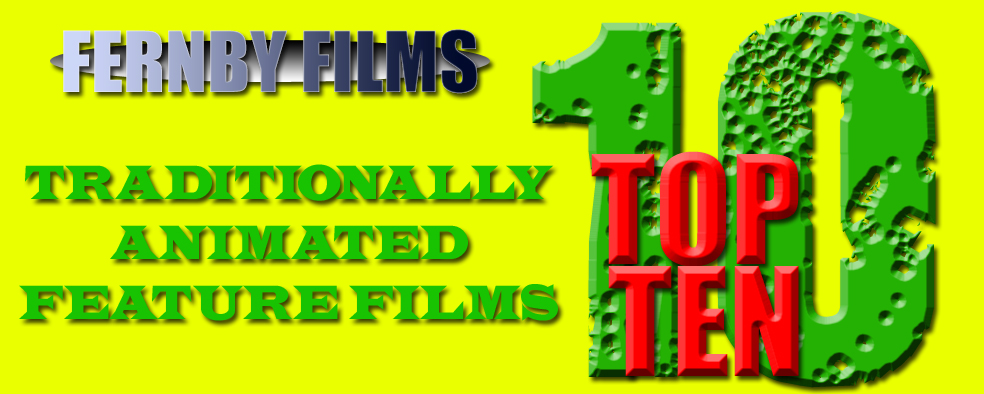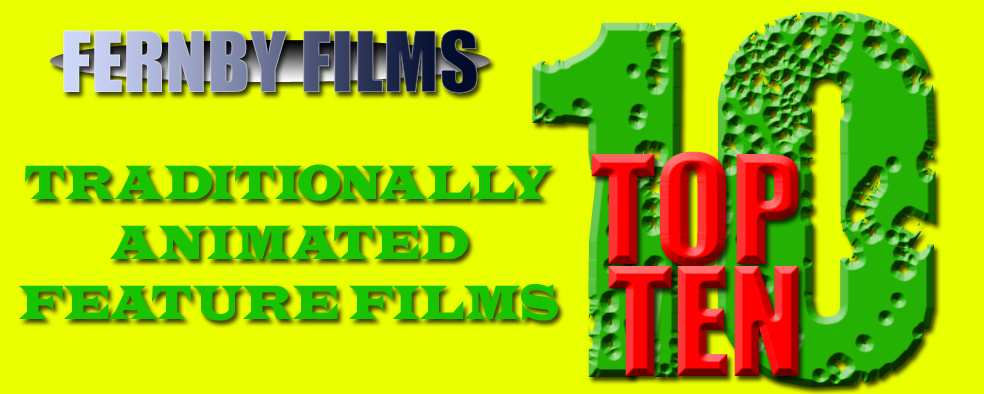 A while back we published our list of the Top 10 CGI Animated films, and I did mention that at some stage I'd have to do a list of the top ten traditionally animated films – films drawn by hand and not made in a computer. Well, here's that list!
Animated films, in one form or another, have been around practically since the dawn of cinema itself. Early cartoon shorts produced by Walt Disney during the early part of the 20th century became a staple of cinema life, although it was felt by many that a feature length version of the artform would fail spectacularly – who'd want to go watch a bunch of animated rabbits chasing carrots for an hour and a half? If history has shown us anything, it's that "they" were spectacularly wrong. Disney, brave enough to have a crack at inventing one of cinema's most enduring genres, gave us the first feature length animated film based on the fairy story Snow White & The Seven Dwarfs, and it was an instant hit. Ever since, the worlds fascination with animation, particularly in the feature format, has been insatiable. Mention the word "animation" to anybody and they'll think of either Disney or Bugs Bunny – two iconic juggernauts of the animated landscape who single-handedly dragged animation from being a simplistic kiddies entertainment to a form of cinema with plenty to say to all ages.
While we realize that many of our choices will undoubtedly be controversial, the films below represent the best quality animation across the ages and industries – we've tried to keep this list from being a complete rundown of the Disney canon (although there are a few Disney films in here!) and in doing so, uncovered a few gems you may have forgotten about. Enjoy!


Although he would go on to create debacles of animation such as Titan AE, Don Bluth set the bar high with his first directorial effort in The Secret of NIMH. Dark, frightening and exciting, NIMH is one of the first animated film I remember watching, and scared the crap out of me then – now, not so much, but its gorgeous art and special effects (backlighting, shadow detail and vibrant use of color) still hold up to this day. One of the very best films for all ages, and a lost classic amongst the animated fare of today.


One of Disney's renaissance films, the immediate precursor to The Lion King, has everything a film fan could want in a movie: adventure, danger, romance and a few good songs. Square-jawed Aladdin meets doe-eyed Jasmine, an Arabian princess with curfew issues, and together must thwart the dastardly plans of the Grand Vizier Jafar – albeit aided by a monkey, a magic carpet, and a rapid-fire Genie voiced by Robin Williams. Terrific entertainment for all ages, Aladdin still stands the test of time as a genuine classic.


The only animated film to ever make me cry, The Iron Giant came out of nowhere back in 1999 and even now remains a classic of the genre. A young boy befriends a massive giant robot during the height of the Red Scare in small-town USA, and learns valuable life lessons along the way. Great characterization and a terrific vocal performance from the entire cast (as well as an unrecognizable Vin Diesel as the eponymous giant robot), plus an ending that will wrench your heart out, make The Iron Giant a giant of an animated film. Director Brad Bird would go on to helm Pixar's The Incredibles, as well as Ratatouille.

If there was ever an example of moving art, Pinocchio is it. Every frame of this film could hang quite comfortably in the Louvre and not look out of place, such is the care and quality of the animation in Pinocchio. Featuring a still-stunning battle with the great Whale, and some superb atmospheric scenery throughout – the much parodied tale of the Little Wooden Boy remains a shining example of just how gorgeous well rendered artwork can look. Breathtaking in almost every sense.


Iconic, if altogether indecipherable, Manga film stands tall as a classic of the genre, a pop-culture phenom which remains a touchstone example of brave, exploratory storytelling. Featuring some truly brain bending animation, Akira remains a defining film for a generation.


Of all the films I've seen about Tarzan, Disney's effort from 1999 would have to be the most exuberant and all-round entertaining. The animation is stunning, the score by Mark Mancina and songs by Phil Collins will make your spririt soar, and the story dispenses with the boring bits of Edgar Rice Burroughs' original version – Disney opts for an action packed, adventurous thrill ride that has touches of emotion and warmth, enough to satisfy both the boys and the girls watching it.


The second Japanese animated film to make it into the Top Ten, Castle Of Cagliostro was directed by animation legend Hayao Miyazaki, and released in 1979. Actually the second in a series of films about master thief Lupin III, Cagliostro is an action packed adventure film of the highest order. While many animated films still reveled in the kitschy family friendly fare Disney was producing, Cagliostro represents a more adult oriented film for the discerning viewer. A truly amazing piece of filmed animation.


A giant of the animation world, Beauty & The Beast represents the zenith of the Disney renaissance of the last part of the 20th century. Until the release of Pixar's UP, this film was the only animated movie to be nominated for a Best Picture Oscar (it lost to Silence of The Lambs), the story of Belle and the hairy Beast remains a favorite of both Disney aficionados, film fans and children alike – the soundtrack has so many hummable tunes it's scary, and the gorgeous artwork is a sight to behold.


The personification of the Disney-fication of animation, whereby a series of anthropomorphic animals have a variety of adventures in the forest – with the omnipresent danger of nature and human hunters, young Bambi is born. Bambi's lyrical quality, mixed with the stunning animation style the studio had become famous for, as well as a gripping climax involving a wildfire – this remains one of the most completely involving animation examples ever filmed.


King by name, king by nature: one of the most successful traditionally animated films in history is just that for a reason, folks. Featuring a set of great songs by Tim Rice & Elton John, a fantastic score by maestro Hans Zimmer, and with a superb voice cast and a genuinely moving story, The Lion King still roars the loudest of all. The opening number remains perhaps the most astonishing piece of animation set to music ever devised. Ever.

Who wrote this?