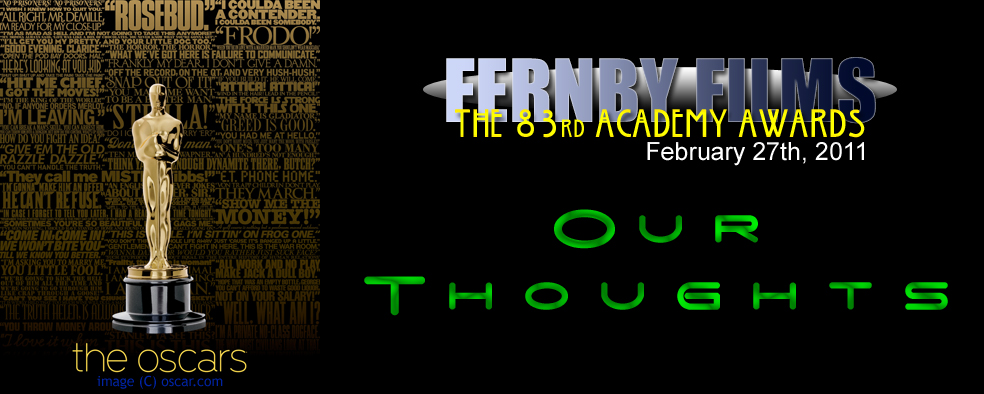 Well, it didn't seem to go too well, did it? As I sat and watched the half-assed comedy that was James Franco and Anne Hathaway hosting the film industry's night of nights, I had to ask myself where I thought it all went wrong. The idea, in principle, was sound: get a couple of young, attractive stars to spice up the Oscars and make it more appealing to the younger crowd – after all, who even remembers Jack Nicholson anyway? The result, though, filtered through the frankly banal banter of Franco and Hathaway, was – and I put this delicately, lest I one day seek to be invited to the Oscars myself – abysmal. For some reason, the chemistry between Franco and Hathaway evaporated as soon as they went "live" with the show. The pre-recorded material had a bit of zing to it, but the actual ceremony wilted under the glare of a mega-watt audience and the blinking red light above the camera beaming them to audiences around the globe. I'll admit, Hathaway earned a lot of praise from me for her effort, singing and laughing and smiling her way through the show, while Franco tried to smolder the audience into adoration-obsessed submission, but it just didn't work. They came off as too fake, too rehearsed. Hathaway only barely scraped out of being described as "bimbo-esque" and Franco channeled the sullen disposition of James Dean, almost scowling his way through the show.
Hosting aside, the ceremony also managed to induce a coma in anybody expecting something exciting to happen. Hell, even the winners didn't jump around and collapse in a frenzy like previous recipients: where was Halle Berry's tearful sob-speech, where was that Italian dude climbing over seats to get to the stage in his excitement, where was frickin' Adrien Brody kissing some gorgeous star on the lips as he accepts his award, where was Gwenyth Paltrow thanking everyone on Earth including her dogs? Where? Nowhere. Like a slo-motion production trotting out vacuous platitudes, the Oscars kept getting slower and slower. Bit parts to fan-favorite Billy Crystal (and Bob Hope in a cameo), as well as an obviously ancient Kirk Douglas (really, they gave the old guy precious seconds on a major TV broadcast and he can't even talk properly?) only served to highlight the gulf between the elder statesmen of the industry and the newcomers, most of whom were overlooked for any mantelpiece adornments this year. There was no real upset, no real energy to the show (although when Best Supporting Actress Melissa Leo dropped the F-Bomb on stage it brought the crowd temporarily to semi-shocked life) and definitely no spark. The comedy was dull, Helen Mirren looked uncomfortable standing even in the same room as fellow Brit (and current Mr Katy Perry) Russell Brand, and even Hathaway's cripplingly dire song lamenting Hugh Jackman not singing with her all but killed the show. Again, not through lack of trying, because it was easy to see that Franco and Hathaway were trying, but the energy of the show remained bafflingly absent. You'd think in a room full of mega-stars, somebody'd be able to come up with some real comedy.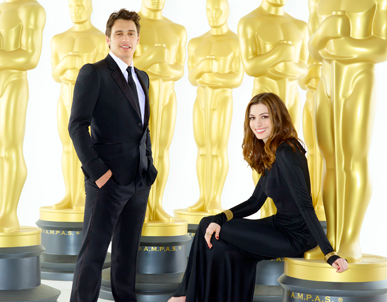 Even worse, the results of the awards were pretty much what everyone expected. Yawn. Well, yawn for us, not those who got them.As expected, The King's Speech took home the big prize, Firth won his Oscar (probably as close to a career-Oscar as we got this year) and The Social Network and Inception lost out on the big ones geeks around the world had hoped they'd get.
On the positive side, and yes, there were a few minor moments of Academy awesomeness, the segment involving a mash-up vocaliser-version of dialogue from key youth-oriented films (Social Network, Twilight: Eclipse, Harry Potter) failed to ignite the mainly older Oscar audience in the Kodak Theatre, but they certainly drew a few sniggers from me. Last years Best Actress Sandra Bullock had a few shitz-n-giggles at the expense of the Best Actor nominees (she had the best line of the night – calling Jeff Bridges "Dude", a tip of the hat to his character in The Big Lebowski), and she really did lighten up proceedings for the few moments she had to shine. The co-presenter banter was kept to a blessed minimum this time out, although whatever Justin Timberlake was on certainly shouldn't be sold over the counter. A few of the winners rambled on a lot, and I've made previous comment on what I think of that and how it can be overcome, but overall the ceremony went off without a hitch. It's just that it was so boring – at least with MTV you have the chance to get slimed; with the Academy you have the chance to get bored.
I hate to say it -and remain in line with a fair majority of critics around the web today – but Ricky Gervais might have pissed people off at the Golden Globes, but at least he got people interested in them. Maybe the Oscars need some controversy to remain relevant in this Facebook/Twitter age of sound bites and two minute news cycles. Otherwise we go back to Billy Crystal – no offense Billy, but he's been-there-done-that and they can't keep going back to that well. Less of the scripted farce and more spontaneity.