83rd Academy Awards – The Nominations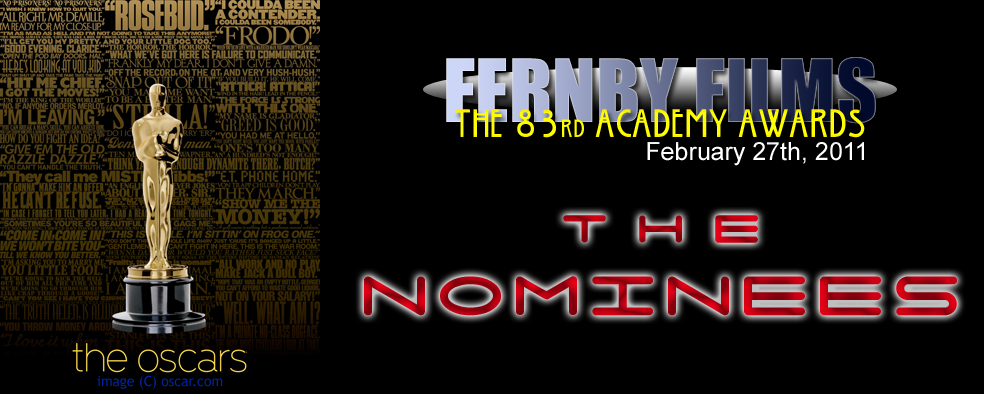 Morning folks! Well, it's Australia Day here Down Under, and the news coming out of Hollywood once more affirms my belief that we have some of the worlds best actors: a bunch of Aussies are up for an Oscar this year, including first time nominee Jackie Weaver, for her astonishingly good portrayal of Janine Cody in local flick Animal Kingdom. Geoofrey Rush is once more in the running, for his Best Supporting Actor nod for The King's Speech, alongside everyone's favourite Brit, Colin Firth, who's up for Best Actor for the same film. Perennial awards attendee Nicole Kidman is up for a Best Actress gong for her searing showing in Rabbit Hole. To me, the big surprise is the lack of inclusion of Inception director Christopher Nolan for Best Director, while the film he made is included in the expanded 10-Nominee list for best feature.
I've stolen the complete list of nominees from Wikipedia, and you can check it out below! I'm going to scour the list and give you my hot tips in a week or so.
Nominations
Best Picture
Best Director
Best Actor
Best Actress
Best Supporting Actor
Best Supporting Actress
Best Original Screenplay
Best Adapted Screenplay
Best Animated Feature
Best Foreign Language Film
Best Documentary Feature
Best Documentary Short

Killing in the Name – Jed Rothstein
Poster Girl – Sara Nesson
Strangers No More – Karen Goodman and Kirk Simon
Sun Come Up – Jennifer Redfearn and Tim Metzger

Best Live Action Short
Best Animated Short

The Confession – Tanel Toom
The Crush – Michael Creagh
God of Love – Luke Matheny
Na Wewe – Ivan Goldschmidt
Wish 143 – Ian Barnes

The Gruffalo – Max Lang and Jakob Schuh
The Lost Thing – Andrew Ruhemann and Shaun Tan
Madagascar, a Journey Diary – Bastien Dubois

Best Original Score
Best Original Song
Best Sound Editing
Best Sound Mixing
Best Art Direction
Best Cinematography
Best Makeup
Best Costume Design
Best Film Editing
Best Visual Effects

Alice in Wonderland – Ken Ralston, David Schaub, Carey Villegas and Sean Phillips
Harry Potter and the Deathly Hallows Part 1 – Tim Burke, John Richardson, Christian Manz and Nicolas Aithadi
Hereafter – Michael Owens, Bryan Grill, Stephan Trojanski and Joe Farrell
Inception – Paul Franklin, Chris Corbould, Andrew Lockley and Peter Bebb
Iron Man 2 – Janek Sirrs, Ben Snow, Ged Wright and Daniel Sudick