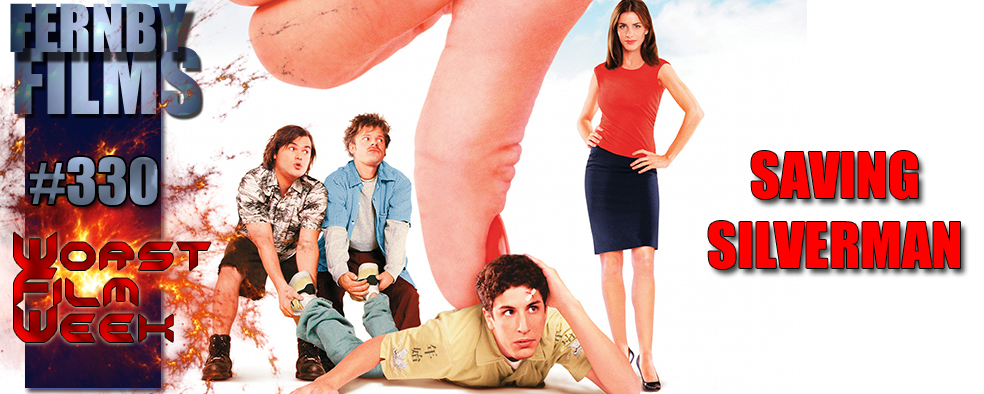 – Summary –
Director :  Dennis Dugan
Year Of Release :  2001
Principal Cast :  Jason Biggs, Steve Sahn, Jack Black, Amanda Peet, Amanda Detmer, R Lee Ermey, Neil Diamond, Kyle Gass.
Approx Running Time :  90 Minutes
Synopsis:  A pair of buddies conspire to save their best friend from marrying the wrong woman.
What we think : Dull, horrid comedy purporting to be funny, isn't.

**********************
A few months ago we put the word out among our friendly blog staffers and asked if they'd like to contribute to our Worst Film Week… er, celebration. Dan Stephens over at British site Top 10 Films agreed, and sent us this diatribe on the excruciating film Saving Silverman. From an editorial and cinematic point of view, I can only but agree with everything he says here. Our thanks to Dan for his contribution. I've put a link to Dan's site at the bottom of the post, and you can also find his link in the sidebar to the right.
So, without further ado, fernbyfilms.com presents Dan's verdict on Saving Silverman: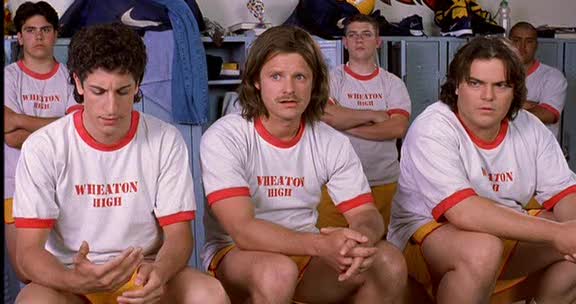 Looking at directorDennis Dugan's career I'm reminded of a ski slope and how one end starts out high and then there is a sharp, steep fall to the bottom. He should be remembered for the wonderful Happy Gilmore, or the outrageous Chris Farley ninja-a-thon Beverly Hills Ninja, but unfortunately he's more likely to be remembered for the mediocre Big Daddy, or perhaps this – Saving Silverman – his worst film and one of the most horrid cinema experiences of my life. Some films are enjoyable because they're so bad, they're good – Saving Silverman is so bad, it's just plain bad. There's so much wrong with the film it's not surprising a name change and promotional u-turn came about in the UK. From the idea of two best friends saving their other best friend from marrying the wrong woman, with Jack Black and Steve Zahn dishing out off-the-wall antics, to a U.K. promotional stint where the woman in question is suddenly overtly evil, you begin to see that the film – from concept to execution – is a total muddled mess.
For what it is worth, the story goes something like this: Darren Silverman (Jason Biggs) is having some trouble finding the right woman but when beautiful Judith walks into his life, things seem to be turning around for him. He meets her in bar, and only gets to talk to her after a street magician tries to hit on Judith using so-called magic metal rings, so she drags the closest guy near her and pretends that he is her boyfriend in order to get rid of the magician. That guy happens to be Darren. All seems well, but best friends Wayne Lefessier (Steve Zahn) and J.D McNugent (Jack Black) notice that they're spending less time with Darren and believe that Judith is a bad influence on him. When Darren's ex-love comes into town, his two best friends sense an opportunity to set them up together and get Judith out the picture, but they have to be quick because his long-lost love will soon become a nun. Problem is, Judith isn't willing to let Darren go, so Wayne and J.D kidnap her so she can't spoil their plans.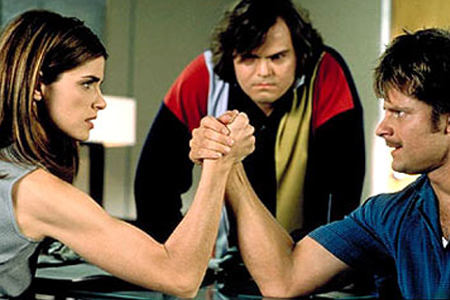 The plot may sound stupid but I didn't expect anything less. With a film such as this, a coherent story isn't a major factor, in fact, the stupider the better! What I do want from a film like this is likeable, sympathetic characters (at least one!) and consistent, funny comedy. What we get is neither.
A script written by a couple of writers who only previously collaborated on a comedy about two idiots called Killer Bud, you know you're in for a struggle. I'll certainly be looking out for other films written by Greg DePaul and Hank Nelken, and staying the hell away. I've seen many comedies, some that work, some that don't, where being stupid is where the classic gags of funny-dom are to be found. The stupider the better, but never be totally dumb without an ounce of sympathy because the audience will just see you as moronic idiots and lose interest. A couple of examples at both ends of the spectrum would be the Farrelly's Dumb and Dumber, which is probably the benchmark film in 'stupid is, stupid does', while Norm Macdonald's attempt to break away from Saturday Night Live with the film Screwed is the polar opposite. In Saving Silverman we get Darren who probably can't tie his shoelaces, Wayne who probably can but puts them on the wrong feet and J.D who wears his chicken football mascot suit to work on casual Friday. Actually, that last one is one of the film's better jokes. The problem is, none of them have any real depth so we can't connect with them. We don't care whether Darren is happy or not with Judith, which makes his friends' attempts at splitting them up redundant. An attempt is made to show why Judith isn't right for Darren with her over-powering, controlling nature towards him, but no good reason is given for this and we feel more sorry for her than for the man on the receiving end.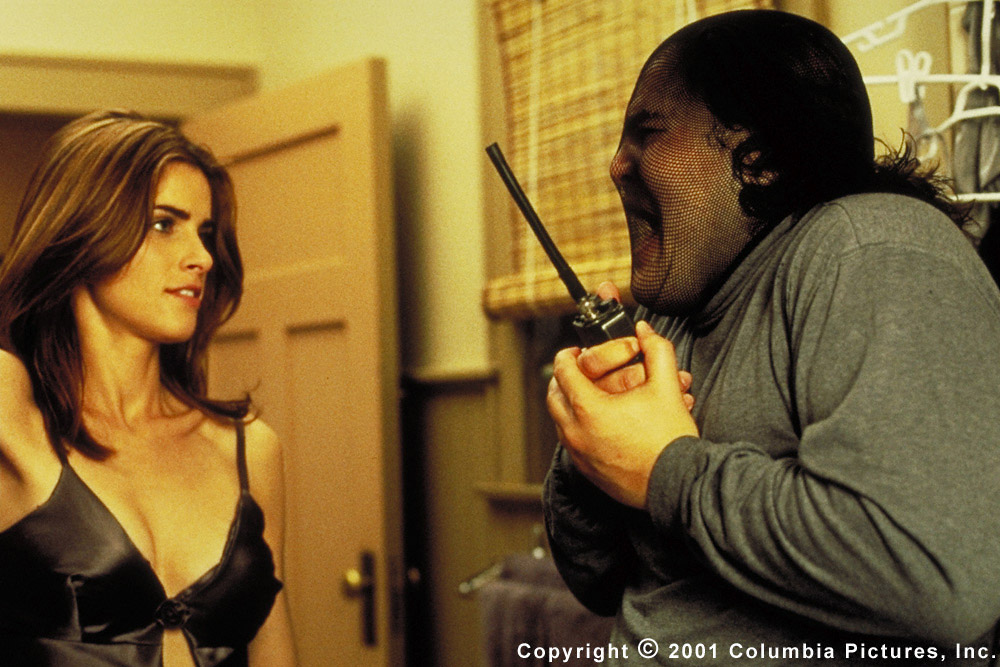 Director Dugan really doesn't have much to work with but it seems that he has made no attempt to rectify or at least gloss over the fact that there are no human beings in this story, just cardboard cut-outs. His clunky direction leaves the actors hanging with poor dialogue, and there is a distinct lack of chemistry between the characters. It is quite obvious that the actors have the same reservations about the script as I have now, but unfortunately for them, Dugan can't sort them out.
The best thing about the movie is Jack Black but even he can't save it from disappearing into a dark endlessly emotionless void. With such young talent as Amanda Peet and Jason Biggs, it is surprising to see such bored, bland performances. The usually superb Steve Zahn is left with nothing to work with, and neither his ability to time a good line or physical humour makes much of an appearance here.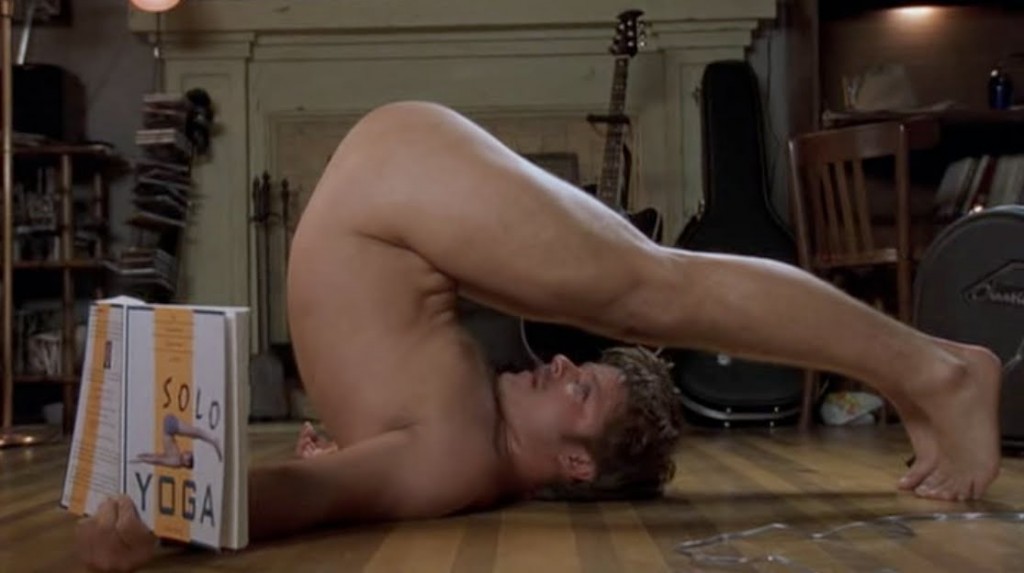 Mind-numbingly awful sums up my feelings about this film concisely enough. It isn't funny, and it isn't in the least bit entertaining. It's one of those films where you want to turn it off after about twenty minutes but you keep watching in the hope it gets better. Well don't bother, it doesn't get better, it only gets worse.
Related articles