Screen Actors Guild Awards Update: Heath Ledger honoured for his Joker portrayal.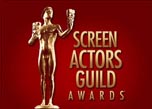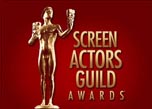 Well, he's got another one. Heath Ledger has won the prestigious Screen Actors Guild award for Best Actor In a Supporting Role for his work as The Joker in The Dark Knight. Co-star Gary Oldman received the award on Ledgers behalf. This follows up from his win at the Golden Globes for the same role, and must now surely be firm favourite to win the Oscar for the role as well.
Here at fernbyfilms.com, we are fully behind the movement to get Heath his posthumous Oscar, which will be only the second in history, after Peter Finch (another Australian) won for his role as an unhinged newsreader in Network (1976), after passing away before the Oscars were held. As the countdown to the Oscars gets heated up, we can only speculate as to which way the Academy members will eventually vote!
In any case, Heath's fellow co-stars and peers seem to think he's good enough. Maybe that's saying something, eh, Academy?
Who wrote this?