Screen Actors Guild Awards Update: The Winners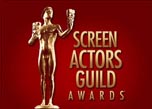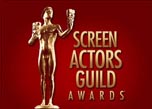 Hi all,
Our final update for the day, in which we bring you the winners from last nights SAG Awards ceremony, held in Hollywood. The SAG Awards, as well as the Golden Globes, are a pretty decent lead in to February's Oscar show, and we get a chance to see how sentiment and emotion is swinging the votes for our favourite actors and directors. Here's a short list of the winners of the major categories.
Best Cast (ie, Best Film): Slumdog Millionaire.
Best Male Actor (Film): Sean Penn, for Milk.
Best Actress (Film): Meryl Streep, for Doubt.
Best Actor in Supporting Role (Film): Heath Ledger, for The Dark Knight
Best Actress in Supporting Role (Film): Kate Winslet, for The Reader.
And so say all of us. Why they decided to use the term Best Cast in place of Best Film is beyond me: it's almost like they went a little too politically correct. Slumdog Millionaire has now firmed as favourite to take home the Oscar next month. I, for one, hope it does.
Who wrote this?