Movie Review – All About Eve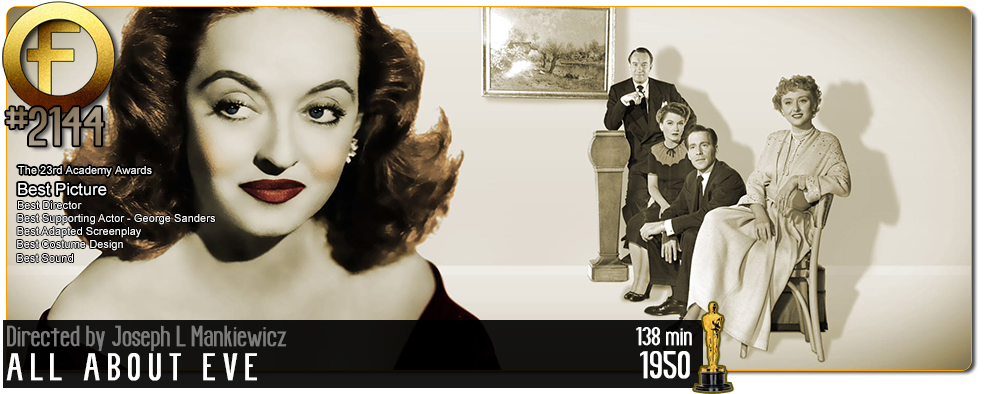 Principal Cast : Bette Davis, Anne Baxter, George Sanders, Celeste Holm, Gary Merrill, Hugh Marlowe, Thelma Ritter, Gregory Ratoff, Marilyn Monroe, Barbara Bates, Walter Hampden, Randy Stuart.
Synopsis: A seemingly timid but secretly ruthless ingénue insinuates herself into the lives of an aging Broadway star and her circle of theatre friends.
********
Despite a sparkling cast, absurdly great screenwriting and generally solid direction, I found All About Eve, one of the legendary Joseph L Mankiewicz's all-time runs of hits and arguably the most iconic of all Bette Davis' leading lady performances, to be quite the formidable film to appreciate. Perhaps it's a product too much of its time, with some incredulously implausible plot beats that ask a lot of a modern audience to imbibe, and the very premise is a touch too "stage play" for my liking; and yet, there's no denying the sheer performative power of the film's stellar cast, and the director's scintillating turn of dialogue, make for fantastic cinema.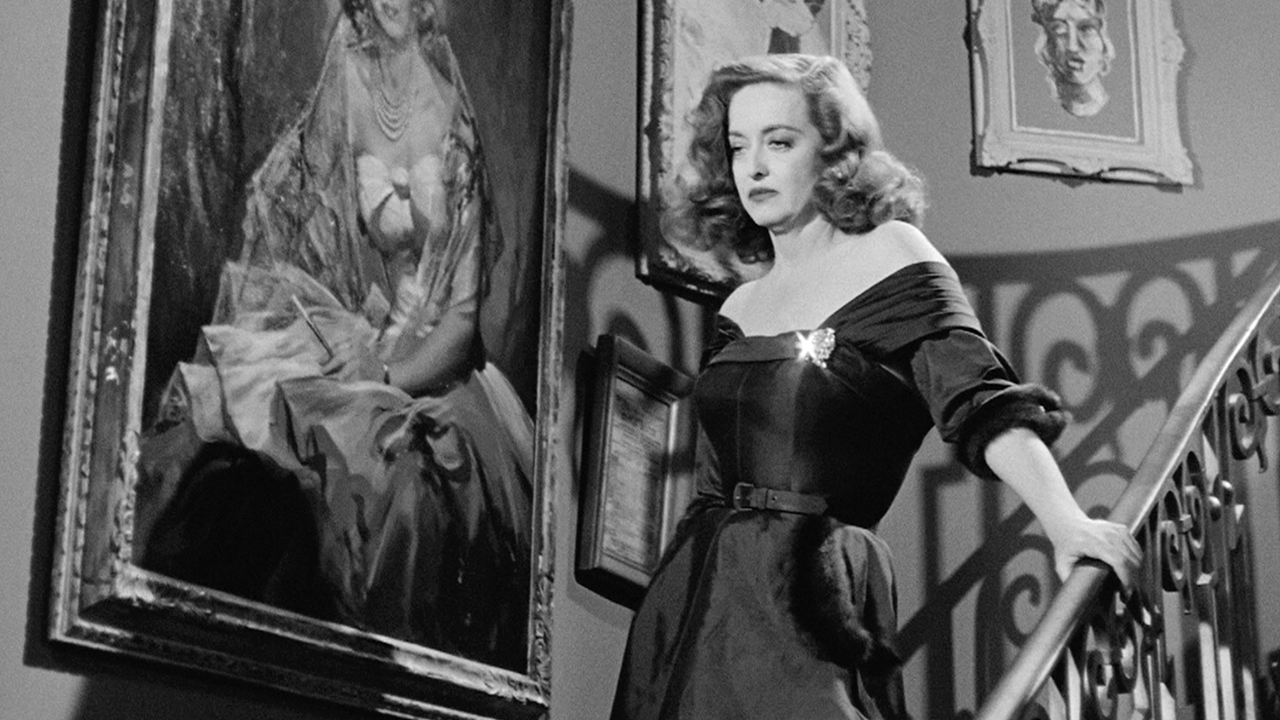 Based on a mid-40's short story by Mary Orr, which itself was reputedly based on an anecdotal tale told by stage actress Elizabeth Bergner, All About Eve sees Bette Davis playing famous actress Margo Channing, who spends her days performing in productions scribed by best friend and playwright Lloyd Richards (Hugh Marlowe), and socialising with her boyfriend Bill Sampson (Gary Merrill) and Lloyd's wife Karen (Celeste Holm), while Margo's maid Birdie (Thelma Ritter) fusses and expertly dissects the actresses' foibles. When young fan Eve Harrington (Anne Baxter) gets a chance to meet Margo, having lingered outside the stage door for months. Margo, sensing the young woman needs her maternal help, takes Even under her wing as a personal assistant, and throughout the film Eve begins to undermine Margo's career with solicitations of her own to both Lloyd, then Karen, and eventually diffident theatre critic Addison DeWitt (George Sanders), although the latter seems to recognise the unscrupulous Eve's real motivations.
While I might not have appreciated the overall film's central plot, I can certainly agree that the writing, direction and performances of the story are definitely worth the status afforded this Best Picture winner. Mank's superb monologue-driven film bristles with wit and acerbic subtext, notably through the depiction of all manner of stage performer types – the ego-driven ageing star soon to lose out to younger ingenues, the sweaty and driven writer, the young and bubbly starlet (played by a gorgeous Marilyn Monroe in an early film appearance) and even the malignant, all-powerful critic who so obviously despises the very artform he pretends to appreciate – and when the top-tier cast get the opportunity to showcase their abilities the film absolutely hits all the right notes. The grist in the mill is the ease with which Anne Baxter's seemingly innocent Eve ingratiates herself into Margo's life and it's this point that sticks in my mind as an insurmountable ask the film asks of me. Which is weird, because the film's central conceit is one that actually happened to somebody in real life, so by all rights it should feel quite prescient. Unfortunately, I didn't buy it.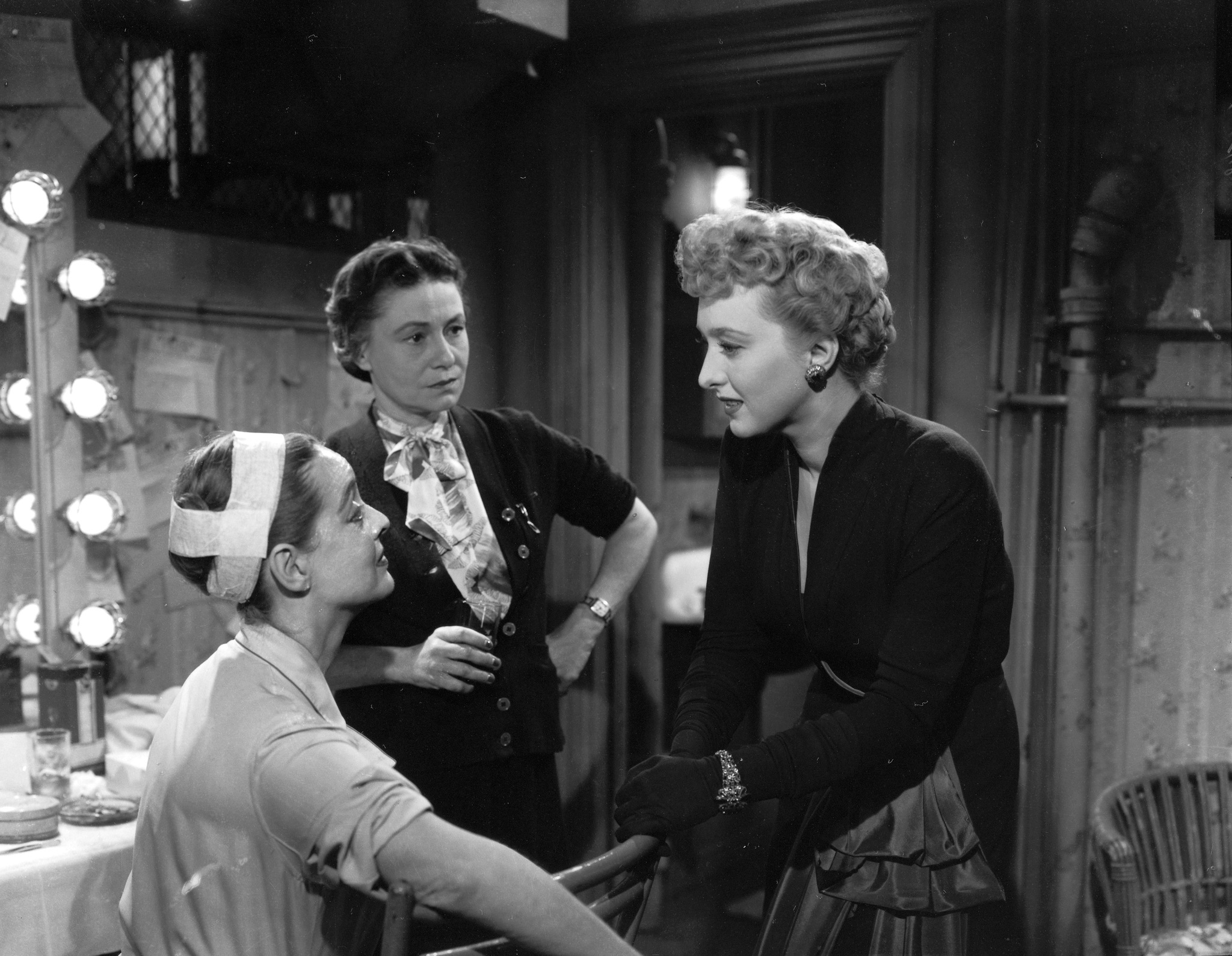 That said, All About Eve is definitely worth a look simply for the acting. The film is notable for being the only one (to-date) to have all for main female roles nominated for an Oscar – Baxter and Davis for Leading Actress, and Holm and Ritter for Supporting Actress – with George Sanders also nominated in the Supporting Actor category, and they all deserve it. Bette Davis, who utters the film's immortal line "fasten your seatbelts, it's going to be a bumpy night" and forever cemented herself into cinema history, is towering as Margo, a somewhat embittered and insecure actress staring down the barrel of ageing out of many terrific parts. Davis' work is inestimably wonderful, easily some of Mankiewicz' best writing and the actress really inhabits the part to the point you don't know where she ends and Margo begins. To her credit, Anne Baxter refuses to let Davis' screen power smother her own performance work. The actress won an Oscar a few years earlier for her work in The Razor's Edge and it's easy to see why Mank chose her to fill Eve's insidious shoes: the role of Eve isn't a pleasant one, and has a monumental heel-turn audiences were likely unaware of back in the day, so for an actress to take the audience on such an unlikeable journey with such conviction is a true pleasure.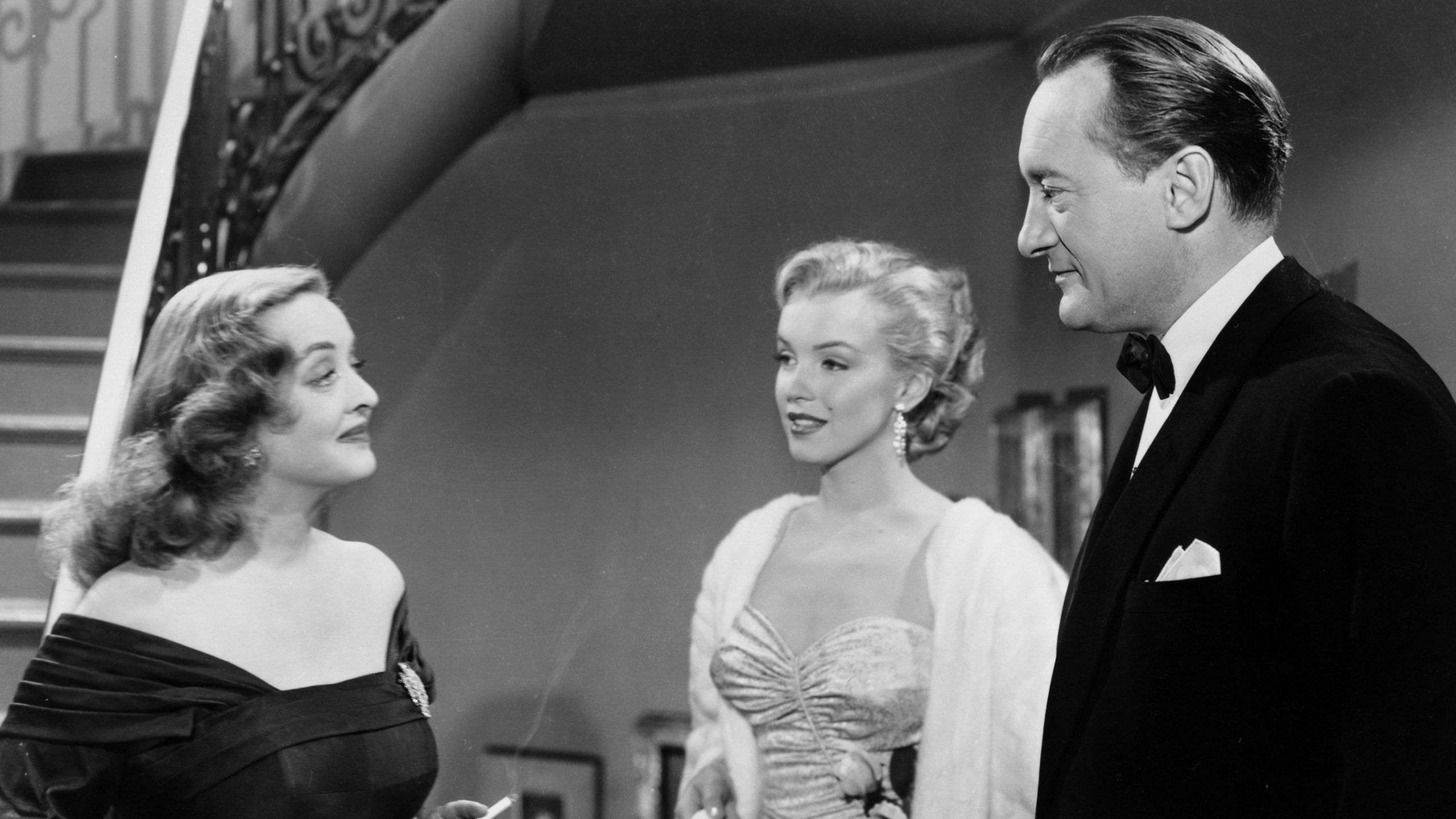 Supporting roles to a luminous Celeste Holm, as Margo's friend Karen, and the garrulous Thelma Ritter as Birdie, are also fun to watch. Holm has the best time of it, and is given quite the lion's share of scenes in which to flex her acting muscles, and her bathroom break scene with Baxter towards the film's climax is a masterclass in saying nothing and still managing to say everything. Gary Merril's work as Margo's long-suffering boyfriend Bill, together with Hugh Marlowe's affable writer archetype in Lloyd, are solid and dependable and make up the esoteric bunch of theatre types, while bit-parts to the likes of Gregory Ratoff, Walter Hampden (seen in a presentational sequence that bookends the film), and Barbara Bates late in the movie provide an effective if limited ensemble, while the swirling vortex of this incendiary screenplay will elicit smiles from all but the hardest screen cynic. In terms of direction, Mankiewicz' work isn't particularly showy, but with terrific use of framing from cinematographer Milton Krasner he crafts a film that highlights his stellar cast and maximises the emotional heft afforded him by their amazing performances. Against the backdrop of inner-sanctum theatre life All About Eve's production value is limited with regards to settings, but when it needs to shine the film never wavers.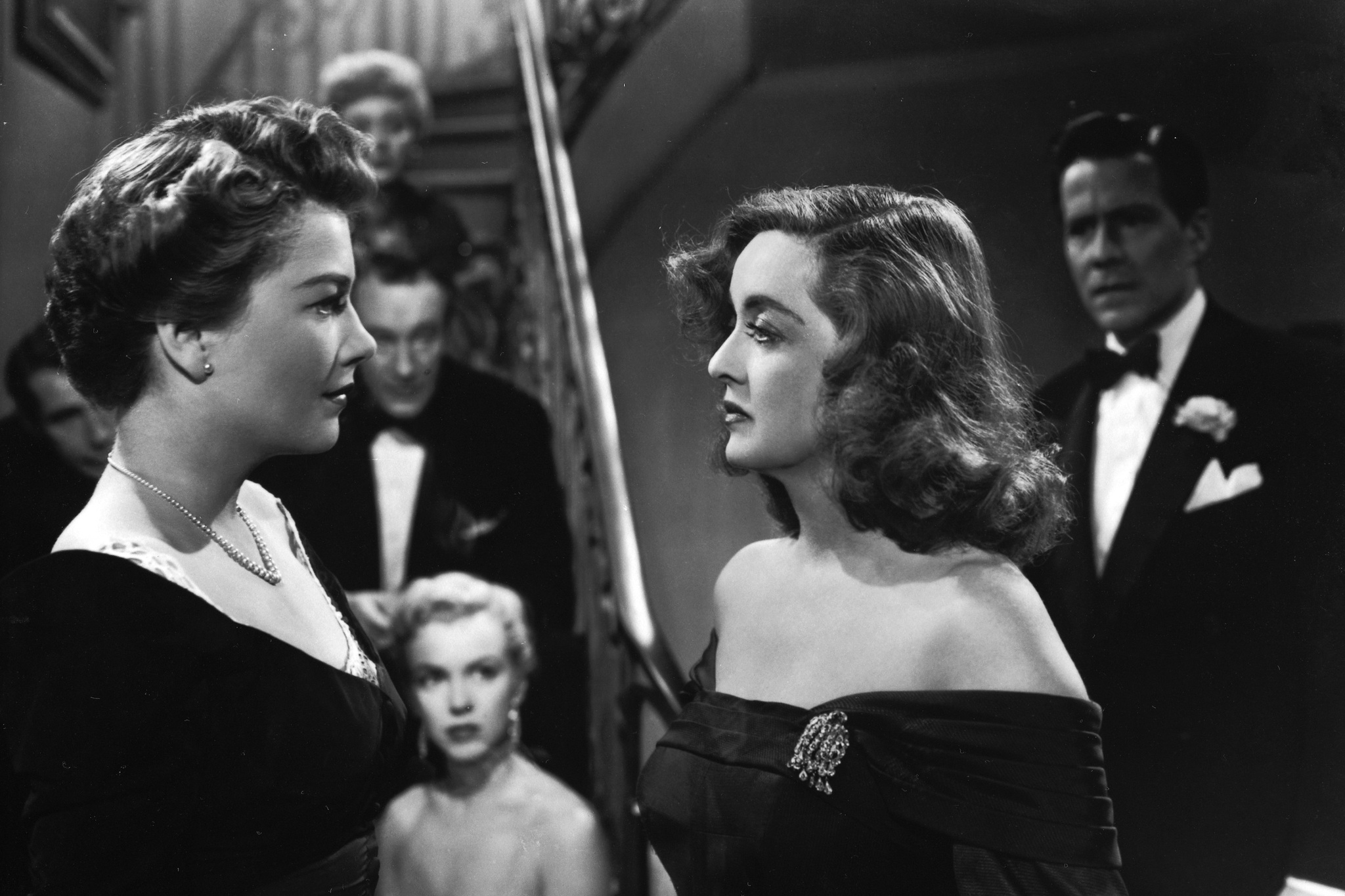 All About Eve rightly enjoys its run as a Best Picture, driven by Mank's singular screenplay and the leading performances of it. While I found the premise a touch too unbelievable for my liking I did enjoy watching the film for what it was, a timely diatribe of Broadway's slipping hold on crowds in the face of Hollywood's onslaught, and a nice little character study in the blackest of black comedic tones. Bette Davis towers over the film but she's never more powerful on-screen when up against her eminent co-stars, all of whom deliver all-time great performances alongside her. It's a remarkable cinematic achievement and rightly deserves its legendary status.
Who wrote this?