Movie Review – Footloose (1984) (Mini Review)

Principal Cast : Kevin Bacon, Lori Singer, John Lithgow, Diane Wiest, Chris Penn, Sarah Jessica Parker, John Laughlin, Elizabeth Gorcey, Frances Lee McCain, Jim Youngs, Timothy Scott, Andrea Hays.
Synopsis: A city teenager moves to a small town where rock music and dancing have been banned, and his rebellious spirit shakes up the populace.
********
Iconic 80's films don't come larger than Footloose, Herbert Ross' 1984 dance flick that turned a young actor named Kevin Bacon into a box-office teen heartthrob. Nominated for two Oscars in the Original Song category – for both Kenny Loggins' title track and Deniece Williams' rendition of "Let's Hear It For The Boy", Footloose became one the year's highest grossing films and cemented itself into pop-culture zeitgeist with its rebel-without-a-cause plotting, teen-centric angst and Bacon's enthusiasm for dance, at a time when it wasn't really cool for boys of high school age to dance. Written by Fame musical composer Dean Pitchford, Footloose's premise swells on good old American tropes of puritan religious adults trying to prevent their children from falling into "sin" through displays of dancing (as well as alcohol or drugs, but those themes are played down here), offering a simplified rurality to the characters inhabiting the small town of Belmont, whose pastor, the Reverand Shaw Moore (John Lithgow) believes that antisocial influences of dance, music, drinking and drugs caused the death of his eldest son some years earlier. Belmont has banned dancing (among other things) within the city limits, much to the chagrin of the town's youth populace, something that forms the basis of the story's "you're not the boss of me" subtext as it all plays out.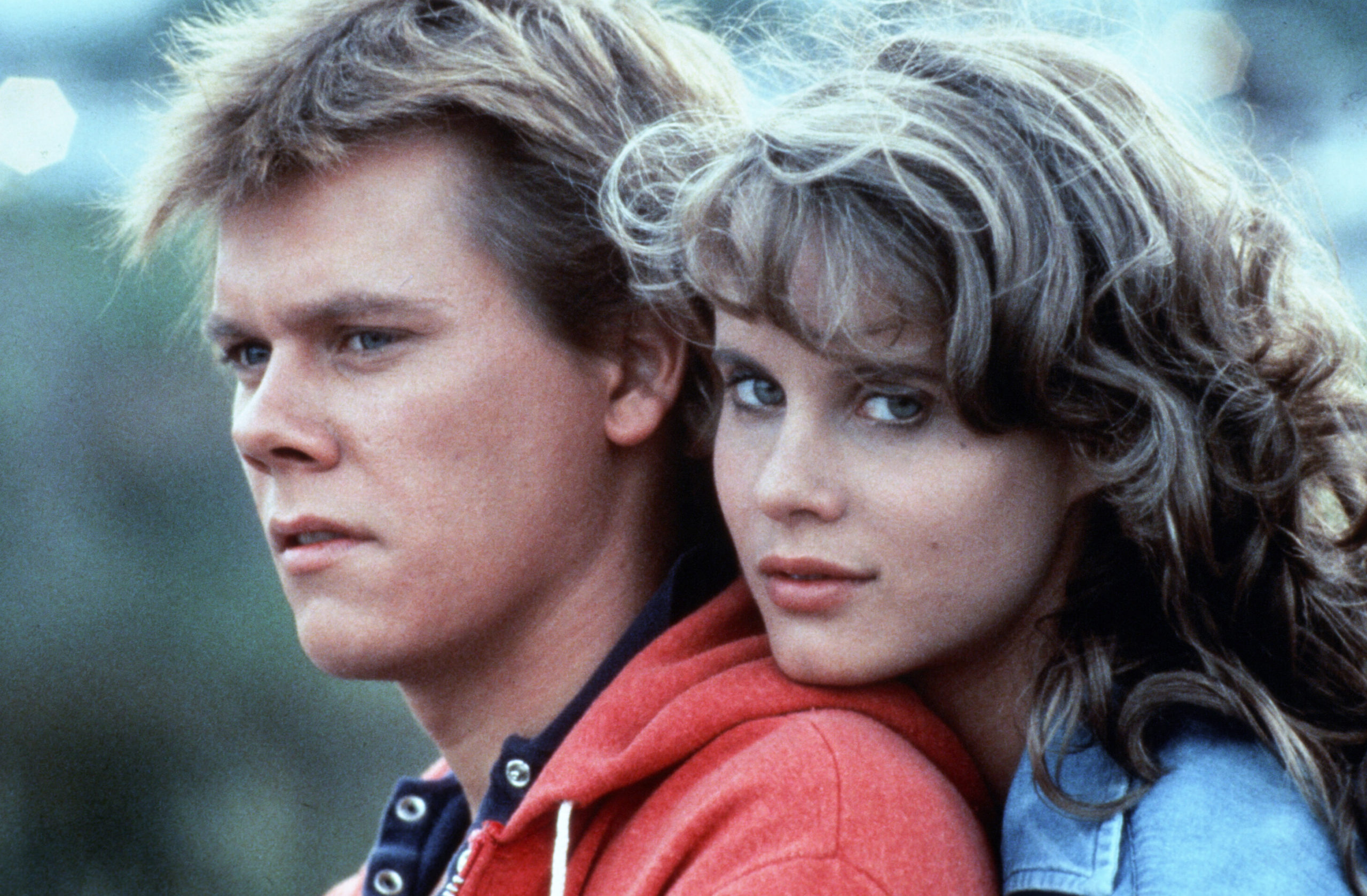 Bacon plays the rebellious Ren McCormack, who moves to Belmont with his mother Ethel (Gremlins' Frances Lee McCain), where he strikes up a romance with Boss Girl Ariel Moore (former musical prodigy turned model-actress Lori Singer), the daughter of firebrand pastor Shaw. Ariel can't wait to leave Belmont and her controlling father, while Ren just wants to let his freak flag fly and dance his troubles away – only the town's bylaws won't let him. So when he decides to reinstitute the school's senior prom, it leads him into a confrontation of ideologies with the more conservative elders of their community. As a kid, I watched Footloose and always saw Lithgow's controlling father figure as a bit of an asshole. It's weird: now that I have kids of my own, Shaw Moore is a far more sympathetic character than I ever gave him credit for, and although I disagree with his methods and his overall desire to control the spiritual direction of the town, I can at least understand him as a parent. Which itself is weird; so much of this film's pop-culture iconography is the kids-vs-adults renegade subplotting, which manifests with creepy still-happening-in-America-today prescience, but in revisiting this film I'm now more compassionate to both Kevin Bacon's Ren and Lithgow's Shaw and their respective motivations.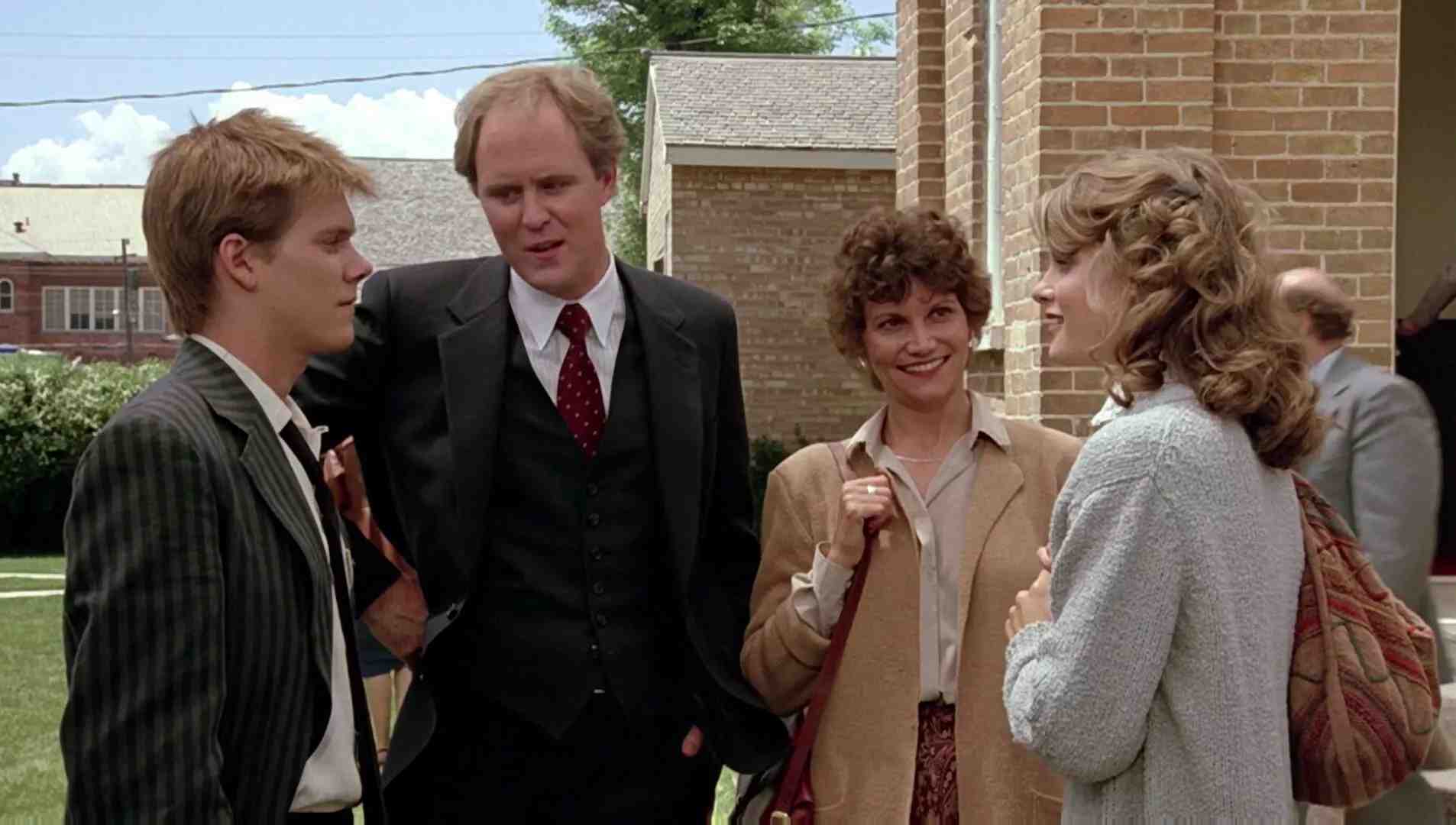 As you'd expect, Bacon's performance is really quite charming: Ren is cocky without being arrogant, and hopeful without being starry-eyed, whilst his on-screen romance with Lori Singer is nearly believable. Singer's not the strongest actor but she does well with the overwritten material. Chris Penn and Sarah Jessica Parker pop up in supporting school student and BFF roles, while the adult cast, including Lithgow, a diffident Diane Wiest, and a wasted Timothy Scott all have their moments to shine. An absolutely banging mid-80's soundtrack keeps the nostalgic heartbeat of the film pumping whenever the "drama" starts to limp along, which it does from time to time, but you can never beat a good musical montage and this film delivers several of them. Truly, a product of its time that has aged oh so gracefully in the soundtrack department. Herbert Ross' direction isn't particularly flowery or ostentatious for what is a farm-set dance flick, but his work on the film's physical dance sequences – notably Kevin Bacon's famous solo warehouse montage is emblematic of the burgeoning MTV influence on choreography and style – is remarkable. He gets the best out of his cast, offers some surprising heart and soul on both sides of the conflict in the movie, and obviously uses his charismatic leading man as often and as "coooool" as he can. Footloose is a charming, throwback film offering 60's vibes in an 80's crowd-pleaser and, if you can believe it, comes up a winner.
Who wrote this?