Movie Review – How To Lose A Guy In 10 Days (Mini Review)

Principal Cast : Kate Hudson, Matthew McConaughey, Kathryn Hahn, Annie Parisse, Adam Goldberg, Thomas Lennon, Michael Michele, Shalom Harlow, Robert Klein, Bebe Neuwirth, Lilane Montevecchi.
Synopsis:  Benjamin Berry is an advertising executive and ladies man, who, to win a big campaign, bets that he can make any woman fall in love with him in 10 days.
********
Archetypal Noughties romantic comedy sees Hollywood nepobaby Kate Hudson and then-romantic leading man Matthew McConaughey at odds in this inordinately silly – yet completely watchable – rom/com that has plenty of great laughs. The film's central premise revolves around the traditional "men are from Mars, women are from Venus" conceit, and the age-old battle of the sexes, and hangs quite solidly on the screen chemistry of the two main stars, both of whom are lovely here, and with a solid supporting cast there's more than enough character beats and overall warmth and love to be found that even the most jaded of cynical anti-romance viewers will find themselves charmed by it all.
Tried and true Hollywood comedies always seem to work, no matter the era in which they're made. How to Lose A Guy in 10 Days plays on the strengths of its Manly Man leading man, its winsome leading lady, and a great roster of ensemble supporting actors all doing this slight script solid service. McConaughey plays advertising executive Ben Barry, who hopes to win a giant contract for his firm, so long as he wins a bet that he can make any woman fall in love with him within 10 days. Women's magazine writer Andie Anderson (Hudson) also makes a bet with her friends, that she can make any man fall out of love with her (in the same timeframe, naturally) to prove a point to despondent BFF Michelle (Kathryn Hahn); naturally the film pits Ben and Andie together – he trying to woo her and she doing everything she can to drive him away. It's comedy gold, and both actors, along with director Donald Petrie (Grumpy Old Men), understand the assignment.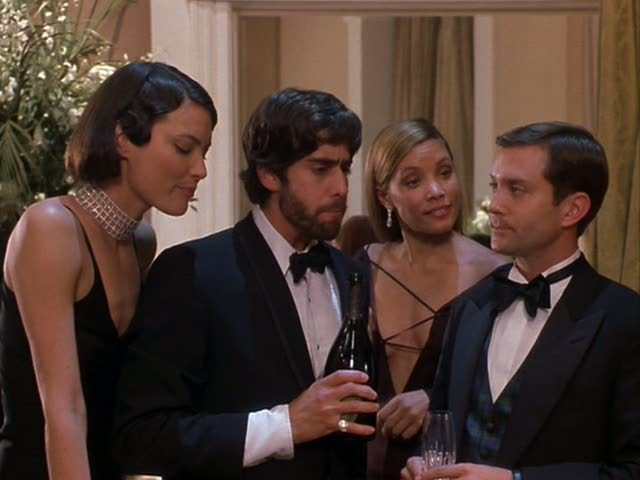 How To Lose A Guy is just a fun film. It's fun to watch McConaughey trade on his machismo and simple attractiveness, and Hudson on her sexiness and brazen comedic chops, and both are a delight in their respective roles. For me the MVP of the film are Thomas Lennon and Adam Goldberg as Ben's work colleagues who love that he's the frontman for their hypermasculine trio, while Hudson, Hahn and Annie Parisse have a whale of a time as the respective female cohort of this collaboration. It's all played for laughs and is as inoffensive to viewers as you can get, although some might see a degree of misogyny within the script's largely male skewing. That said, there are far worse ways to while away the hours than watching Hudson and McConaughey make fools of themselves in this cheesy, cheery romcom, so settle in with the love of your life and get ready for an argument. Recommended for fans of the romantic comedy genre.
Who wrote this?