Movie Review – Pinocchio (2022)

Principal Cast : Ewan McGregor, David Bradley, Gregory Mann, Christoph Waltz, Tilda Swinton, Ron Perlman, Finn Wolfhard, Cate Blanchett, Burn Gorman, John Turturro, Tim Blake Nelson, Tom Kenny.
Synopsis: A father's wish magically brings a wooden boy to life in fascist 1940's Italy, giving him a chance to care for the child.
********
The second of two adaptations to arrive in 2022 based on Italian writer Carlo Collodi's inimitable children's classic, Guillermo del Toro's stop-motion animated version of Pinocchio is arguably the most tonally approximate to the original text, and is certainly the more emotional. While Robert Zemeckis' work stretched out the respectably short Disney animated version into a live-action hodgepodge with Tom Hanks, del Toro's version foregoes the better known story points (kids turning into donkeys, Pleasure Island et al) in favour of a far darker, haunting, elegiac edition more in keeping with the nightmarish, cautionary stories of yore; this is still a film accessible to children, sure, but the beating heart of Pinocchio is a decidedly melancholy one.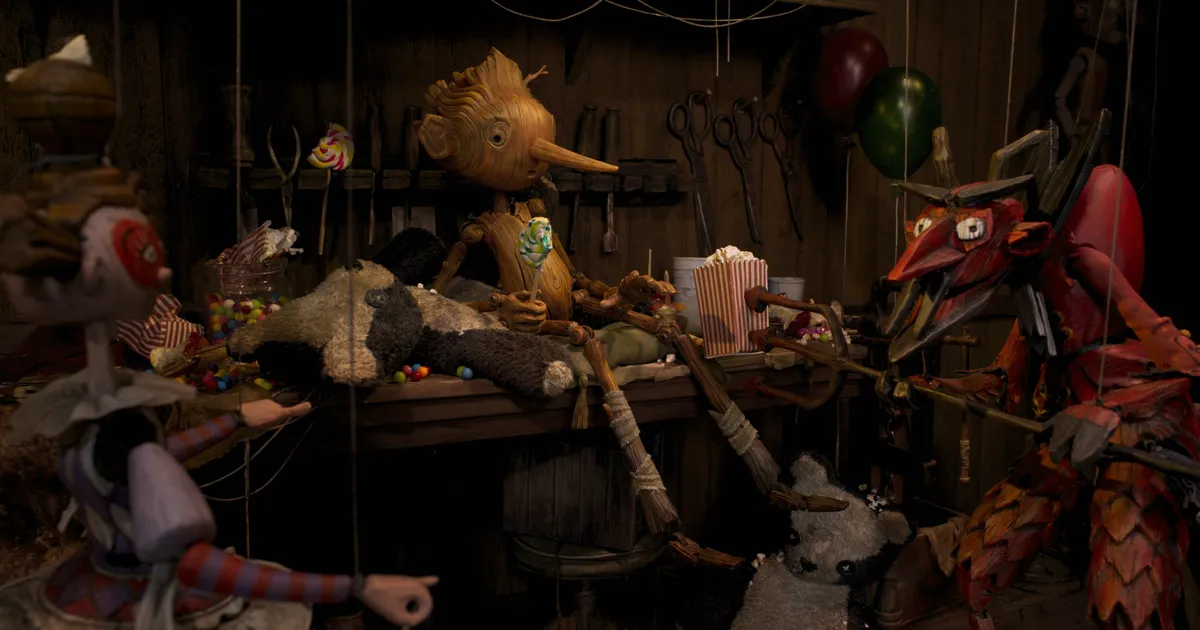 Ageing woodcarver Geppetto (voice of David Bradley) lives in a small Italian town during the rise of fascist Mussolini. After his local church is accidentally bombed, killing his young son Carlo, Geppetto falls into a protracted period of grief and depression, the climax of which sees him carve a small wooden puppet as a proxy to his long-lost son. One evening, a sprite appears and gives the puppet life, naming him Pinocchio, and tasking him with bringing joy to the forlorn Geppetto. Pinocchio is treated with fear in his local town, with the resident Podesta (Ron Perlman) orders Geppetto send him to school. On the morning of his first day in class, however, Pinocchio is co-opted by travelling showman, the slimy Count Volpe (Christoph Waltz), who hopes to make a fortune with the tiny wooden kid. Through a series of adventures, Pinocchio is accompanied by Sebastian J Cricket (Ewan McGregor), who resides in a notch in Pinocchio's chest and who treats the young boy-puppet as his life's mission to protect. However, after Geppetto goes missing while searching for his recalcitrant son, and ending up in the belly of an enormous whale, Pinocchio must find the inner courage and intelligence to make the right choices and bring his adoptive father to safety.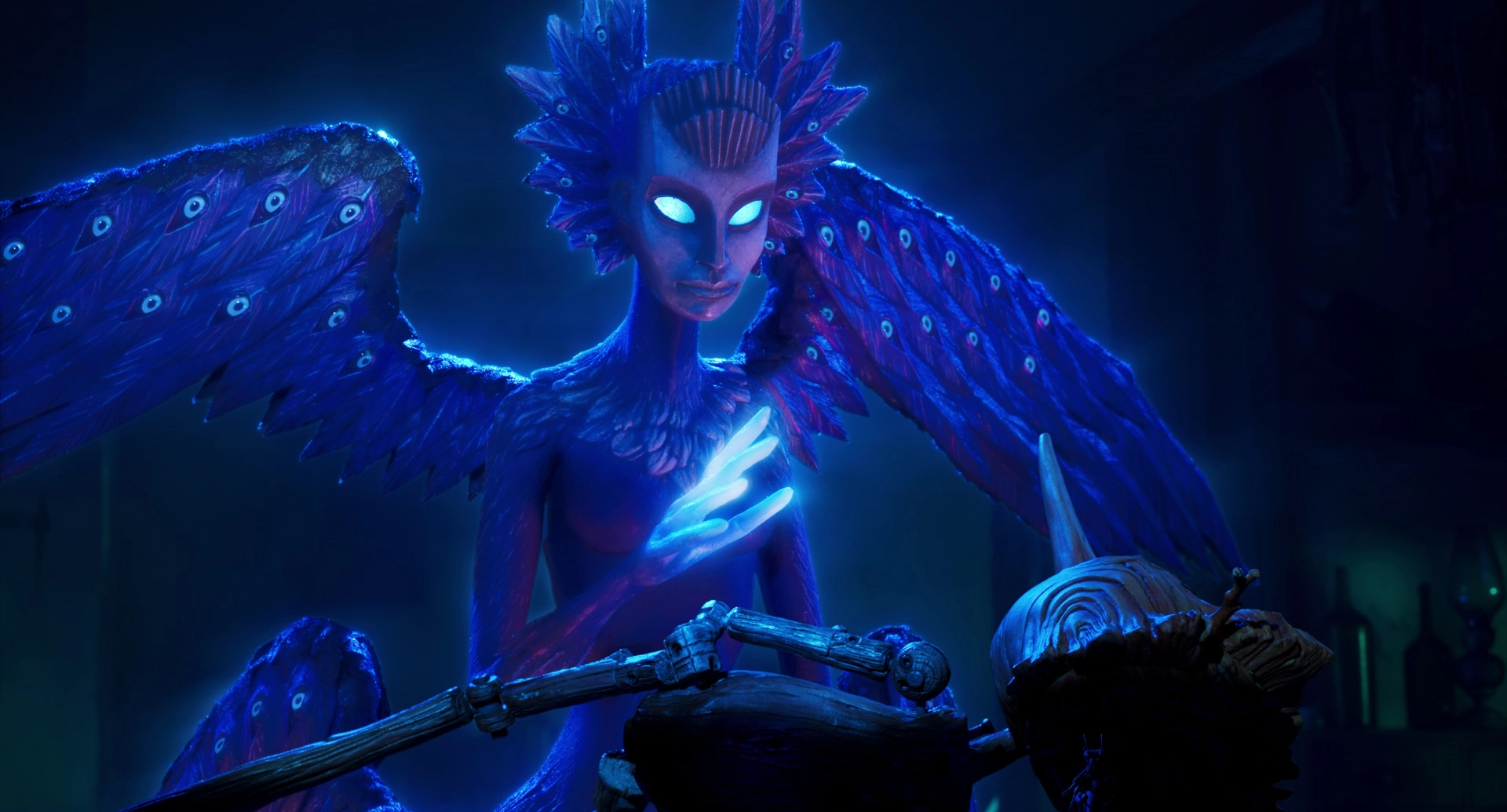 There's something about stop motion animation that brings a sense of wonderment to any production utilising it as a filmmaking method. Recent critical darlings such as Laika's Kubo & The Two Strings or The Boxtrolls, Wes Anderson's Fantastic Mr Fox, or even the ubiquitous Shaun The Sheep movies have provided audiences all kinds of whimsical, engaging fantasy world brought to life with plasticine (or some other plastic derivative), finding audiences in the home market moreso than any commercial box-office success. Perhaps it's the knowledge that these films are crafted with painstaking care and attention to detail, knowing that every second of footage comes at a cost of days, weeks or in many cases months of an animator's life, and the preciousness drawn from such labour intensive work deserves to be appreciated. Guillermo del Toro's Pinocchio journey from inception to Netflix debut started back in 2008, and would go through several iterations (including changes of director, before del Toro himself stepped into the co-directing role alongside Mark Gustafson), with much of the film's production carried out in the director's native Mexico. With a screenplay credited to del Toro and Patrick McHale, from a story by del Toro and Matthew Robbins, Pinocchio borrows its designs from illustrator Gris Grimly, whose work had appeared in a 2002 publication of Collodi's original text, and whose design of Pinocchio is part whimsy and part horror aesthetic, something Guillermo del Toro's films have always had in abundance.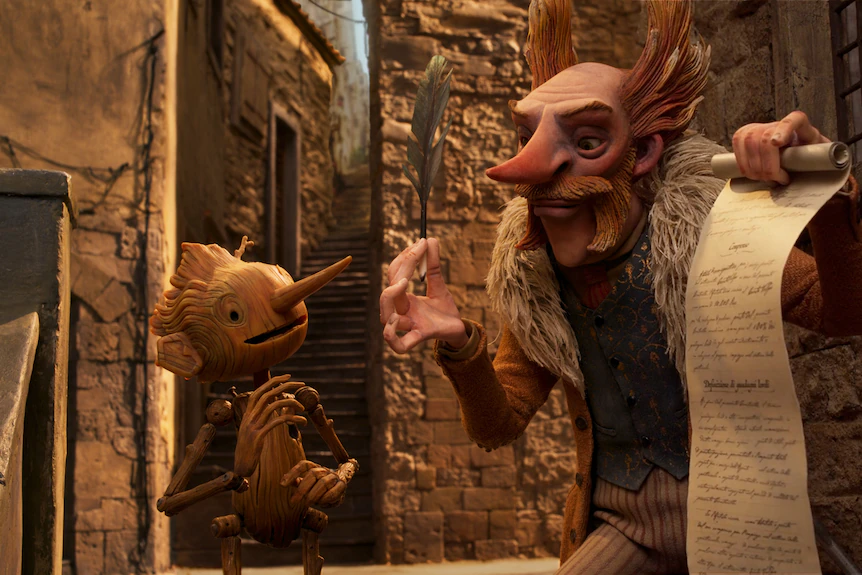 Although it departs considerably from Collodi's text in many respects, I think this version of Pinocchio remains perhaps the closest iteration of the venerated story with regards to its tone. Whereas the litany of adaptation through the years have continued the author's "real boy" motif as the great reward for all of Pinocchio's trials and tribulations, Guillermo del Toro eschews this somewhat saccharine and overplayed narrative hook and instead focuses on the relationship between the boy puppet and his adopted father, something largely absent in the Disney animated version, and never quite sticking the landing is other films of this story I've seen since. The film's dour tone is present from the jump, with Geppetto's young lad Carlo (also voiced by Gregory Mann) blown up by a stray Austrian Army bomb dropped on the village church, and things only get sadder from there. The spiral of anguish and grief is wrought superbly by David Bradley's work as Geppetto, delivering a remarkably moving evocation of paternal love for a son now gone forever. Okay, so it's not the happy-clappy fare animated films typically depict, and I'd wager some young children will find this tough going, if not impossible to get through, but it's worth it. In terms of its emotional adult content, though, Pinocchio packs a punch.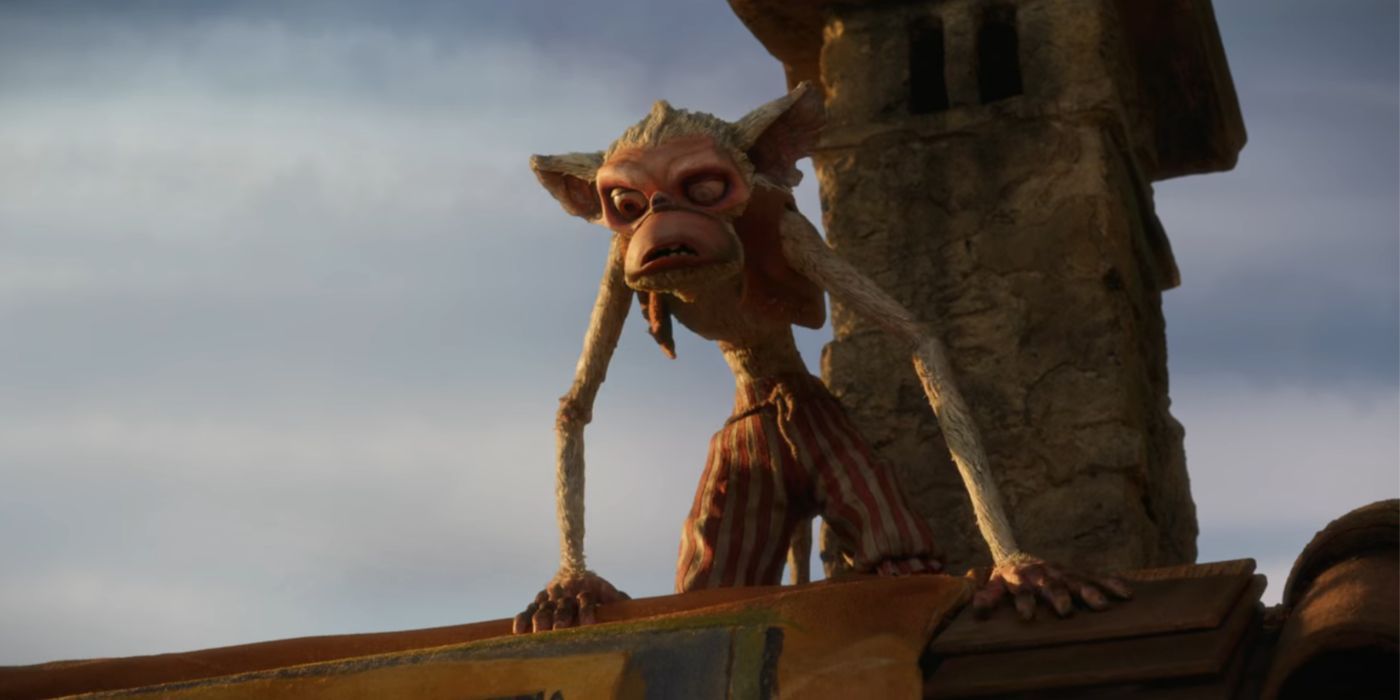 Pinocchio in any form is quite literally a morality story about, among other things, being true to yourself, never talking to strangers, listen to your parents, and understand the value of work over play – or you'll turn into a donkey – and it's meant as a kind of warning story for young reprobate children to behave themselves. Guillermo del Toro, perhaps more than any director working today, understand the assignment. He gets the balance between the fantastical and the horrifying – hell, the film is set in early days of the second World War – and plays into the banality of evil and corruption as a canvas on which to paint Pinocchio's journey from scattered and ill-mannered foundling to eventual saviour and hero of his own story. The film's production aesthetic feels like it's also hewn from the same wood as its titular character; everything looks like some magnificent wood relief drawing brought to spectacular 3-dimensional life, and Frank Passingham's terrific cinematography is evocative and genuinely breathtaking from an artistic perspective. The stuttering animation borders on masterful, from the dynamic and skitterish physicality of Pinocchio himself, held together with nails and luck, to the swirling malevolence of Christoph Waltz' odious Count Volpe, to the creepy screeching of Cate Blanchett as Volpe's monkey Spazzatura, and even the fantastical sprites (representing life and death) that Pinocchio encounters through his (after)life, to the animation, set design and use of camera movements to engender pace and energy throughout – almost every facet if Pinocchio's stellar production is worth the price of admission alone.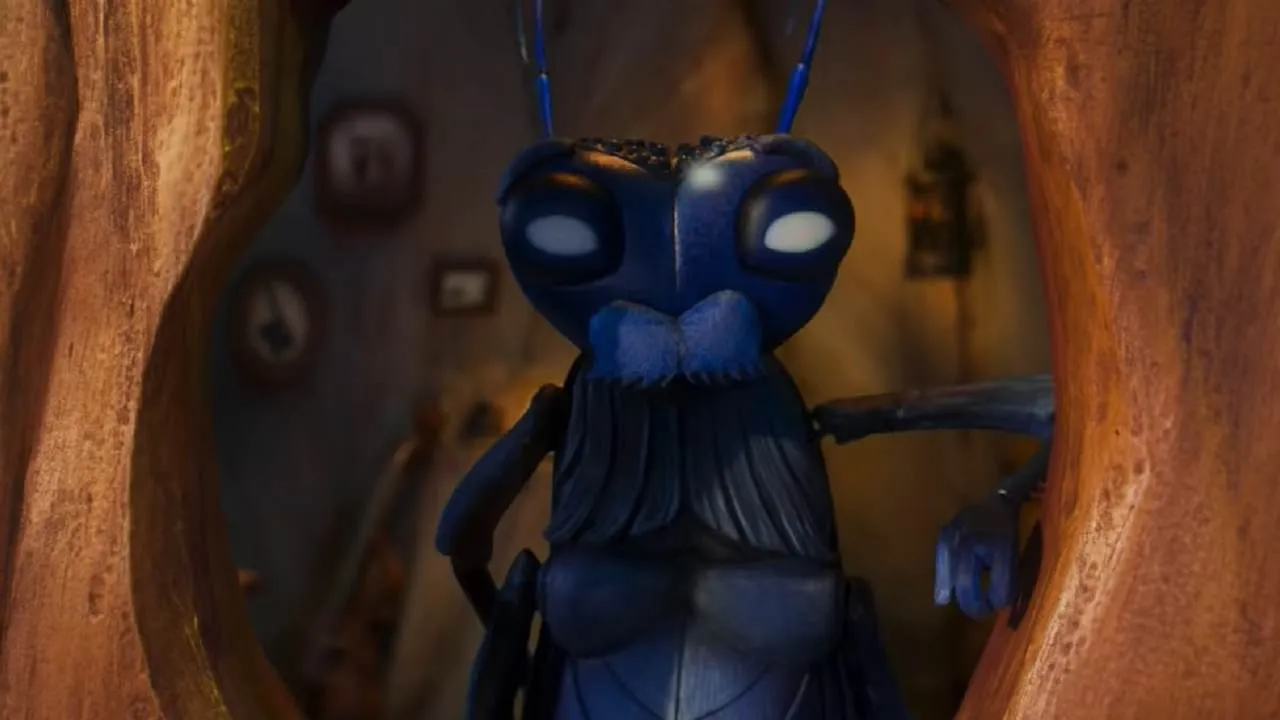 This is to say nothing of the voice cast; I can't say I was particularly enthused by Ewan McGregor being cast as the Cricket (here named Sebastian J Cricket – Jiminy was a Disney invention) but his alto tones work surprisingly well alongside Gregory Mann's squeaky pre-pubescence as Pinocchio. Mann, who has to shoulder the burden of a fair portion of the film's emotional weight, is solid but at times his performance is quite annoying on the old eardrums, despite understanding that he is literally an eight year old child in wooden puppet form. Ron Perlman plays the evil Podesta, a man who harbours decidedly fascist ideas and personifies the rise of such evil within a nation, while Finn Wolfhard plays the Podesta's young son, Candlewick. Tilda Swinton has her voice augmented as both the Wood Sprite, who grants Pinocchio life, and Death, a Chimera who ushers Pinocchio through the afterlife on multiple occasions as the young boy falls prey to the pitfalls of life's adventures with often catastrophic results. Arguably it is Christoph Waltz' sublime Volpe who serves as the film's primary antagonist and pervading sense of evil, the character an amalgam of Collodi's Manguafuoco and Disney's Honest John, the conman fox, and one that works beautifully representing the worldly dangers children might stumble into as they mature. Waltz' crisp delivery and precise enunciation makes for such a sinister characterisation he all but steals the film from the title character; one caveat to this is the characters ultimate demise (spoilers), which felt a touch too perfunctory and lacking in gravitas. Pinocchio is enabled by a terrific vocal cast delivering exquisite, moving and memorable performances in their respective roles.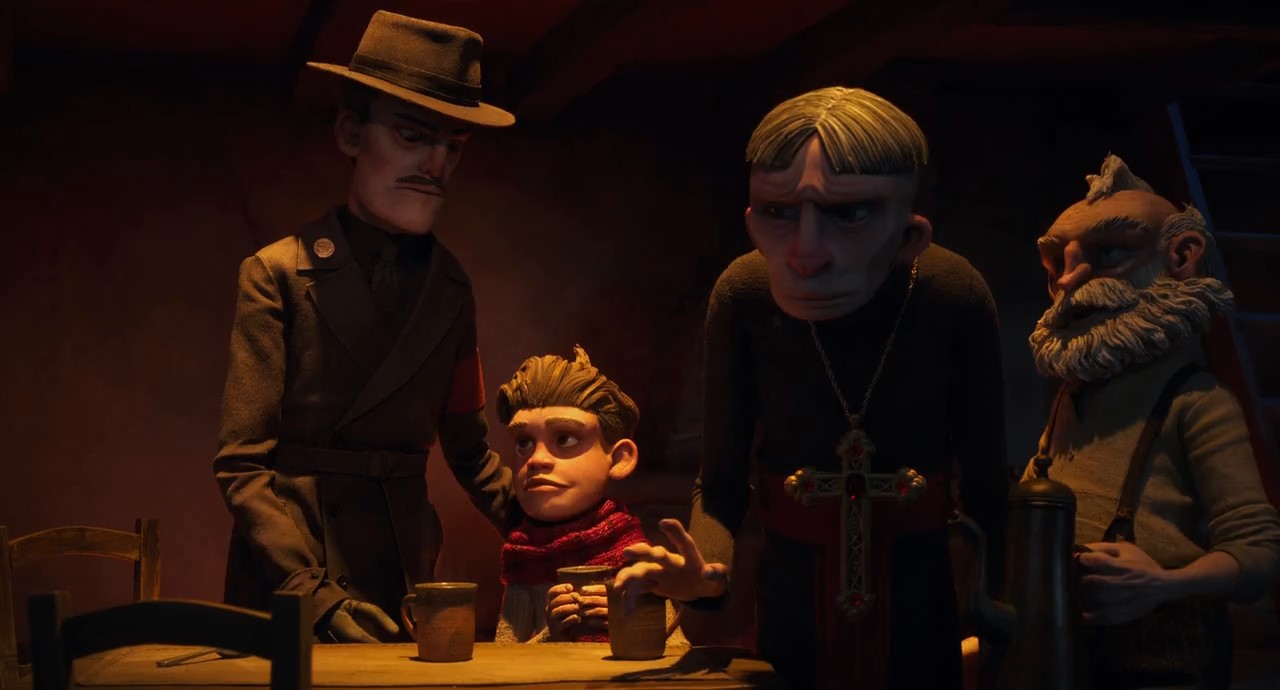 This ain't no kids film: Pinocchio is creepy, weird and hugely stylised to the point children raised on homogeneous Hollywood animation styles will likely baulk at either the heavier elements within the narrative or simply at the bewilderingly angular animation. This really is an adult take on Pinocchio, a film with deep thematic substance and heavy intellectual ponderings, not the least of which is the purpose of our life on this Earth and the relatively short time we have to spend with it. It's an emotionally resonant film indeed (I think parents will get a lot out of this one, for sure) and gorgeously animated with an assured hand (or hands) behind the camera. As closely aligned to Carlo Collodi's story as any version yet put to the screen I've seen, Guillermo del Toro's Pinocchio is an elegantly produced animated masterpiece that is worthy of all the acclaim coming its way. A brilliant, hauntingly beautiful film.
Who wrote this?