Movie Review – Chase, The (1994)

Principal Cast : Charlie Sheen, Kristy Swanson, Henry Rollins, Josh Mostel, Ray Wise, Rocky Carroll, Bree Walker, Marshall Bell, Claudia Christian, Natalia Nogulich, Cary Elwes, Flea, Anthony Kliedis, Cassian Elwes, Ron Jeremy, Marco Perella, R Bruce Elliot, James R Black.
Synopsis: Escaped convict Jack Hammond takes a woman hostage and sets off for the Mexican border with the police hot on his tail.
********
Hard as it is to imagine today, there was a time when Charlie Sheen was once a bone-fide action cinema superstar. Having cemented himself as a teen heart-throb draw with films such as Wall Street, Young Guns and 1993's The Three Musketeers, Sheen took a lead role in a relatively small-budget action-comedy from writer/director Adam Rifkin (The Dark Backward and Psycho Cop 2) alongside Buffy The Vampire Slayer star Kristy Swanson to respectable box-office success, albeit up against the likes of Ace Ventura: Pet Detective and the Michael J Fox comedy Greedy when it debuted in early '94. The Chase, in which Sheen kidnaps Swanson's Valley Girl prototype and engages in a protracted car chase with police, is a bombastic, hyperbolically inane piece of junk cinema that has, in the decades since, garnered a minor cult following, which pleases me because when I first saw this film I absolutely thought it was the best thing ever.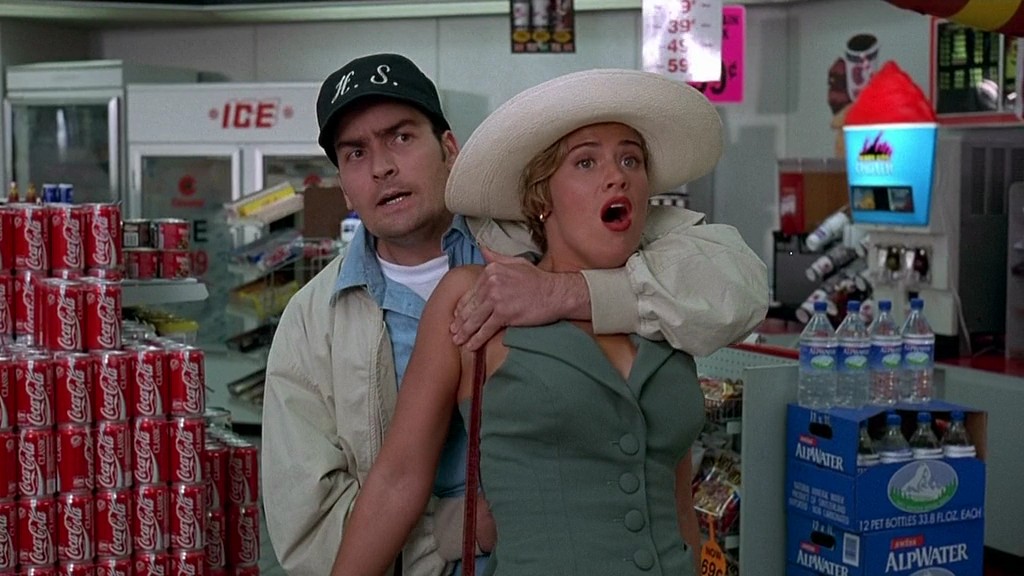 When escaped convict Jack Hammond (Sheen) is cornered by police at a local convenience store, he takes local girl Natalie Voss (Swanson) hostage in her own car, leading police on an intensive and increasingly media-saturated car chase through the Californian highways. Natalie happens to be the daughter of wealthy industrialist Dalton Voss (Ray Wise), who suspects Jack of kidnapping his daughter for ransom. Meanwhile, the pair are pursued by Californian police officers Dobbs (Henry Rollins) and Figus (Josh Mostel), who are being filmed for a reality television show by a producer (Cassian Elwes) and his cameraman, who use the situation to promote themselves and their lives as cops to the unwavering camera. Above them all, a circling traffic chopper hovers, with reporter Byron Wilder (Rocky Carroll) filming intently back to the newsroom for live, exclusive broadcast. As the chase wears on and Jack and Natalie start to bond over their shared life grievances, it soon becomes apparent that the chase, regardless of where it ends, may not finish well for either of them.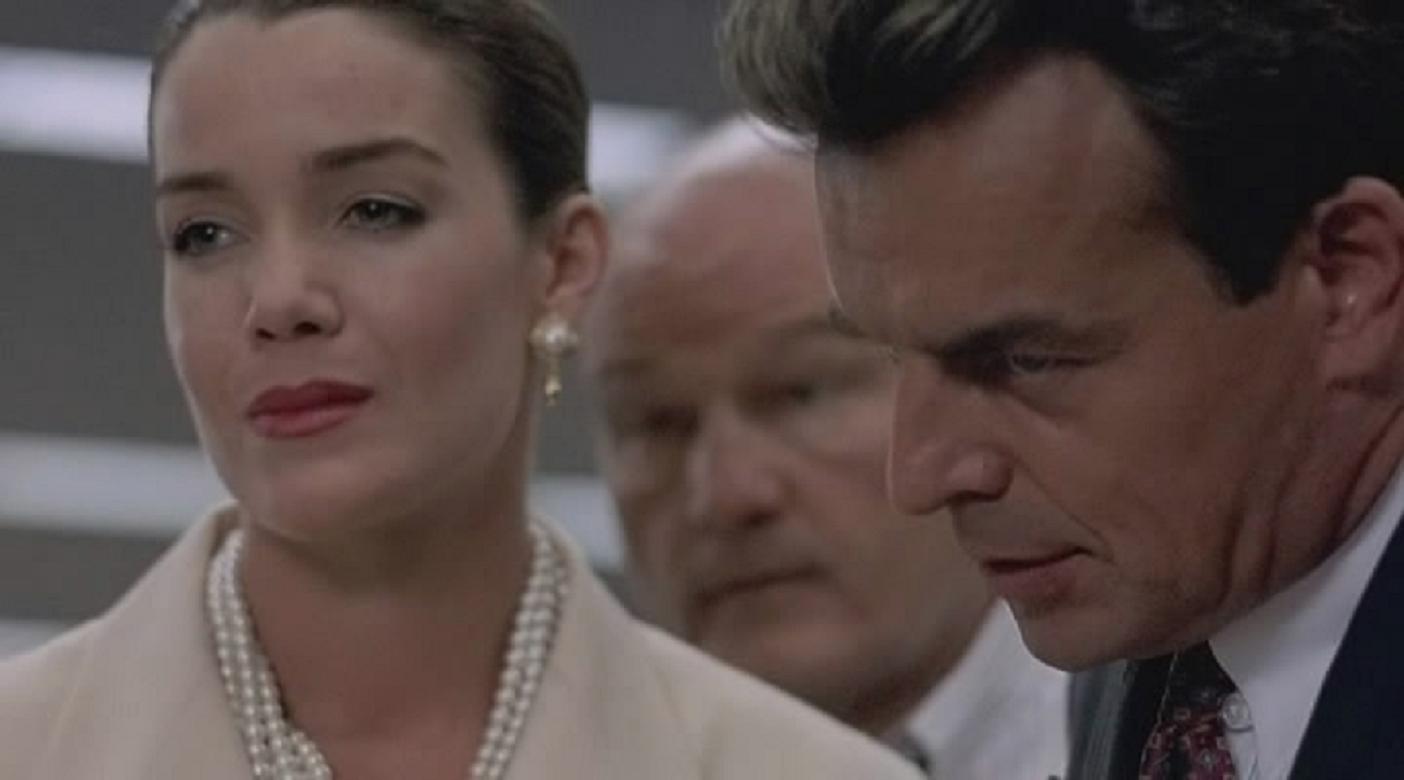 The Chase is a great movie. It's not a good one, not by any stretch, but it's great. Great fun, stupid and so totally footloose with enthusiasm you can't help but laugh along with Sheen's enigmatic machismo and Swanson's clear-eyed rich-kid schtick and the pratfalls and bananas media subtext on display. The film's primary motivation is an all-too-obvious dig at newsmedia and their insatiable demand for exclusives and blood and sex, most notably the then-popular tradition of broadcasting real-life police chases with ongoing commentary from the newsroom, and while the film isn't subtle at all about this to its detriment, it's a valid criticism relevant even today. Rifkin's screenplay screams generic applied action tropes, and there's a definite feeling of low budget purely thanks to what looks like 8mm film stock being used, but the attitude of "fuck it, why not" about The Chase enamours the viewer into thinking it's better than it is. Joyous, nonsensical Bayhem well before Michael Bay set foot on a film set, The Chase is what you might get if adrenaline and cheese had a baby. Sure, the characters are all shouty, paper thin homunculi going through a tortured, lazy screenplay as best they possibly can, but the enthusiasm with which Rifkin, as well as his propellant cast of B-listers, will elicit eye-roll nonsense fun as far as the eye can see.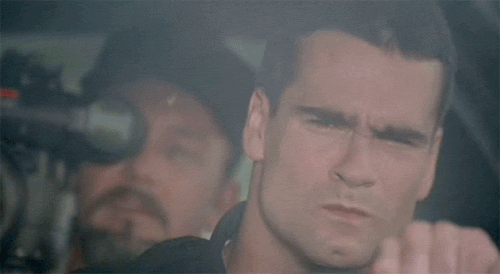 The Chase hangs its hat on the chemistry between Sheen and Swanson, and to a degree it works well enough despite Swanson feeling as wooden as a gate post and Sheen grinning smarmily as his character's tragic backstory – he's an innocent man, y'all – unravels through sidebar subplots and exposition throughout the rampantly violent car chase. Sheen is a solid enough actor to understand his own limitations, and works his easy-going charm and scatological approach to performance with Rifkin's pulsating camerawork. The ensemble supporting cast run the gamut of good to poor; notably, Henry Rollins makes a great blustery über-cop with a camera in this face, waxing lyrical about the challenges of the job and how everyone they go after is guilty until proven innocent (and even then…..), whilst his on-screen partner, Josh Mostel's chubby Officer Figus (what a name!) is the more circumspect of the two. Oh, how they brag and beef themselves up a bit for the camera; in the real world, things haven't changed all that much.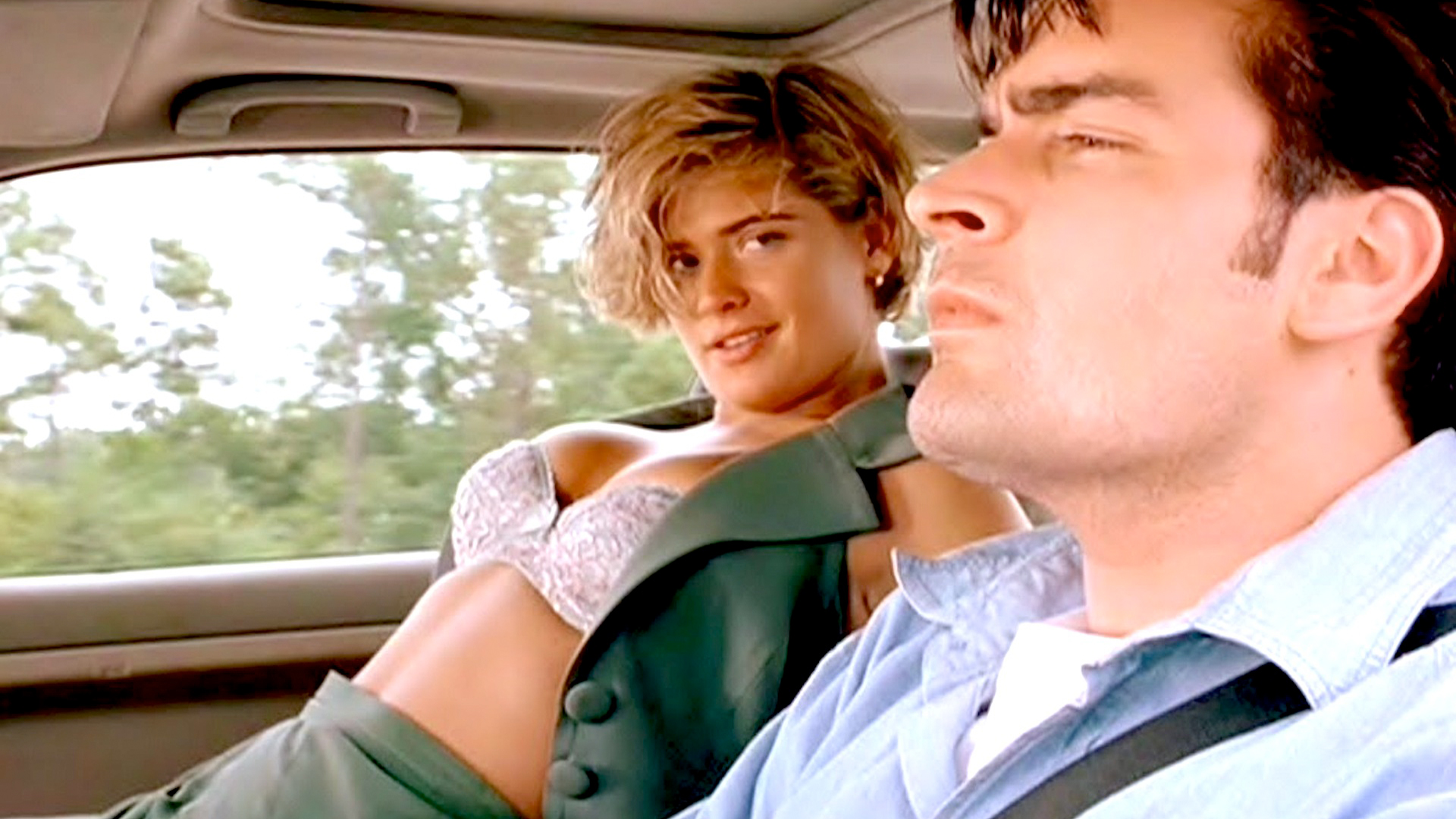 Ray Wise pops up as the viperous Dalton Voss, an egomaniac Trump-esqe asshole who only sees how a situation can benefit him and uses everything to his advantage, whilst Claudia Christian plays his wife, and Natalie's stepmother, with the stoic indifference only a true hateful stepmother can elicit. NCIS star Rocky Carroll appears as a traffic reporter hanging out the side of his chopper – obviously filmed still sitting on the ground – offering cheeseball commentary to the events on the ground below, while Red Hot Chilli Pepper bandmates Flea and Anthony Kiedis have a ball as a pair of redneck morons trying to insert themselves into the chase using their monster truck. Also of note, Carey Elwes has a minor cameo as a newscaster, and porn legend Ron Jeremy appears in a blink-and-miss-it part as a news cameraman midway through the film. Jack's attorney, Ari, is played by Marshall Bell, who somehow manages to add some minor gravitas to this miasma of on-road carnage and Sheen's alacritous performance.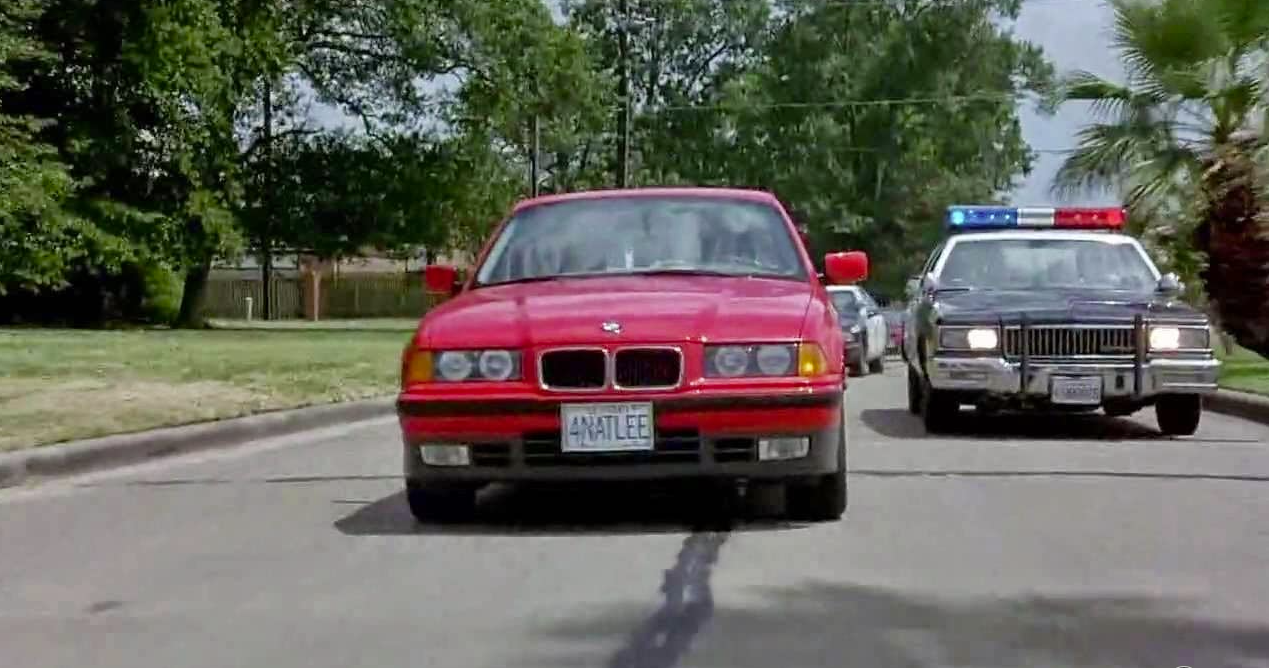 The chase itself is one of which any major filmmaker would be proud, not the least the aforementioned Michael Bay, who must surely have watched this film prior to filming his LA-set Ambulance, of which this bears an uncanny overall resemblance. Whilst the film's low-budget is mightily obvious, Rifkin makes the most of his guerrilla-style filmmaking at one point having the movie shot – without a permit, mind you – on an actual freeway in the middle of peak-hour traffic at one point. Like I said, absolutely bananas, but the frenetic pace and whizz-bang camerawork, together with Peter Schink's sublime direction, manifest a film that's a blast of screeching tyres, manic energy and fast-paced nonsense. Hell, even the simple out-of-car dialogue scenes in which Sheen and Swanson do not appear are propulsive, offering further narrative energy where you'd typically expect a breather. In all honesty, this is the one of the most balls-to-the-wall fast paced film you'll ever see: it just goes for broke from the opening few minutes and doesn't let up to the very end. Somehow, ingeniously, Rifkin even inserts a weird Munchausen-by-proxy sex scene between Sheen and Swanson into the chase as well, something so manifestly hilarious the film would be lesser without it.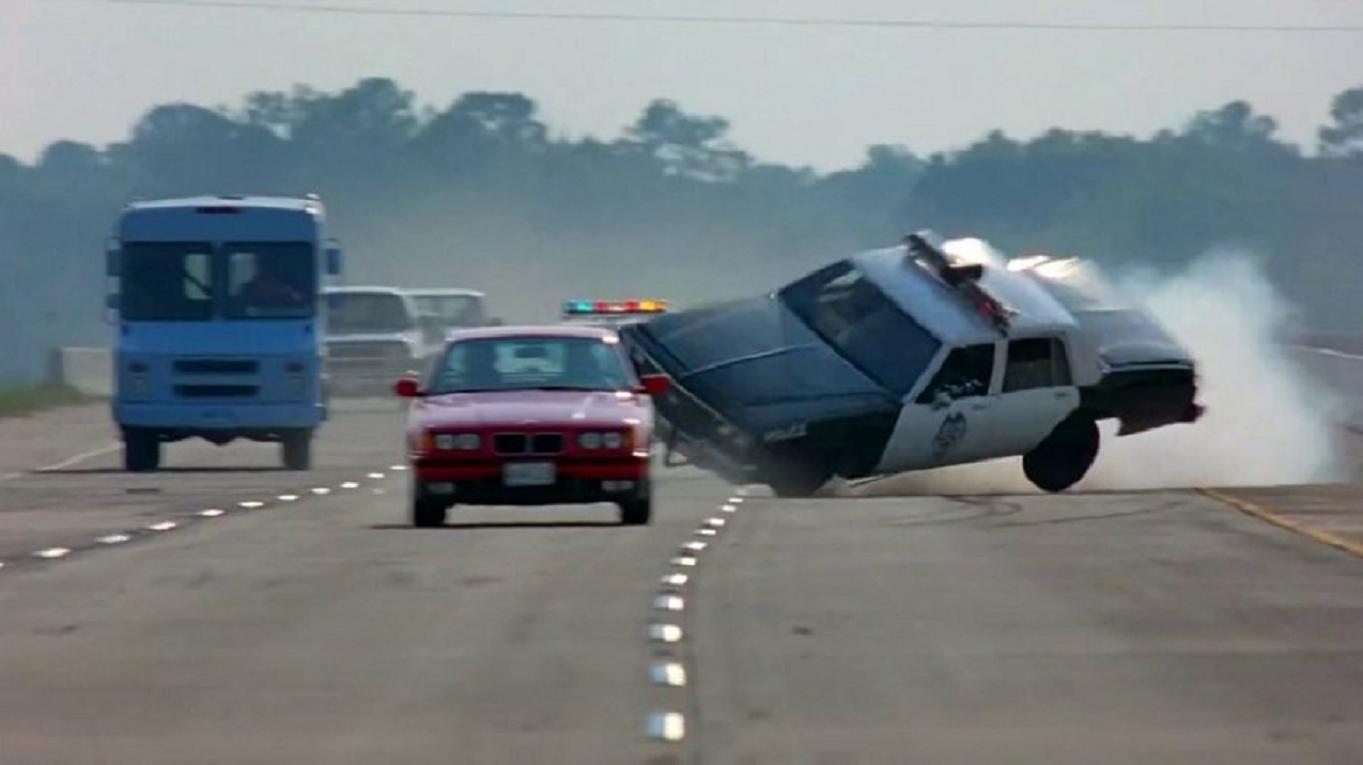 With a dynamite localised soundtrack accompanying the dizzying, rebellious, anarchical on-screen action, and a plethora of legitimate cinema sins (notably, a helicopter explodes to ash after taking a hit from a single handgun bullet…), The Chase is a cacophonous litany of idiocy and disbelief. That it is as hugely entertaining as it is is thanks, largely, to the winning charisma of Sheen and the cringey work of Kristy Swanson, whose sex appeal transcends the tight casualwear she sports throughout. Rifkin's script is a total wash, and the satire the film aims for feels clunky as hell by today's standards, but the rapid pace and completely illogical geographic jigsaw Sheen and Swanson embark upon make for hilarious fun and frivolity that comes with a dash of pathos. I remember loving this film back in the 90's and I'll happily testify that, as mindless and nonsensical as it remains, I still love it even today.
Who wrote this?