Movie Review – My Fair Lady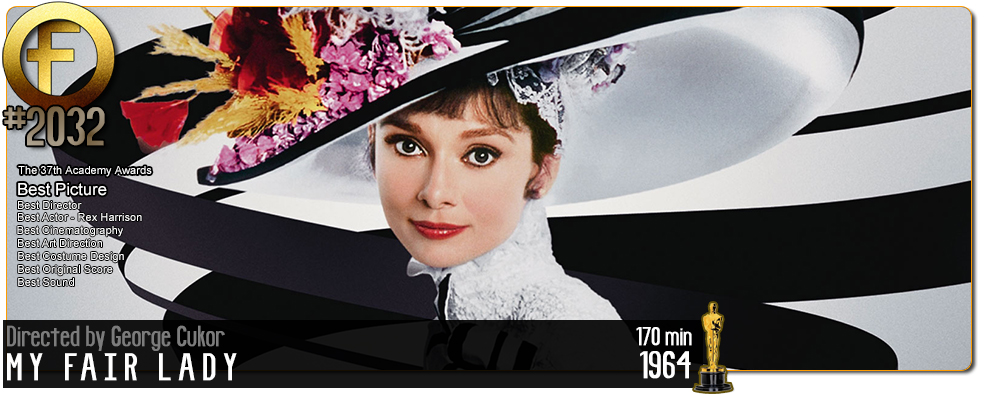 Principal Cast : Audrey Hepburn, Rex Harrison, Stanley Holloway, Wilfred Hyde-White, Gladys Cooper, Jeremy Brett, Theodore Bikel, Mona Washbourne, Isobel Elsom, John Holland, Henry Daniell, Lillian Kemble-Cooper, Baroness Rothschild.
Synopsis: In 1910's London, snobbish phonetics professor Henry Higgins agrees to a wager that he can make crude flower girl Eliza Doolittle presentable in high society.
********
Delightful turns by Audrey Hepburn (in what would become her signature role) and Rex Harrison lead this fanciful, colourful and vastly entertaining adaptation of Lerner & Lowe's 1956 stage musical, My Fair Lady, which itself was based on George Bernard Shaw's 1913 stage play Pygmalion. Notably, Harrison reprises the role he starred in on Broadway, that of arrogant, misogynistic narcissist Professor Henry Higgins, pitching the role perfectly in the filmed version despite a considerable age gap between he and Audrey Hepburn, cast as the tempestuous Eliza Doolittle, the English rose Higgins decides to teach how to "be proper". Finding effortless charm in its enormously affable cast, and coasting on its instantly memorable showtunes, as well as Harrison's delivery of the play's scintillating dialogue, My Fair Lady – despite being only one of a number of filmed versions of this story through the years – is the most memorable of all.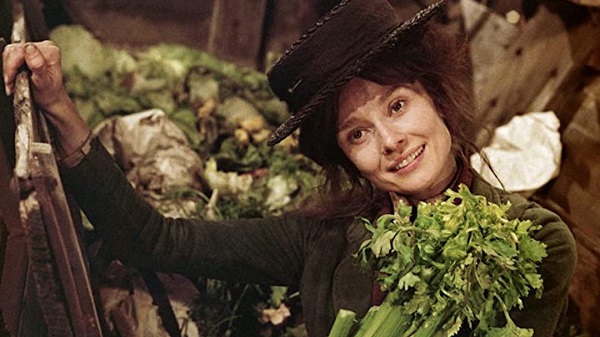 In Edwardian England, sexist upstart phonetics professor Henry Higgins (Harrison) stumbles across young Cockney flower-seller, Eliza Doolittle (Hepburn, whose singing voice was dubbed by the legendary Marni Nixon for the majority of the film's songs) while out to meet fellow linguist Colonel Pickering (Wilfrid Hyde-White), whereupon the two gentlemen form a wager in which Higgins will train Eliza to speak "like a lady" and pass herself off as an aristocrat, something far from reality given Eliza's broadly accented hatred of snobs. Over the course of six months, and to the chagrin of both his housekeeper Mrs Pearce (Mona Washburne) and his mother (Gladys Cooper), Higgins trains Eliza in vocal techniques and enunciation – as well as deportment and sophistication – enough to take her to meet the visiting Queen of Transylvania (the actual Baroness Rothschild!) and pass herself off as a lady of refinement. Along the way, Eliza meets the handsome young Freddy (Jeremy Brett), who wishes to woo her, and reunites with her delinquent (and sozzled) father, Alfred (Stanley Holloway) who continually reminds her of her station in life.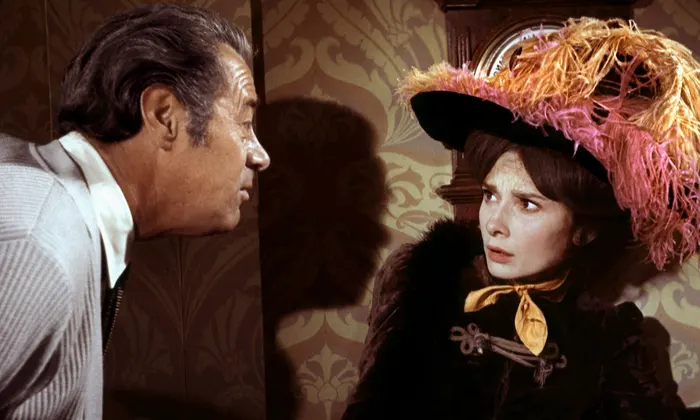 From a caterpillar to a butterfly, the transition of Audrey Hepburn from screeching street-urchin to upright member of elitist British society is one to savour. Also worth savouring is the complete douchbaggery of Rex Harrison's Henry Higgins, one of the most obnoxious, misogynistic and oblivious male characters in all of cinema history, which is saying something. Together they make a truly un-romantic pairing on-screen, despite the film trying desperately to force us to believe otherwise by the end credits. In truth, much of the fun to be had with My Fair Lady is watching this pairing work so well together in spite of the awfulness of both Harrison and the upper class elites depicted within the film, most of whom treat Hepburn's Eliza Doolittle as a social leper simply because of her nasal, dead-flat cockney accent. That Henry Higgins treats Eliza so terribly, with such unabashed disdain for so prolonged a period, is surprising, only because if she was a thoroughly modern woman she's have cleaved his brains in with one of his phonetic recording machines and left within a day. Sadly, Edwardian England wasn't noted for its sexual equality, rather the opposite, and it's this jaw-dropping sexism that makes the film's chuckles all the more uproarious.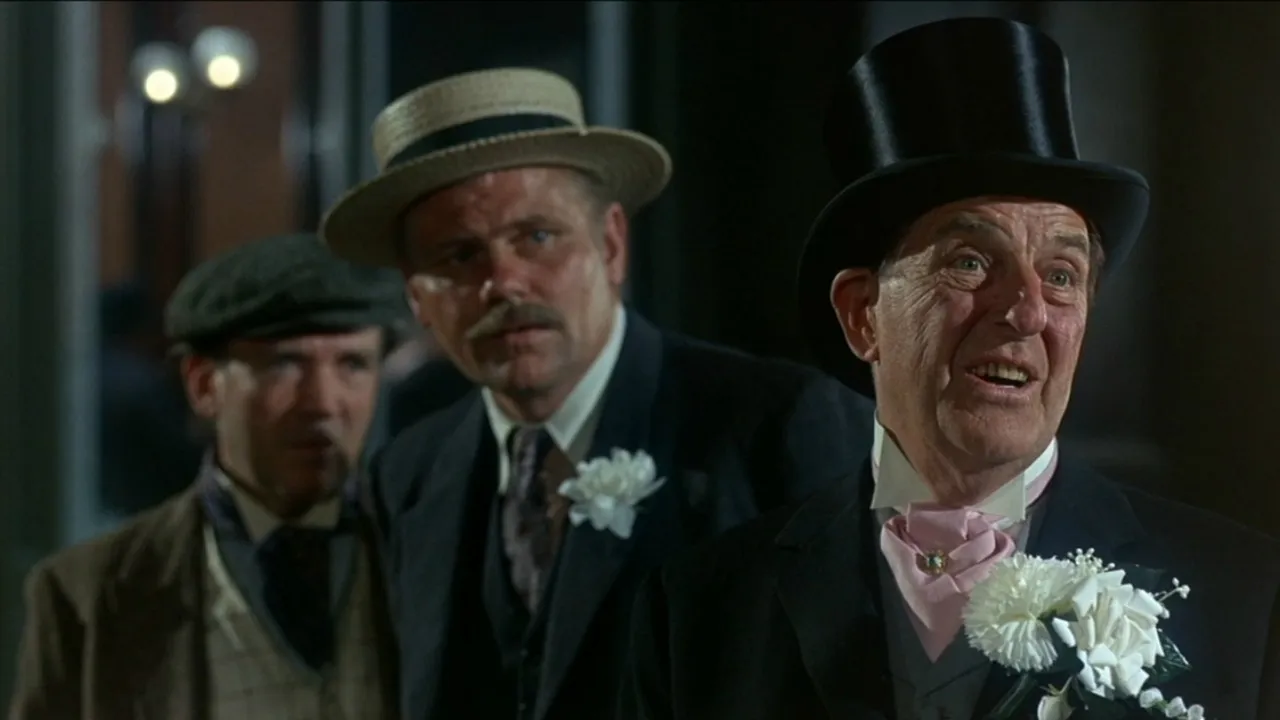 As a musical, My Fair Lady has more than it's share of memorable tunes – notably, "The Rain In Spain", "Wouldn't It Be Loverly" and "Get Me To The Church On Time" have become repertory archetypes – and delivers a non-stop lyrical parade of spoken word rhymes, or sprechgesang, to propel both character development and plot. The musical numbers are mostly unchanged from the original stage production, Rex Harrison's familiarity with the material making it flow oh so effortlessly from his practiced delivery. As you might expect from a story around which enunciation, diction and delivery matter so much, My Fair Lady is captivating for multi-syllable wordplay and seamlessly accented performances, although Hepburn's use of her cockney accent is, well, lets just say it's more abrasive than the real thing simply to contrast against the character's later more rounded and pleasant offerings. The screenplay is credited to stage playwright Alan Jay Lerner, for which Warner Bros paid a pretty penny and took what was then a considerable risk to produce the film; it paid off handsomely, with My Fair Lady topping out second on 1964's box office earners (behind Disney's Mary Poppins), and snagging eight competitive Oscars at that year's Academy Awards.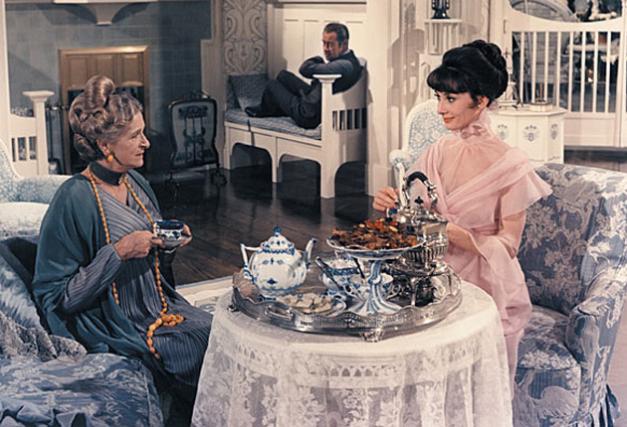 The allure of Audrey Hepburn, who was by this point at a crescendo with her career, coming off the enormously popular Breakfast At Tiffany's and Charade, cannot be overstated in this film: Hepburn is scungy as the street-dwelling flower seller in the dank London streets, and positively luminous once she's given some vocal coaching and a decent set of clothes later in the movie. Her costuming is one of the film's visual highlights, in particular the famous Ascott Races sequence (the gavotte sung in this sequence is easily my favourite tune in the whole film, by the way) in which she strikes a spectacular monochromatic look in a fabulous black and white number that radiates chic Edwardian cool amid the taciturn look of her fellow attendees. Hepburn's ferocious work as Eliza in the early, screechy bawdiness demanded of the actress waxes between engaging and annoying, but once the film transforms her into the "loverly" creature Higgins eventually falls for, you can't help but keep your gaze upon her, she's so beautiful.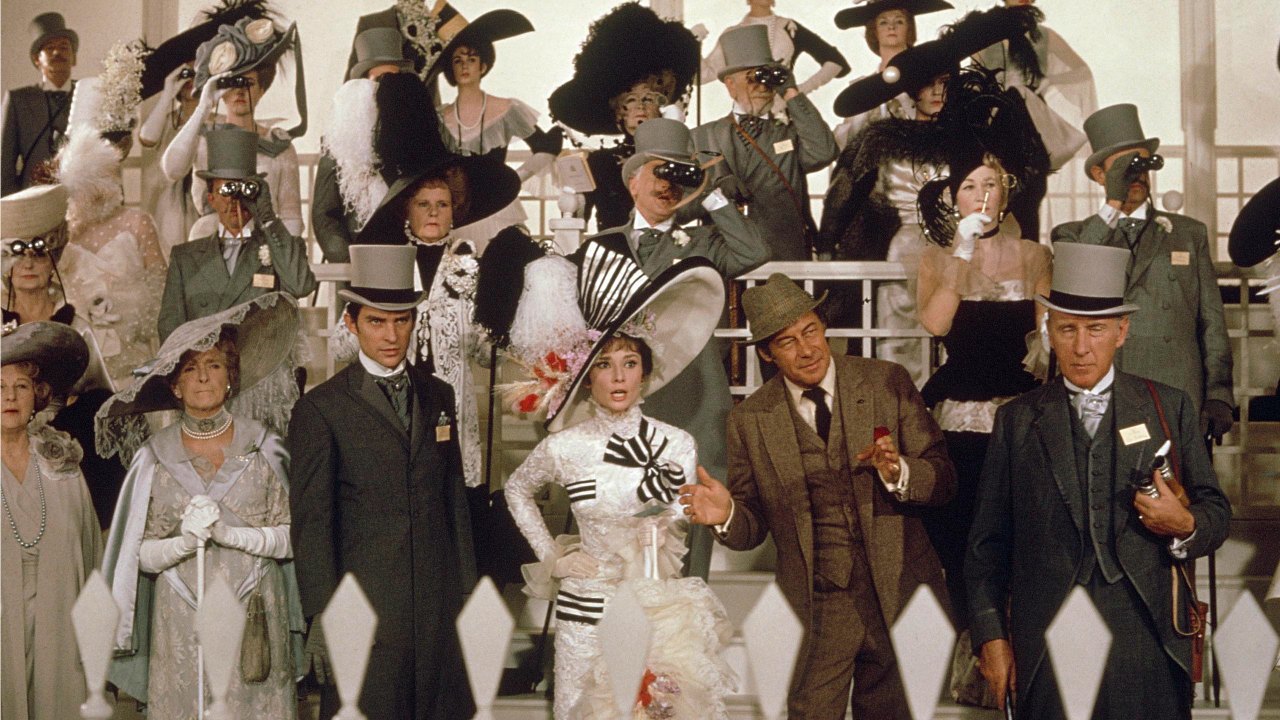 By contrast, Rex Harrison, who was some twenty years her senior in real life, feels uncomfortably aged out of the role (not his fault, eh casting directors?) but brings a fatherly grace to the part of Henry Higgins. Higgins is by design so remarkably unlikeable, so vulgarly obnoxious to not just Eliza but women in general, so sexist and demeaning and chiding and obtuse to the world around him, at first he is utterly repellent. Exactly how the film works into a romance between the (eventually) demure Eliza and such a vocabularic boor like Higgins is the movie's biggest ask, and by today's standards you cannot fathom this unlikely pairing at all. Eventually, however, like any idiot man, he realises his mistake in treating Eliza in such a manner and seems to come to his senses. That is, before one of the worst closing lines in cinema history – Higgins is the kind of guy who'd wind up being "accidentally" killed by falling several times onto an unlucky kitchen knife, such is his reprehensible behaviour. The film makes almost no effort to get us to like Higgins at all, which makes his final scene character turn so starkly out of character. Then again, this is a movie, so…  Harrison, however, would win an Oscar for the role – deserved, such is his performance quality – and viewers will quickly understand that Henry Higgins is a parody of upper class elitism and should at no point be taken as anything other than a facile, overly educated and arrogant pariah of masculine disdain; the perfect balance for Eliza Doolittle's begrudging butterfly.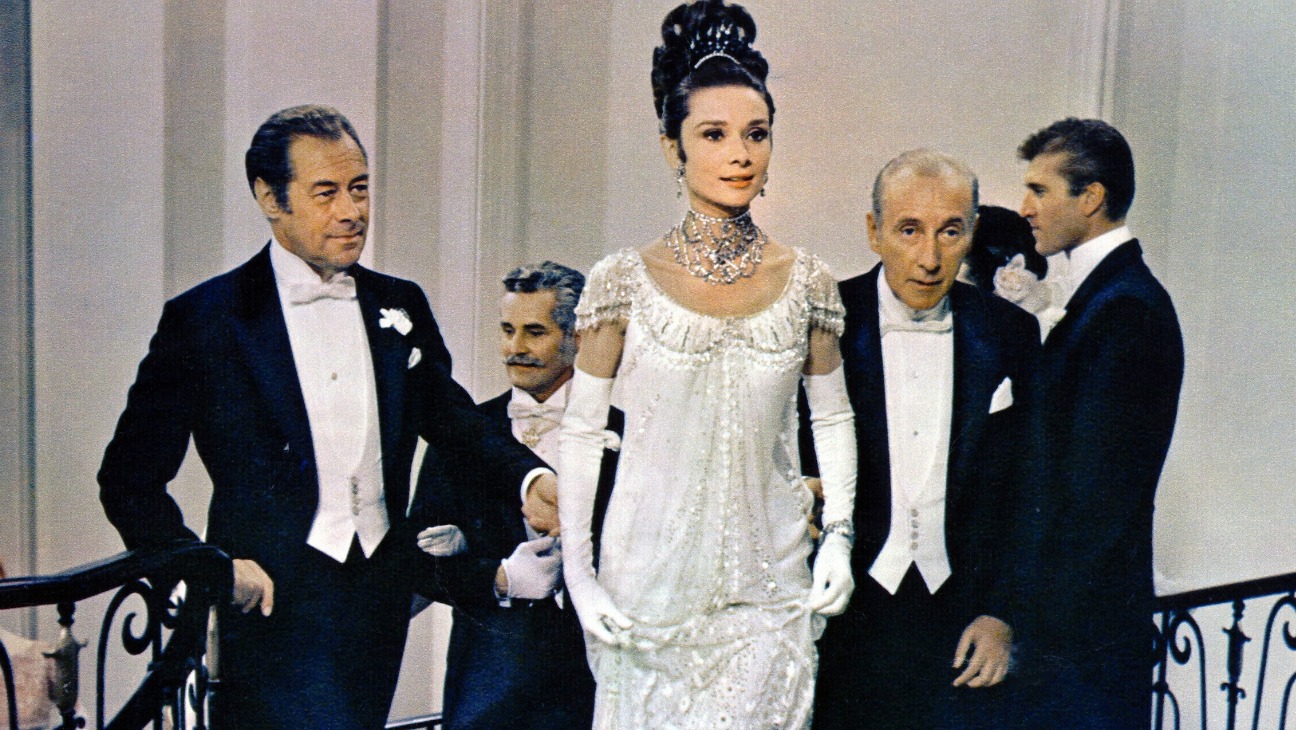 The supporting cast, particularly Wilfrid Hyde-White's enabling Colonel Pickering, and Stanley Holloway as Eliza's father, Alfie, are all roundly excellent. Pickering is the "us" in this story, who sees Higgins for the charmless intellectual he truly is and Eliza for the delicate flower she has potential to be, whilst Holloway's role is a little more comedic, and certainly ancillary to the overall plot. Gladys Cooper pops in later as Higgin's strict and dismissive mother, Jeremy Brett plays the handsome potential suitor for the decorum-trained Eliza, and Theodore Bikel has a blast playing the Hungarian phoneticist (and wonderfully named) Zoltan Karpathy, upon whose opinion the plot's final act hinges. Mona Washbourne is ever so droll as Higgins' put-upon housekeeper, although it is she who first becomes aware of how fragile and delicate Eliza is, and for whom life has taken a terrible emotional toll.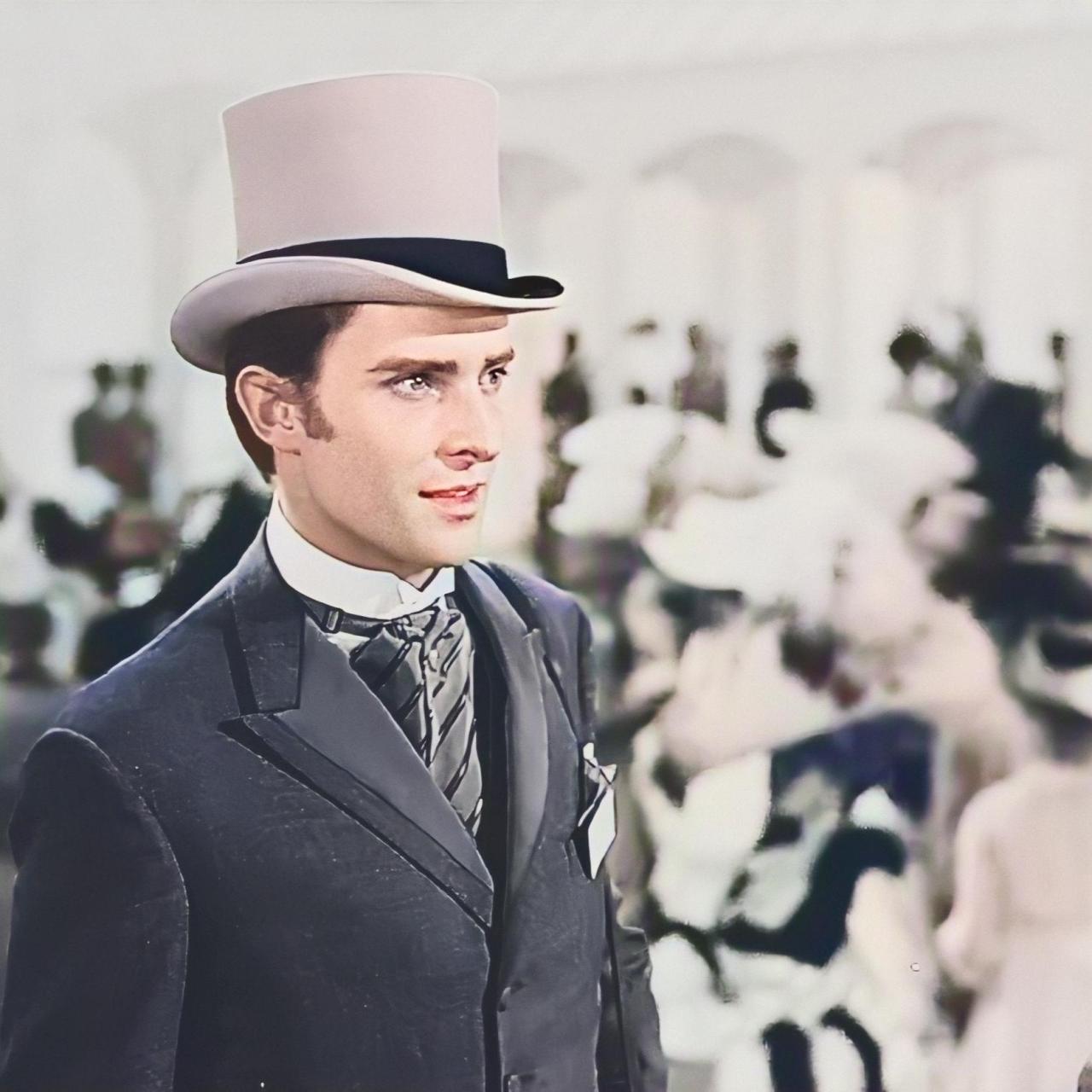 The film's other chief pleasure is the spectacular – and I do mean spectacular – production design. Shot entirely on sound stages on Warner Bros' Burbank lot, production teams brought the city streetscapes of early 20th Century London to life with sumptuous detail, expansive designs (the Covent Garden Opera House set, which opens the film, is as amazing as any I've seen in cinema from this period) and beautiful cinematography (DP Harry Stradling would win his second Oscar for this film, following success with 1945's The Picture of Dorian Gray) utilising sumptuous Panavision photography, sublime art direction and generous costuming to deliver what can only be described as a truly enveloping viewing experience. My Fair Lady looks and sounds lavish, which goes a long way to overcoming its of-the-period shortcomings. Okay, so it wasn't shot in the real Covent Garden or Upper Wimpole Street (more's the pity) but the attention to detail and expansiveness of the sets is staggering, and likely accounts for a fair proportion of the film's $17m budget.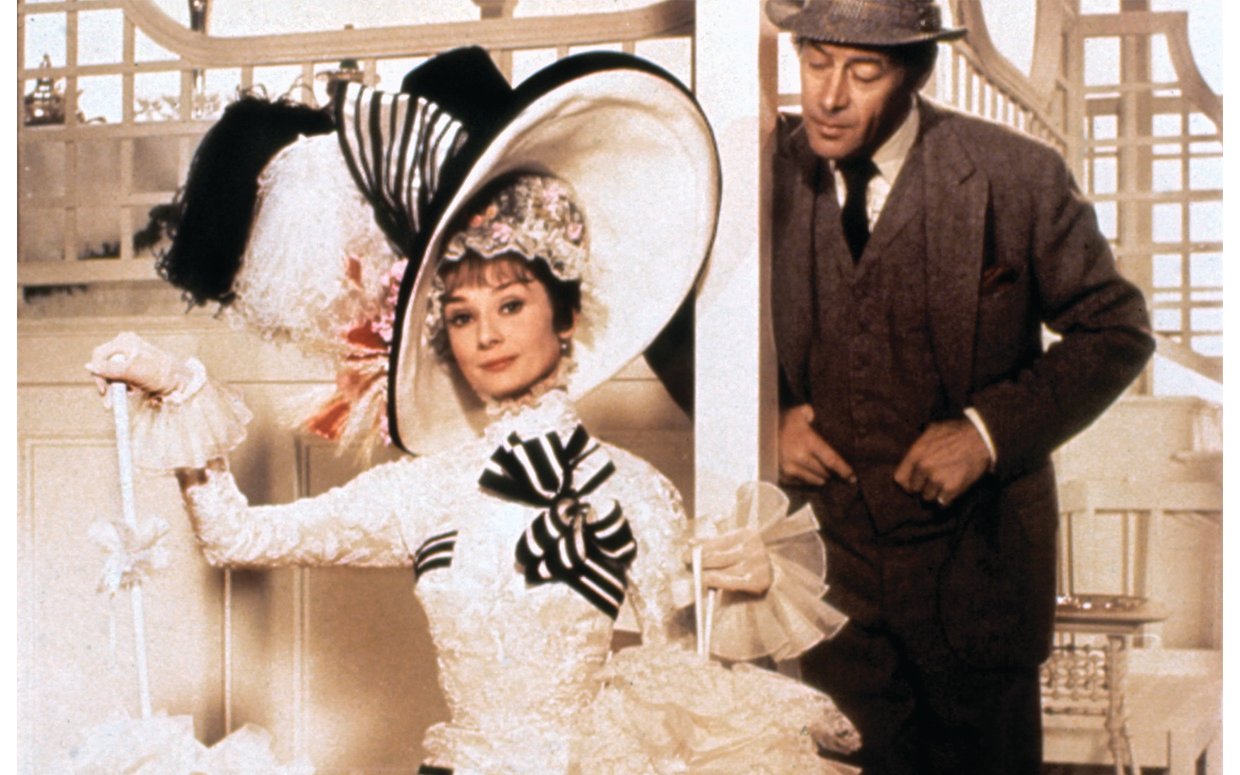 My Fair Lady is a real treat. Aside from the conspicuously prickly relationship between Higgins and Eliza inexplicably being cast aside in the film's final two minutes for a happy-clappy ending of sorts, watching this cast perform these characters, deliver these songs, and inhabit this highly stylised world (amazing to think both top earners in 1964 were set in the same period in history) is a joy to behold. The dialogue is scintillating, the performances sublime (Hepburn only has to bat her eyes at the camera for the world to come crashing down, really) and the music so toe-tappingly engaging the lengthy run-time feels constrained considerably. Hard to believe a film with such an eyesore of an original poster could be so…well, luverley. Enjoy a piece of undemanding cinematic brilliance: My Fair Lady is a gem.
Who wrote this?