Movie Review – Devil's Advocate, The (1997)

Principal Cast : Keanu Reeves, Al Pacino, Charlize Theron, Jeffrey Jones, Judith Ivey, Connie Nielson, Craig T Nelson, Heather Matarazzo, Tamara Tunie, Murphy Guyer, Ruben Santiago-Hudson, Debra Monk, Vyto Ruginis, Laura Harrington, Pamela Gray, Neal Jones, Chris Bauer, Monica Keena.
Synopsis: An exceptionally-adept Florida lawyer is offered a job at a high-end New York City law firm with a high-end boss–the biggest opportunity of his career to date.
********
One of the 90's great guilty pleasure films, every so often I'll put on The Devil's Advocate and just marvel at how impossibly suave the whole thing is. Part supernatural drama, part horror film, part sexy mystery, and notable for one of Al Pacino's all-time great monologues, The Devil's Advocate is a film rippling with malignancy and perverse ideas in keeping with the pre-apocalyptic mood of the day, as the calendar counted down to the new millennium. The Devil's Advocate feels like somebody took a drop of Basic Instinct, mixed it with a boatload of Rosemary's Baby, and a touch of The Omen to craft a stylish, oft-referenced cult favourite that has endured as a classic of the supernatural horror genre.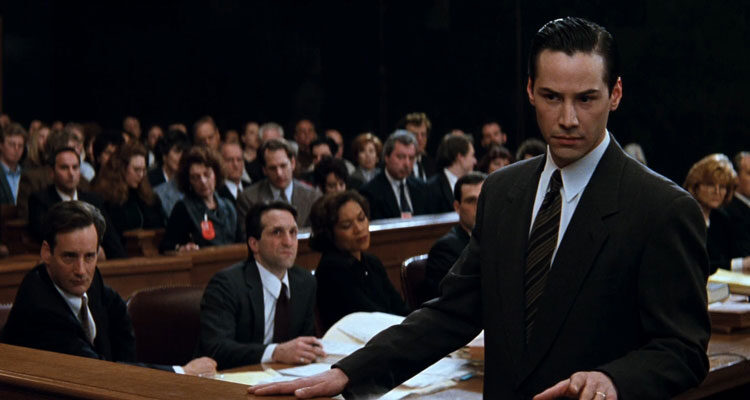 Hotshot Florida defence attorney Kevin Lomax (Keanu Reeves) and his beautiful wife Mary Ann (Charlize Theron) move to New York City when his startling success at winning in court catches the eye of a prestigious law firm, the chief partner of whom is the garrulous John Milton (Al Pacino). Milton becomes somewhat of a mentor for Kevin, and plants the young man at the centre of a high-profile murder case involving renowned architect Alexander Cullen (Craig T Nelson). But all is not what it seems with Milton and his firm, with Mary Ann finding herself on the precipice of a total mental breakdown after having visions and nightmares that seem decidedly demonic in nature. Kevin's pious mother, Alice (Judith Ivey) sees Milton for who he really is – the devil in disguise, although Kevin is so caught up in with his career he barely notices as his whole life is set to fall apart. Following the sudden death of one of the firm's other lawyers, Eddie Barzoon (Jeffrey Jones), and with Mary Ann committed to a facility following a nervous collapse, Milton makes one last, enormous offer to Kevin that could irrevocably change the course of human history.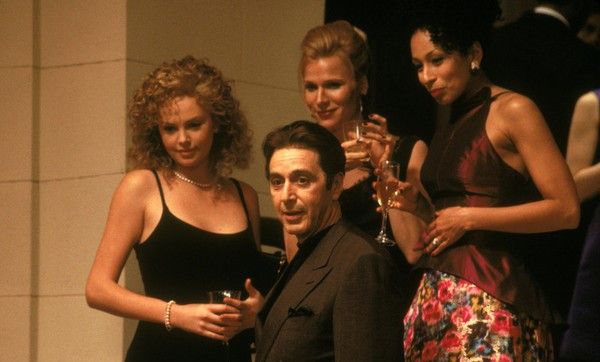 Few film's satisfy the gratuity of life to me than this. Taylor Hackford's big-screen adaptation of Andrew Niederman's 1990 novel about a young lawyer tempted by the actual Devil himself, masquerading as a powerful lawyer, remains one of my favourite films of that decade and arguably my favourite cheerworthy Pacino rantformance. What is a rantformance, you may ask yourself? Well, it's what Pacino delivers towards the back end of The Devil's Advocate, as his grand revelation to Kevin of the plans he has for humanity are laid out on the altar of his New York apartment lair, excoriating The Lord for His apparent poor treatment of our species and hoping to use both Reeves' Kevin Lomax and Connie Nielson's nubile Christabella to sire a grandson – the actual Antichrist – in one of cinemas best examples of an actor just totally going for broke. Pacino's modern persona of out-acting everyone else in the film with him seemed to kick off around the same time he won the Oscar for Scent Of A Woman, and several seminal career films followed – Michael Mann's Heat and The Insider, Mike Newell's Donnie Brasco and Olivier Stone's Any Given Sunday surrounded the release of The Devil's Advocate in the 1990's – culminating in the major misfire with 2002's S1m0ne (a dreadful film indeed), after which he seemed to step away from the overblown histrionics peppering his performances.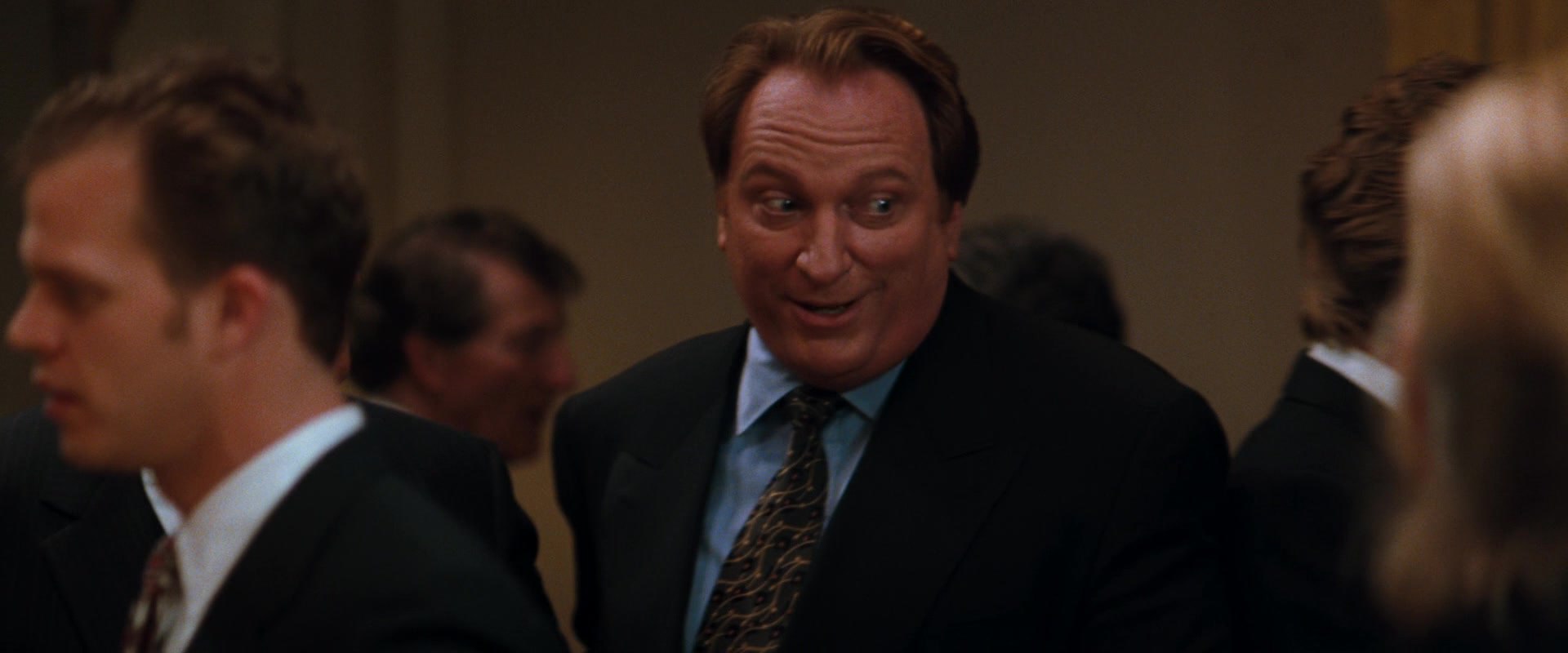 Ranting his way through a role wasn't something new at the time, and with Keanu Reeves offering a genuinely blank canvas approach to acting (stare off into the middle distance and always look perpetually confused) Pacino had little to work against. Perhaps that's why Pacino's apoplectic rant in the third act is so memorable – nobody else had the charisma or strength to go with him.  Reeves was a big draw at the time (coming off Speed only a year or so prior) and so the one-two punch of Pacino and the Bill & Ted star was the Hollywood equivalent of printing easy money. Pacino's performance as Milton (aka the Devil) is one for the ages, a bug-eyed, hoo-ha, lip-licking delight of sarcasm, subtle nuance and firebrand hysteria as only Pacino is capable of delivering. John Milton is the personification of luxury and wanton excess, of capitalism and greed and slick silk suits. He is decadence personified, and Kevin Lomax falls for it completely. Keanu is outmatched by Pacino's sheer screen presence, although director Taylor Hackford does his best to exemplify Reeves as the film's star, putting a gaggle of notable names in the supporting cast to shoulder some of the heavy lifting. Charlize Theron's work as Mary Ann, who goes from impish Florida darling to depressed, suicidal not-quite-socialite, is the film's beating heart although there's just not enough time spent watching her descent into crazytown to justify Kevin's apparent disaffectedness for her situation. I really thought Theron was far better than the material probably earned for itself, which goes to show that casting a really great performer in even the most minor or undeveloped roles can work wonders – not saying Mary Ann is a role of limited capacity but Theron turns a fairly banal character arc into something approaching a Cezanne painting.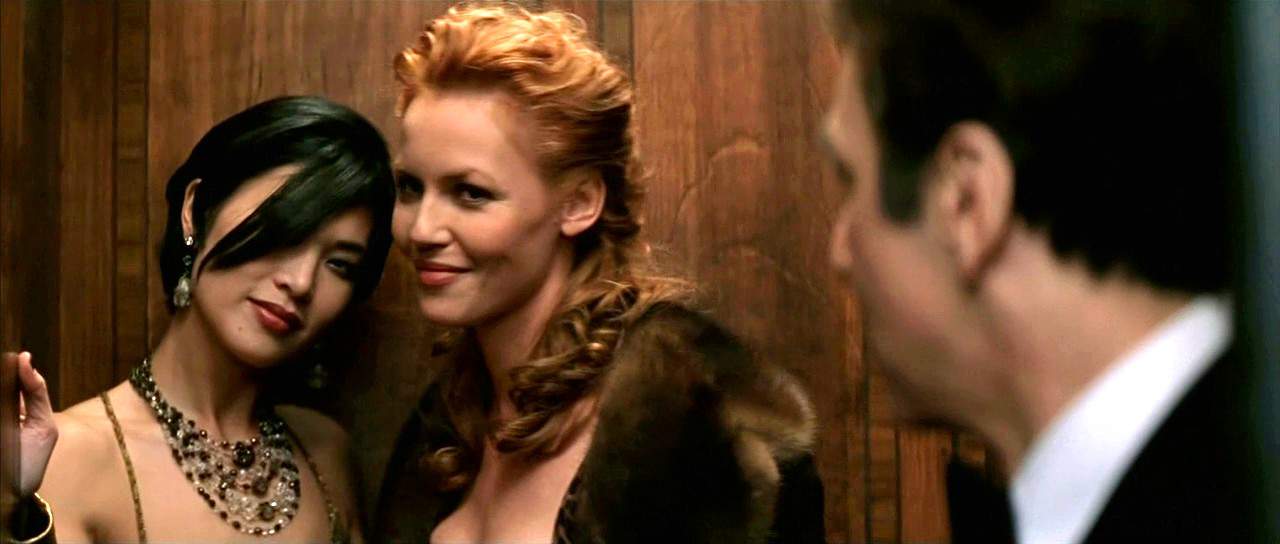 Supporting turns by Craig T Nelson, Debra Monk, Laura Harrington, Judith Ivey, an uncredited Delroy Lindo and more give a real sense of world-building to The Devil's Advocate, which removes that subtle "this is a fantasy" element and turns the movie into a "this could actually happen" kind of work, despite the obvious supernatural goings-on at the forefront. Ivey, who plays Kevin's Bible-thumping mother, was one of the most annoying roles in the film when I first watched it, but reappraising the film recently I came to the conclusion that Ivey's performance of a tragically bereft woman trying to escape eternal damnation is one of the more heartfelt aspects to the film's canvas of terror. The film's Faustian allegory and Christ-like temptation of an altogether moral man crossing the threshold completely are hammered home time and again, as moments of decision and the choices Kevin makes being yet another step towards losing his soul entirely. That Kevin is granted salvation of sorts by Mary Ann in the film's incendiary third act is not lost on me, the forlorn and entirely lost young woman forcing Kevin to turn his back on damnation one of the more powerful and evocative images to come from the whole thing.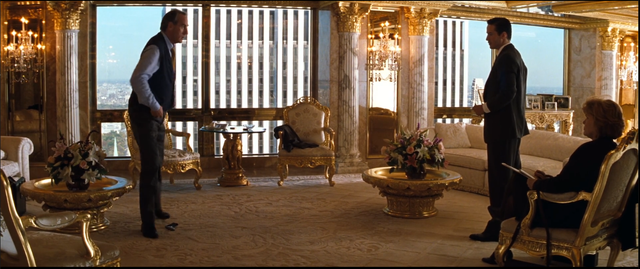 Predominantly filmed across a variety of notable New York City locations – including at one point the gaudy, gold-everything penthouse suite of (eventual) President Donald Trump's apartment tower, standing in for the luxury residence of Alexander Cullen – The Devil's Advocate is a high end production in almost every way. Luxury and opulence surround Kevin (and us) the moment he steps foot in the city, from the high powered legal offices with views over the East River, to his midtown apartment and the swathes of Central Park, serving both a visual aphrodisiac to the fantasy fulfilment but also a monolithic edifice paralleling the wailing endlessness of Hell itself, with countless millions enduring life in the big city. Rumours circled of the rocky relationship between Pacino and Taylor Hackford, known for helming An Officer And A Gentleman and Against All Odds in the 1980's, although exactly how fractured production was is uncertain. The film's original cinematographer as well as both first and second assistant directors were all fired with the film only a few weeks into shooting, with Warner Bros forced to assure the industry and fans that everything was rosy in the garden of good and evil. Eventual director of photography, Andrzej Bartkowiak, gave the film a lush, luxurious look of wealth, in and around locations such as SoHo, and softly lit most of the female characters to contrast against the relatively crisper, sharper Pacino and Reeves, who both sport bespoke suits throughout.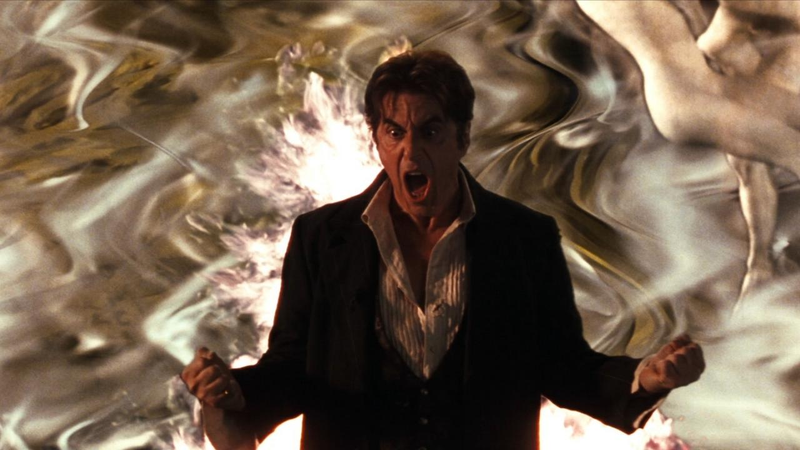 Taylor Hackford's film is just a satisfyingly corrupt, manifestly dark fable about predestination, the lure of decadence and wealth, and good old sexy times with Pacino's histrionic Satan wandering the subways and backalleys of New York City. The surprises and twists the film takes are genuinely surprising when they occur, and the ending – oh, that ending – remains one of the all-time best on my personal list of gut-punch final shocks. The visual effects hold up (mostly), the performances all range from the sublime (Theron) to the patently ridiculous (Pacino, you lunatic, you) but it all works. The material is definitely very adult, with themes of incest and rape among the dark places the film takes us, along with murder, and I think anyone watching for religious reasons would be better served heading back to prayer instead, but The Devil's Advocate is a super-cool, gorgeously mounted, well acted semi-classic for both Pacino and Reeves and is easily a high recommendation from me.
Who wrote this?